Marie Antoinette — a villain to some, victim to others — is endlessly fascinating. The ghost of France's last queen has haunted myriad books, countless hours of screen time. The latest quest to understand this much-maligned but also much-admired woman is Marie Antoinette, an eight-part television series co-produced by the BBC and Canal+.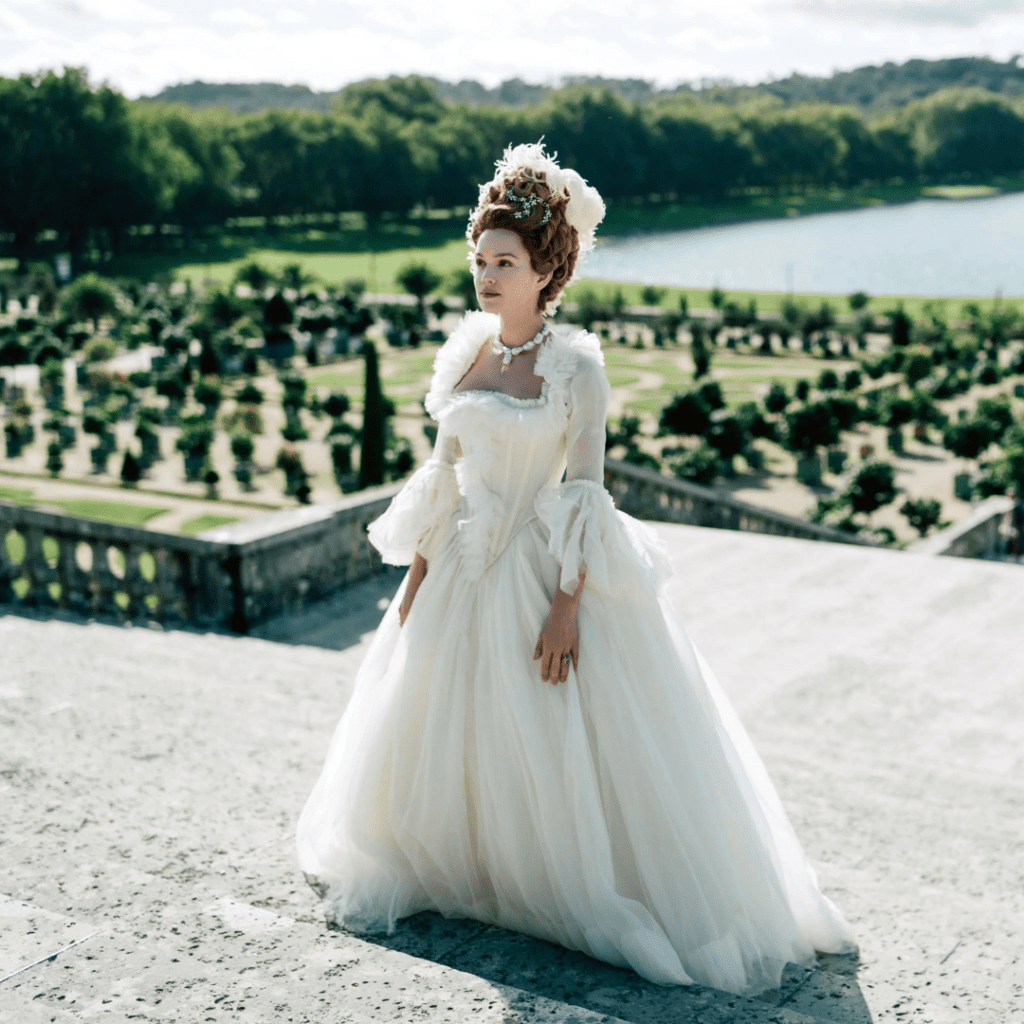 Read on to discover the key filming locations, all found within a short trip from Paris. And although Marie Antoinette, first as dauphine and then queen, spent limited time in Paris proper, she did leave her mark on the city, as you'll also see.
Filming Locations
Rebuilt by Louis XV, this neoclassical castle is one of the largest royal residences in France, and was a favourite go-to, situated as it is near the forest of Compiègne, where the royal family and its friends hunted. It was also where a fourteen-year-old Marie Antoinette arrived, in an ornate carriage, to meet the dauphin, Louis-Auguste, and her new family, after her three-week journey from Vienna. Located about one hour's drive north-east of Paris, the château now houses museums devoted to the Second Empire, to the Empress, and to the Car.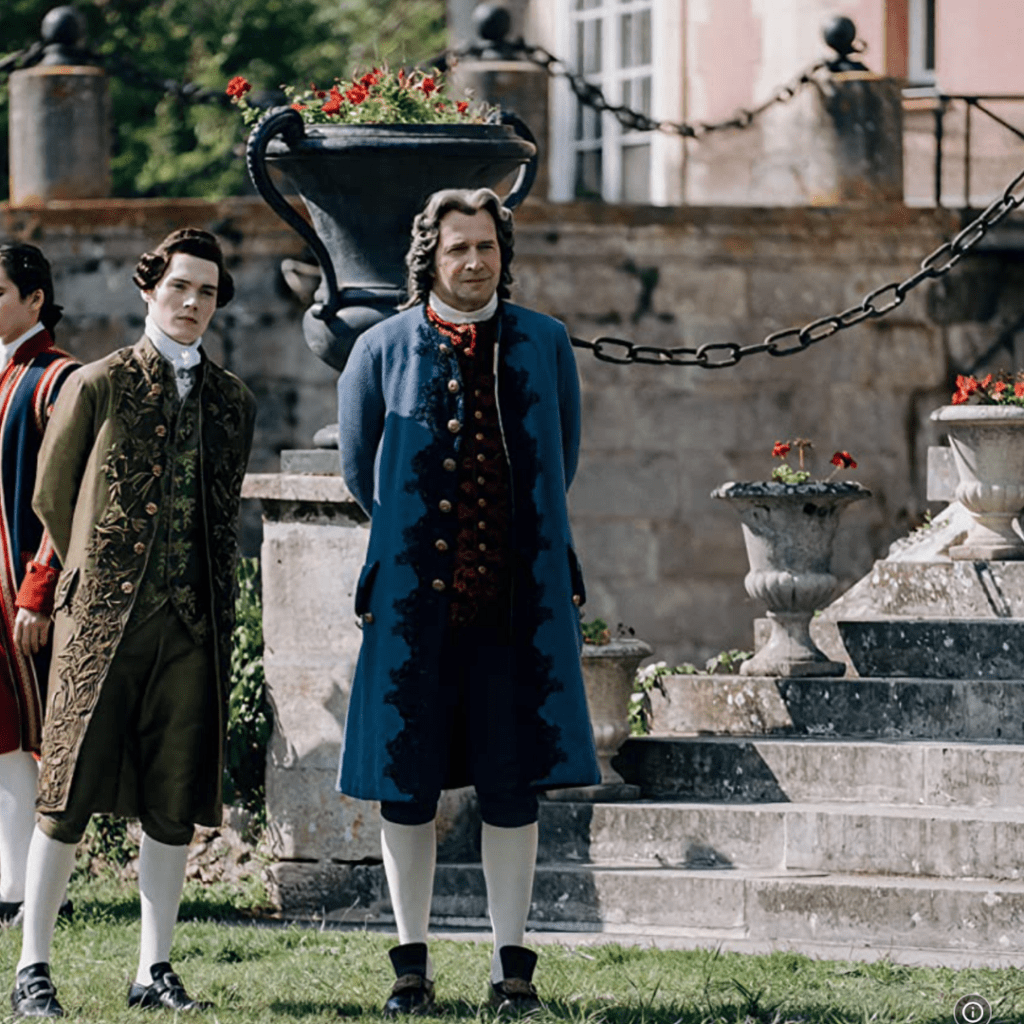 In the television series, Compiègne is played by Château de Lésigny, a rosy-hued Renaissance-era château, twenty kilometres south-east of Paris, that holds glamorous events and that has been used as a filming location for over 50 years — it was also used in the 1988 movie Dangerous Liaisons.
Marie Antoinette spent most of her French life at Versailles, although the crew could only access the palace on a Monday, when it's closed to the public.
For this reason, the wedding of Marie Antoinette and Louis-Auguste was not filmed in the Royal Chapel of Versailles — where it did take place, a mere three hours after a wide-eyed Marie Antoinette arrived at the palace — but in the Chapel of the Trinity at Château de Fontainebleau (more on which below).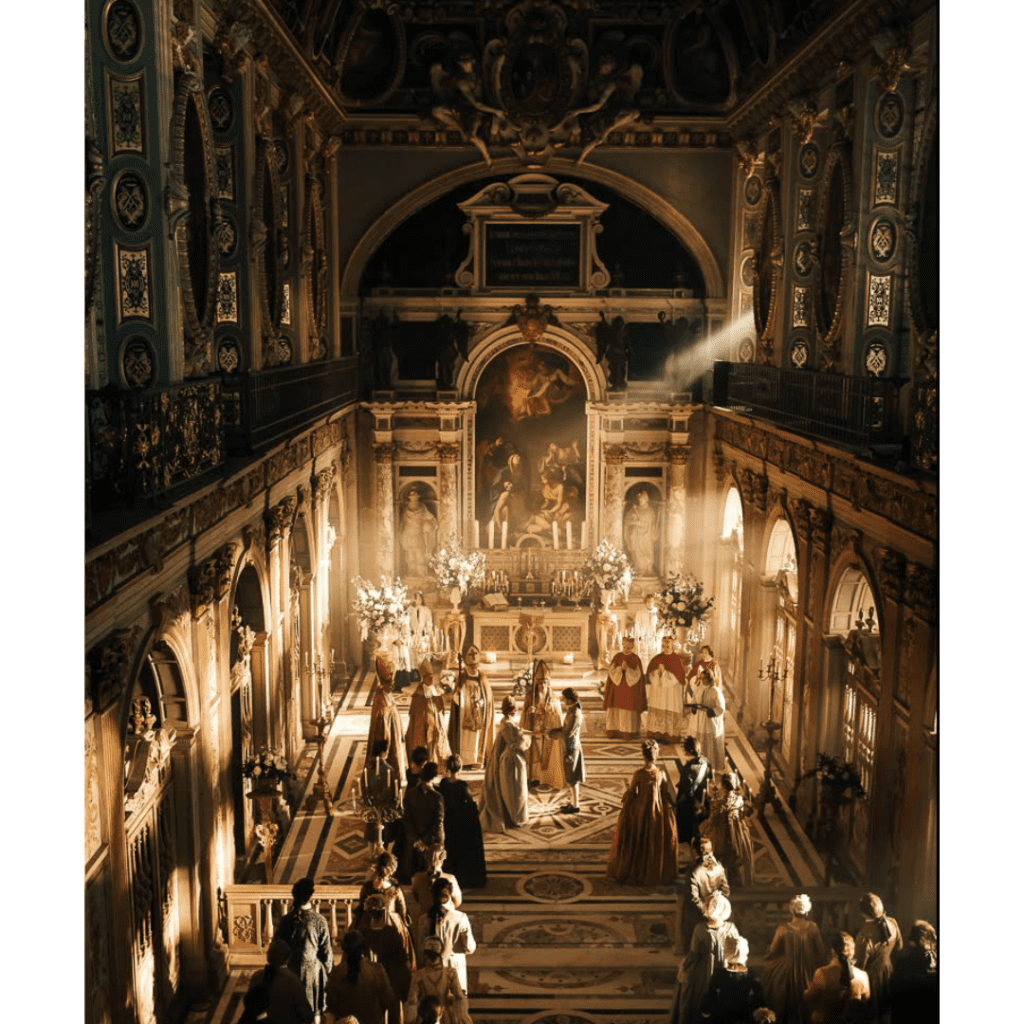 The crew made the most of these Mondays to film many striking exterior scenes.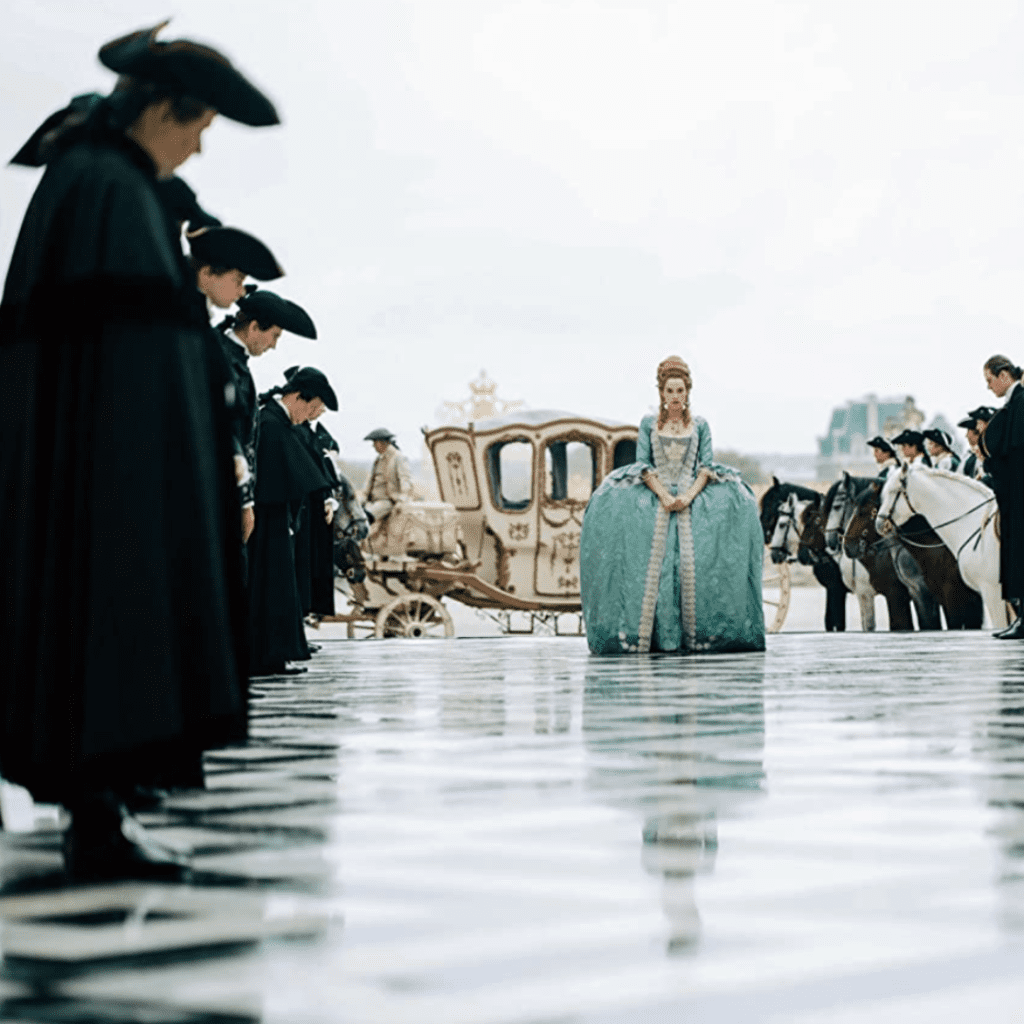 The Hall of Mirrors was also used to wonderful effect …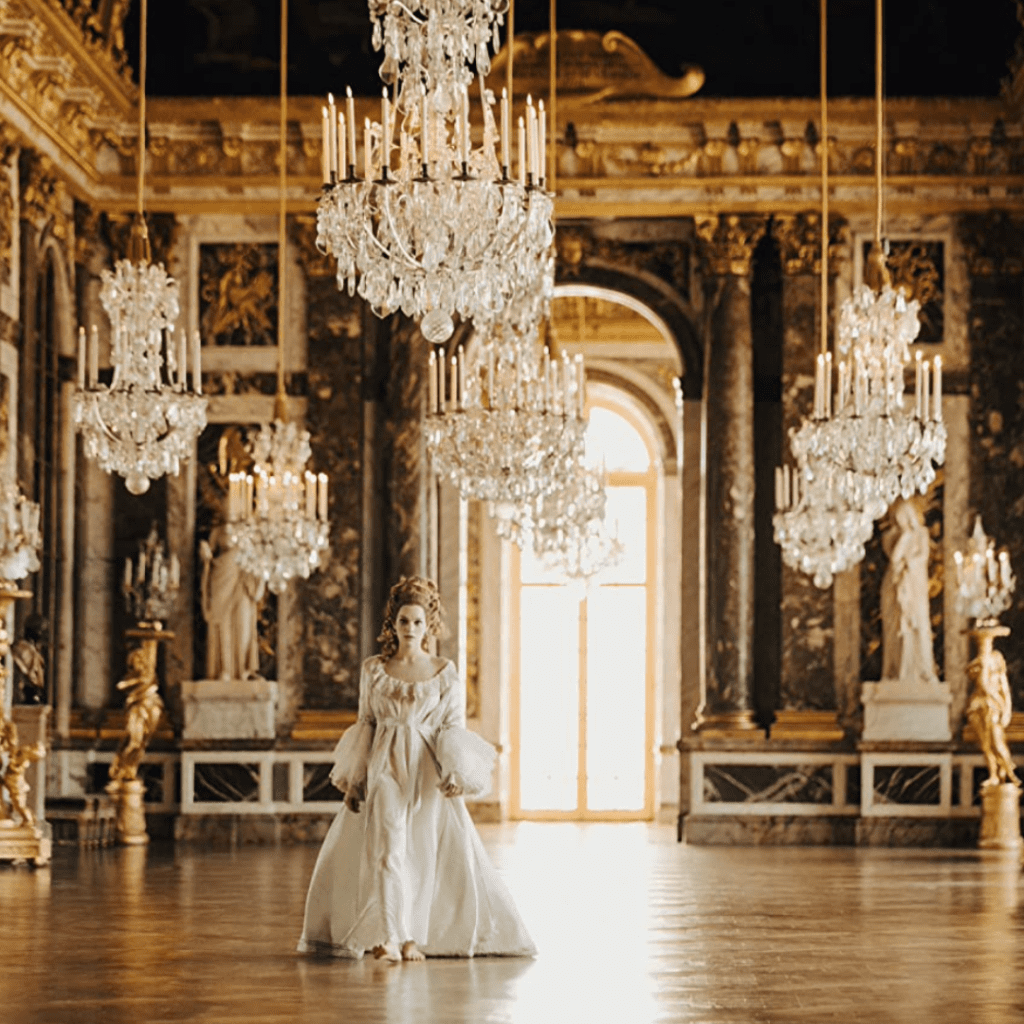 And then on Tuesdays, the crew moved to the exquisitely Baroque Château Vaux-le-Vicomte — a location, too, for the 2006 movie Marie Antoinette, and many other films — for supplementary scenes.
Some pivotal early scenes — where the young couple receives counselling from Marie Antoinette's brother, and then finally consummate their marriage — take place in a gorgeous pavilion not actually at Versailles, but in the Parc de Sceaux (where a large grove of cherry blossoms comes famously into bloom every April).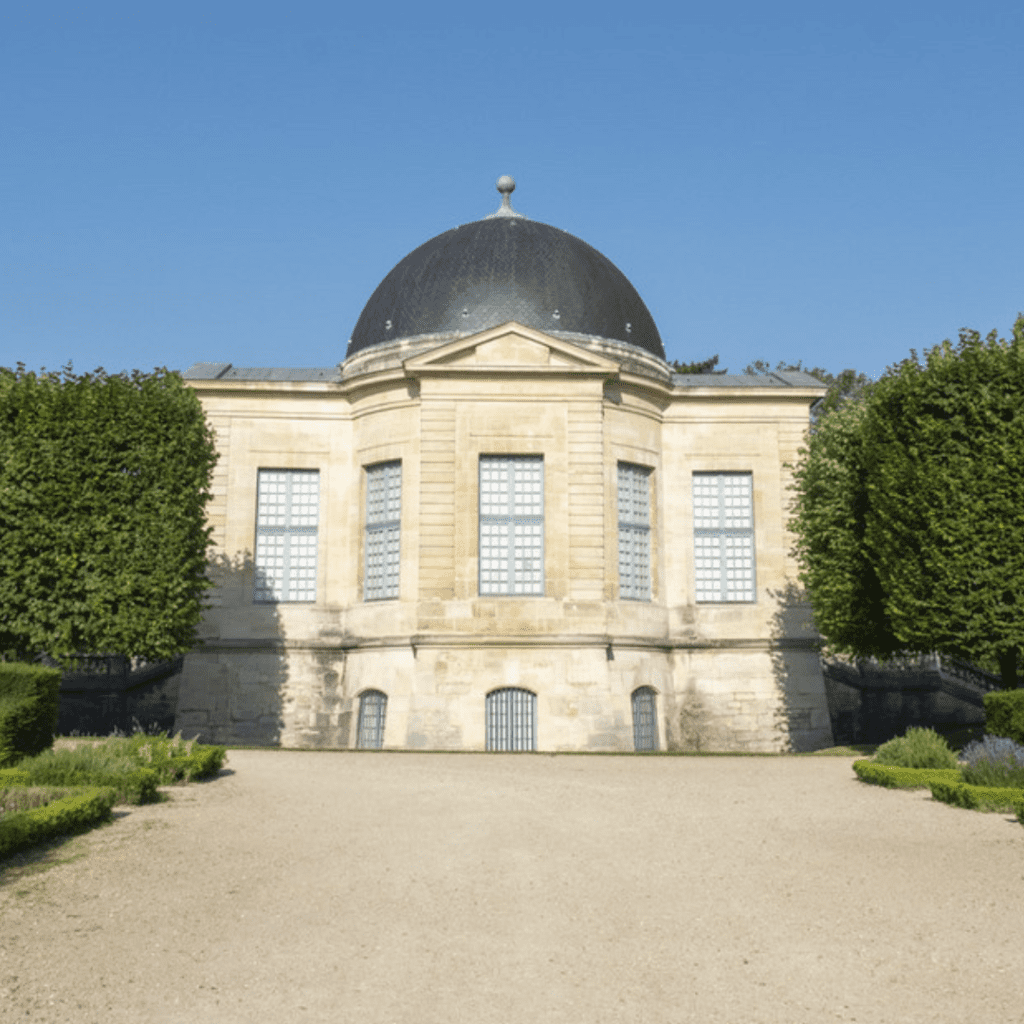 The production team brilliantly replicated many Versailles rooms at Studios de Bry-sur-Marne, one of the most popular French movie studios. So brilliantly, in fact, that it's impossible for a regular viewer to know which interior scenes are in fact studio sets.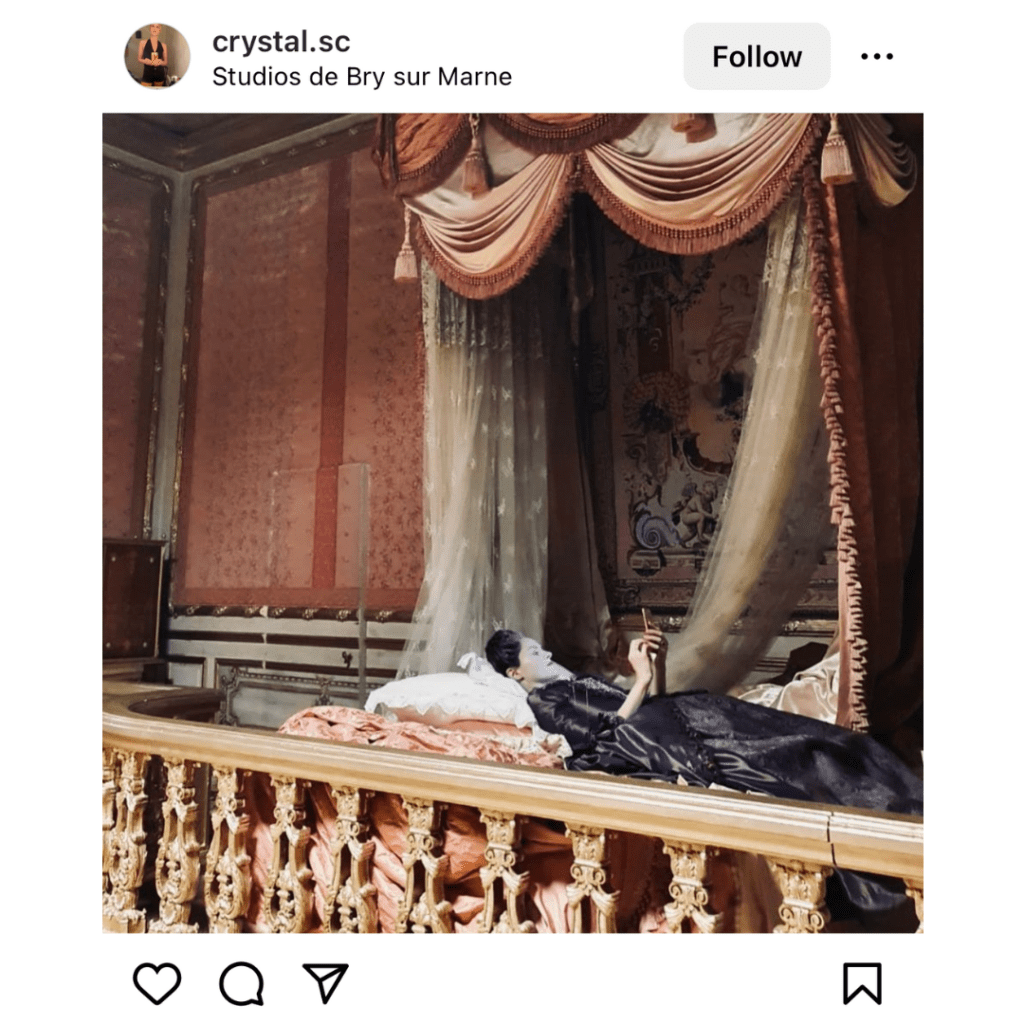 Marie Antoinette's former state apartments can be visited with a general 'passport' ticket, but her private rooms — which can be accessed only through guided tours — are currently undergoing renovation.
Petit Trianon
Louis-Auguste, when king, gifted this delightfully bijou château (well, it was small compared to the neighbouring palace of Versailles) to Marie Antoinette. It was traditionally the love nest of the King's mistress, but Louis, despite the awkward marital start, was head over heels for his glamorous wife.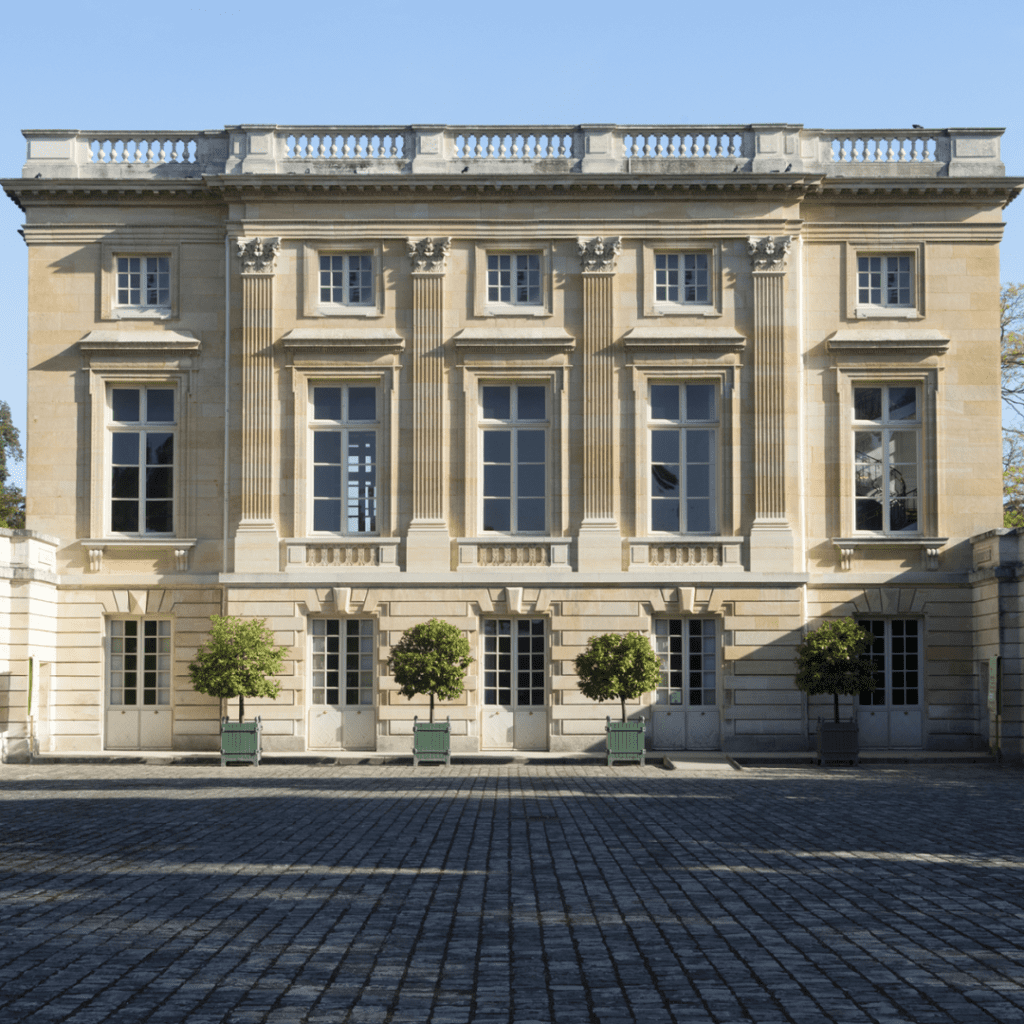 She made it her private home for the next fifteen years; airy in décor, light on etiquette and only open to close friends, the Petit Trianon was where she could really feel herself.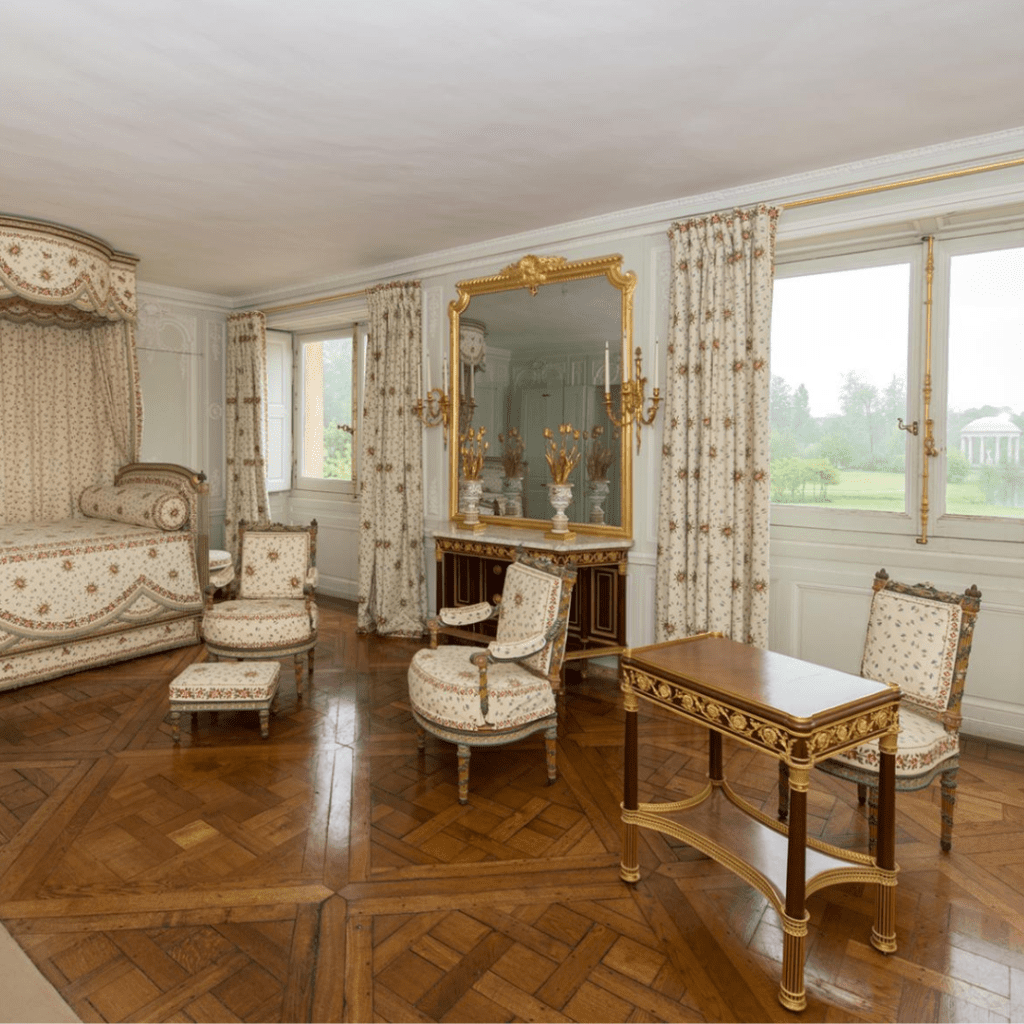 In the television series, the Petit Trianon is represented by the (somewhat larger) Château de Champs-sur-Marne, which is found about a half-hour's drive east of Paris.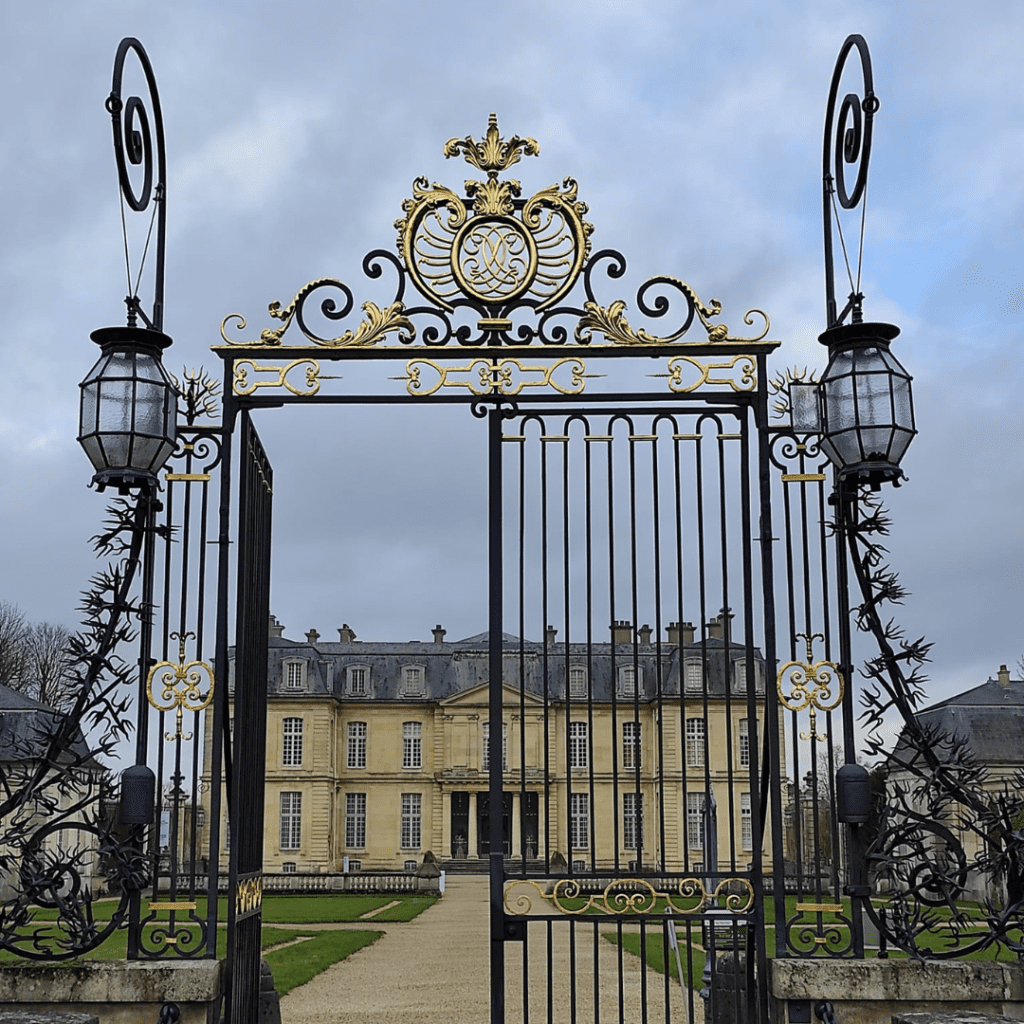 Fun fact: this château once belonged to Madame de Pompadour, the long-time mistress of King Louis XV, who was also the original owner of the Petit Trianon. And it has appeared in numerous movies, including Dangerous Liaisons, Jefferson in Paris and Vatel. It's worth a visit for its sumptuous grounds as much as rooms, at least one of which was gorgeously decorated for the show's Petit Trianon party scenes.
Of course, anyone interested in Marie Antoinette must see the real thing. Even to this day, this lovely little château seems to resonate with her light-hearted spirit. The Trianon Estate is open from noon, and you can access it with the Passport ticket or a ticket solely for the Estate. You'll also be able to roam around Marie Antoinette's infamous Hameau de la Reine, where she played at being a country peasant.
The royal court migrated to the Château de Fontainebleau for six weeks every autumn. It's only an hour's drive south these days, but back then it was a serious labour of love, involving hundreds of wagons of furniture and carriages of aristocrats, not to mention a serious expense. But it was tradition, as much as a favourite hunting spot of the King, and a place where the court could get away and party, without the stifling etiquette of Versailles.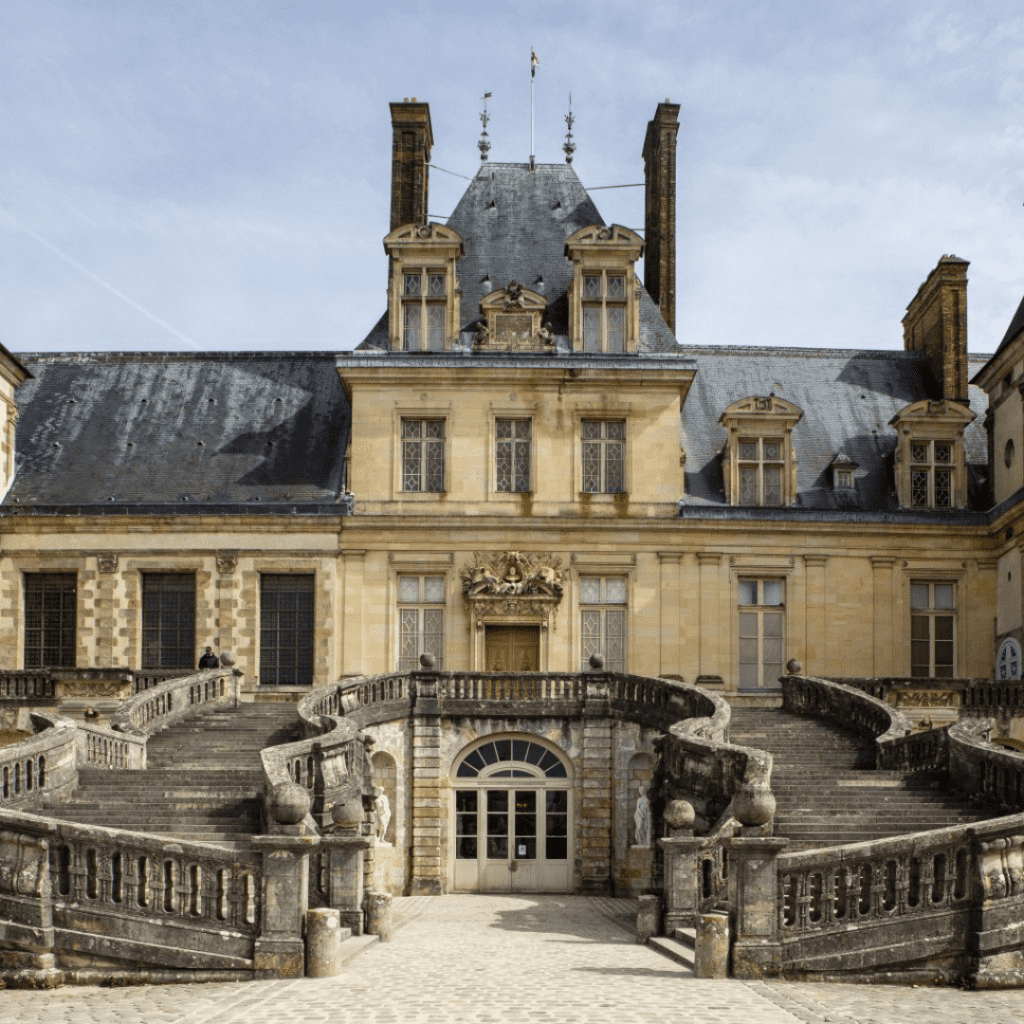 Much of Episode Three is filmed at Fontainebleau … or, in reality, its stand-in Château de Villette, a beautiful manor house around 40 minutes west of Paris. It was known at Le Petit Versailles, having been designed by architect Jules Hardouin-Mansart and gardener André Le Nôtre (the dynamic duo behind the Sun King's seventeenth-century renovation of the one-time hunting lodge that had glittering aspirations).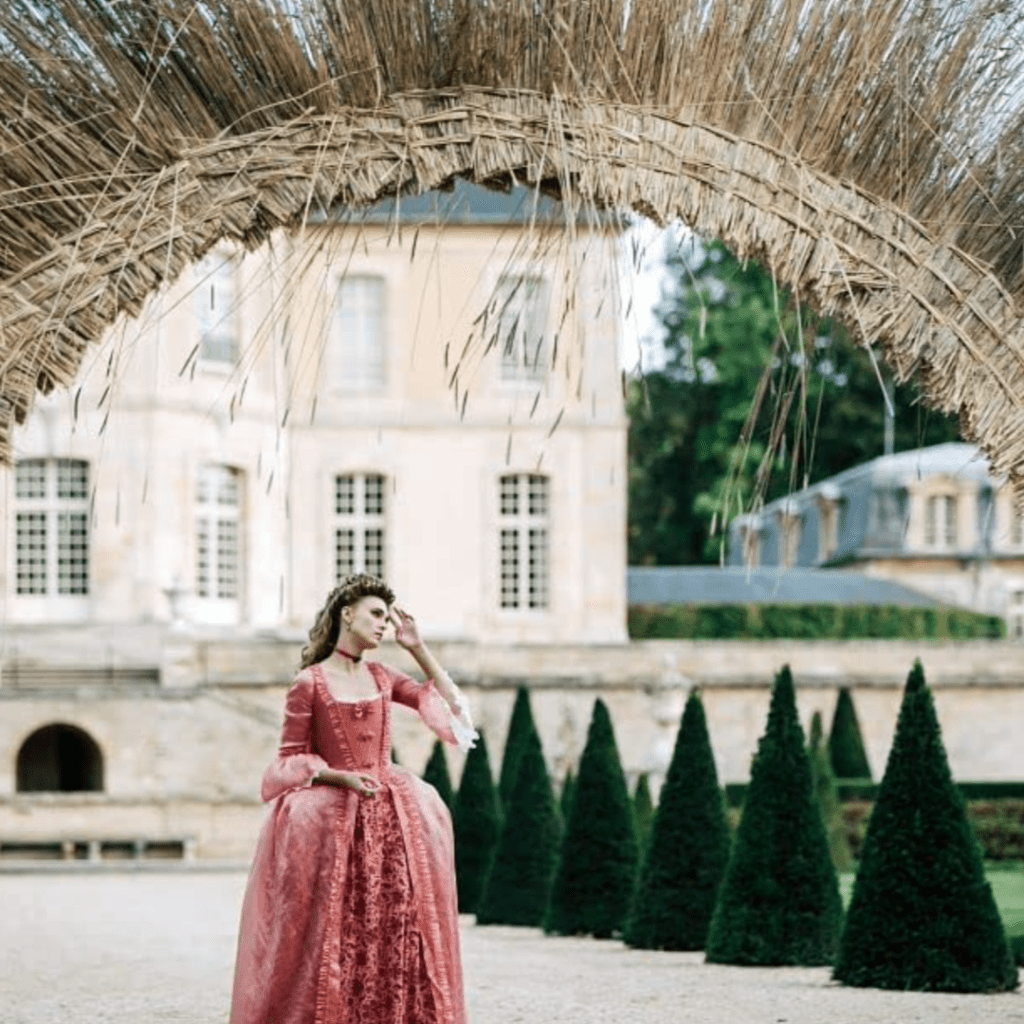 In its day-to-day life, the château is an ultra-exclusive, celebrity-adored hotel, and hosts weddings and events. Its rooms — decorated by renowned interior designer Jacques Garcia in Louis XV style — are so gorgeous, they too made many appearances in the television series.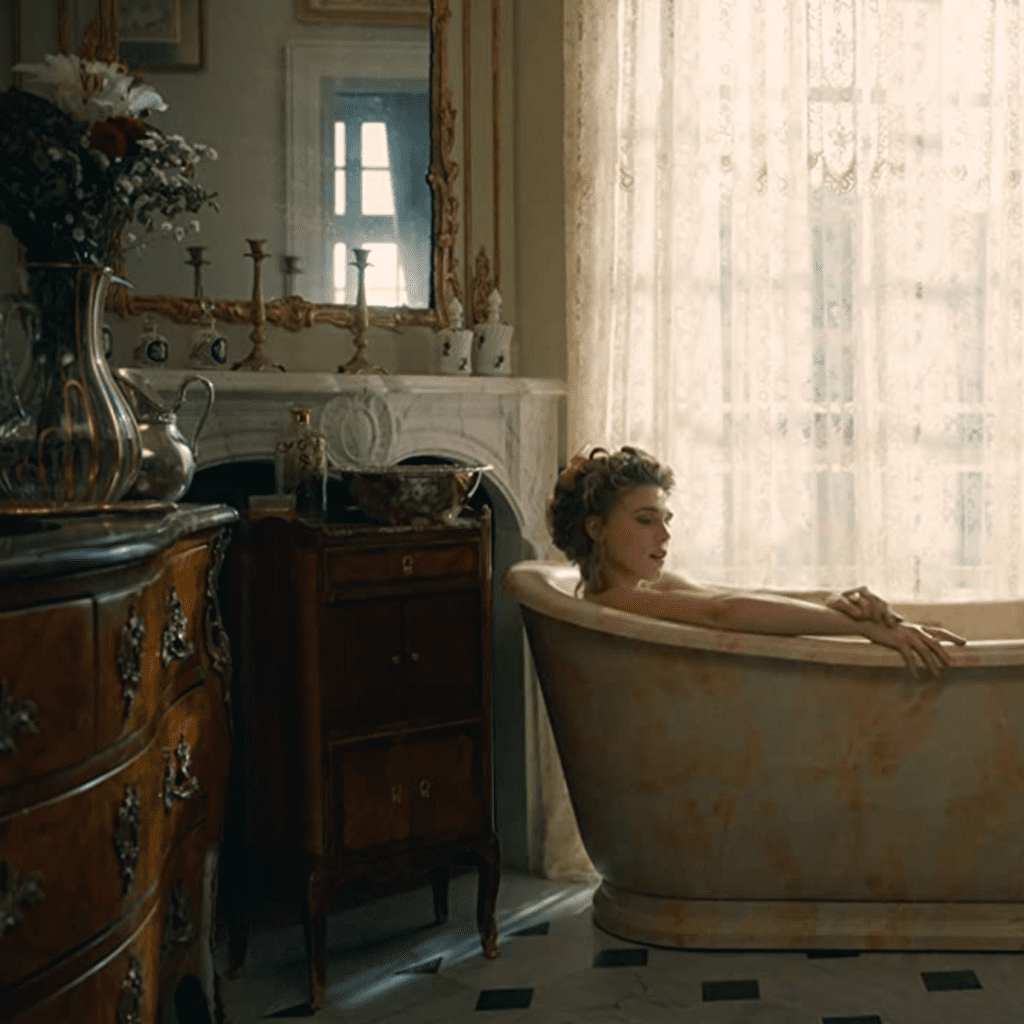 If you want to see the real Château de Fontainebleau, make a day trip of it. The grounds are sublime, as are the many rooms of the château, whose fascinating architectural details tell the story of centuries of French style. There are signs of the medieval and Renaissance, of both Napoleons …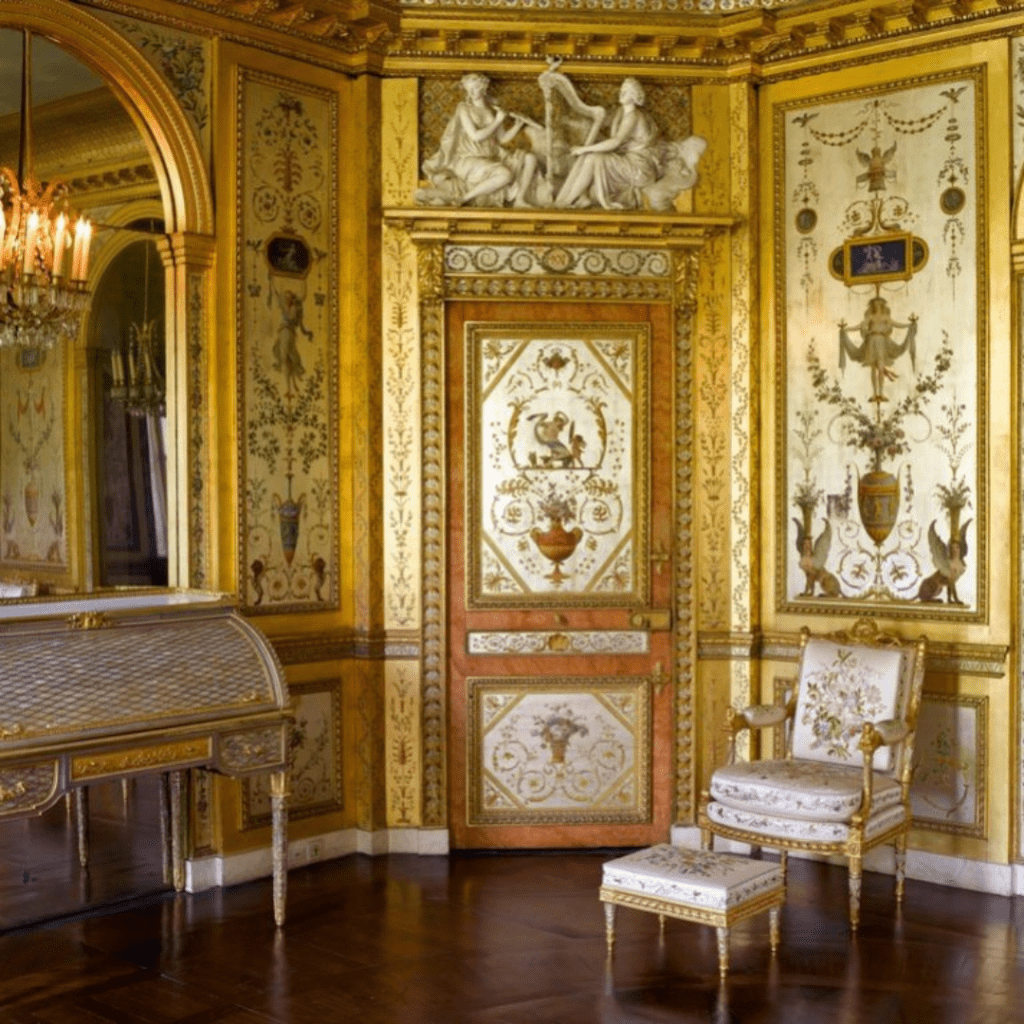 While the first Napoleon made over many of the rooms during his reign, Empress Joséphine insisted on keeping Marie Antoinette's so-called Silver Boudoir (above) in its original glory — to see this particular room, you'll need to buy a ticket for a guided tour.
Marie Antoinette's Paris
Her First Visit
In the first season of Marie Antoinette, Paris only makes a brief appearance. In 1773, the dauphin and dauphine made their first official visit to the city; standing on the balcony of the Tuileries Palace (demolished in 1883), they were received by an immense and rapturous crowd. In Marie Antoinette, this scene is filmed at Château Champs-Sur-Marne.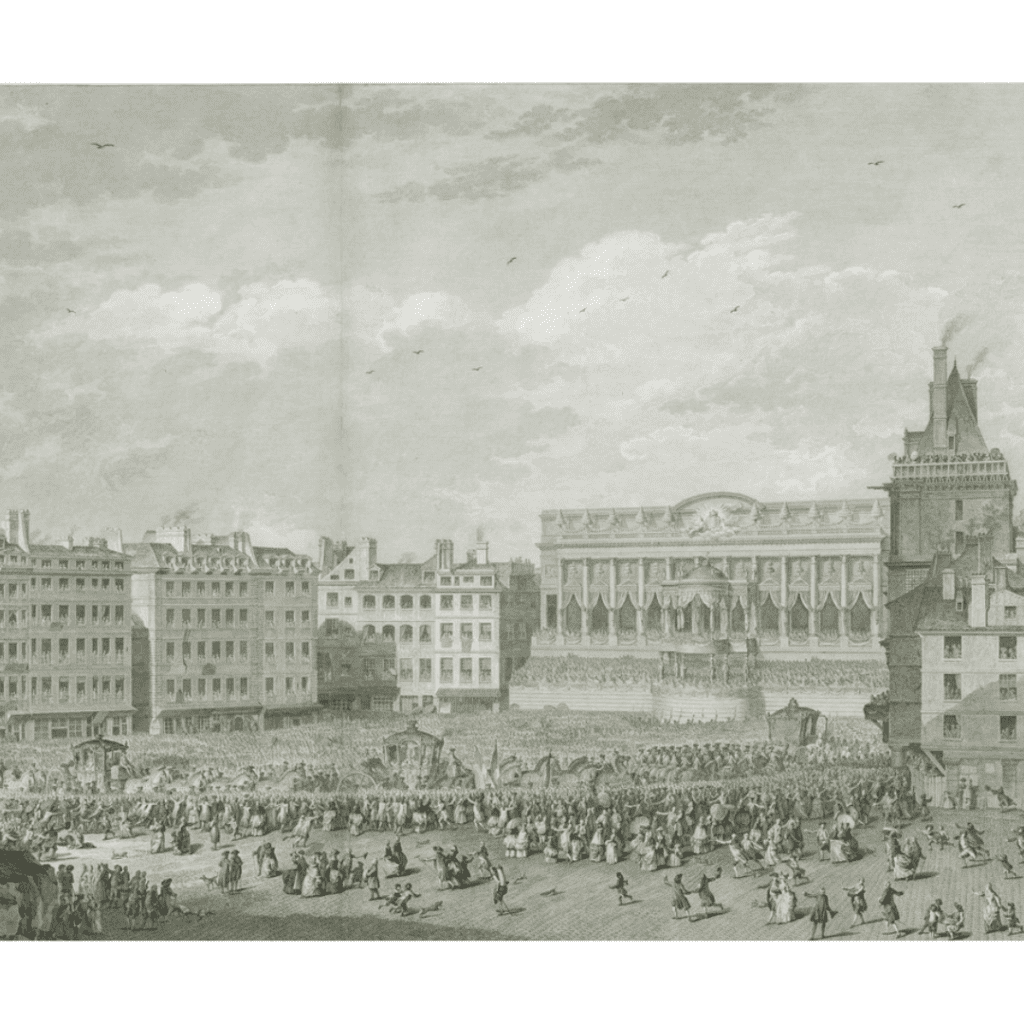 In actual fact, their first day was a long one. Their carriage was met by city officials at Cours-la-Reine, the tree-lined street that runs west along the Seine from Place de la Concorde (then called Place Louis XV).
From here, they rode east, crossing to the Left Bank at Pont Royal and proceeding on to the under-construction Hôtel des Monnaies, which was to house the Mint. The newly refurbished Monnaie de Paris now features a museum dedicated to the art of metal; it's a joy to venture beyond the grand neoclassical façade, noting various architectural details and exploring the glittering riverside rooms, which hold various exhibitions and installations.
The royal couple next went to mass at Notre-Dame, before inspecting another new monument: the Église Sainte-Geneviève, now the Panthéon.
Finally, they arrived at the Tuileries Palace, for a grand banquet watched by thousands of admiring Parisians. The gates of the Tuileries Garden, which had once been public but had reverted to a royal enclosure for most of the 1700s, had been flung open, and tens of thousands of Parisians partied there that night. The royal couple even joined them, walking through the crowds, greeting the revellers all the way to Place Louis XV, now Place de la Concorde. Loved as they were that night, they could have had no inkling that this square would be the site of their very public, gruesome death twenty years later.
Partying in Paris
One week later, Marie Antoinette returned to Paris for an opera. At the time, the Opera House was within the Palais Royal complex (it was destroyed by fire in 1781, after which Marie Antoinette commissioned the Théatre de la Porte Saint-Martin, which exists today).
She loved the opera, and being admired by what were then adoring crowds, so she began to journey to Paris regularly for performances. One such scene in Marie Antoinette was filmed at the jewel box-like Théatre Montansier in Versailles, which also appeared in the movie Dangerous Liaisons.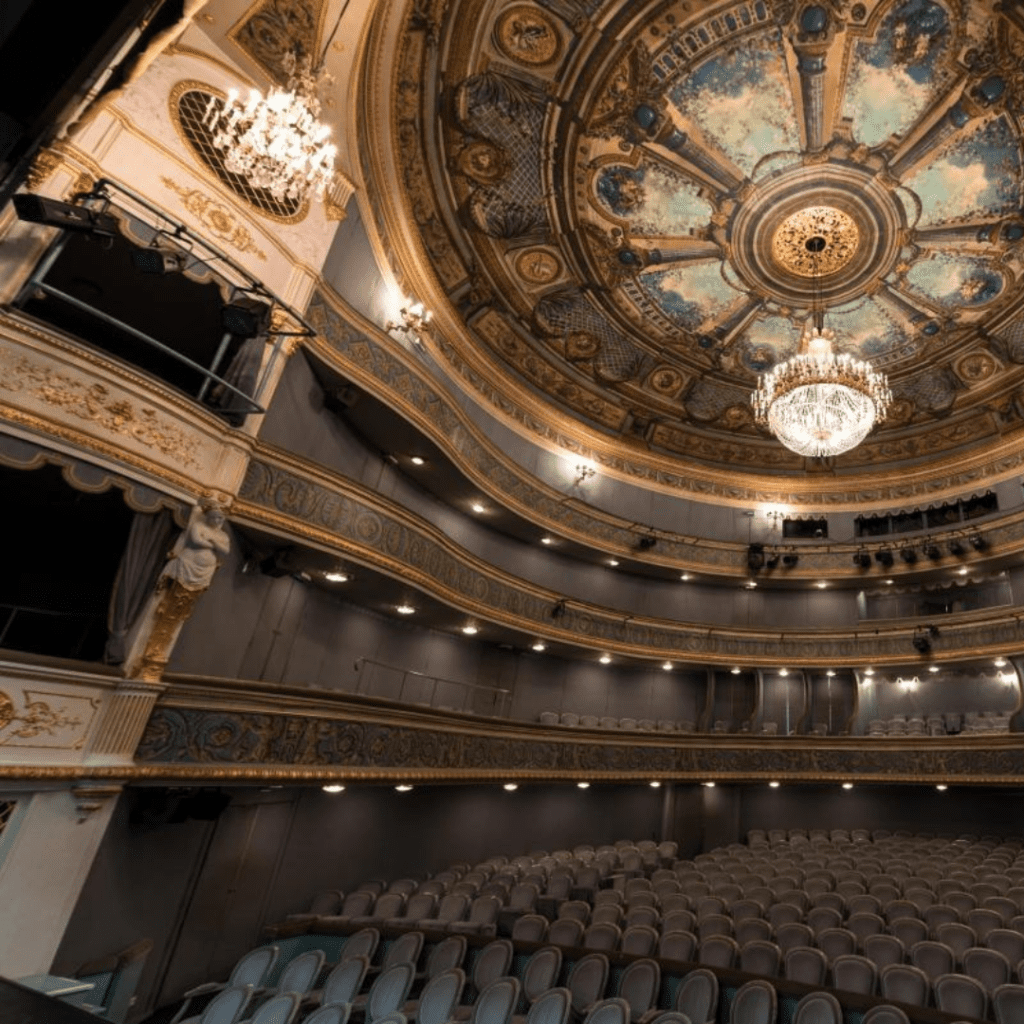 Marie Antoinette was also a regular theatregoer in Paris. The Théatre-Française, or Comédie-Française, had its home at the Tuileries at the time; it would eventually be moved to what is now called the Odéon-Théatre de l'Europe, which Marie Antoinette inaugurated in 1782.
Parisians' love affair with the queen waned in the late 1770s, as various rumours about her swirled. Some were unfounded, but others not so much— such as her extravagant spending habits. But as the dauphine and a young queen, she revelled in her Parisian moments. She shopped during the day, and partied at night, at masked balls and at fairgrounds, such as Le Colisée, a popular pleasure garden at the time.
Taking a Breather
From 1780, Marie Antoinette spent more and more time at the Petit Trianon. After having her first child, a daughter, in 1778, she gave birth to the long-awaited heir in 1781 (which is where season one of Marie Antoinette ends). You could say this was her Earth Mother stage of life. She preferred wearing white muslin dresses and straw hats, and was a fan of the writings of Jean-jacques Rousseau, who advocated a return to nature, a simplicity of living.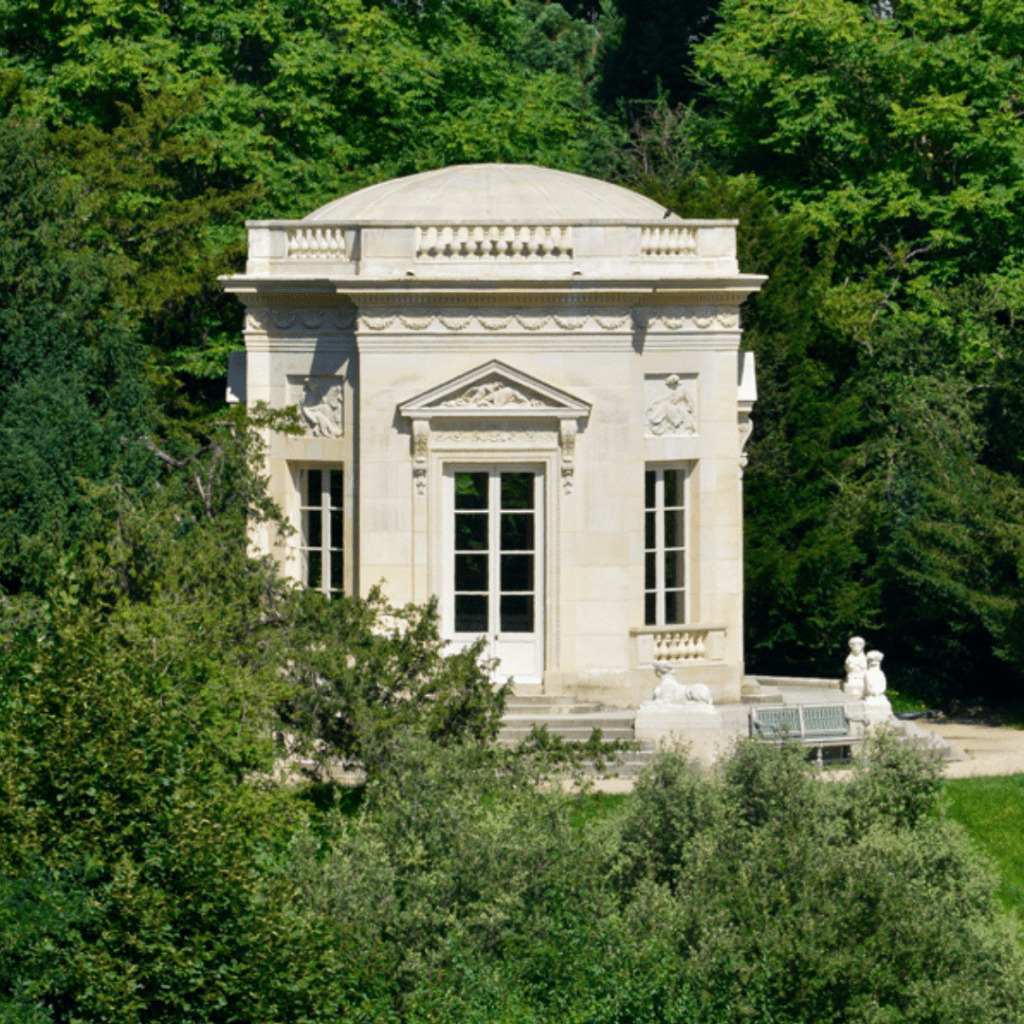 Marie Antoinette focussed on enhancing the Trianon gardens, envisioning a romantic, rambling affair. She had already commissioned several folies — such as the Temple of Love and the Belvedere (above), which can still be seen today — inspired by Paris's Parc Monceau, which then had more fanciful follies than it does today. Work began on the Trianon Estate's Hameau de le Reine in 1783.
In this year, the King bought the Château de Rambouillet, a fortified thirteenth-century manor that he proceeded to refurbish. It served as another hunting lodge, but Louis also used it to experiment with, of all things, a sheep farm. He also commissioned for his wife a small but lovely dairy.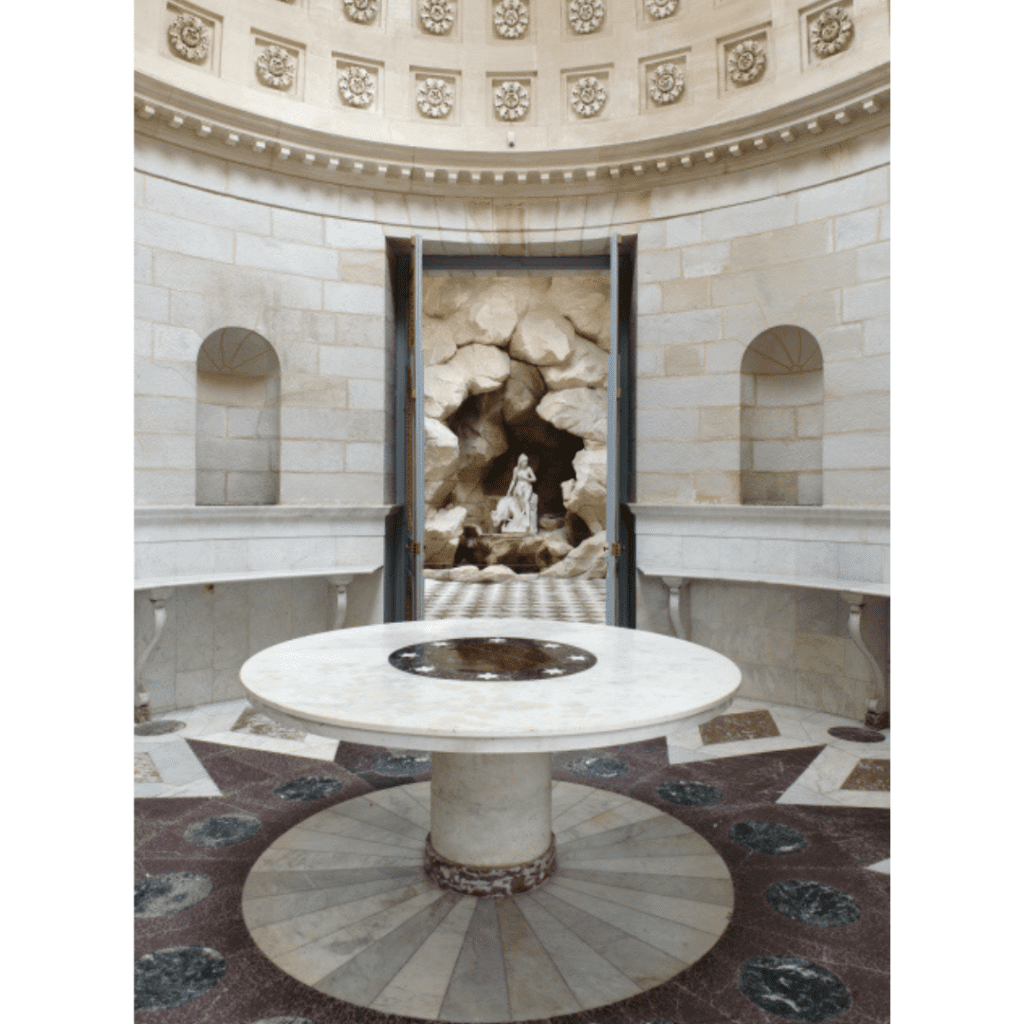 Within this small neoclassical temple was a dome-topped tasting room, with marble counters holding Sèvres porcelain buckets for milk and cheese; the other space, the cool room, featured fountains and a grotto adorned with a staue of the nymph Amalthea and the goat that suckled a baby Zeus. It must be seen to be believed! Château de Rambouillet is an hour's drive from Paris (south-west of Versailles); you can purchase a ticket for the castle and dairy, or simply for the dairy itself.
A similarly sweet Marie Antoinette-inspired creation, but one that's much closer central to Paris, is the Château de Bagatelle, a delightful confection of a mini-palace set within the exquisite Parc de Bagatelle, which lies on the western edge of the Bois de Boulogne.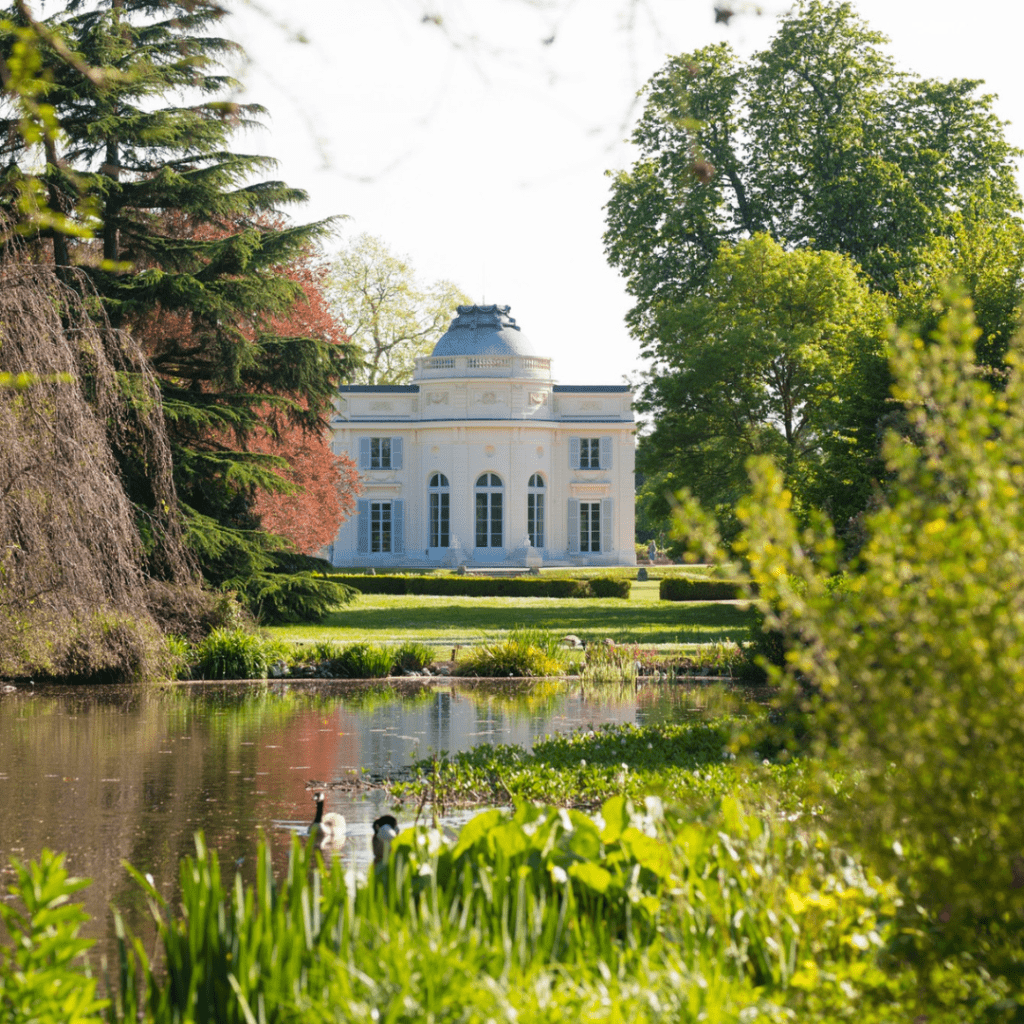 For more information, see the earlier article Seeing la Vie en Rose at the Parc de Bagatelle. Note: Château de Bagatelle is currently under restoration. For more on that, click here and follow its social media.
Her Final Paris Days
The events of Marie Antoinette's final day at Versailles — 5th October 1789 — and her family's forced removal to Paris are well known. They moved into the Tuileries Palace, and a truce of a kind was eventually made between the royals and their Parisian subjects when it was believed a constitutional monarchy might be possible. This hope was dashed, however, with the Royal family's failed attempt to escape Paris. Their fate was now sealed. They were soon imprisoned in the Temple Tower in the upper Marais; part of what was once the fortress of the Knights Templar, it was eventually destroyed by Napoleon, so that it could not become a pilgrimage site for royalists.
After the King's execution, Marie Antoinette was transferred to the Conciergerie on the Île de la Cité, into a small, grim stone cell, with little furniture besides a straw mattress on an iron bed. Alone except for two armed guards, she was cut off from family and friends. Fabricated, vulgar accusations gave the authorities an excuse to send Marie Antoinette before the Revolutionary Tribunal, on an upper floor, in the Palais de Justice. She was found guilty of high treason as well as the patently false charge of incest, with a public execution ordered that day.
A visit to the Conciergerie will take you through the old medieval halls which served as one location for the Revolutionary Tribunal, and as a communal prison space. Other one-time prison cells display information on Paris during revolutionary times. You can also see the creepy Grooming Room, where prisoners had their hair cut before their appointment with the guillotine. The expiatory chapel, ordered in 1815 by Louis XVIII, Marie Antoinette's former brother-in-law, is located on the site of her final cell. It's all rather grim, but historically fascinating, too.
Marie Antoinette was carted down Rue Saint-Honoré, past jeering crowds, toward Place de la Revolution, as Place Louis XV had been renamed (it's now Place de la Concorde).
Amid a frenzied, festive atmosphere, she was executed by guillotine, which was set up in front of what is now the Hôtel de Crillon, a one-time city mansion where a young queen, in the good times, took piano lessons.
More Paris Must-Sees for Marie Antoinette Fans
Another expiatory chapel was commissioned by King Louis XVIII. It's located in the eighth arrondissement on the site where King Louis XVI and Marie Antoinette had been buried after their executions. Click here for more.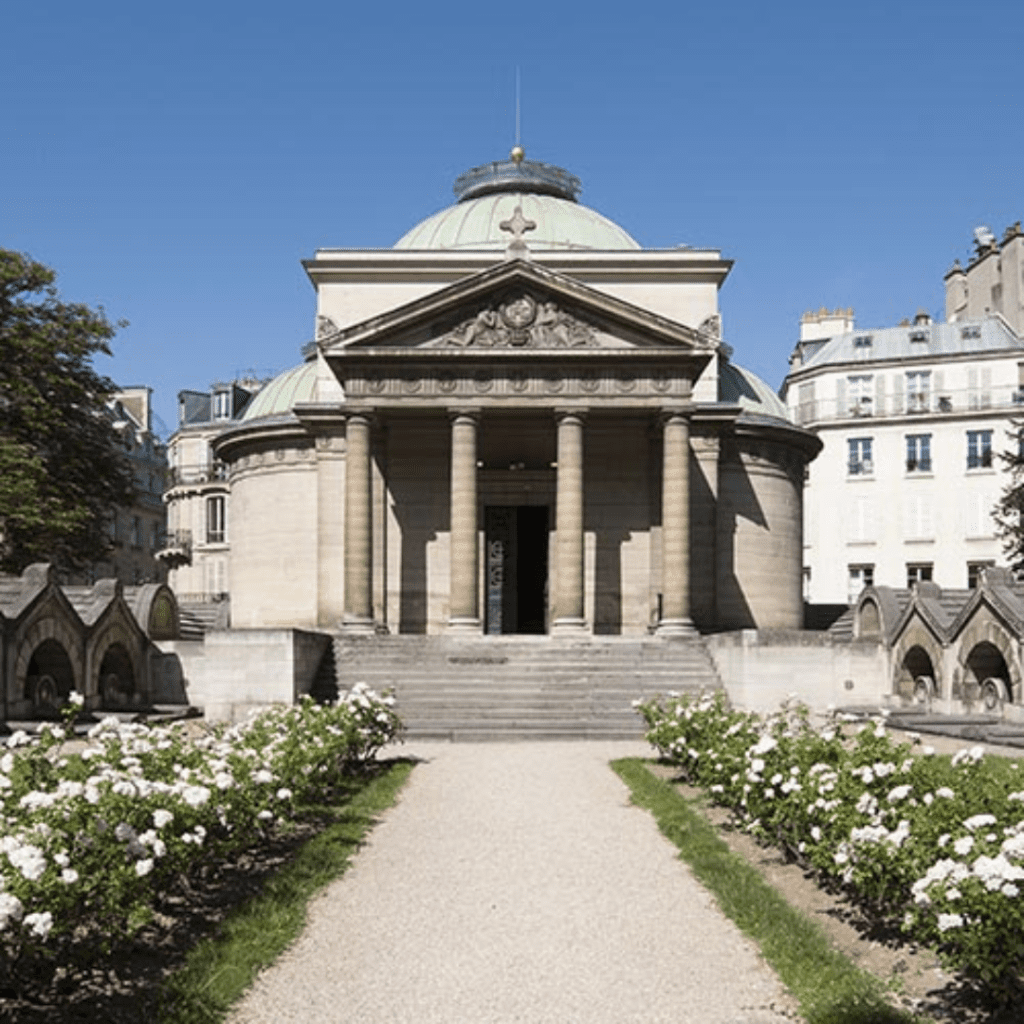 The grandiosely renovated Hôtel de la Marine is like a mini Versailles in Paris. Overlooking the Place de la Concorde, it's also where Marie Antoinette's death certificate was signed.
The Archives Nationales in the Marais contains several Rococco rooms that are also very Versailles (they were even used as interiors for the 2006 film Marie Antoinette).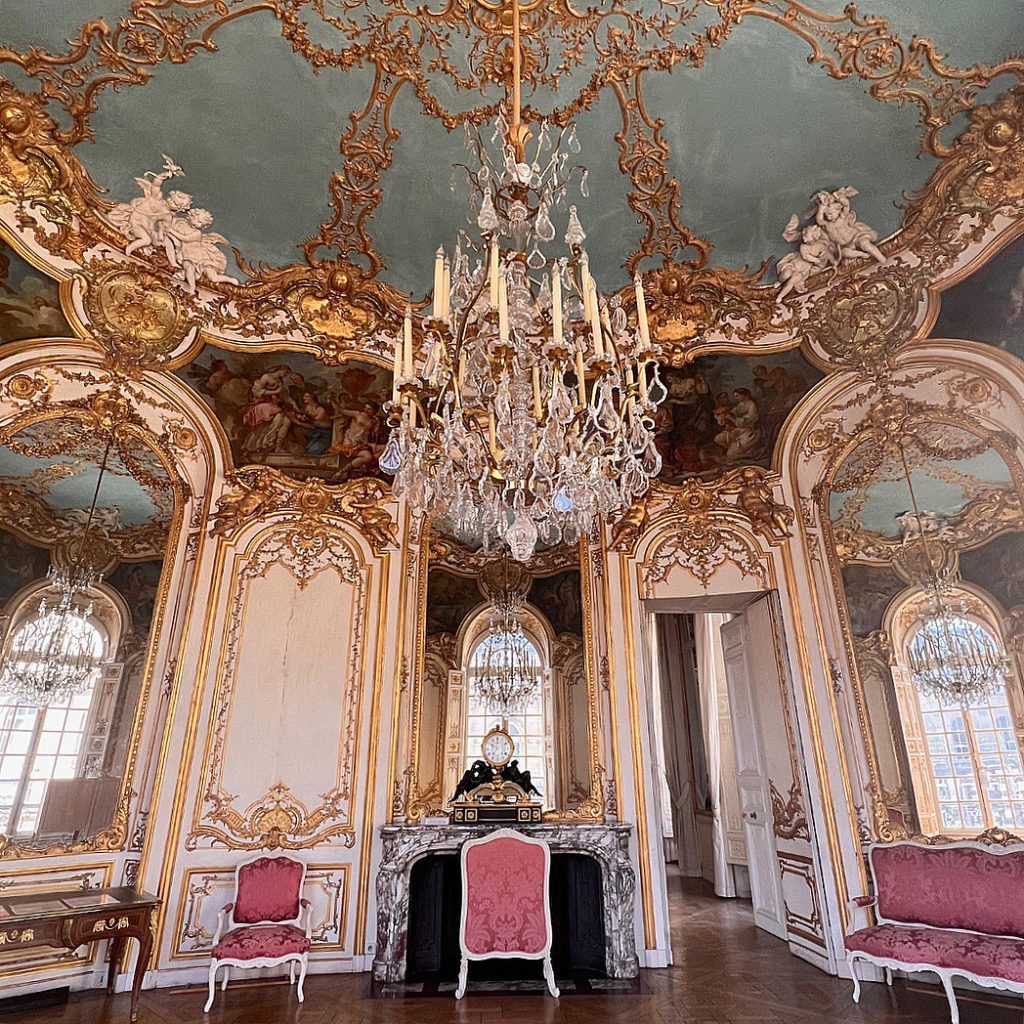 Within these rooms you'll see some remarkable historic archival material, including Marie Antoinette's final letter, to her sister-in-law, and a book of fabric swatches, which she used to choose her day's outfits, back in those good times.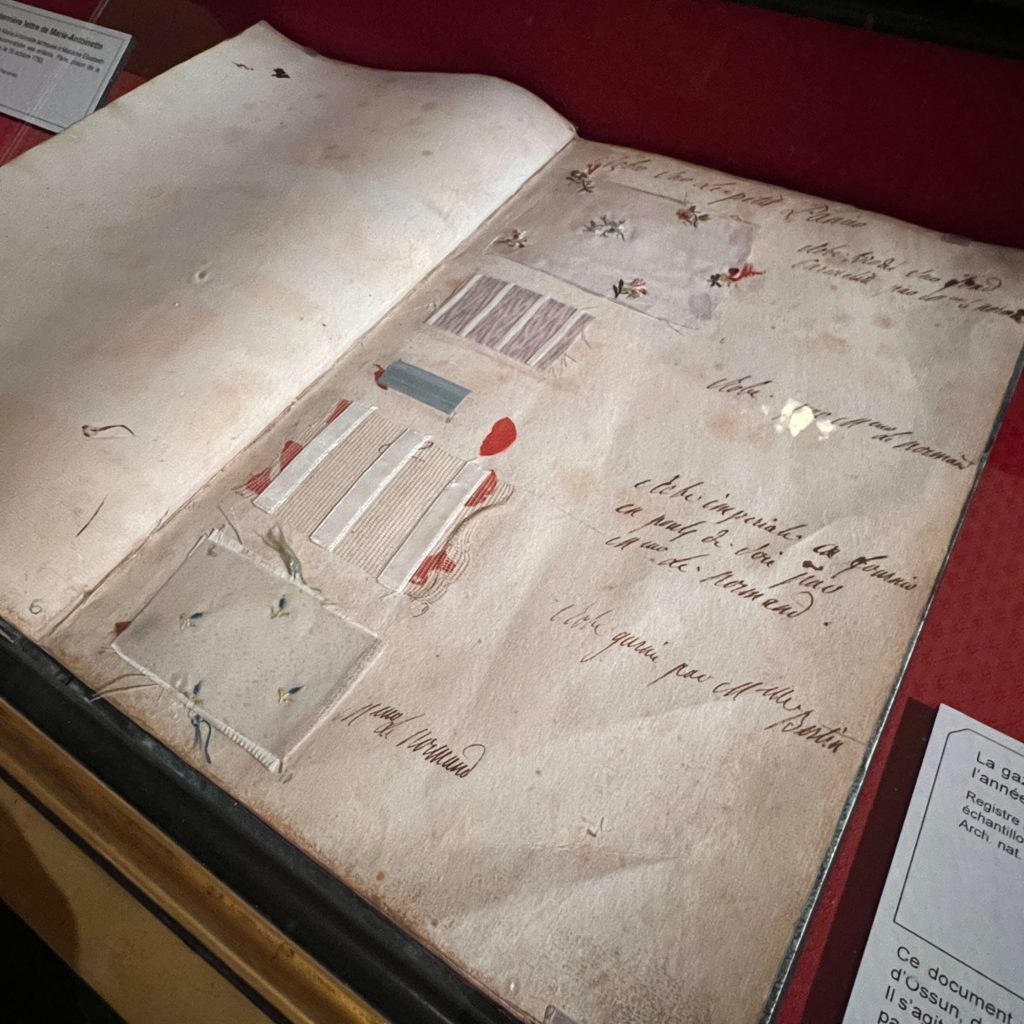 There aren't many of Marie Antoinette's beautiful belongings still around today — so many were destroyed after the family was forced to leave the Palace of Versailles and then that of the Tuileries. You will, however, find one of her tiny, beribboned slippers at the Musée Carnavalet, within the rooms showcasing Paris during the Revolution.
Finally, to Debauve & Gallais (30 Rue des Saints-Pères, 75007) … It's surely the most historically significant chocolaterie in Paris. Its classified interior dates back to 1817, and was designed by Percier & Fontaine, the favoured architecture team of Emperor Napoléon.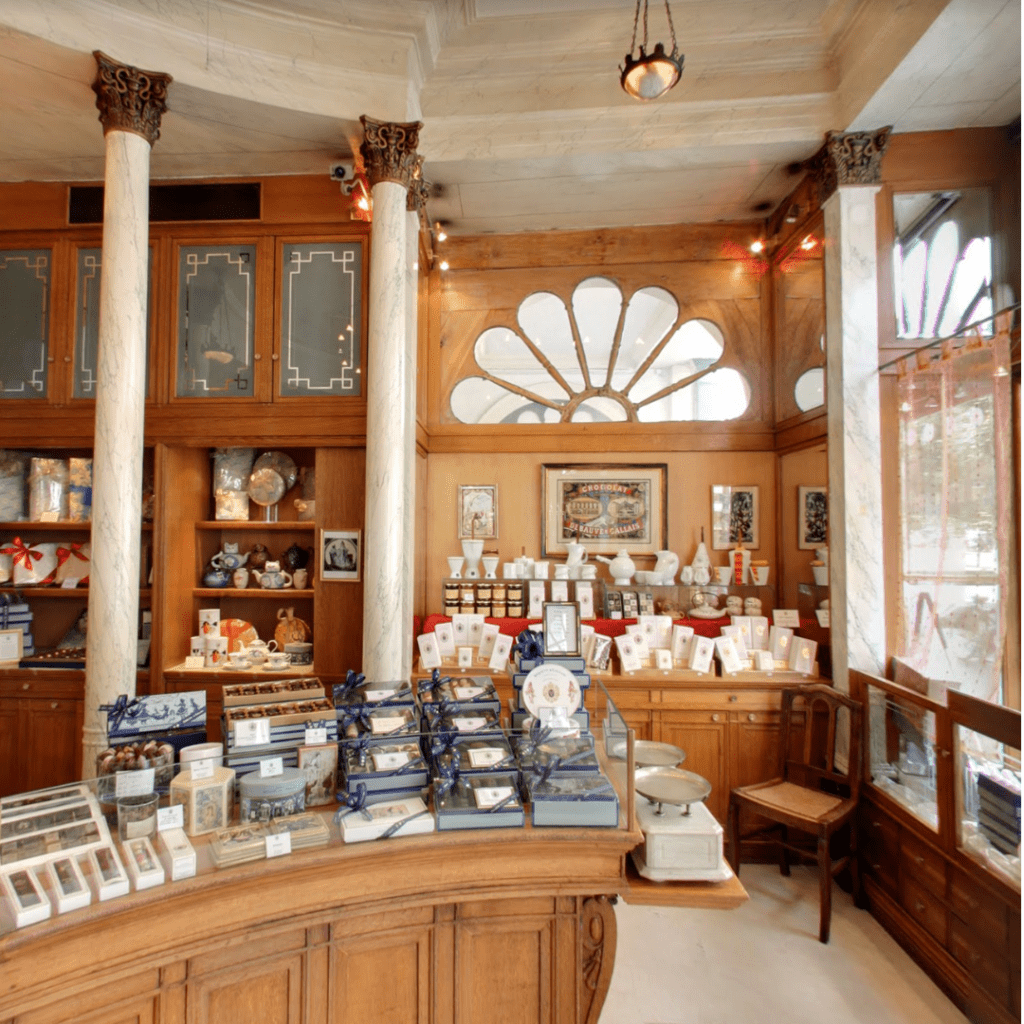 Monsieur Sulpice Debauve was, in a former life, a chemist serving the royal family, and would mask Marie Antoinette's medicine in chocolate discs. You can still get the 'pistoles' today — just without the added medicinal infusion.