French pharmacies are celebrated for their streamlined, serious skincare (think multi-purpose repair balm Homéoplasmine, original cleansing water Bioderma Sensibio H2O, and the A313 skin-toning retinol cream). But if you scrounge around the shelves for long enough, you'll also come across some irresistibly pretty buys that double perfectly as sweet souvenirs …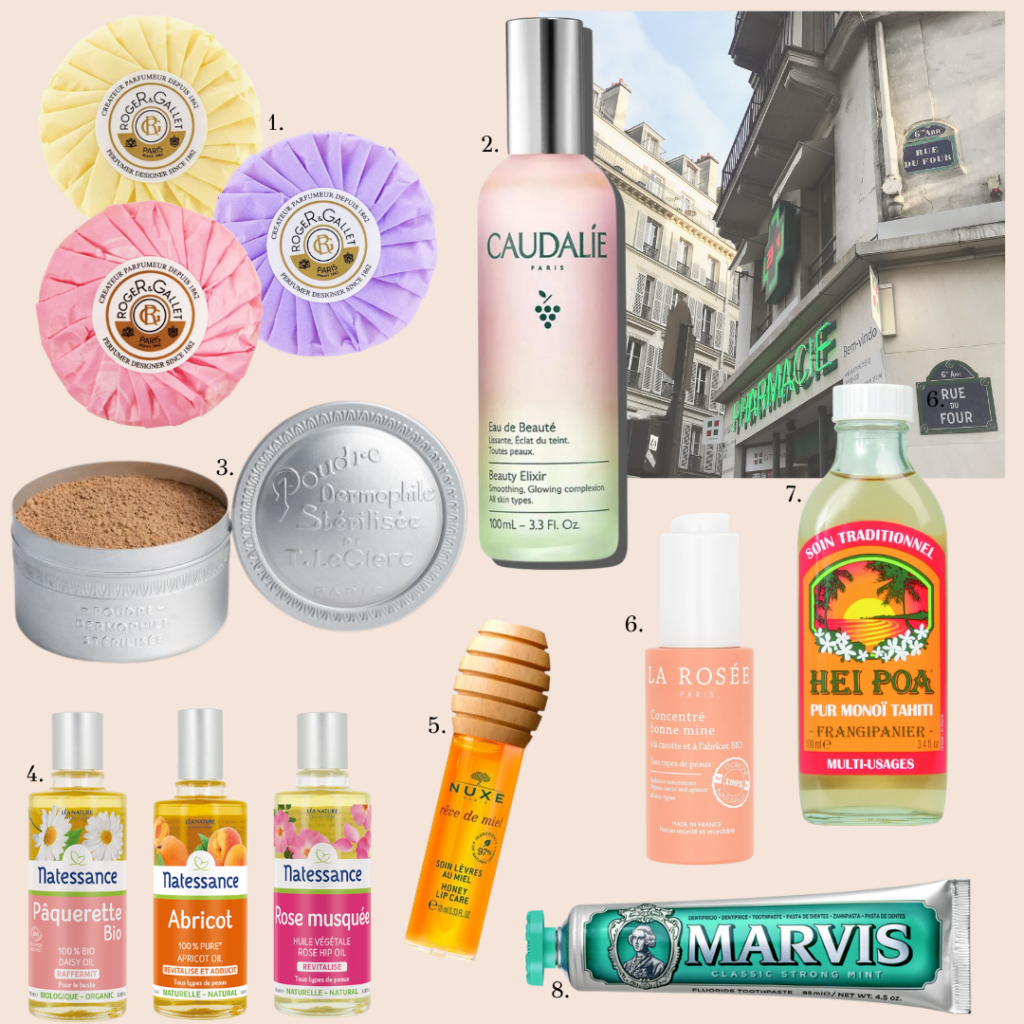 1. Roger & Gallet soaps. These iconic silk-paper-wrapped soaps date back to 1879, and are still manufactured using the traditional cauldron technique. Today's range covers a wide suit-all spectrum of fine-fragrance-esque scents, from floral to fruity to woody. On a superficial note, it doesn't hurt that these soaps look as adorable as macarons. And if you can't bear to unwrap and use them: leave them in your drawer among your smalls for a delicately freshening effect.
2. Caudalie Eau de Beauté Beauty Elixir. Countless dewy-skinned types have been spritzing on this antioxidant- and essential oil-packed mist since 1997; its new-look ombré-pastel packaging makes it more of a must-have than ever.
3. T. LeClerc loose powder. Created in 1881, this finishing powder is still beloved by French women for its fine finish as much as for its elegant antique-look tin (that sits so well on a vintage dressing table!). The shade range, however, is up-to-date, and also includes some corrective shades, such as the yellowish Banane, which is designed to balance out a ruddy complexion. (Note: T. LeClerc is available from selected pharmacies only, such as Pharmacie de Sèvres, 119 Rue de Sèvres, 75006.)
4. Natessance skin & body oils. These cute, collect-them-all bottles feature delicious ingredients such as Almond, Carrot, Apricot, and Daisy, with each designed to ameliorate a specific skin issue.
5. Nuxe Honey Lip Care. While the entire Nuxe skincare range is gorgeous — especially the sells-like-hotcakes Multi-Purpose Dry Oil — this lip treatment is particularly covetable for the way it glazes the mouth in a syrupy glow, as much for its super-sweet, honey-dipper application.
6. La Rosée Concentrée Bonne Mine. This range is also want-it-all fabulous, for its clean and effective formulations as much as soft-pastel packaging. In addition to a prettily rose-tinted lip balm, this carrot- and apricot-laced lotion is as close as La Rosée, with its 'clean beauty' mantra, comes to makeup: mix a few drops into your day cream to give your complexion an instant healthy-look tint.
7. Hei Poa body oils. Hei Poa was created by a French couple in 1977, after an inspirational holiday in Tahiti that introduced them to the luxurious wonders of monoi oil, which is a blend of coconut oil and Tahitian gardenia. These days, you can choose from various versions of the original hero product — say, with added notes of frangipani or vanilla, or a swirl of bronzed shimmer. Whichever option you buy, it's a tropical holiday in a bottle for your senses.
8. Marvis toothpaste. It might hail from Italy, but this whimsical toothpaste range is widely available in French pharmacies; look for the original mint flavours, or newer gourmand formulations, such as Orange Blossom and Sweet & Sour Rhubarb.