It has been a bumper year for books in the Paris genre (click here for first-half launches). Whether you're looking for a few satisfying holiday reads, or some Christmas gift ideas for the other Francophiles in your life, the below list has you covered …
Glossy Tomes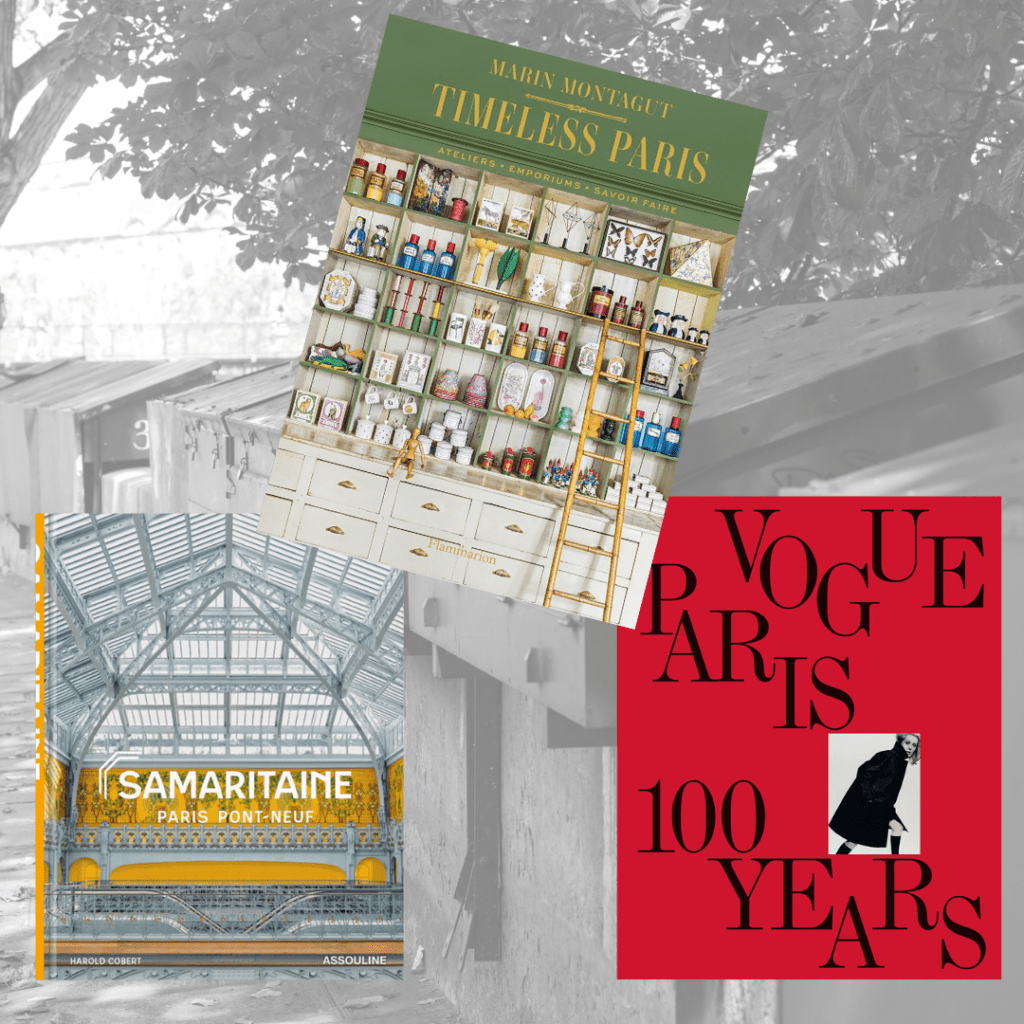 Timeless Paris by Marin Montagut. The artist's love letter to Paris — its ateliers and artisans — is so pretty and whismical that your heart will be palpitating with every page.
Samaritaine by Harold Colbert. This lavishly visual story of the recently renovated department store is hard to find, but worth the effort for fans of Paris history as much as fashion. Speaking of …
Vogue Paris: 100 Years by Vogue Editors. A glorious celebration of the first centenary of the iconic magazine (now called Vogue France). Note: it launches early next year in some markets.
Food & Cooking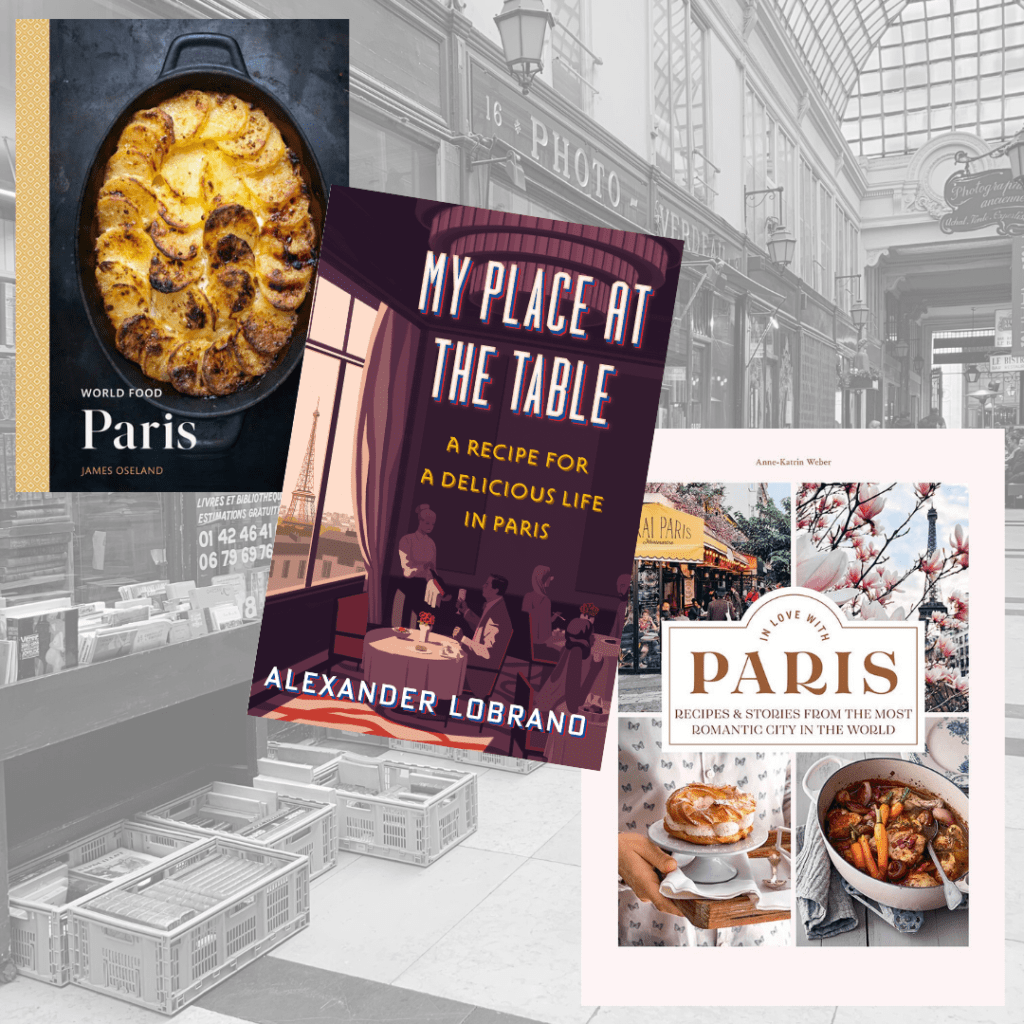 World Food: Paris by James Oseland. A collection of 75 recipes inspired not just by the city's gastronomic traditions, but also its modern, multi-cultural flavours. Think Duck Confit Salad as much as North African Lamb and Vegetable Tagine.
In Love with Paris by Anne-Katrin Weber. As with the above cookbook, In Love with Paris features beautiful landscape as well as food photography. The 50 sweet and savoury recipes cover all the classics, from Coq au Vin to Croque-Monsieur. And — bien sûr! — Paris-Brest.
My Place at the Table by Alexander Lobrano. The author is a restaurant critic and 30-year resident of Paris, and this is a suitably deliciously fun, savour-every-page memoir.
World War II (Non-Fiction)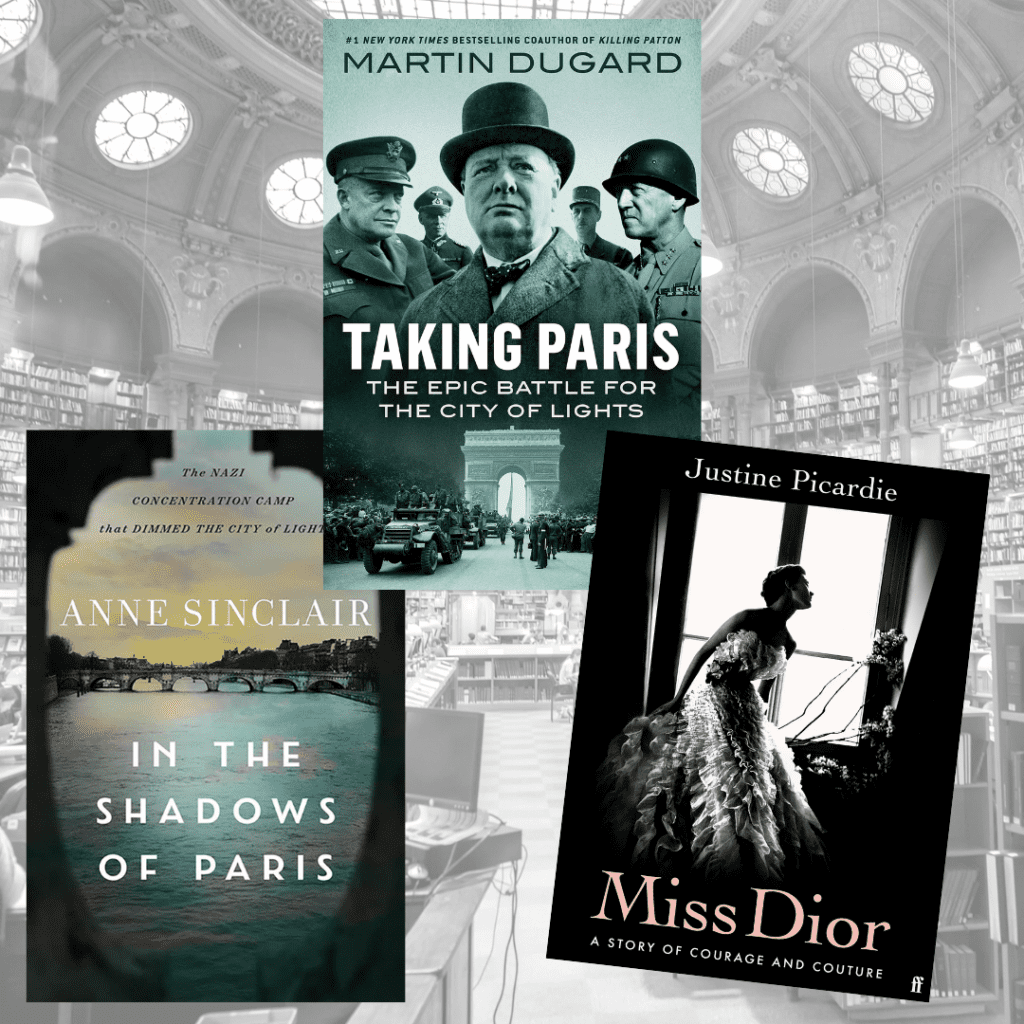 Taking Paris by Martin Dugard. Covering the period from Paris's fall to the Nazis to the heady days of its liberation, this is a gripping, edge-of-your-seat kind of read that plays out visually, almost like a movie.
Miss Dior: A Story of Courage and Couture by Justine Picardie. Catherine Dior — the designer's sister and resistance hero — gets the book she so deserves. Picardie is a brilliant biographer, weaving together all facets of her fascinating subject's life, from her horrific time as a Nazi prisoner, to her inspirational role at one of history's most glamorous fashion houses.
In the Shadows of Paris by Anne Sinclair. Part memoir, part historical examination, this book is also a tribute to the author's grandfather, who was emprisoned by the Nazis in a little-known concentration camp on the outskirts of Paris.
World War II (Historical Fiction)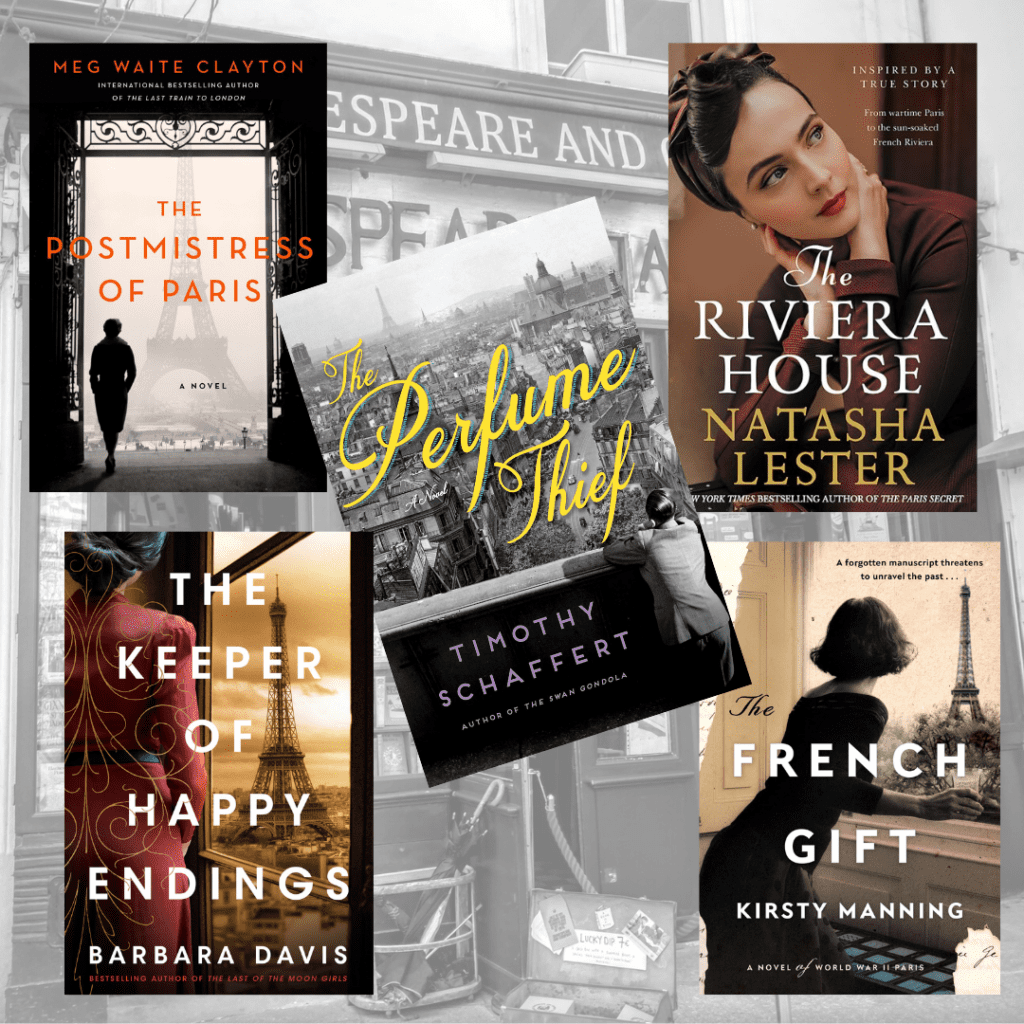 The French Gift by Kirsty Manning. Paris, a murder mystery, a mysterious manuscript, the strength of female friendship … leaving aside the horrors of war, there is much to love in this novel. Especially the snippets set on the sun-soaked Côte d'Azur.
The Riviera House by Natasha Lester. Also alternating between Paris and the South of France, as well as dual timelines, this book is a beautifully absorbing read that pushes all the emotional buttons.
The Keeper of Happy Endings by Barbara Davis. Have the tissue box at hand for this one, too! Similarly oscillating between wartime and modern timelines, it ultimately asks if the future can soothe the heartaches of the past, and if life gives you second chances.
The Postmistress of Paris by Meg Waite Clayton. Many novels set in Paris of World War II star spirited, resourceful and brave heroines who step up to history — and this one is no different. The protagonist is inspired by Mary Jayne Gold, the Chicago heiress who helped European Jews, artists and intellectuals escape the Nazis.
The Perfume Thief by Timothy Schaeffert. The heroine here is also American, yet differs from most in this genre in that she's elderly (72) and gay. Schaeffert's appreciation of both the art and science of fragrance, and his ability to describe scent are awe-inspiring, and make for a book that is deep and lush, a pleasure to sink into.
A Few More for Historical Fiction Fans that Part-Feature Paris …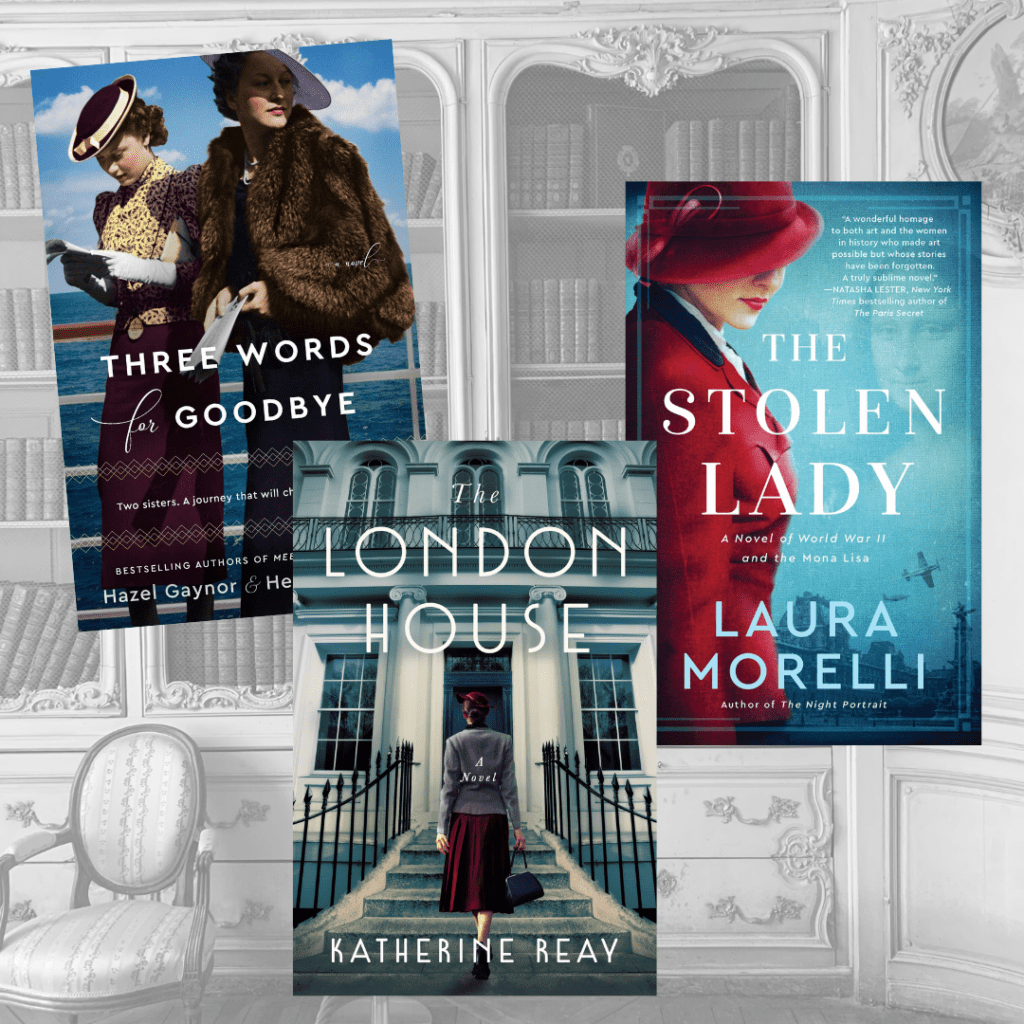 The Stolen Lady by Laura Morelli. In one timeline we meet the woman who becomes the face of history's most famous painting; in the other, the woman desperate to keep the masterpiece out of Nazi hands. Like Natasha Lester's The Riviera House, this novel examines the importance of art to humanity.
Three Words for Goodbye by Hazel Gaynor and Heather Webb. A journey through Paris, Venice and Vienna in the tumultuous year of 1937, as much as a journey into the joys and strains of sisterhood.
The London House by Katherine Reay. A dark family secret sends one woman delving into 1930s Paris in an attempt to find the truth about her late aunt and namesake.