'Actually, Paris is the most beautiful in the rain.'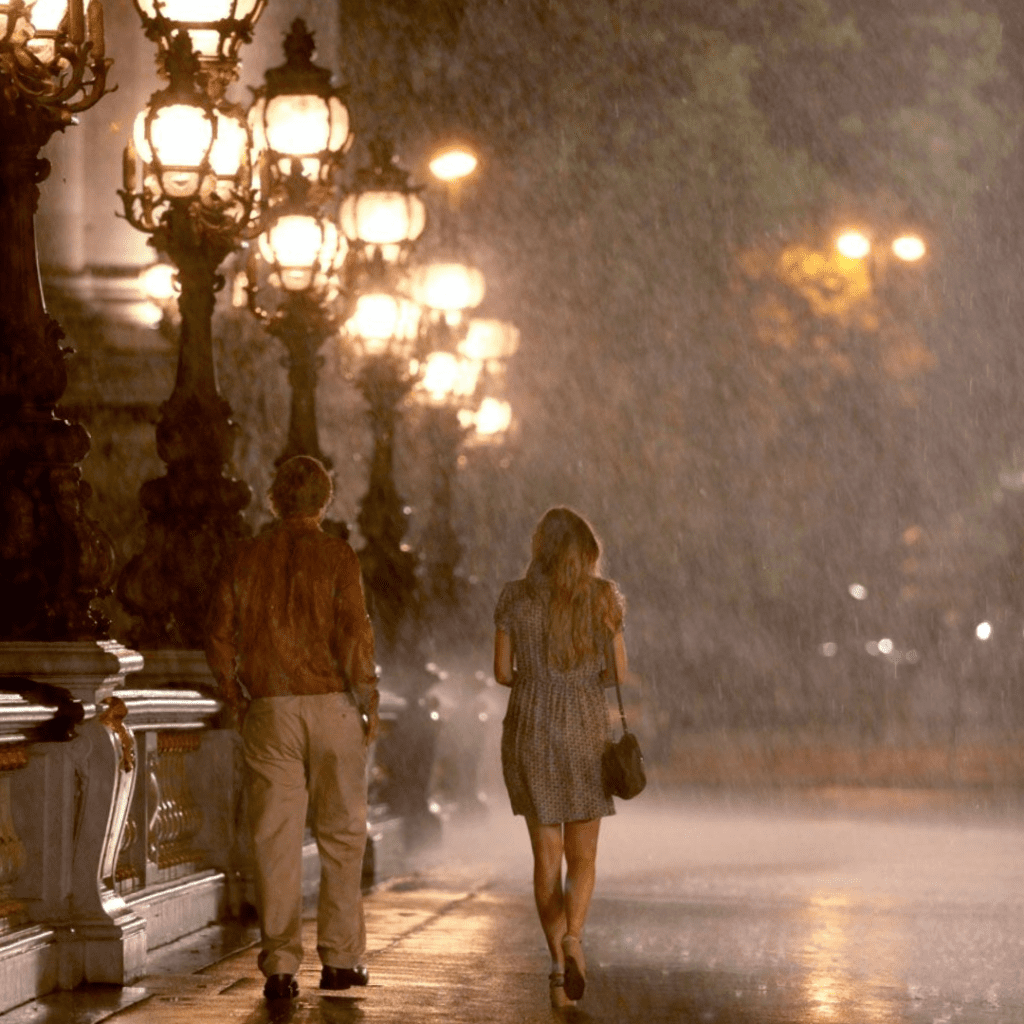 So says Léa Seydoux's character Gabrielle to Owen Wilson's Gil at the end of Midnight in Paris, before they walk away from the Pont Alexandre III, toward a glimmering future together.
If you're as similarly misty-eyed in your Paris outlook (well, if you're a regular visitor to this website, you probably are!), you'll agree that the City of Light glows gorgeously when wet. Those glossy cobbles! Those glinting rooftops!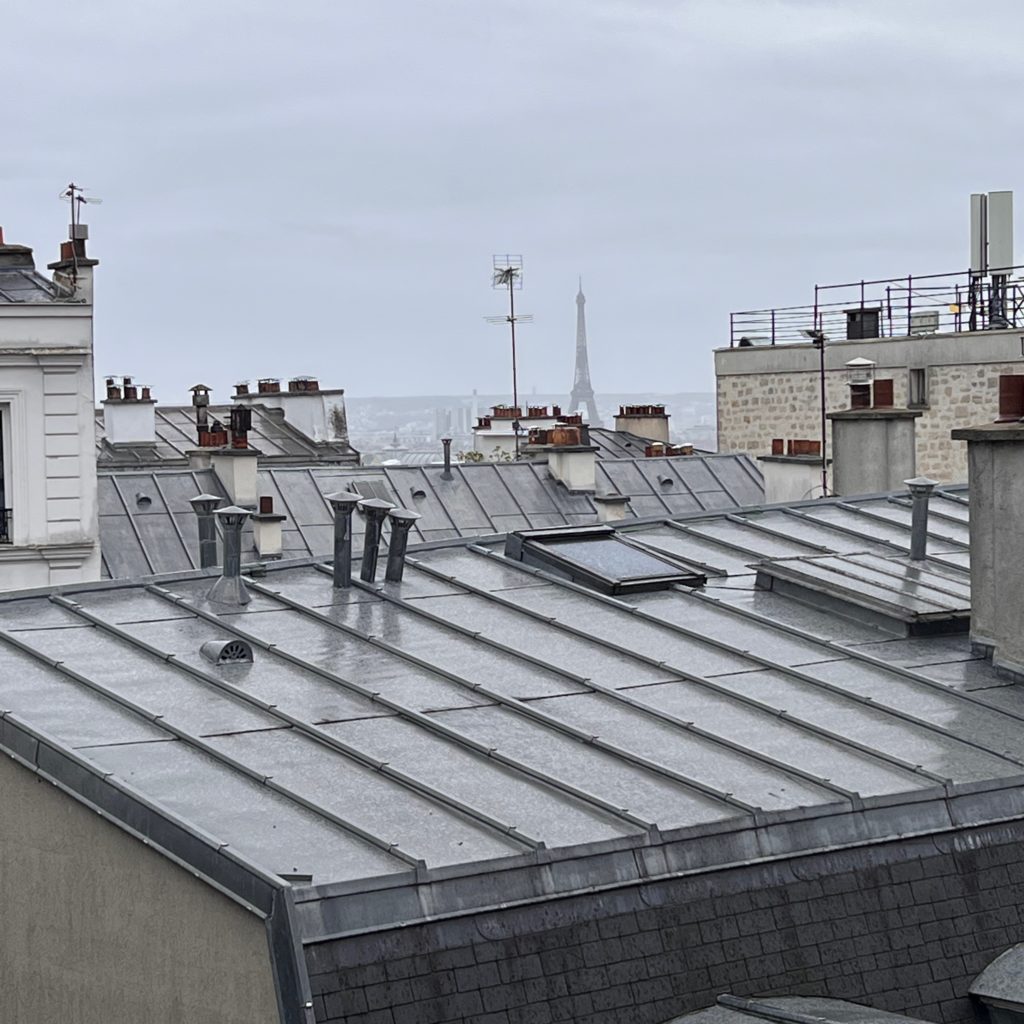 But even the most committed Paris romantic must admit that rain can put a slight damper on many Parisian plans, necessitating an itinerary rethink.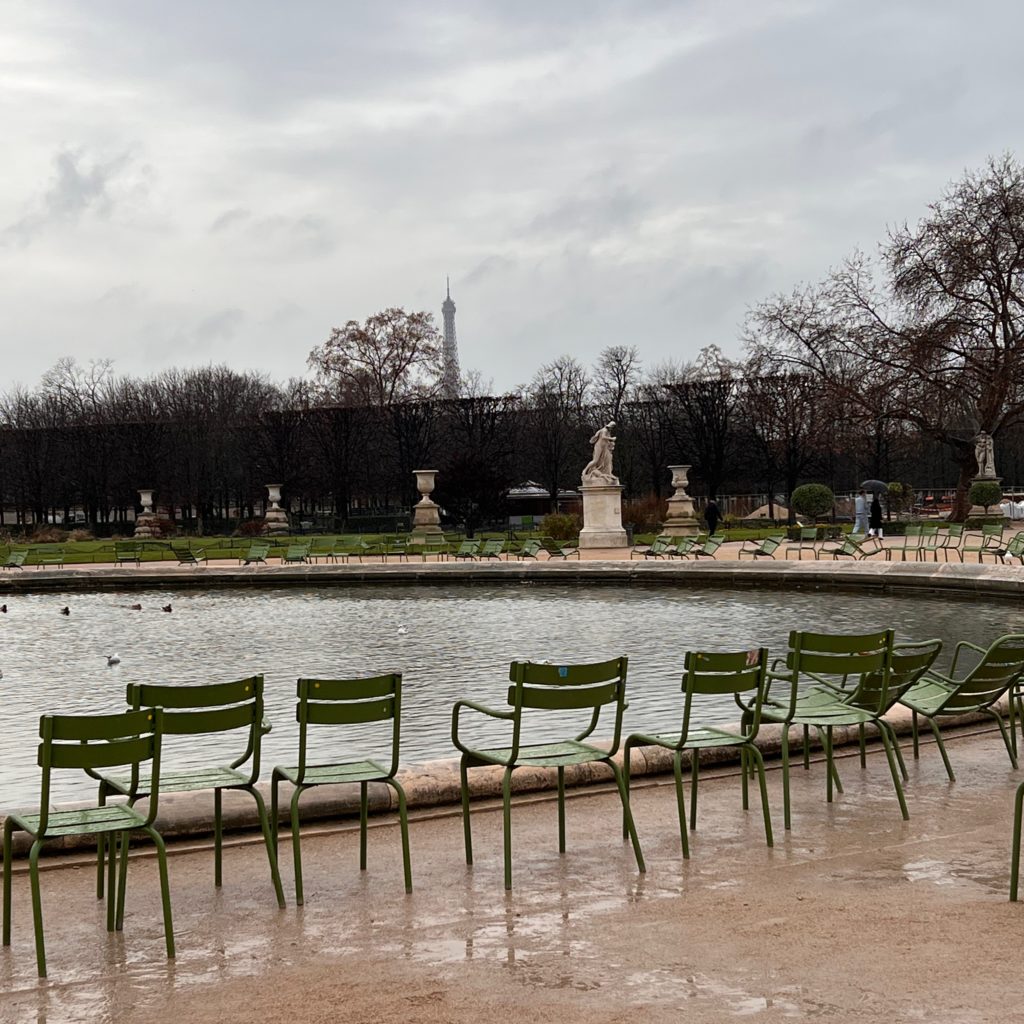 A rainy day is not, for instance, the ideal time for sitting about the city's parks, pondering the meaning of life, or taking long meandering walks, following in the footstops of the many Paris-loving flâneurs before you.
But there are still many classic-Parisian yet weather-proof ways to spend a rainy day or two. Read on for some ideas …
Snuggle en Terrasse
Find a café with a snug, covered terrace (like La Palette in Saint-Germain-des-Près, above). Unless it's completely enclosed it's no longer allowed to be heated. But you can warm up with one of the blankets on offer and a steaming coffee, hot chocolate or mulled wine. Settle yourself in for a while — one of the best traditions of Parisian café culture is that waiters won't hassle you onwards. You can linger for as long as you like, more or less, watching the world go by. If you have a book you can't wait to start — or have a book in you that you're dying to write — today could be that perfect day for it.
Treat Yourself to a Long Lunch
If a deluge descends in the middle of the day, consider it a sign from above that today's the day for that long lunch, the kind you don't like to take on a clear day, for fear of missing out on seeing too much. Rainy Parisians middays are perfectly suited to atmospheric restaurants, where the food is as comforting as the interior, styled back in an era when life was slower.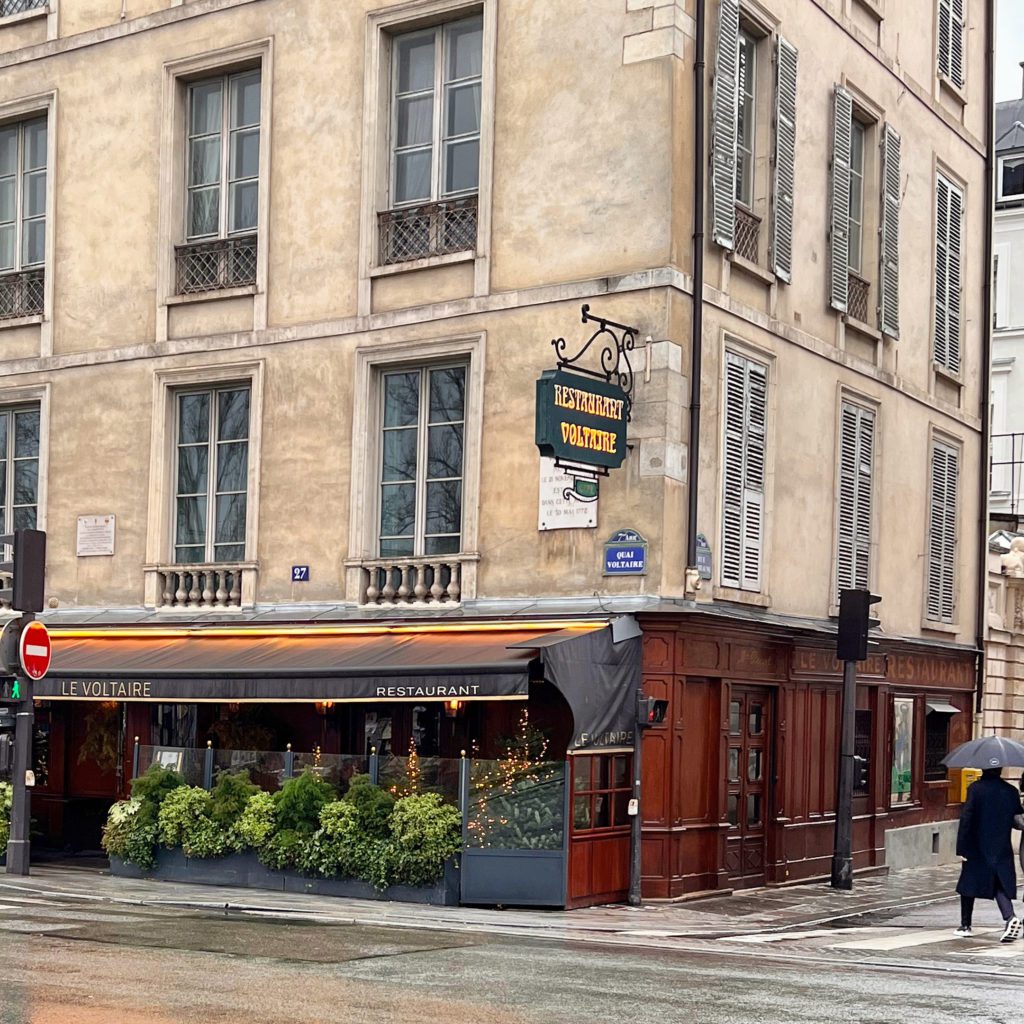 You can splurge on an iconic restaurant you've long wanted to try — Le Voltaire, for instance. Or find your ultimate escapist eatery in this list of ten cosy Paris restaurants.
Or Have a Meal with a (Moving) View
If the thought of boxing yourself away for lunch or dinner gives you claustrophobia or FOMO, you can always dine on the go. Restaurant cruises don't necessarily just cater to the mass-tourism crowds. One of the most stylish around is Le Calife (below); read about it here.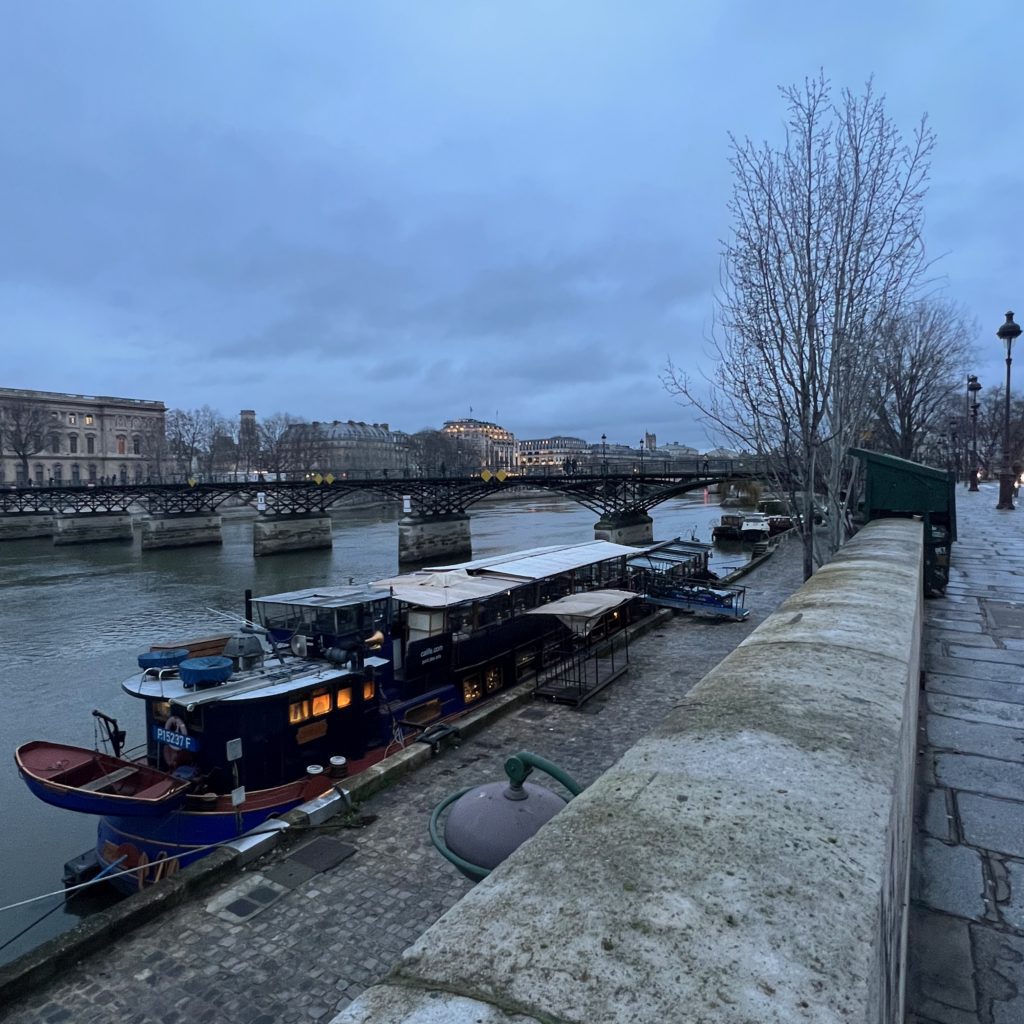 Or, you could try a restaurant bus. There are several on offer, such as Bustoqué and Bustronome; exact durations vary, but expect a meal and tour to last around two hours.
See Paris by (Super-Cute) Car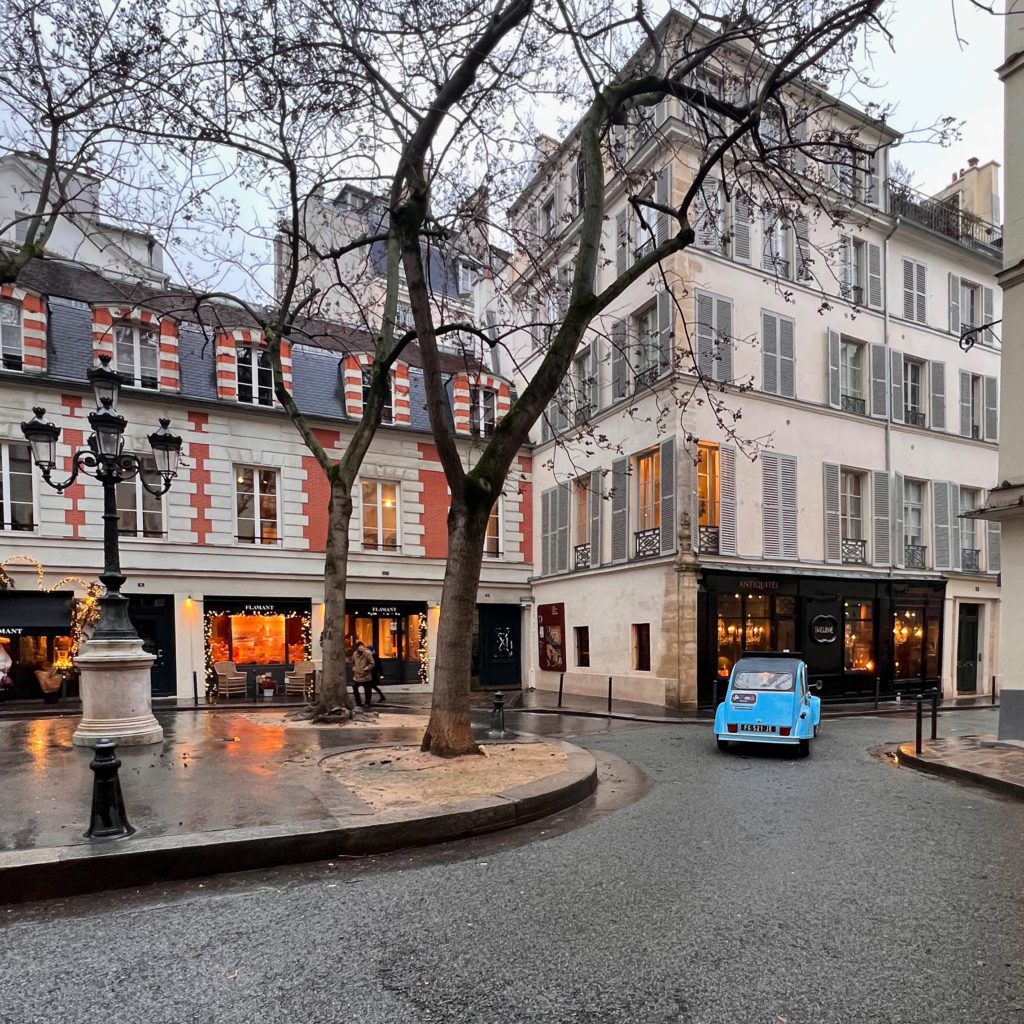 One memorable way to see Paris is through the windows of a  chauffeur-driven Citroën 2CV. Numerous companies now provide this service — such as Hubert à Paris and Paris Authentique. Take the time to compare the cars and the routes on offer. If you know central Paris well, now could be the ideal opportunity to journey around paths less trodden, such as those on Paris Authentique's Undiscovered Paris Tour.
Visit a Misty Montmartre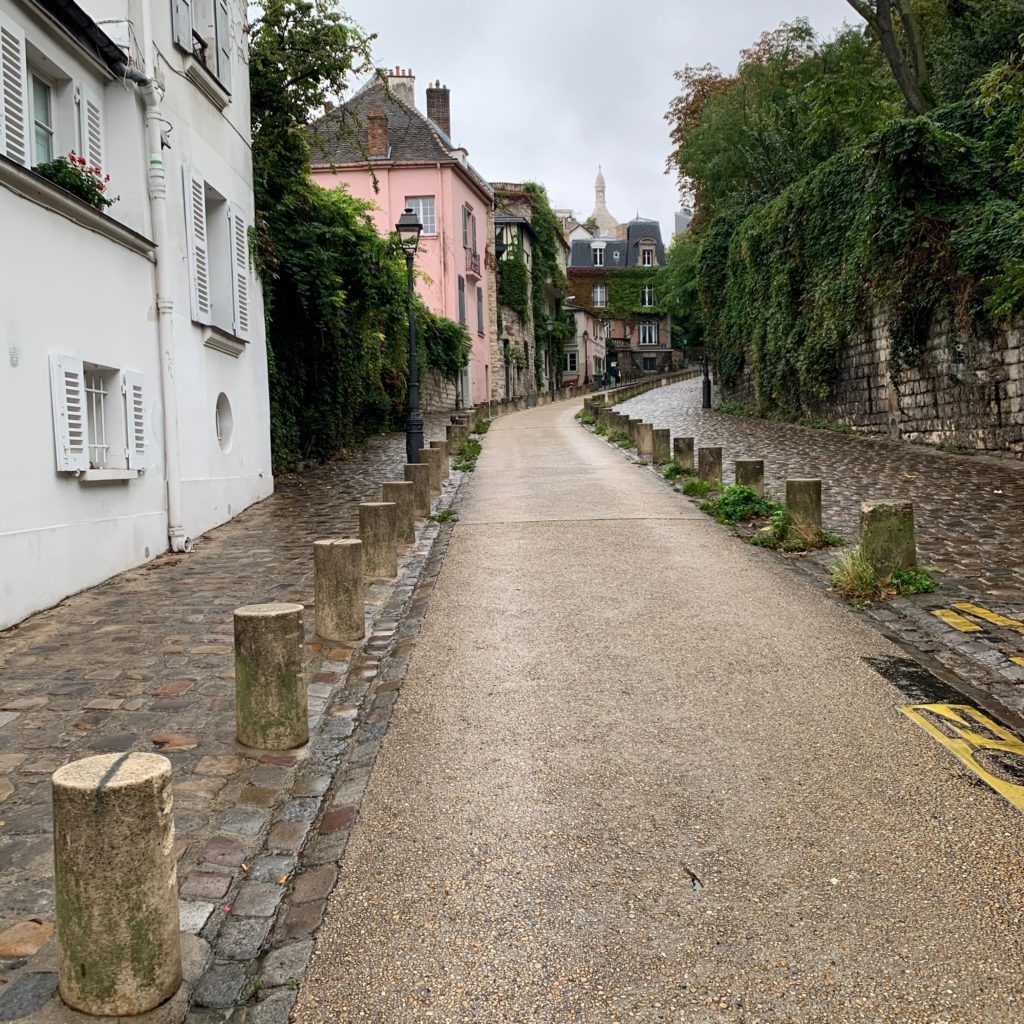 Speaking of paths less trodden, the mythical hilltop district of Montmartre, which can be unbearably crowded on mild days, is refreshingly empty in the rain. This is especially so in the morning, so if you wake up to forebodingly heavy clouds, pack your umbrella and redirect your plans by heading straight to the Lamarck-Caulaincourt métro station. From here, wind your way around the cobbled back streets: Rues de l'Abreuvoir, Saint-Vincent and Girardon … You might get wet, sure, but it will be worth having these streets to yourself, and experiencing what Montmartre must have been like in its bucolic heyday.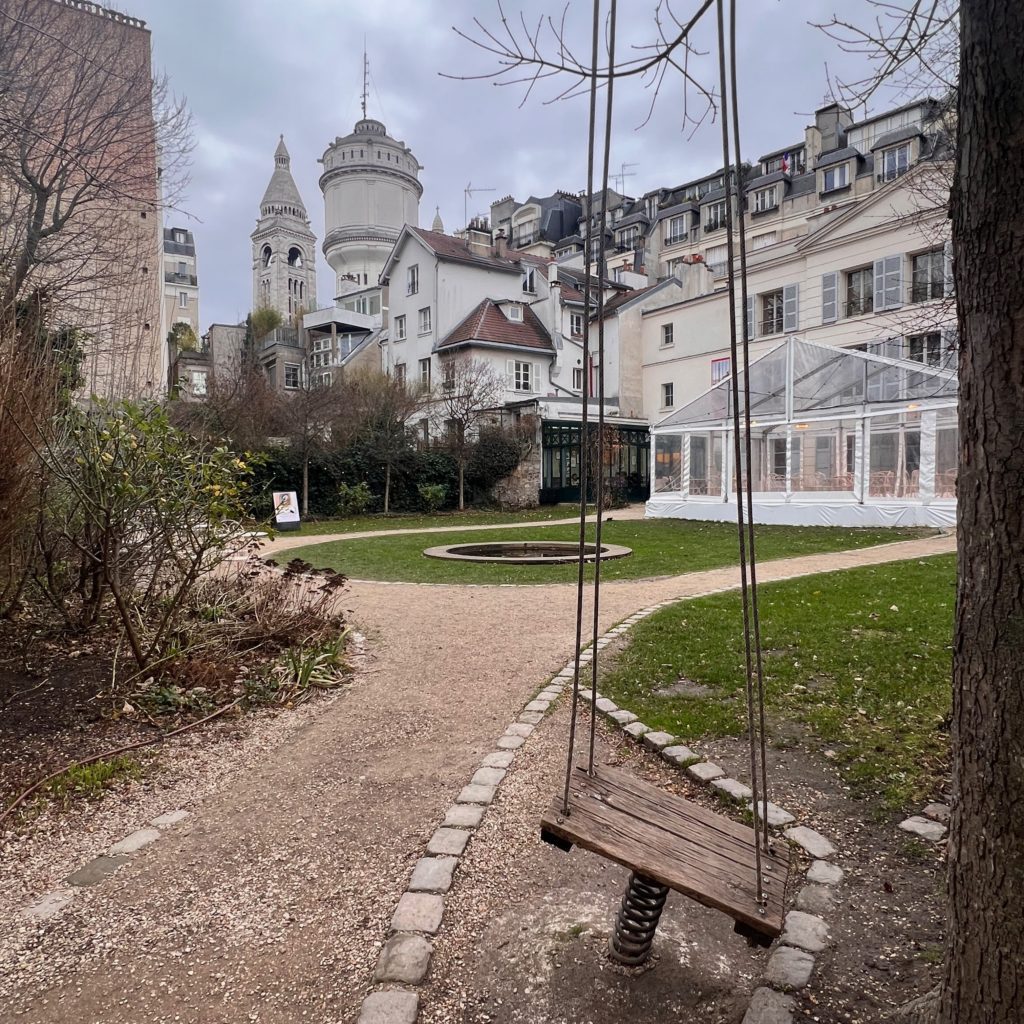 When the crowds do descend, take cover in the Musée de Montmartre, a delight of a museum that will teach you more about the history of the area, and that boasts a lovely glasshouse café in one of its pretty gardens (above).
Explore the Marais' Museums
If museums are always top of your Paris to-do list, no matter the weather, head to the Marais on a drizzly day. You can dry off in a number of fascinating museums, which are housed in architectural gems of buildings, all located conveniently close to one another. Don't miss: Musée Carnavalet (above), Maison Victor Hugo, Musée Cognacq-Jay, Musée Picasso Paris and Musée de la Chasse et de la Nature.
Take Cover in Paris's Passages
Another architecturally illuminating way to avoid the rain in Paris is to stroll through the city's covered arcades. Start at Galerie Véro-Dodat (home of Christian Louboutin) then head west toward Palais-Royal, where the shopping arcades around the garden's perimeter feature exquisite perfume and fashion boutiques (below), as well as a gorgeous air of faded glamour.
Continue north, through the rickety Passage des Deux Pavilions, to find the famed, beautifully tiled Galerie Vivienne, where you could get lost in time as much as in the wonderful archives of the historic Jousseaume bookshop.
Further north still, you'll come to Passage des Panoramas (above). It's mostly a strip of eclectic restaurants, so you might want to stop for lunch, but linger also at the arcade's postcard and stamp stores, which sell antiques that double as inspired souvenirs.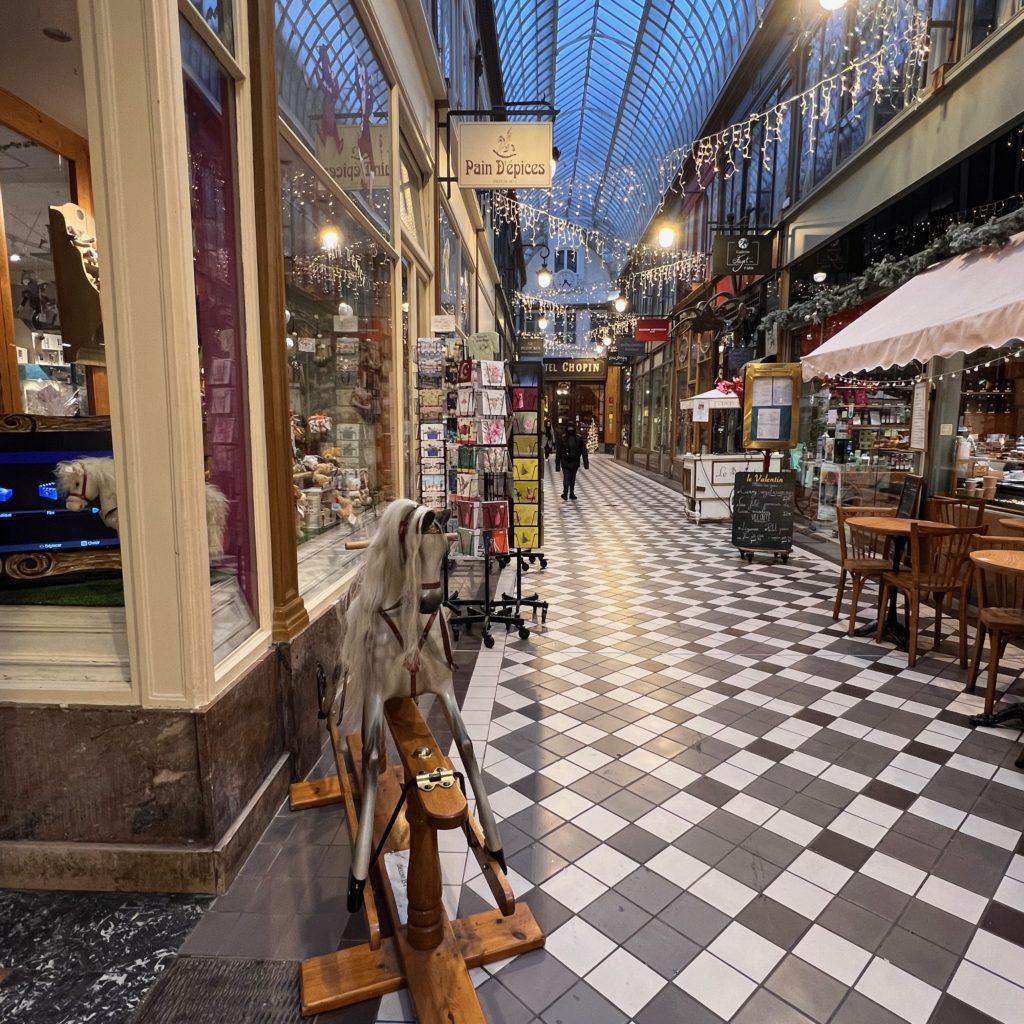 Just over the Boulevard Montmartre is Passage Jouffroy (above); its whimsical stores include some devoted to toys and unique Paris souvenirs, so if you still need to tick some names off your present list, spend some extra time here.
Jouffroy leads into Passage Verdeau, where you'll also find some unique gift options, as well as vintage books, prints and maps.
Once you're done, turn around and retrace your steps. Look up and around as you go; the architectural details of these glass-roofed arcades — which were elegant shopping meccas in the era before department stores — are exquisite. Speaking of department stores …
Shop up a Storm
If one of your reasons for loving Paris is the fashion, today is your ultimate, unabashed shopping day. Galeries Lafayette and Printemps are handily close to one another …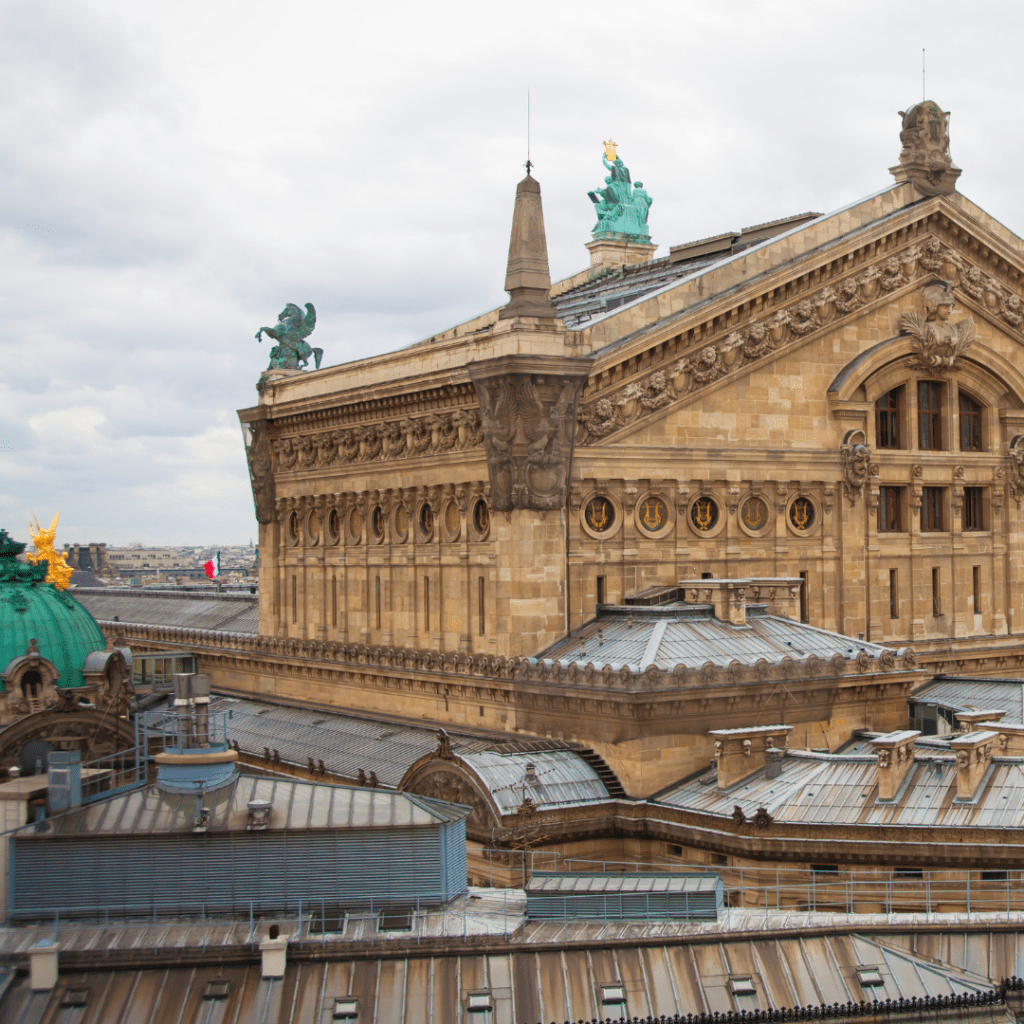 … and if you need a breather, despite the rain, each store offers a top-floor terrace from where you can gaze adoringly over, and photograph, the rooftops of Paris. Which, of course, look all the lovelier in the rain.