La Galerie Dior is a museum dedicated to the iconic Parisian brand. But it's also so much more: an exploration through the fashion house's history; an examination of its DNA; a showcase of its timeless style; and an interactive installation that will, at many points, take your breath away.
A visit begins in a towering vestibule, where a staircase spirals upwards, past glass cabinets filled with a rainbow of doll-size Dior designs, from white and cream handbags to ballgowns in every pink to heels and hats in orange and red …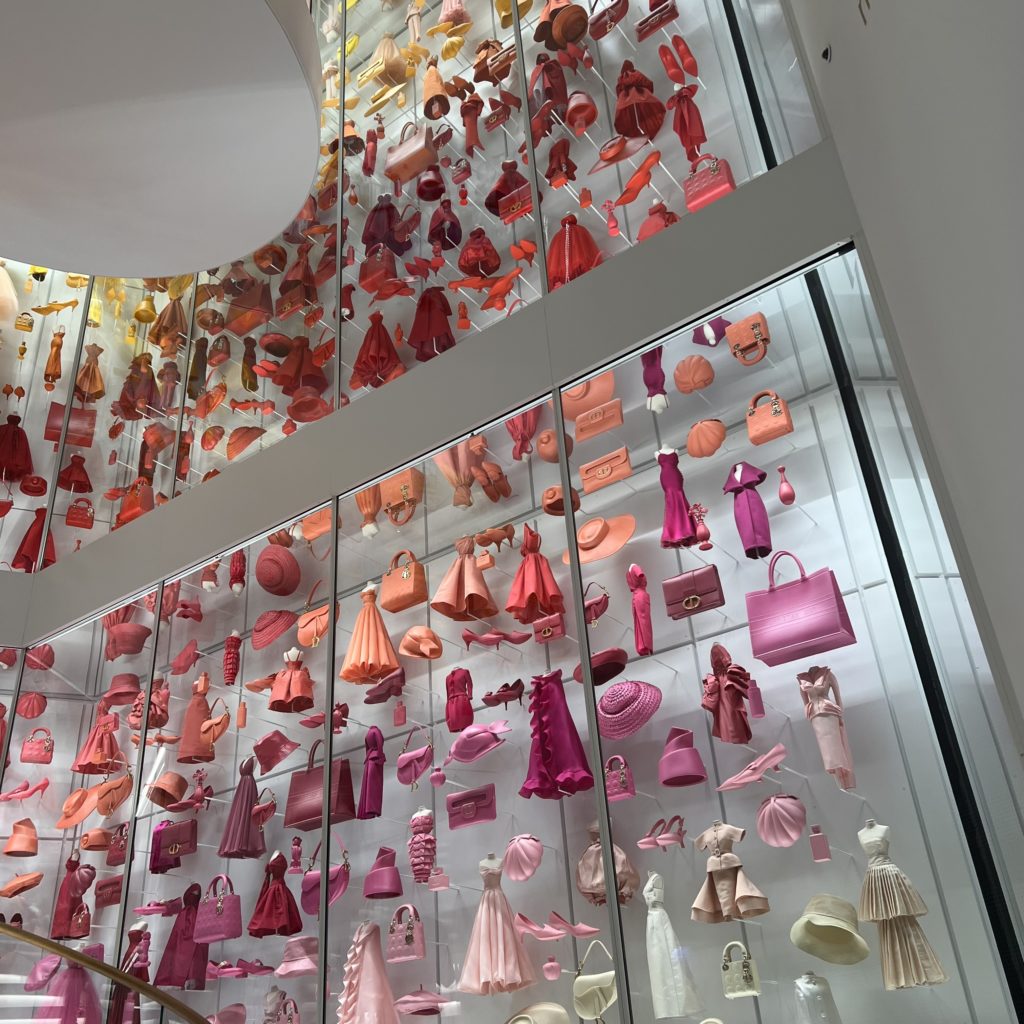 You're tempted to twirl up, in a trance, as the display morphs into yellow, blue and green, but someone soon directs you onwards; for the stairs are the museum's exit, and an elevator transports you instead to level three, where the journey officially begins.
And here is where you're greeted with Dior's Bar Suit, the ensemble of nipped-in cream jacket and swishing long black skirt that was the star of the 1947 'New Look' collection, the one that shot Christian Dior to instant, global fame.
The next room is devoted to the designer's personal and professional history, with photos, letters and various historical artefacts telling the story of his childhood, his years of fame, and his shock untimely death in 1957. Many glorious dresses and outfits of the original Dior decade are on display; so too are some Monsieur Dior designed for other houses, before he launched his own maison. It's clear that the designer — who superstitiously clung to several 'lucky charms,' including sprigs of his beloved lily of the valley — was always destined for greatness.
The next room brings to life how Dior's rose-tinted nostalgia for his pretty childhood home, a coastal villa in Normandy, influenced his love of soft tones, especially rose pink and dove grey.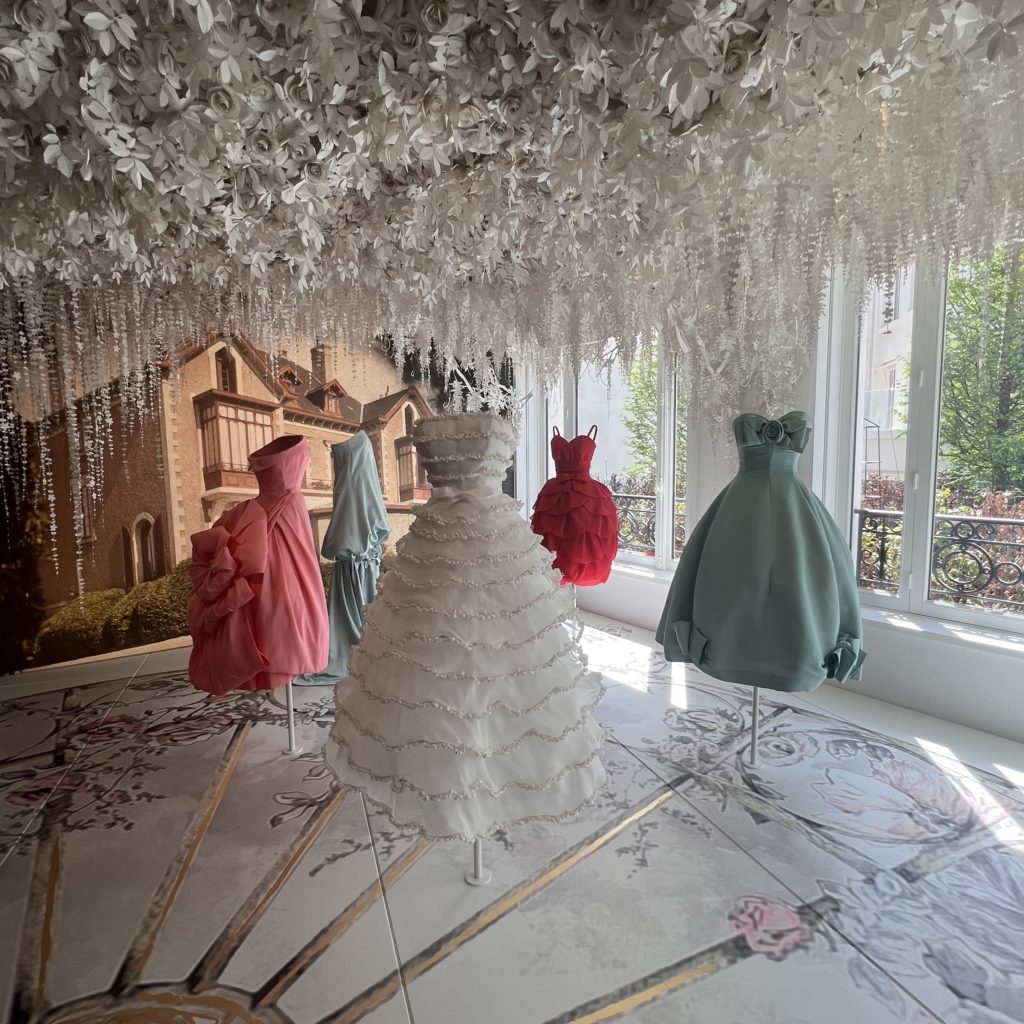 After walking through the designer's old office, which has been restored to its original state, complete with vintage fabric swatches …
… you come across one of the most astonishing features of La Galerie Dior.
Beneath your very feet, and a glass floor, is a recreation of the old model cabin, the backstage space where mannequins would prep and primp and dress before a show. Strewn across dressing tables are powder puffs, gloves and pearls, while shoes and hats spill out from boxes scatted over the parquetry floor. Petticoats and gowns are suspended from hangers and racks, and you half expect to see the ghosts of Bettina and friends rushing in at any moment.
While Dior turned out one heart-stoppingly pretty dress after another, he also knew how to do sexy black evening numbers, which the next room proves. So it's with a start that you then step into a room of blindingly white designs.
These turn out to be toiles, the white canvas dresses or jackets or skirts that are one step in the haute couture process, helping to ensure that a design fits a client's figure like a glove before it is executed in silk or chiffon and finished off with sparkle or embroidery. Speaking of which, an actual couture employee is part of the show here, toiling away with needle and thread and beads, showing that haute couture — whose sky-high prices make it out of reach for most, and make it seem at times superfluous — is at heart a trade, and an industry that employs many artisans.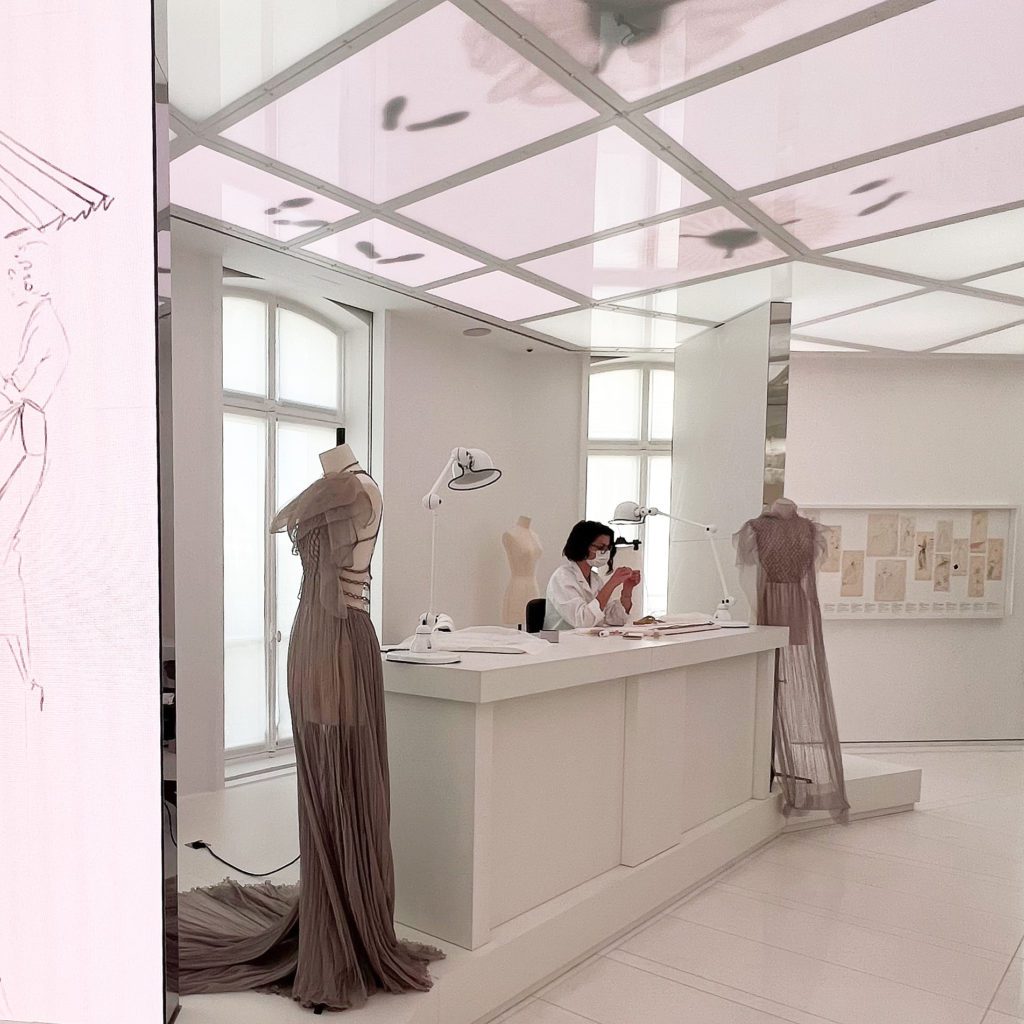 More evening luxe follows. So, too, does Hollywood glamour, with a line-up of dresses that have been worn by the likes of Nicole Kidman. A showreel plays clips from movies, in which Dior gowns clad Marlene Dietrich, Brigitte Bardot, Sophia Loren and Elizabeth Taylor.
If you saw the Dior 'Designer of Dreams' exhibition in Paris, London or New York in recent years, some of La Galerie Dior will feel familiar. In fact, interior architect Nathalie Crinière, who oversaw the scenography of the New York show, was the scenic and narrative mastermind of La Galerie Dior, which was four years in the making.
One of the most breathtaking rooms is Le Bal Dior. Here there's a colossal, tiered display of some of the house's most sumptuous couture gowns, set against a light-show of a backdrop that drifts through glorious frescoes and shimmering skies, all of which enhances the otherworldly feel of La Galerie Dior.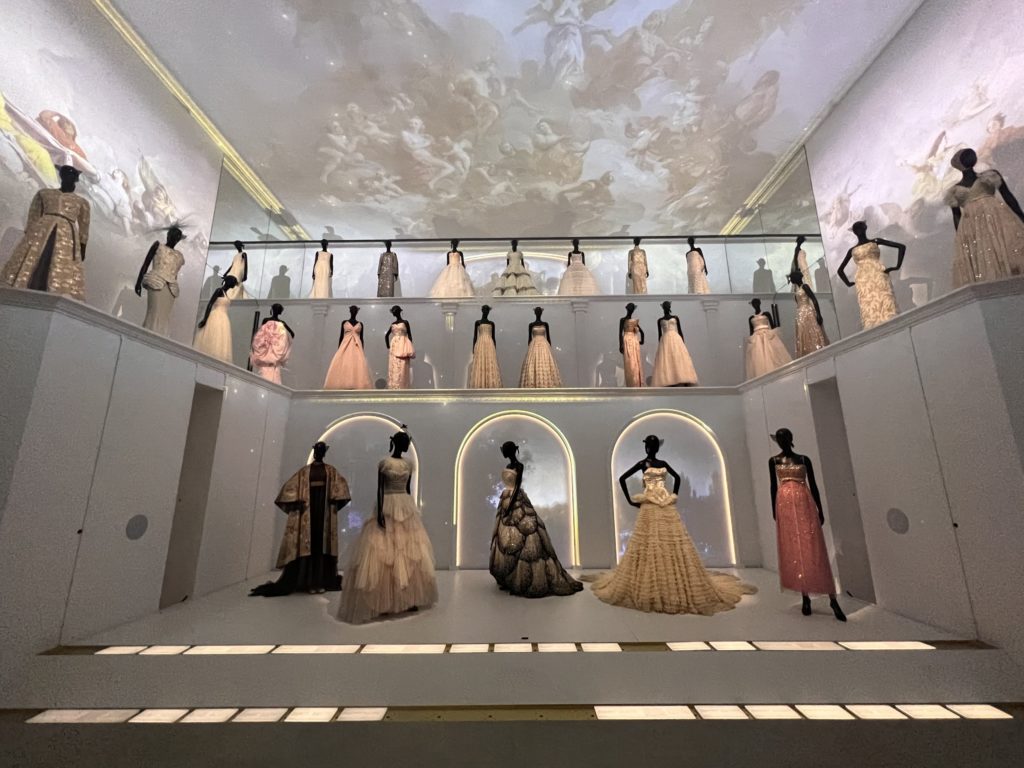 And because that's not enchanting enough, next comes the Room of Wonders, Crinière's Renaissance-inspired cabinet of curiosities, with an eclectic showcase of Dior paraphernalia, designs that Christian Dior and then his successors created in collaboration with leading shoemakers, jewellers, perfumers …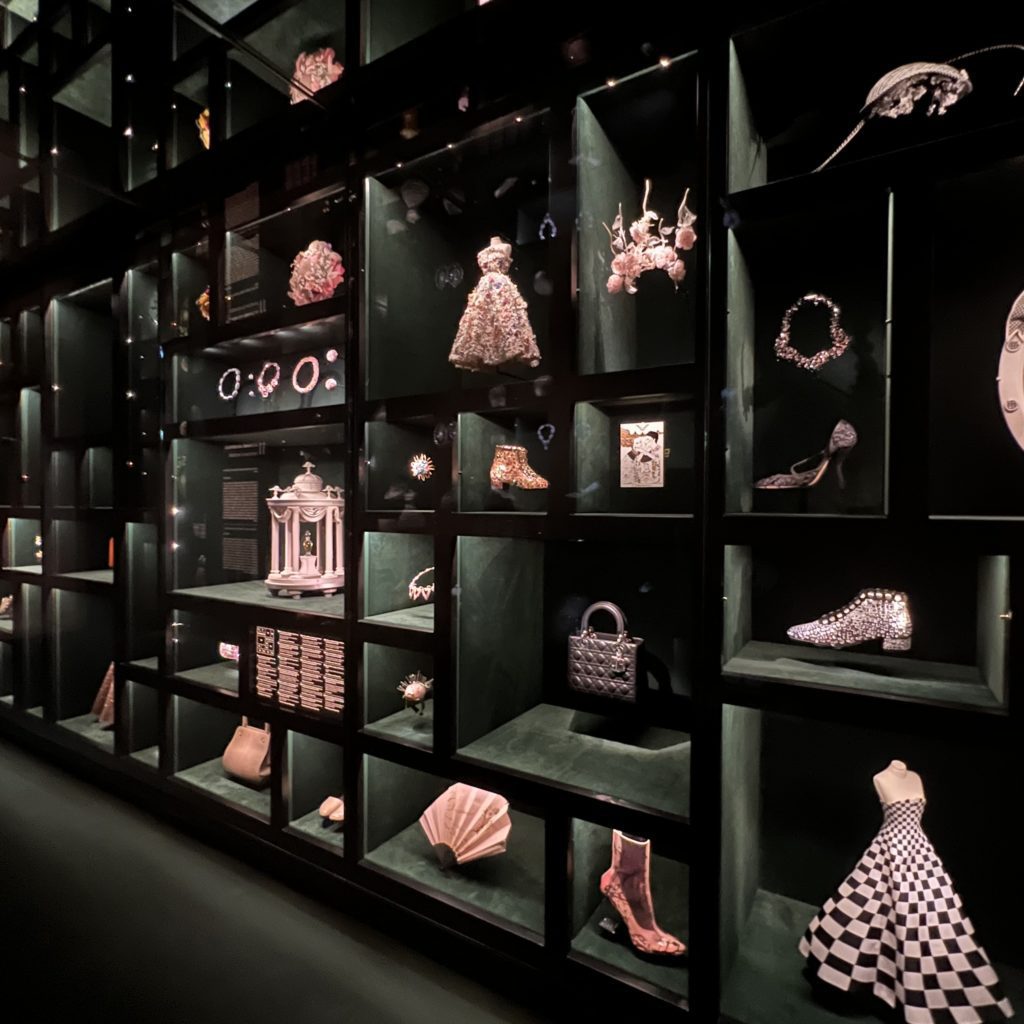 Cue a dizzying display of sequinned boots, feathered hats and enamelled crowns, along with miniature couture gowns and vintage perfume displays.
The final rooms are devoted to Dior's two star perfumes. First, there's the 1949 'Miss Dior' gown, the whimsically floral-embroidered dress that launched the classic scent of the same name; then there's a space that positively drips in golden, glimmering gowns, sartorial equivalents of the house's other top-selling fragrance, J'Adore.
By this stage, you're likely feeling light-headed, so it's with some relief that you can take a seat at Le Café Dior, processing the sublime experience you've just had over tea and treats.
And then there's just one more thing to do: twirl down those spiralling stairs, descending past that multi-coloured display of Dior creations you glimpsed at the outset, passing from black through to white, and every colour in between.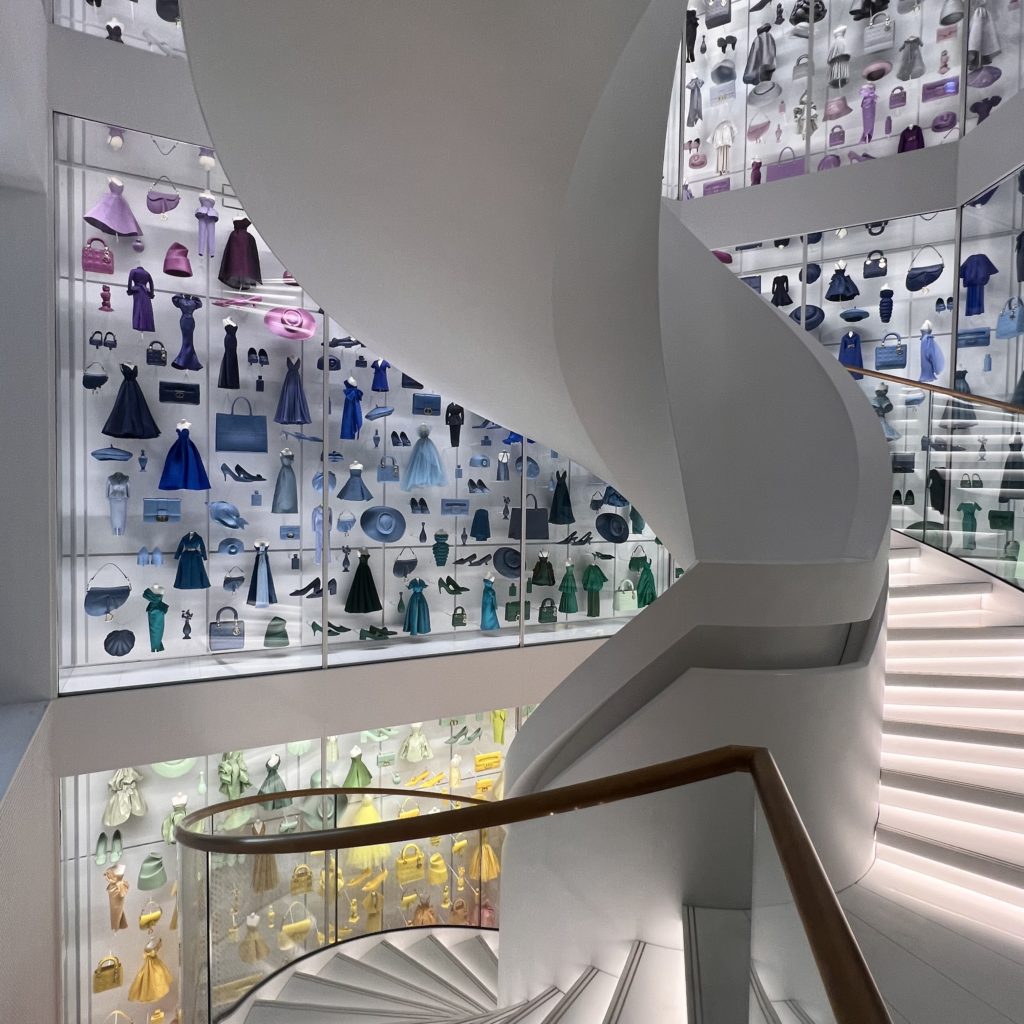 You can't help but reflect that the rabbit's-hole feel of this staircase is perfectly apt. Because La Galerie Dior is nothing less than a wonderland, a glorious world that celebrates colour, creativity and craft. But whimsy, too, for it's also a world that is, in Alice's own words, 'curiouser and curiouser' — head-spinning in the best of ways.
La Galerie Dior is located at 11 Rue François 1er, 75008. Timed tickets must be purchased for entry; buy them here.