So you've got your ticket to the world's most beautiful city. Now the packing pressure is on so that you can dress the part! Read on for some spring suitcase advice …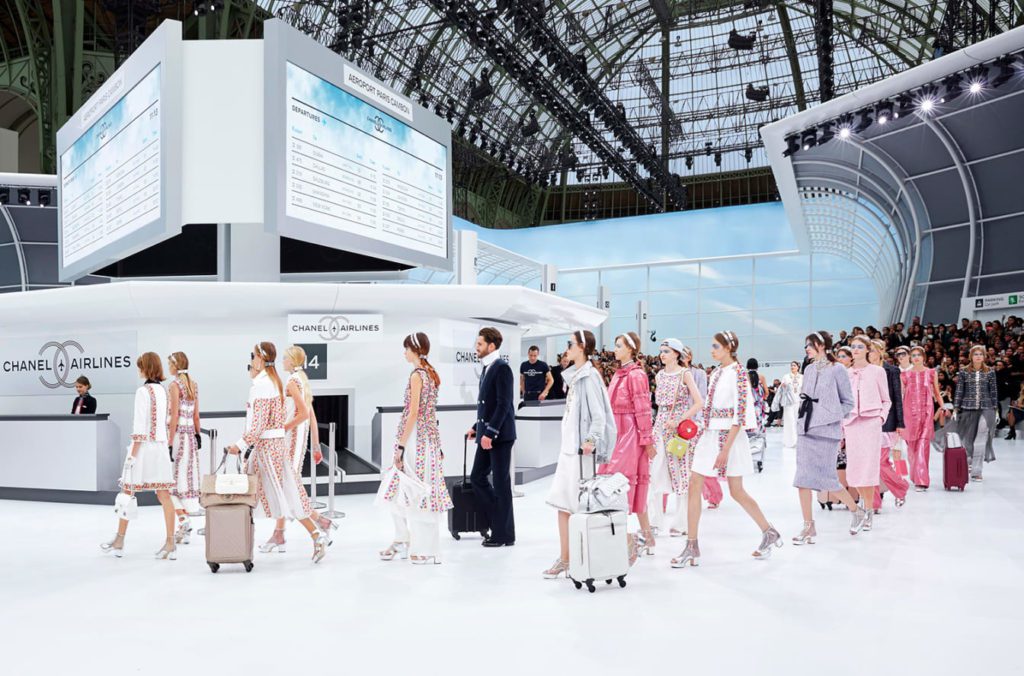 Despite the suggestion made in the beloved jazz song April in Paris, this month is not always as atmospherically charming as you might hope. The entire Parisian spring season, in fact, is an unsure interlude, as the city advances with trepidation towards summer, like it can't quite believe it has left a long, sometimes seemingly endless, winter behind.
Some might say this meteorological moodiness reflects Parisians' natural inclination to melancholy. (The wine glass is half-empty, so to speak.) But in Parisians' defence, winter can feel like it's hovering at your back at this time of year, like a flimsy pashmina trying in vain to warm up a spring dress.
April is often a mostly grey affair (leaving aside the pinks of the month's blossoms, of course), the daylight soft but flat; May brightens up a bit, but it's invariably rainy. Early mornings in springtime are chilly, averaging about 10°C (50°F) — though that's always a nice excuse for a chocolat chaud. But the season is temperamental, often throwing out glorious bursts of joyous sunshine, which can warm a day up to a lovely 20°C (68°F). You might find yourself revelling in a spontaneous picnic, nibbling on cheese and rosé by a sunny Seine; or you might end up sheltering in a cosy brasserie, sipping hearty onion soup and red wine.
Given the four-seasons-in-one-day aspect of a Parisian springtime, dressing the part is all about flexibility. You'll want a variety of layers, especially if you plan to be out sightseeing for most of the day, far from your apartment or hotel.
In addition to variations in texture, it's fitting to have variations in tone, to work back to the changing colours of the day. Think light and shade. Or take your cue from nature: the pink blooms against the grey sky. Such a colour palette — a balance of chic and pretty — seems perfectly suited to the soft, flattering tones of the City of Light itself.
If you need more inspiration, read on for a list of clothing items you might consider …
Paris in Springtime Picks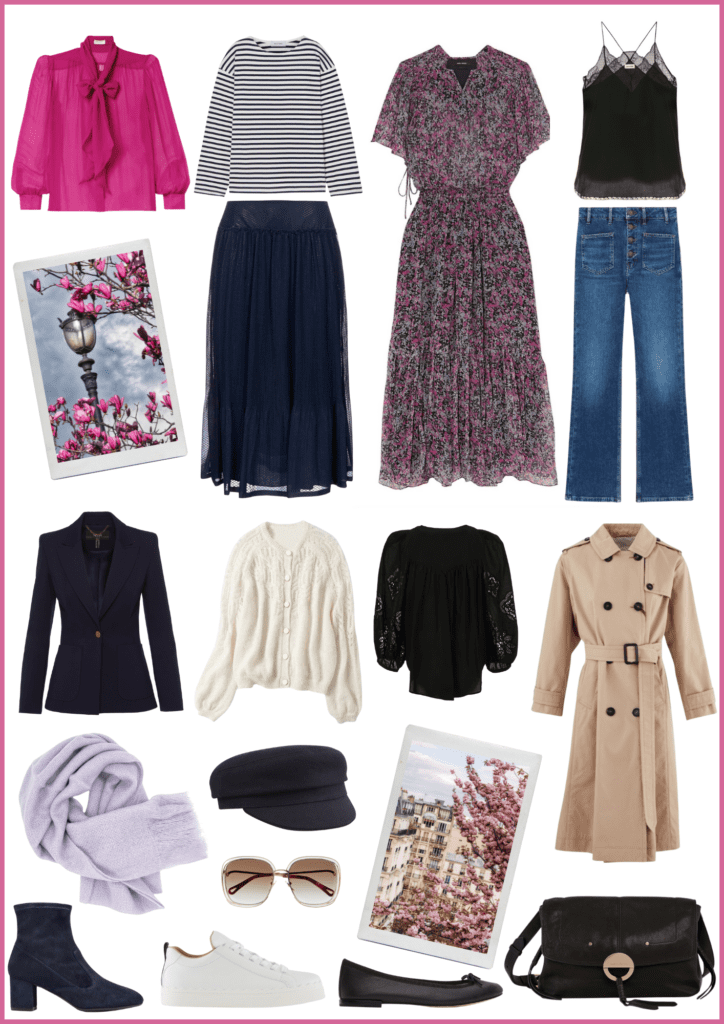 A Trench Coat. The ultimate Parisian-chic coverall, especially when in beige — although a darker shade will niftily camouflage any raindrops. Also a bonus: a water-proof fabric.
Blue Jeans. Another classic of Parisian chic, sleek blue jeans are as ideal for your morning café et tartine (worn with a stripy top, naturellement) as they are for evening drinks (served up with a camisole or silky blouse — see below).
A Midi Skirt. To free your legs up and enhance that floating feeling as you drift about the city. Pair with tights when the barometer falls into chilly territory.
A Breton Top. Dark blue on white is the traditional version, but you could try another colour variation (red and navy, red and white, green and white …) — or pack all of the above. While you're at it, throw in a selection of long-sleeved tees in block colours, too, to give yourself more layering options.
A Guipure Lace Top or Shirt. In black or white, it's a suit-anywhere kind of top to pair with jeans; not-too-much for day, but chic enough if you find yourself in a stylish bar or hotel.
A Bright Blouse. It's the red lipstick (another Parisienne-endorsed essential) of the wardrobe world. A tie-neck or silky blouse in a shade such as fuchsia (très Yves Saint Laurent) adds a glamorous, dinner-ready splash to even your oldest denims.
A Lace-Edged Camisole. A gorgeous, breezy alternative for when the evenings are balmy.
A Pretty Dress. Because it's spring, and it's Paris, and who doesn't want to do some blossom-spotting while wearing a suitably sweet floral dress?
A Navy Blazer. Fling it over said dress, or jeans and a Breton, and you're good to go for apéro hour. An alternative: a black leather jacket, or one in Chanel-like tweed.
A Cosy Cardigan. Button it over any outfit when the days seem more at the wintry than the summery end of the spring spectrum.
A Few Scarves. Have fun with colours, and the way to wrap and tie them on. Just as Parisiennes do.
A Large Bag. Well, large enough at least to fit in essentials such as a fold-up umbrella and scarf.
White Sneakers. Parisiennes have made white sneakers — worn with jeans, a skirt or dress — internationally chic, but these shoes are most at home scooting about cobbled streets.
Ballet flats. They're another neat and practical footwear option for days devoted to flâneur-ing, but these dressier flats are the ideal go-to when you plan to stop during the day for a fancy lunch or afternoon tea.
Ankle boots. A pair of pointy, heeled (low or high) mini-boots will add some just-so height and a cool edge to any evening outfit.
An All-Weather Hat. Choose one that works for both rain and shine, like a Baker Boy cap or a Trilby.
Sunglasses. Because you live in hope it will be sunny. You're a rose-coloured-glasses type, after all, and that's why you love Paris, the city of la vie en rose.