Audrey Hepburn never actually lived in Paris, but for most of the world she was the very personification of Parisian chic.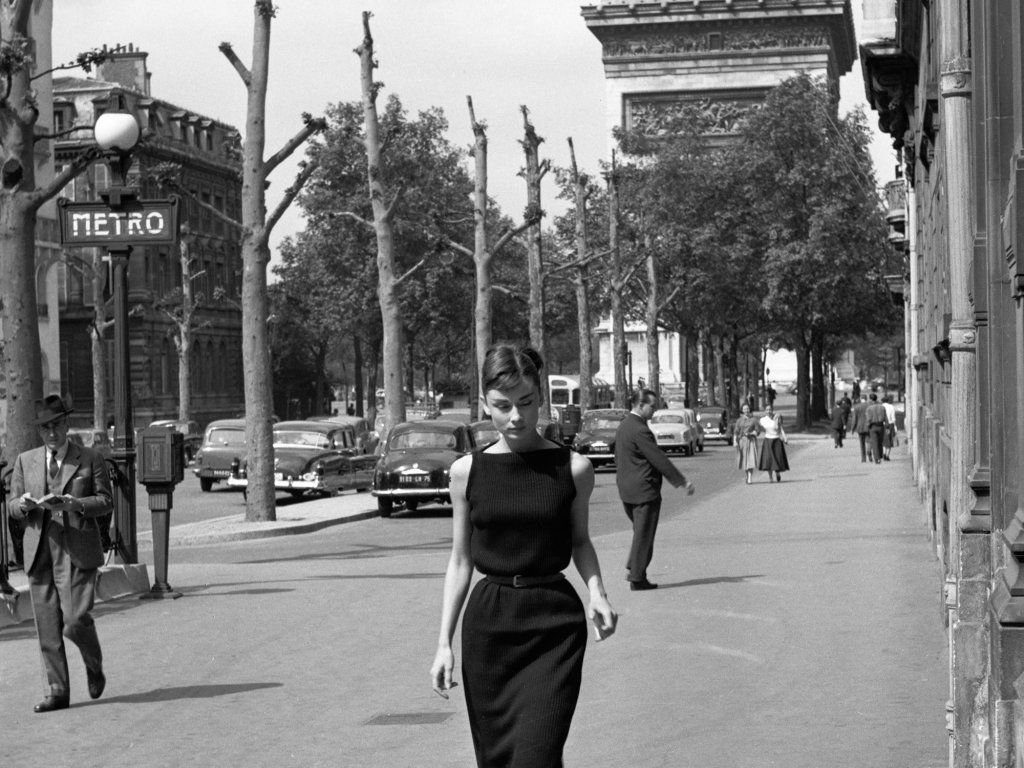 An honorary Parisienne, Audrey loved the City of Light — and it loved her right back. She regularly holidayed and filmed in Paris throughout her life and career, after having fallen for the city on her very first visit.
In 1952, the on-the-cusp-of-fame actress was preparing to star in Sabrina, playing a chauffeur's daughter in love with the oblivious son of her father's millionaire boss. Sabrina's two-year Parisian cooking course might have been intended to keep her out of trouble, but it turned out to be the recipe for such a glamorous makeover that, on her return, she quickly won the attention of said playboy son.
At only 22 years of age, Audrey was innately stylish enough to know that, if she were to convincingly play a duckling made over into a French swan, she would need a genuine Parisian couture wardrobe. And so she convinced the powers-that-were to let her travel to Paris, where she knocked on the new atelier door of another up-and-comer: Hubert de Givenchy.
The rest, as you could say, is style history.
While Sabrina doesn't showcase much of Paris beyond a glimpse of a snow-flurried Eiffel Tower outside the cooking-school window and one of Sacré-Cœur as Sabrina writes to her father about her love for the city (pictured below), Paris is surely the other star of the film — which more or less serves as a two-hour advertisement for how Paris can gloriously change a girl's life.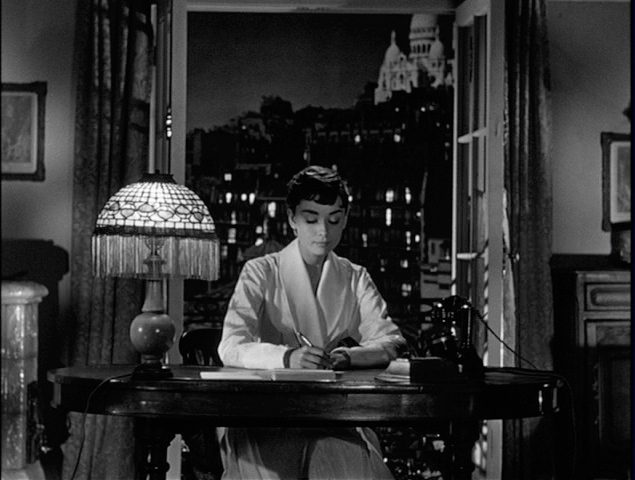 Audrey went on to make many films in Paris, staying in the city for months at a time. In 1956, she filmed Funny Face and Love in the Afternoon; 1962 saw another two back-to-back Paris movies: Paris when it Sizzles and Charade; she was back a few years later for How to Steal a Million and then Two for the Road. Paris suited her so much more than Hollywood, it was often said.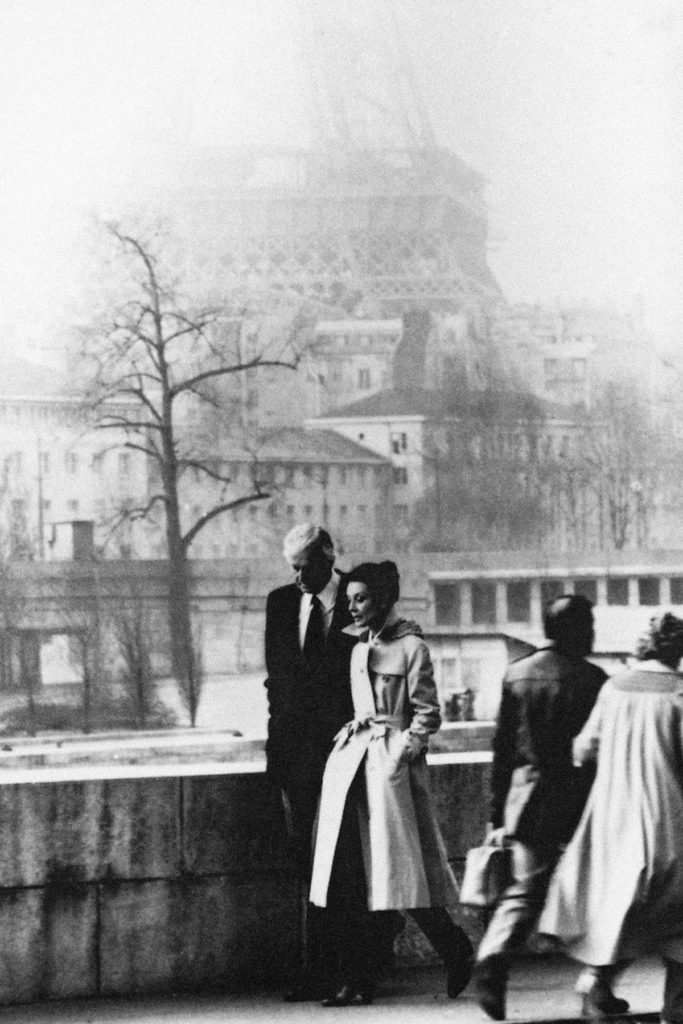 As Givenchy's friend and lifelong muse, Audrey became the global ambassador for French sophistication. Few women are as revered by so many for their fashion sense. Who wouldn't want to dress like Audrey?
And who wouldn't want to holiday in Paris, a city in which she thrived, as elegantly as she did? Read on to find out how to follow in her graceful footsteps …
'Funny Face' Photos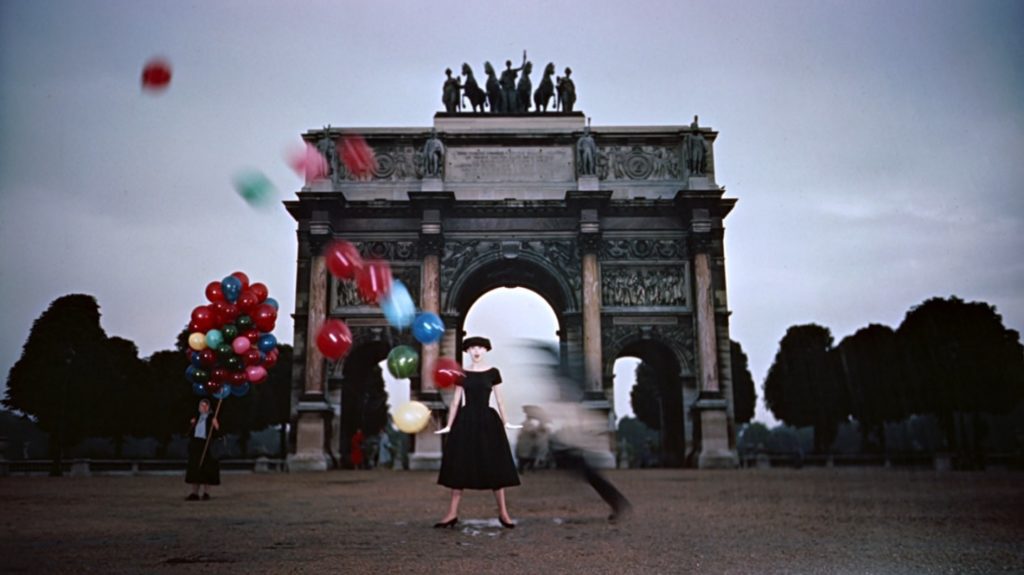 Audrey's most beloved movie is arguably Funny Face, in which she plays a bookish girl swept up in the world of fashion, taken under the wing of a magazine editor looking for a model to give a fresh-faced feel to the latest French couture collections. What follows is a gorgeous vignette — directed by legendary photographer Richard Avedon — of the fashion shoot, which takes place all over Paris: on the stairs of the Palais Garnier, in the Île de la Cité flower markets, on a barge on the Seine … all of which provide great photo inspiration to this day. True, given modern crowds, it might be near impossible to recreate the scene in which Audrey floats down the Louvre's Daru staircase, the fluttering shawl of her ruby gown echoing the sculpted wingspan of Winged Victory of Samothrace … But one photograph easily reimagined is that of Audrey holding a bunch of colourful balloons by the Arc de Triomphe du Carrousel (pictured above), which is clear of tourists early in the morning, as the rising sun lights up the rosy marble columns and golden statues of this gorgeous arch.
Jazz Bars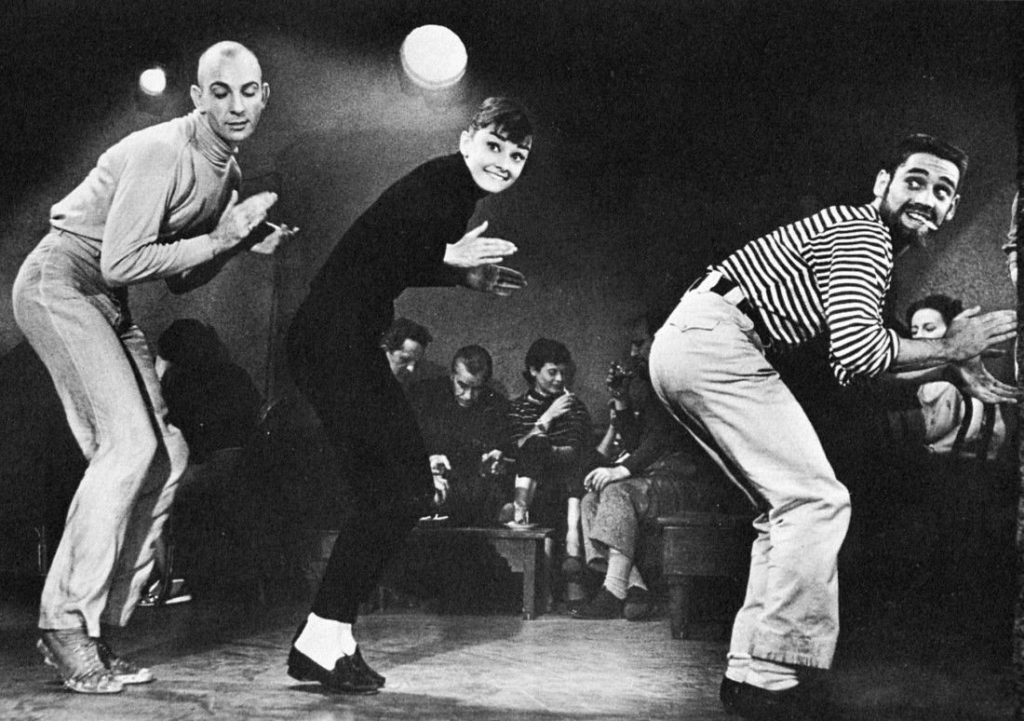 Another of Funny Face's delightful scenes is that in which Audrey dances in a smoky beatnik jazz bar. Her husband Mel Ferrer, a fellow actor and later director, taught Audrey to appreciate jazz — their fifty-pieces-plus baggage collection always included a portable phonograph and pile of records. She not only needed to hone her ear but her physique for jazz, for her Funny Face co-star was Fred Astaire. Even though Audrey had trained as a ballerina, she was nervous about pairing with the world's most famous dancer, and so took extra lessons with Paris Opéra ballet master Lucien Lelong, as well as hitting the jazz bars of Paris with Mel. It was perhaps in this world that she came across Existentialism icon Juliette Gréco – it's said that Audrey suggested Juliette for the role of Georgette in The Sun Also Rises, the movie that Mel was about to film himself, playing Robert Cohn. The Paris jazz bar scene might not be as wild and frenetic as it was in the post-war years, but there are still numerous ways to enjoy jazz in this city; one of the most pleasurable is at Café Laurent, in Hôtel d'Aubusson, where concerts are held most evenings. Most fabulously, it's situated right above the one-time location for Le Tabou, one of history's most iconic jazz bars.
Hôtel Raphaël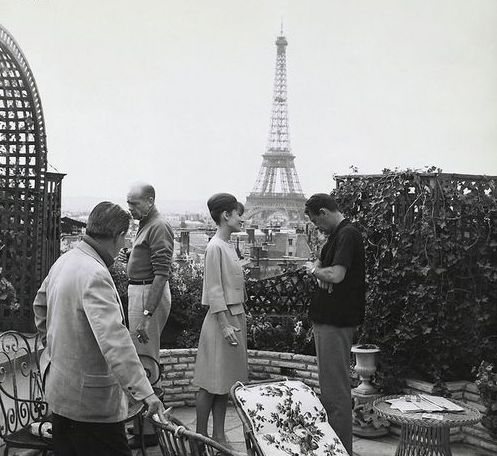 Audrey first stayed at this five-star hotel when filming Funny Face; she was a huge enough star by now to demand this expense, and she and Mel made themselves at home, bringing along photos, books, linen, crockery, cutlery, candlesticks and anything else they thought would soften the anonymity of their hotel room. Audrey would end up checking in with every Paris filming, and continuing this eccentric settling-in tradition. For mere mortals, Hôtel Raphaël's décor is likely luxurious enough. And if your budget doesn't stretch to a night here, there's a fabulous roof terrace bar open to all in the warmer months (it's due to reopen any day now), with a view stretching across potted plants and rooftops, from the Arc de Triomphe to the Eiffel Tower.
Ritz Paris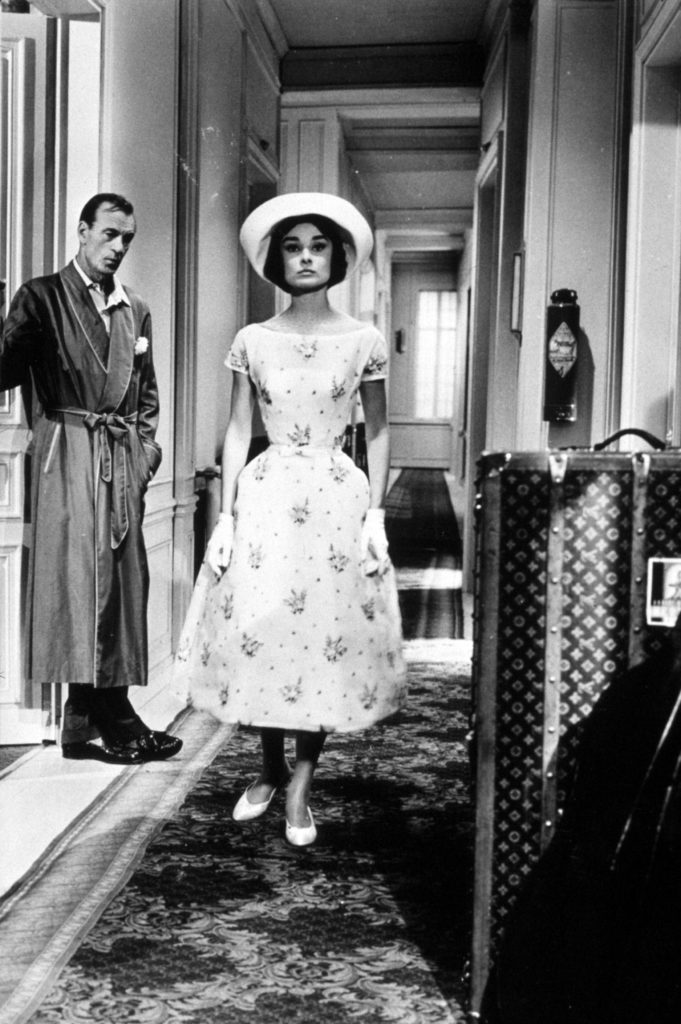 The Ritz is the other hotel associated with Audrey. Much of Love in the Afternoon (above), in which she starred with Gary Cooper, was set here. (If the age difference makes you feel a little queasy, the scenery will soothe). Can't afford a similar suite overlooking Place Vendôme? You can always take the lead of Audrey's character in How to Steal a Million and go for a drink at the bar; glitter eye makeup and lace eye mask (pictured below) optional.
The various Ritz bars have been remodelled since the 1960s; the newest one to try is the astrologically themed bar nestled in the nook just beyond the Rue Cambon entrance.
Carette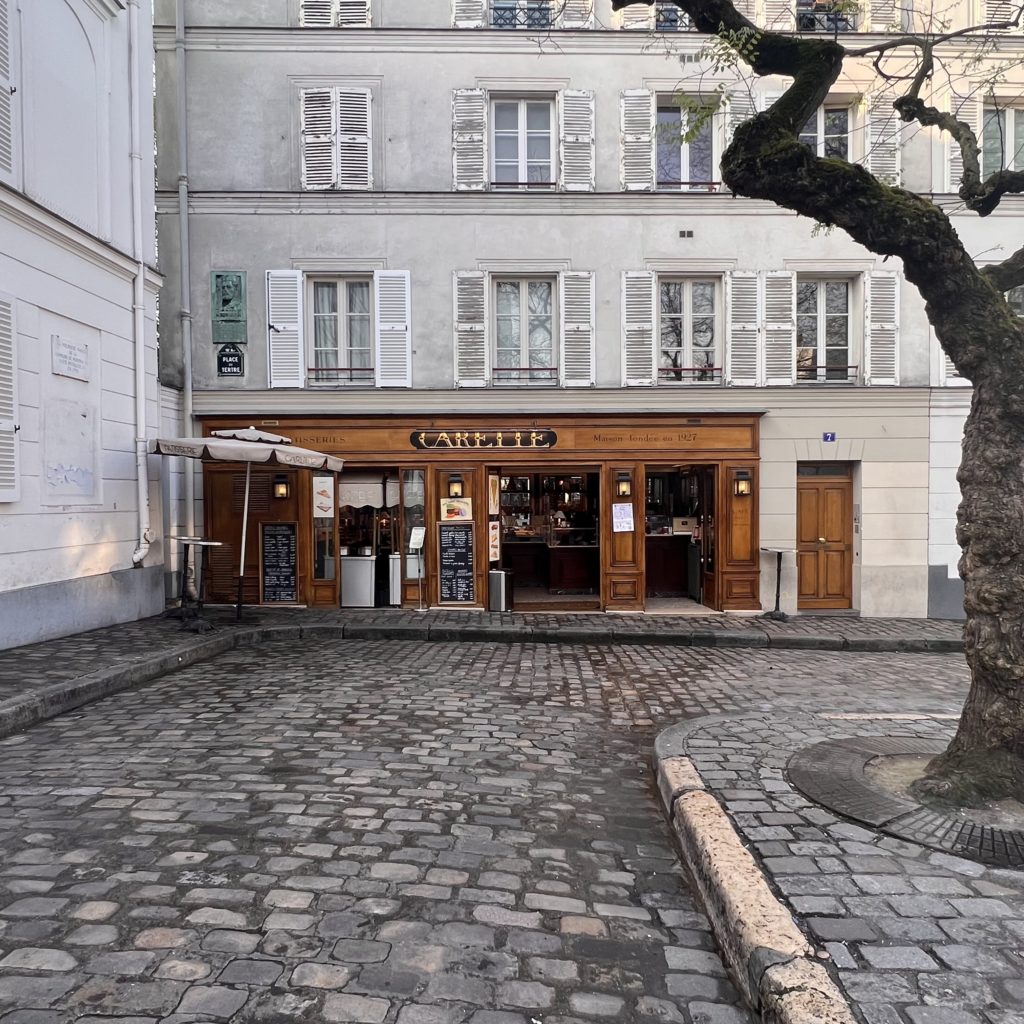 This adored salon de thé has been operating on Place du Trocadéro since the 1920s. It was here that Audrey used to sip her chocolat chaud — a molten-cocoa concoction still poured to this day. Carette is now also located on Place des Vosges, just near the Musée Carnavalet, the pretty parterre garden of which she and co-star Peter O'toole strolled in How to Steal a Million. There's another in Montmartre, on Place du Tertre (pictured above); buy a boîte of macarons to fuel a wander around this mythical hilltop village, as Audrey's Jo did in Funny Face.
An Audrey Style Search
Audrey was, of course, celebrated for her sleek Givenchy silhouettes; her other signature was her Louis Vuitton Speedy 25 handbag (pictured above). Both brands have boutiques on Avenue Montaigne, and the classic Speedy 25 is still available. To extend the fashion theme of the day, pop into La Galerie Dior — the fabulous new museum of the iconic French brand Audrey was often photographed in for the likes of Vogue. Ditto Yves Saint Laurent, which also has a gem of a museum; Musée Yves Saint Laurent is only about a ten minutes' walk away, at 5 Avenue Marceau. And just a littler further west again is Palais Galliera, a now-permanent fashion museum. This is where Audrey and Hubert celebrated the opening night of an exhibition marking forty years of his couture house.
Jardin du Luxembourg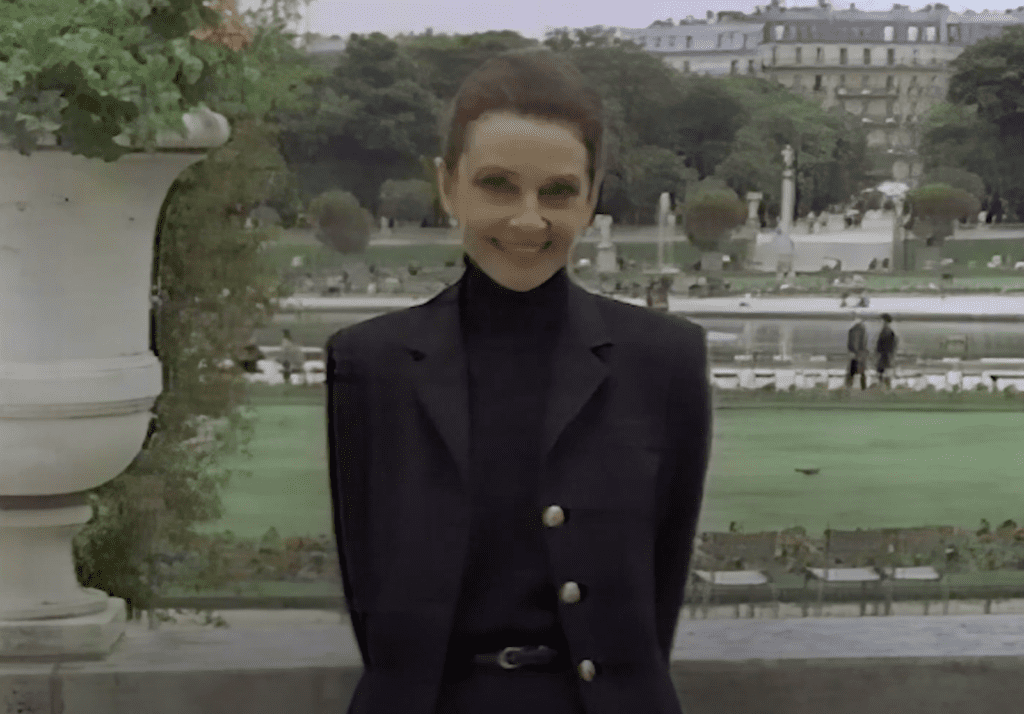 In the 1990 series Gardens of the World, host and avid gardener Audrey waxed lyrical about the Jardin du Luxembourg: 'Of all the parks in Paris, the Jardin du Luxembourg is the most successful in joining the pleasures of park and garden on a human scale. It is a sixty-acre sanctuary where one is encouraged to loiter in nature. Here flowers, water and trees form an urban retreat, an escape from the city where congestion has reached the limits of the absurd. The garden's atmosphere is charged with the personalities of its inhabitants who keep thousands of garden chairs on the move in search of sun, shade and nourishment of the senses. A public park full of private spaces, it's designed to accommodate the individual. At the turn of the century, Isadora Duncan used to dance here at dawn. Today it is still a haven for lovers, thinkers, walkers, chess players and, most especially, children.' In 2022, Audrey's words are as timeless as her style; it is all too easy to while away the hours in this lovely park.
Parc Monceau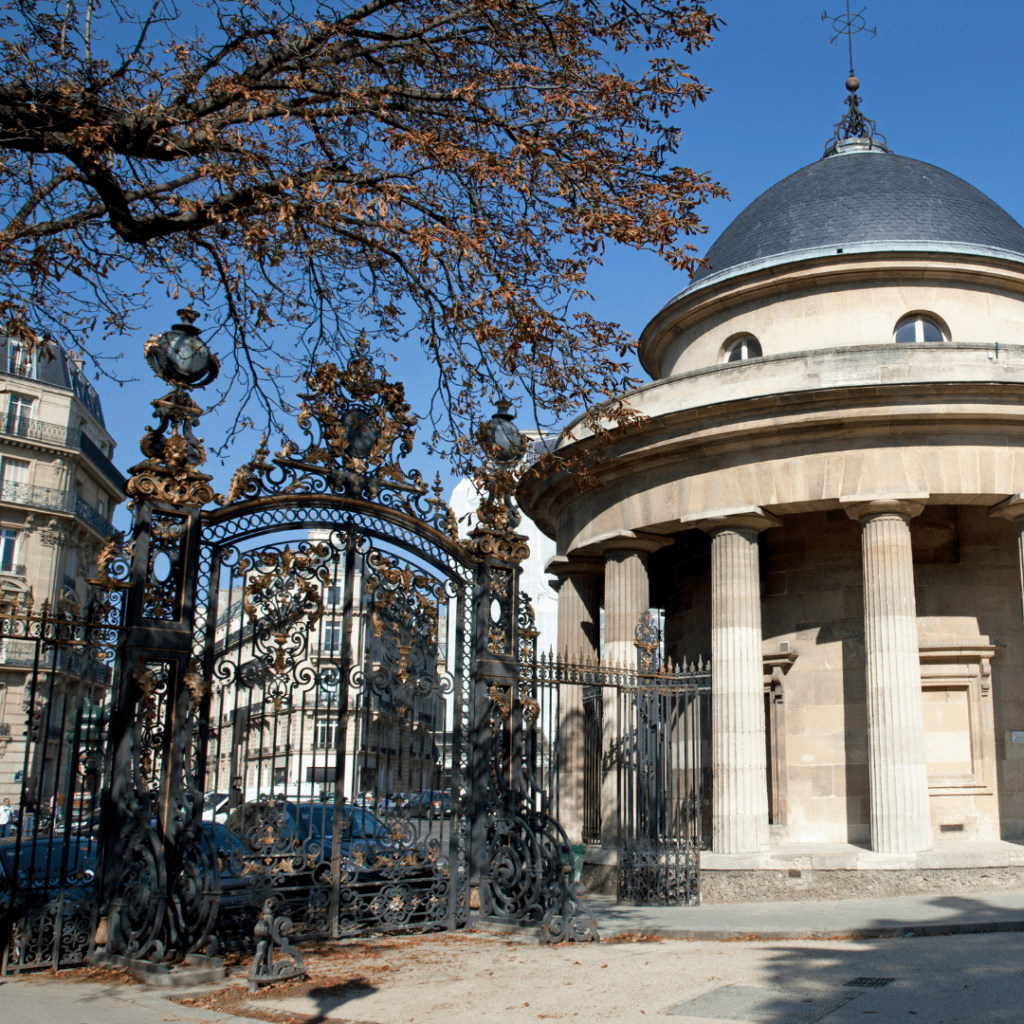 Parc Monceau is another of Paris's many graceful parks. Just outside the gates at the eastern end, at 5 Avenue Velasquez, is the building that doubled as Audrey's residence in Charade, a must-watch for lovers of Paris, romantic comedies (with a side of mystery) and Cary Grant alike. Then head to the western gates, down Avenue Van Dyck, turning into Rue Alfred de Vigny; at number 8, if the carriage door is open, wander through the cobbled entrance.
You'll find the oddest architectural creation, something that looks like a medieval-renaissance-mash-up (pictured above). This is where Hubert de Givenchy first had his atelier, where an unknown Audrey rang the bell back in 1952. Here, you're back to where the legend began.