Napoléon Bonaparte is never far from the cultural imagination; he is arguably the most famous French person of all time.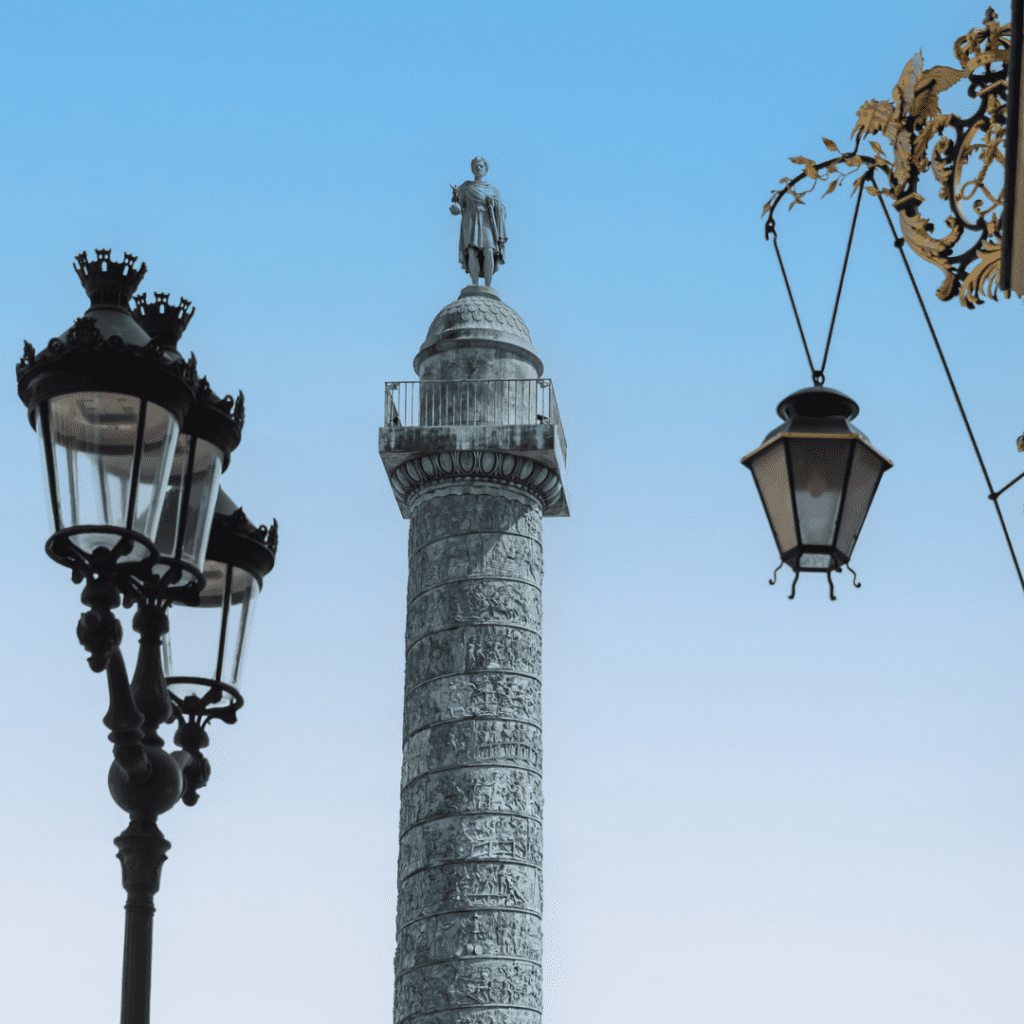 But the one-time Emperor of France is back in the news in a big way, thanks to the release of Ridley Scott's Napoleon.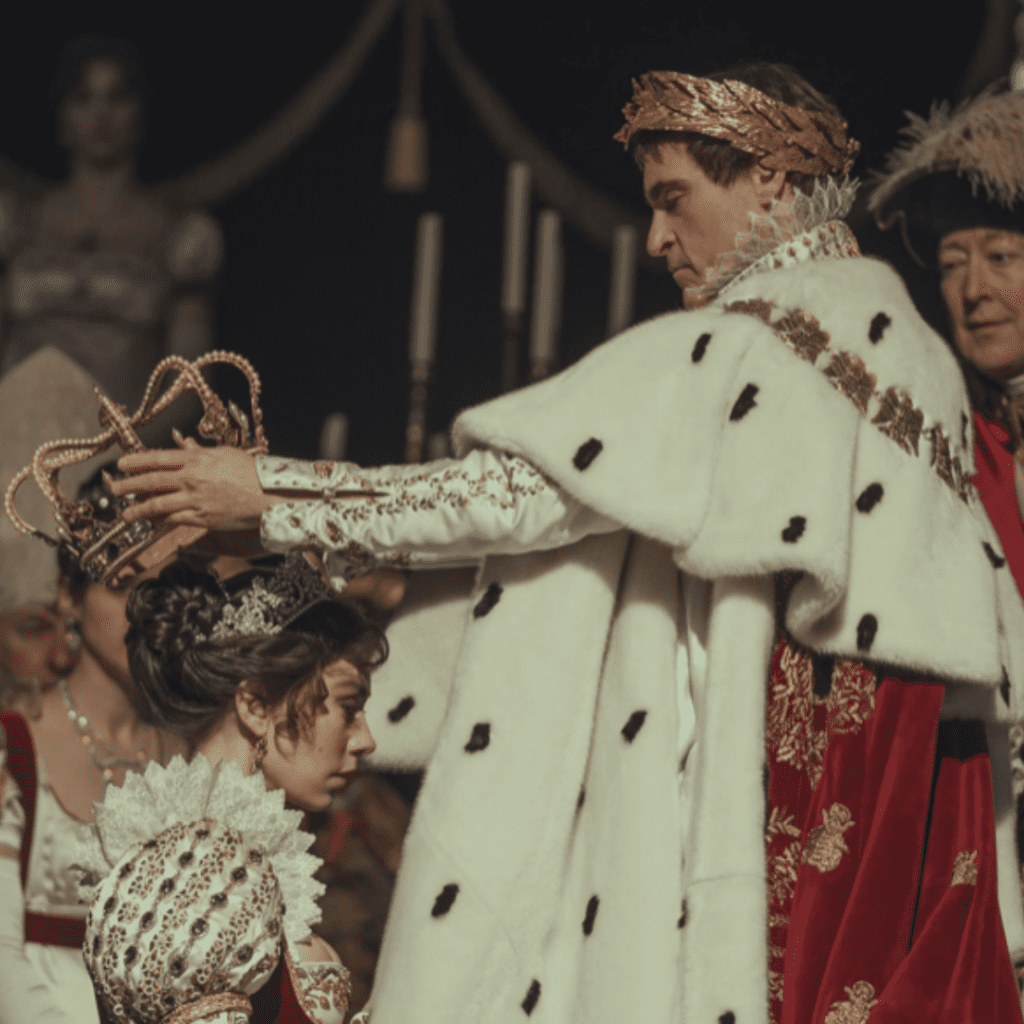 While the movie was mostly filmed in England, Malta, and Morocco, you can relive Napoléon's Parisian days the next time you're in the City of Light by visiting the monuments he built, and other sites of Napoleonic significance …
Where Napoléon Stayed & Played
Born in Corsica, Napoléon was sent to military school in Champagne at the age of eight. Seven years later, in 1784, he was awarded a scholarship to attend the prestigious École Militaire in Paris (below). The academy, which still operates today, is located at the southern end of the Champ de Mars (the field where young cadets once drilled), behind the Eiffel Tower.
Napoléon's transfer to Paris involved a two-day journey by boat. He disembarked the Seine at a wharf in the Marais and, as he made his way eastwards to his new school, bought a copy of the novel Gil Blas from a quayside bookseller.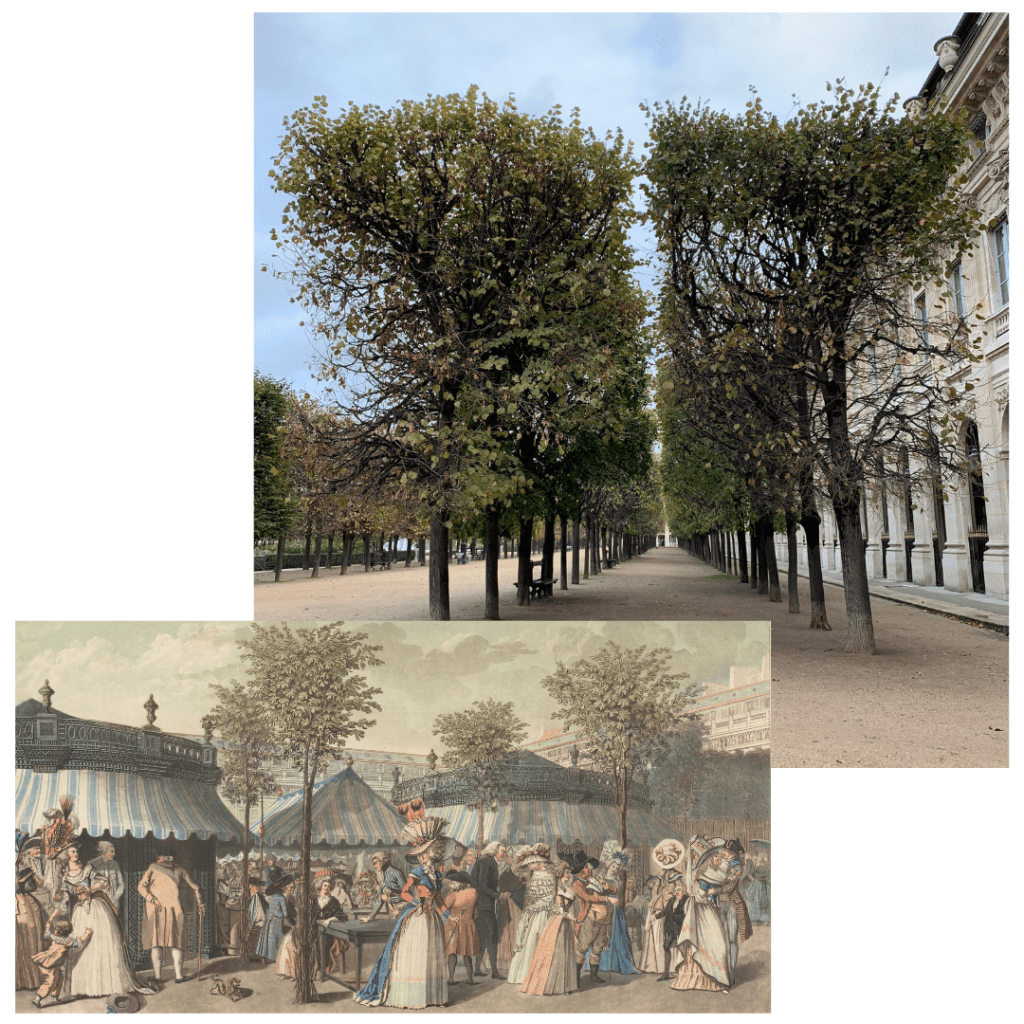 In 1787, after having graduated, a young lieutenant Napoléon found himself back in Paris on leave, and gravitated to the gardens of the Palais-Royal, a notorious party central at the time (above). A cash-strapped Duc d'Orléans Louis-Philippe II had redeveloped his palatial backyard into a pleasure ground in 1784. He had the three wings that frame the northern end of the estate built, renting out the ground spaces as shops and restaurants, while filling the upper floors with dance rooms, gaming dens, billiard halls and brothels. In the middle of the garden enclave there was a circus where acrobatic riders thrilled the crowds, and all sorts of puppet shows and dance performances entertained in the groves of fancifully cut trees. Thousands of Parisians strolled, drank, conversed and flirted in these botanical arcades. The Palais-Royal was a fairground, bazaar and dance party, all in one. It was open day and night, and open to all Parisians — except for police. So you can imagine the air of abandon. Much was lost here. Money — although you could always see the various mortgage agents that had set up shop, or pawnbrokers, to sell your precious gold watch if need be. Virginity, too — a future Emperor Napoléon picked up his first female conquest in this very garden. And lives — Louis Philippe II's heady vision, inaugurated in 1784, struck him gold, but also eventually cost the duke his head, as he had unwittingly laid the fertile ground for the French Revolution. It was here where courtesans passed as countesses, a precursor of a democratic future France; and where, far from the watchful eyes of the authorities, political discussions could gather momentum, morphing into full-blown movements. The sans-culotte Camille Desmoulins gave a particularly impassioned anti-Royalty speech from atop a table of a café terrace; two days later the Bastille was stormed, and the rest is l'histoire …
Napoléon was often in Paris during the revolutionary years, where the now-Republican networked, wheeled-and-dealed, and generally tried not to lose his head. He was by the old Palais des Tuileries on the day it was stormed by a mob that slaughtered the King's Swiss guard. Napoléon was savvy in both his political and survival instincts, and ambitious to boot, but surely he can't have had an inkling that day that this palace (which would be later destroyed by the Paris Commune of 1871) would one day be his imperial home. He did aspire extremely high, however, moving in all the right circles, including A-list parties and salons, where he soon met his fate, in the seductive form of the future Empress Joséphine.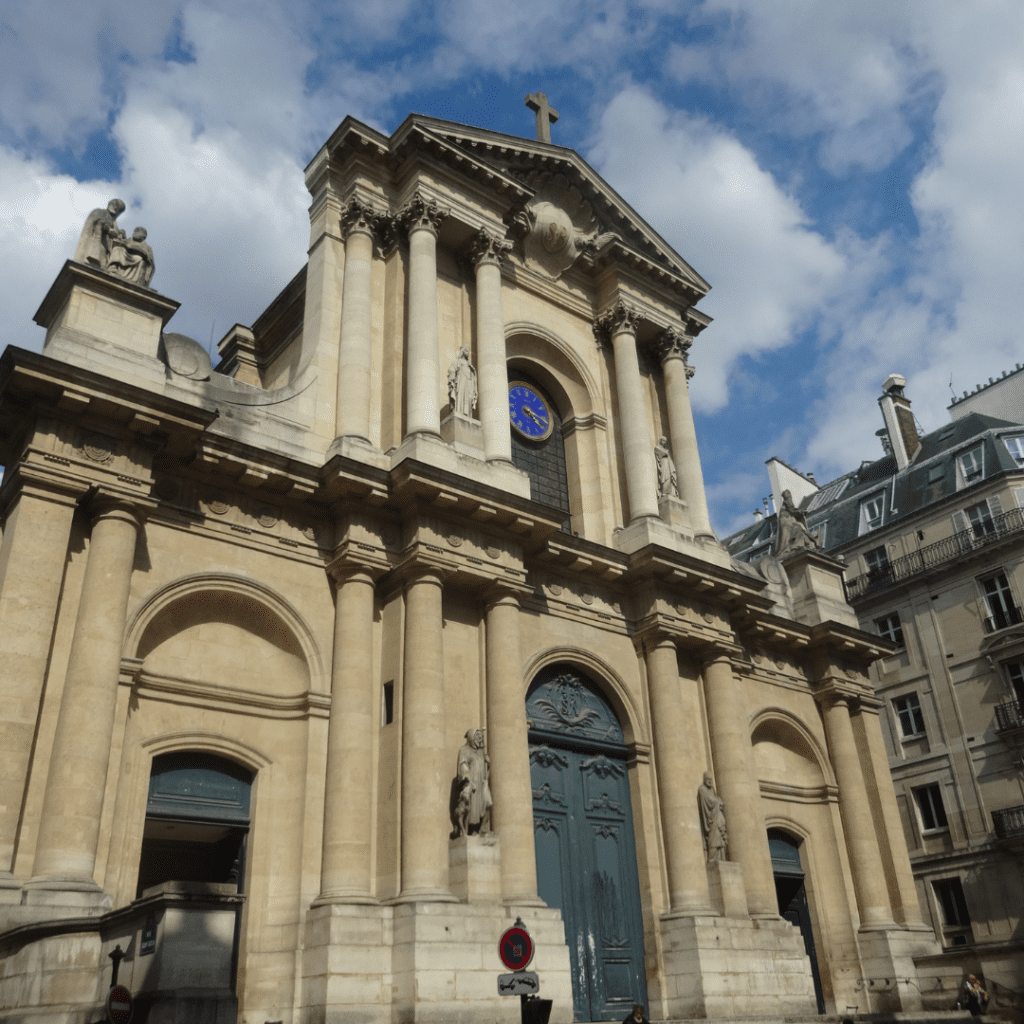 Napoléon's professional fate was secured on 5th October 1795, when he was asked to deal with thousands of Royalist soldiers who were making their way down Rue Saint-Honoré, en route to the National Convention, where they hoped to retake power. In front of the Saint-Roch Church (above), Napoléon commanded, inspired, and led his troops so successfully (the cannon-ball damage bears witness to this day) that the young Corsican became an overnight hero. He received an instant promotion and a plush new office on Place Vendôme for his efforts.
In March 1796, after Joséphine finally agreed to a lovesick Napoléon's marriage proposal, the couple wed in a civil ceremony at 3 Rue d'Antin. (The building is no longer occupied by the 2nd arrondissement mairie but a plaque marks the momentous event). When not away on duty, Napoléon lived with Joséphine on Rue Chantereine (which was soon renamed Rue de la Victoire).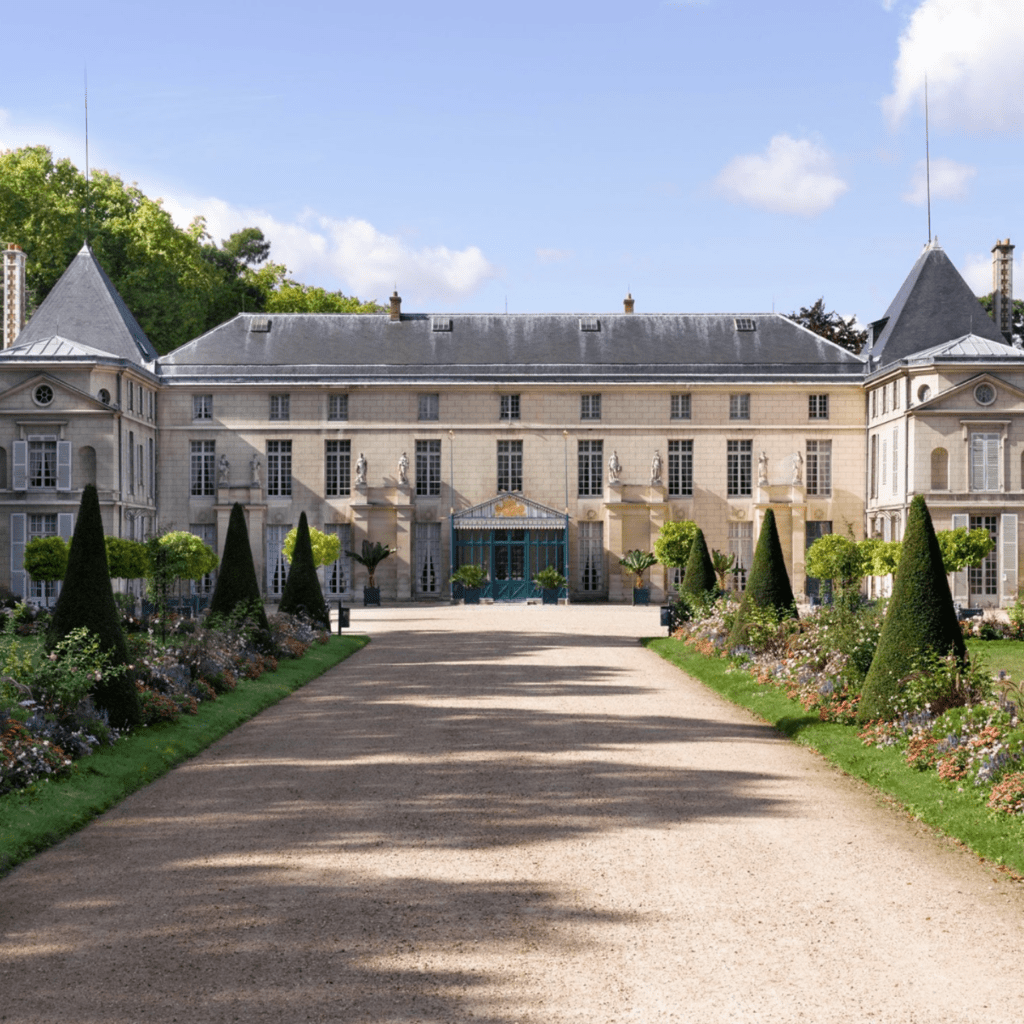 Sadly, her elegant manor house no longer exists, but the lovely country estate just west of Paris that she bought for herself while Napoléon was in Egypt — Château de Malmaison — remains in all its neo-Classical glory and is a must-visit for lovers of history, gardens, and architecture.
Napoléon's Architectural Legacy
A coup d'état of late 1799 — generally considered to mark the end of the French Revolution — saw the overthrow of the Directory leadership of France, and the elevation of Napoléon to the autocratic position of First Consul. The future Emperor (he would crown himself in 1804, in Notre-Dame Cathedral) was now in a position to make his physical mark on his capital.
The neo-Classical trend in architecture had been in favour for a while, but Napoléon, with his passion for arches, columns, and temples, took it to whole new heights, for it represented the fabled grandeur he yearned to project. He wanted Paris to be the new Rome, as befitting a leader who saw himself as a future legend of history. But the aesthetically driven ruler was also engineering-minded, and as such he wanted his city to be cleaner, safer, and more practical. To admire the various changes Napoléon made to Paris, visit the following …
Waterways & Bridges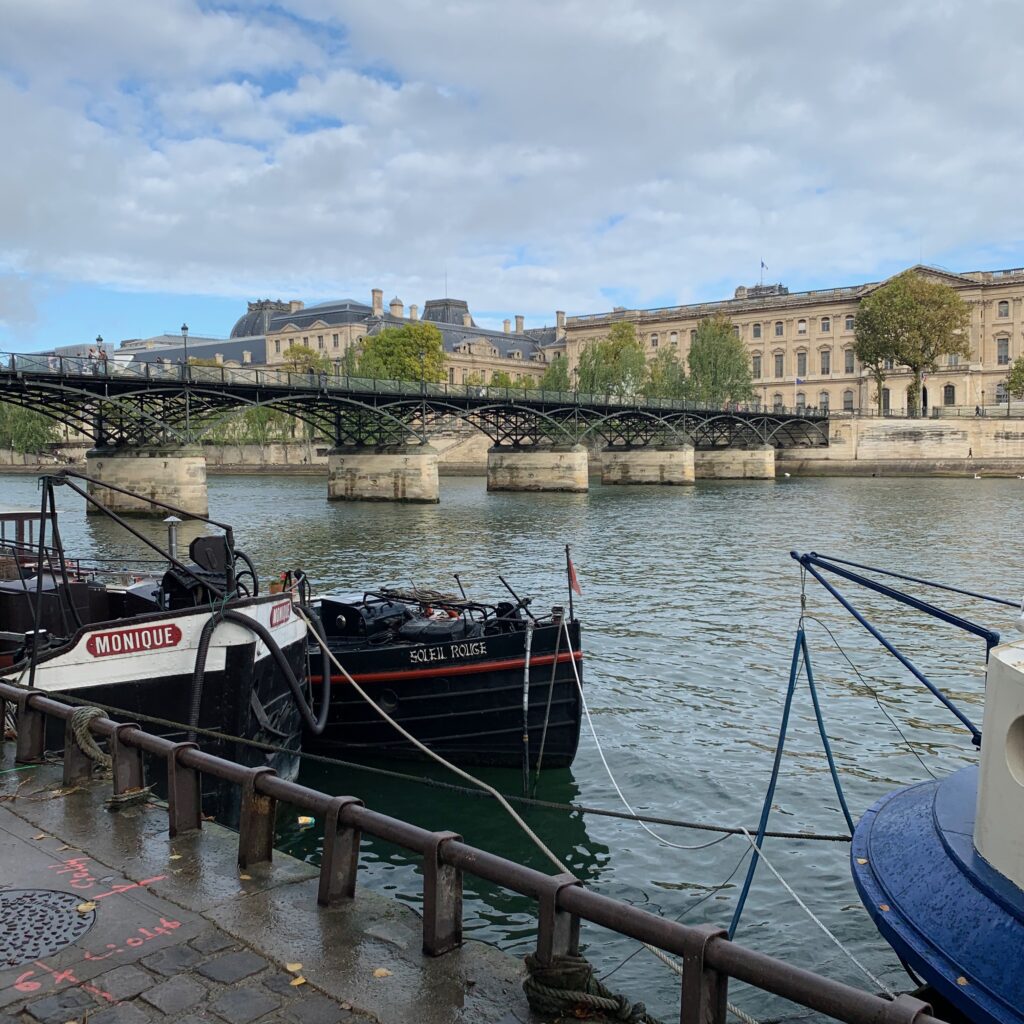 Napoléon's utilitarian plan included the construction of new bridges. First up was the Pont des Arts (above), built between 1801 and 1804. The visionary leader demanded it be constructed mostly in iron, which was scarce and expensive at the time, and not considered as chic as limestone, Paris's classic building block. His vision was perfect; the result was a bridge both modern and elegant, one that has stood the aesthetic test of time. The Pont d'Austerlitz and Pont d'Iéna bridges followed.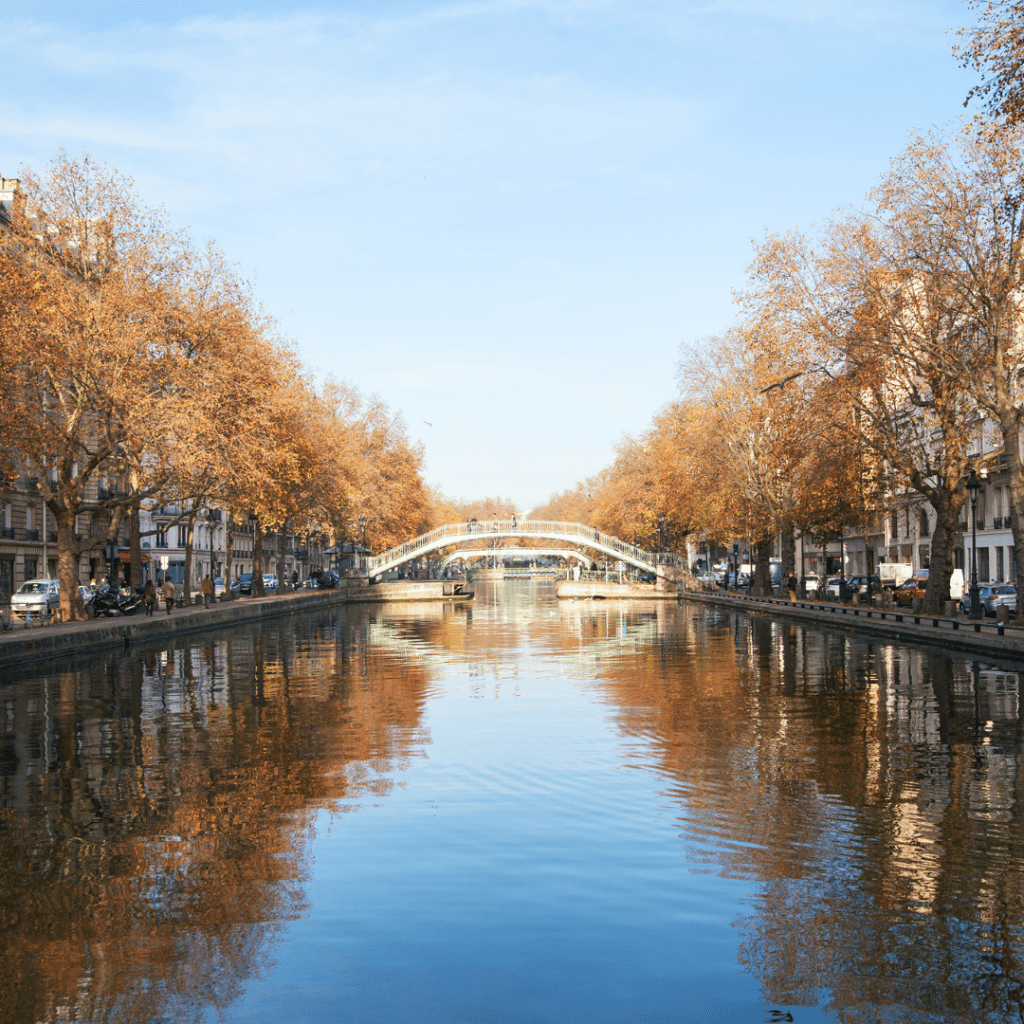 As First Consul, Napoléon also ordered the construction of the Canal Saint-Martin (above), Bassin de la Villette (Paris's largest artificial lake), and Canal de l'Ourcq. Intended to boost the city's supply of drinking water, this was funded, appropriately enough, by a new tax on wine.
He also cleaned up the banks of the Seine, which were more like strips of beach than true working quays required for the trading needs of a major river city. Up on street level, Napoléon had all roads renumbered, starting from the Seine, with even numbers on the right, odd on the left.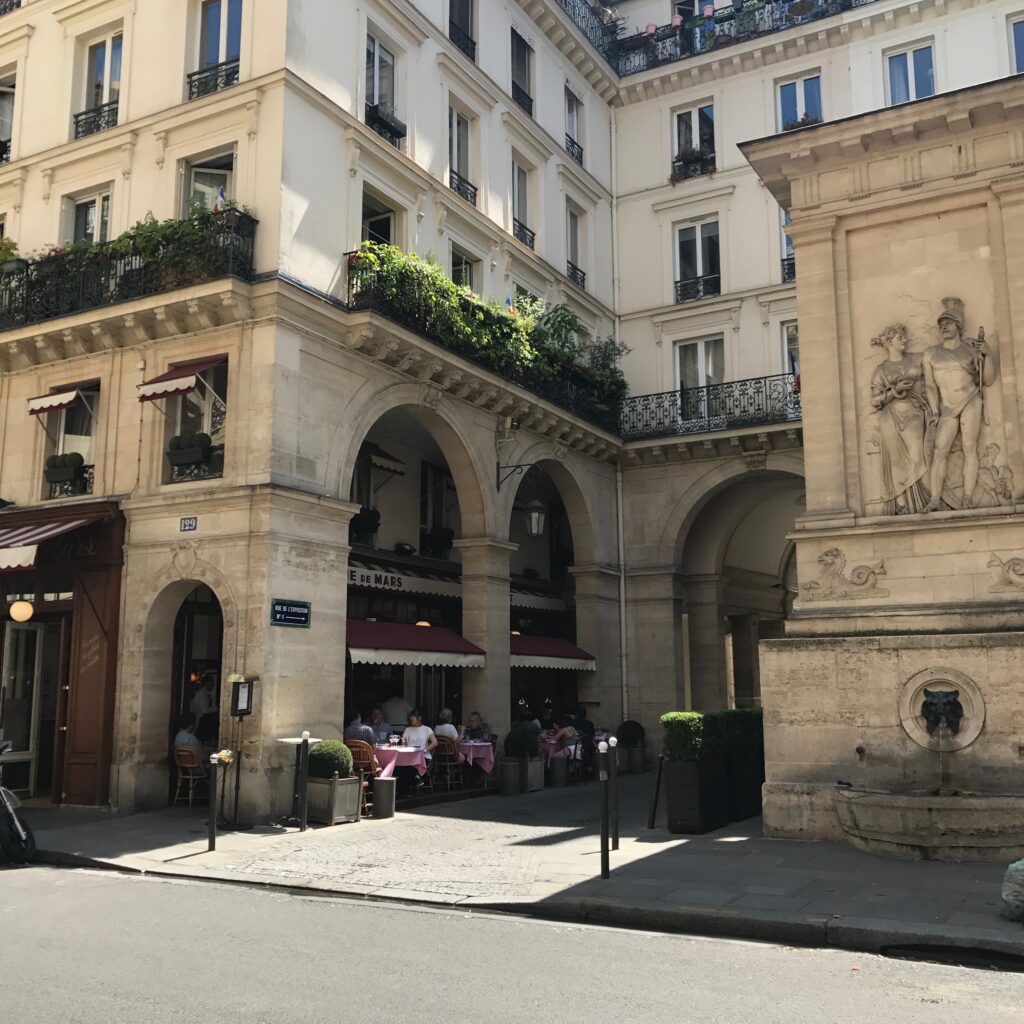 And, to bring drinking water to more Parisians, he decorated those streets with various (often grandiose) fountains, including the Fontaine de la Victoire on Place du Châtelet and the Fontaine du Mars, situated by the now-iconic restaurant of the same name (above).
Rue de Rivoli
As the above examples show, Napoléon's utilitarian plan could overlap into his ornamental plan for the city. This was also the case with his vision for Rue de Rivoli, for which he turned to his favourite architects, Charles Percier and Pierre-François Fontaine (who had so stunningly redecorated Malmaison in the antique style).
Rue de Rivoli was, originally, a project born of necessity. For one, Napoléon wanted to ease the congested traffic on the nearby Rue Saint-Honoré. But an assassination attempt on him in Rue Saint-Niçaise — one of the narrow medieval streets that once criss-crossed this area, cluttering the approach to the Louvre — also gave Napoléon the impetus for change.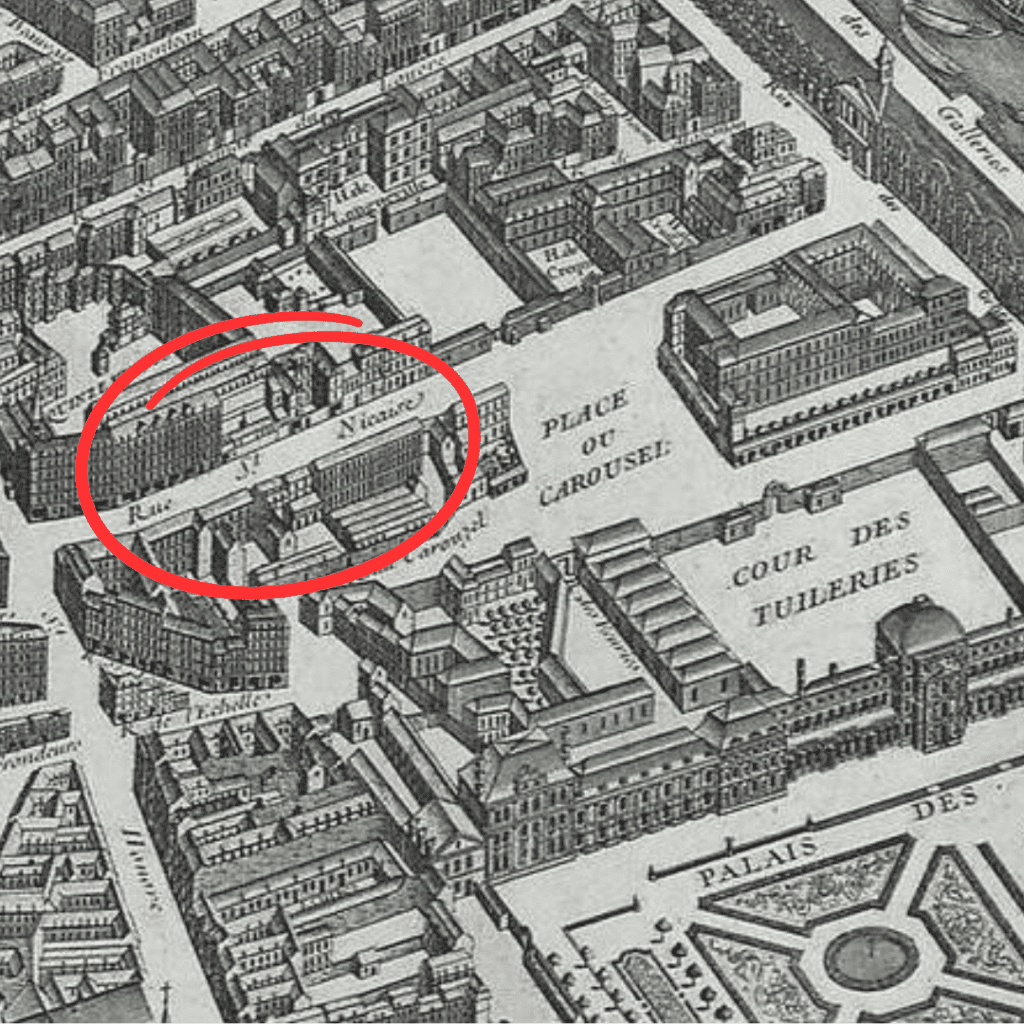 For a little more back-story … on 24th December 1800, Napoléon was in the Palais des Tuileries, waiting for Joséphine and her daughter Hortense who were primping in preparation for a night out at the opera. Napoléon finally gave in to the whims of feminine grooming, and headed out in the first carriage, leaving Joséphine to continue fussing about the best way to wrap on her cashmere shawl. The sartorial delay most likely saved her and Hortense's lives, for a Royalist-planted gunpowder-filled wagon exploded on Rue Saint-Niçaise just before the second carriage reached its vicinity. Twenty Parisians died in the attack, which also caused major structural damage of nearby buildings. This gave Napoléon both the motivation and excuse for a rebuild; he wanted to clean up the city's streets, making them safer, wider, and more modern.
While Napoléon's nephew Emperor Napoléon III, would end up seeing out this city-wide vision (when he hired Baron Haussmann to make over Paris in the mid-century), Napoléon made a great start with Rue de Rivoli (named for one of his Italian victories), which originally stretched from Place de la Concorde to the Place du Palais-Royal. The extensive scope gave Percier and Fontaine a large canvas on which to apply Classical design principles.
They placed three levels above an arcaded ground floor (the arcades perhaps being inspired by Bologna, which Napoléon had visited in 1796), and minimal decoration beyond shutters and two lines of balconies. (Percier and Fontaine also placed gates opposite the first section of Rue de Rivoli, to line the northern border of the Jardin des Tuileries; they're still there today.) The seemingly endless perspective projected that Napoléon-adored grandeur, but at the same time, with the continuous arches and curved attic roof (which was added later), the overall effect is charming rather than severe. Rue de Castiglione and Place des Pyramides were also part of the redevelopment, which would go on to influence Haussmann years later.
Colonne Vendôme
Turn from Rue Rivoli into the aforementioned Rue de Castiglione, and you can't miss the towering verdigris Colonne Vendôme up ahead. The Trajan's Column-inspired monument was erected in 1806, to replace Place Vendôme's equestrian statue of Louis XIV, which had been destroyed during the Revolution, and to commemorate the Battle of Austerlitz. Surmounted by a statue of the Emperor, its spiraling bas-relief plates — melted down from 1200 bronze cannons taken from the Russian and Austrian armies — depict Napoléon's military campaigns.
Arc de Triomphe du Carrousel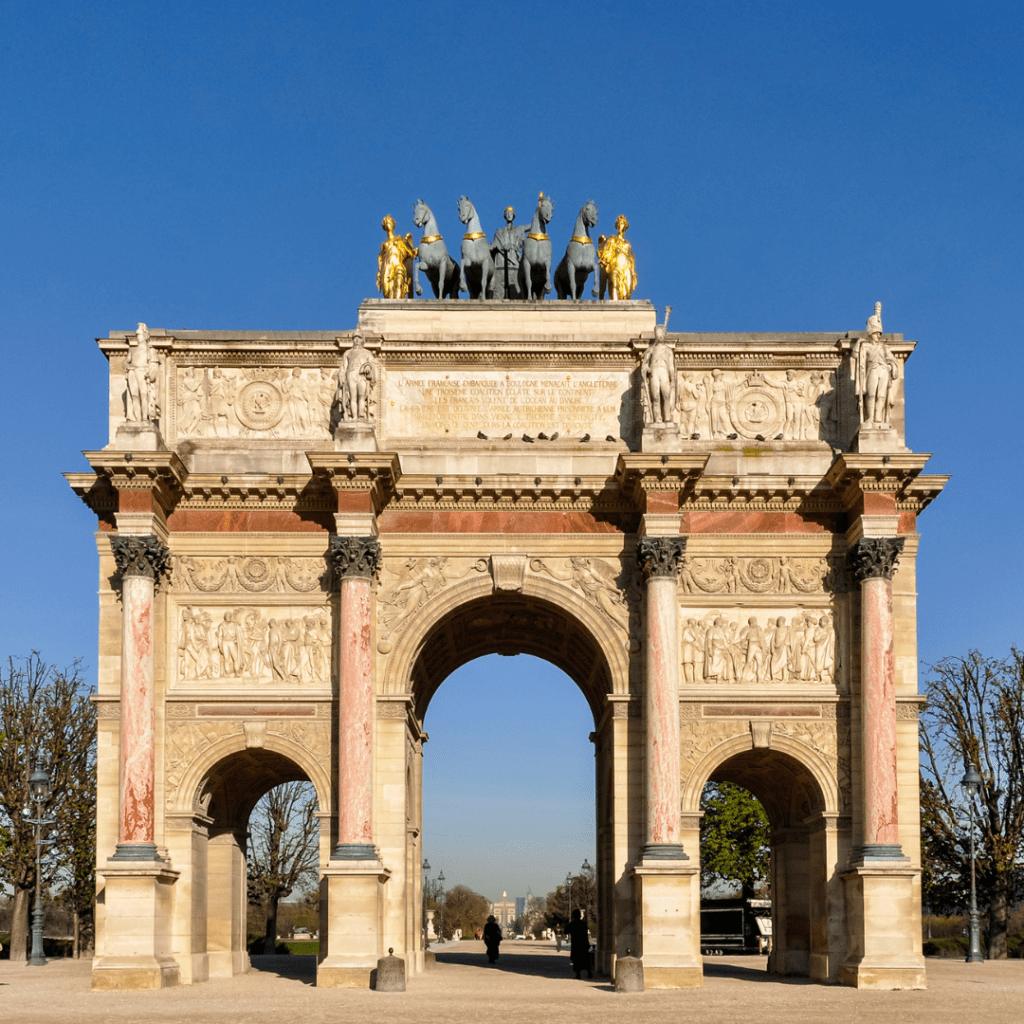 The year 1806 — after France's success at Austerliz — saw Napoléon at the height of his power. He also commissioned this triumphal arch, originally intended as a gate of honour to the Tuileries Palace, as well as a commemoration of his Grande Armée. Fontaine and Percier took inspiration once more from Rome, specifically from the Arch of Constantine. Atop the lovely arch, with its pink-marble Corinthian columns, they placed the horses of St Mark's in Venice, which Napoléon had taken as a souvenir of his conquest of that city. The current horses are replicas, after the originals were returned in 1815 (along with much other stolen artwork).
Arc de Triomphe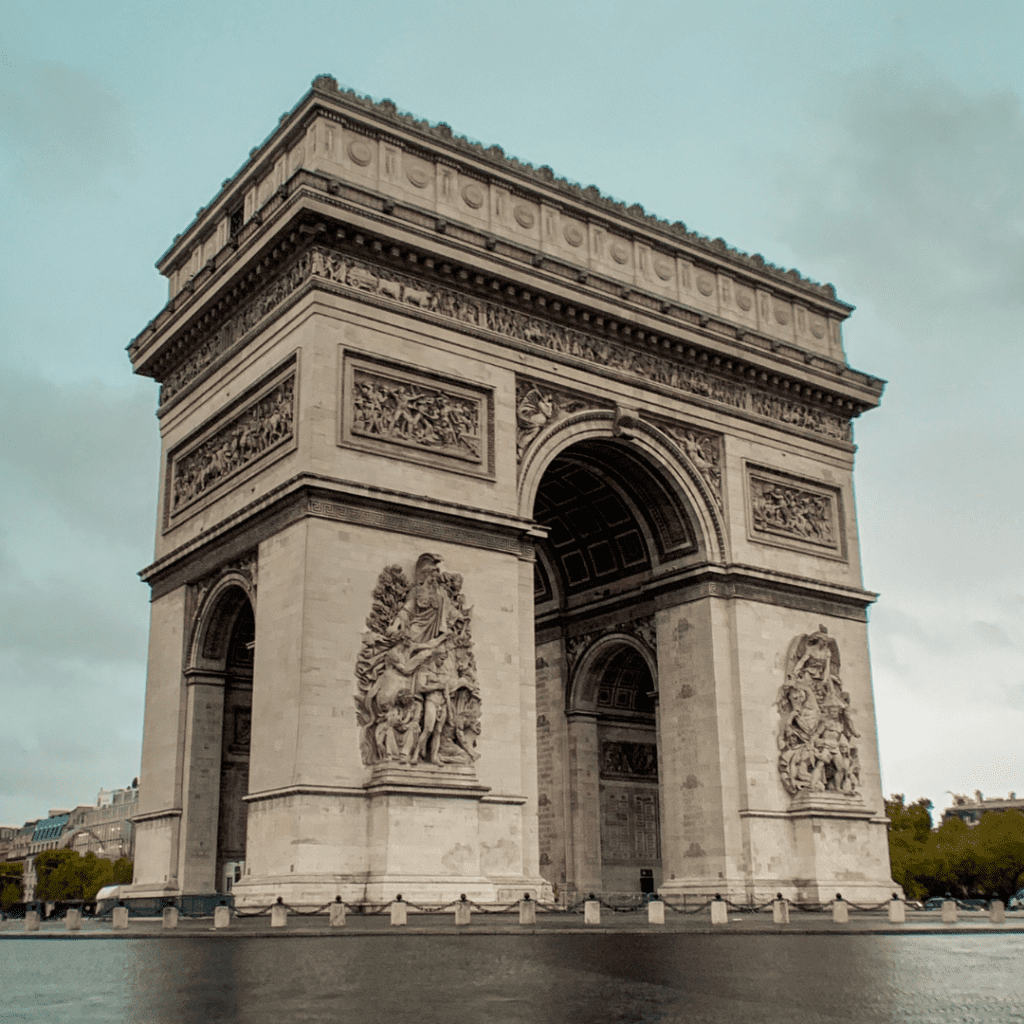 In the same year, Napoléon commissioned this much larger arch, also in commemoration of his army, on the site of the old city gates. At the time, the Avenue des Champs-Élysées was little more than a country road on the outskirts of Paris. Since the destruction of the Palais des Tuileries, the Arc de Triomphe can be viewed from its little sister arch — they're two bookends of a world-famous vista. The larger arch's distance from the palace dictated its majestic size, for it needed to be admired from afar. Sadly, Napoléon didn't get to see this particular dream materialise; the monument required several decades to reach completion. His ghost, however, would surely be happy that it is now a symbol of French pride and a focus of many civic celebrations, with the Flame of Remembrance burning brightly by the tomb of the Unknown Soldier.
Église de la Madeleine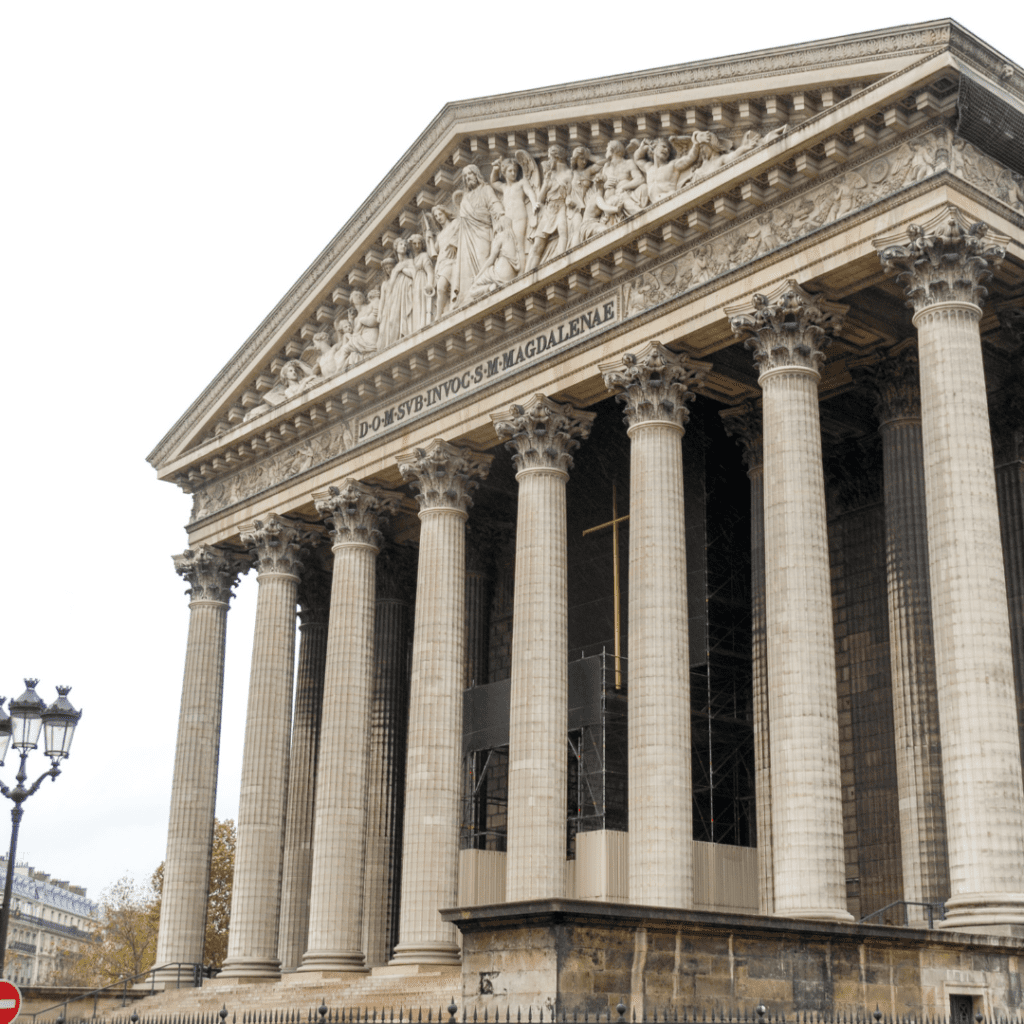 Napoléon, in 1806, also announced that the part-built church on this site would be redesigned and repurposed as a temple to the glory of the French army. Cue a rectangular Greco-Roman-style temple with a peristyle of Corinthian columns, styled à la Rome's Pantheon. View it from the start of Rue Royale, then turn around to locate its twin monument on the other side of the river from Place de la Concorde; Napoléon had this Roman portico façade added to an old palace, Palais Bourbon, to reflect and amplify the overall effect of Classical grandeur on Place de la Concorde. That latter building is now the National Assembly, while the Madeleine has been a church since it was, finally, completed in 1842.
Musée du Louvre
The Louvre — the royal court until Louis XIV moved out to Versailles — found new life as a museum in 1793, which is rather astonishing because this was during some of most the tumultuous days of the Revolution. But it makes sense in the context of liberté and égalité, for it was, among other things, a way to share with everyday French citizens something that had, until now, been exclusive to high society.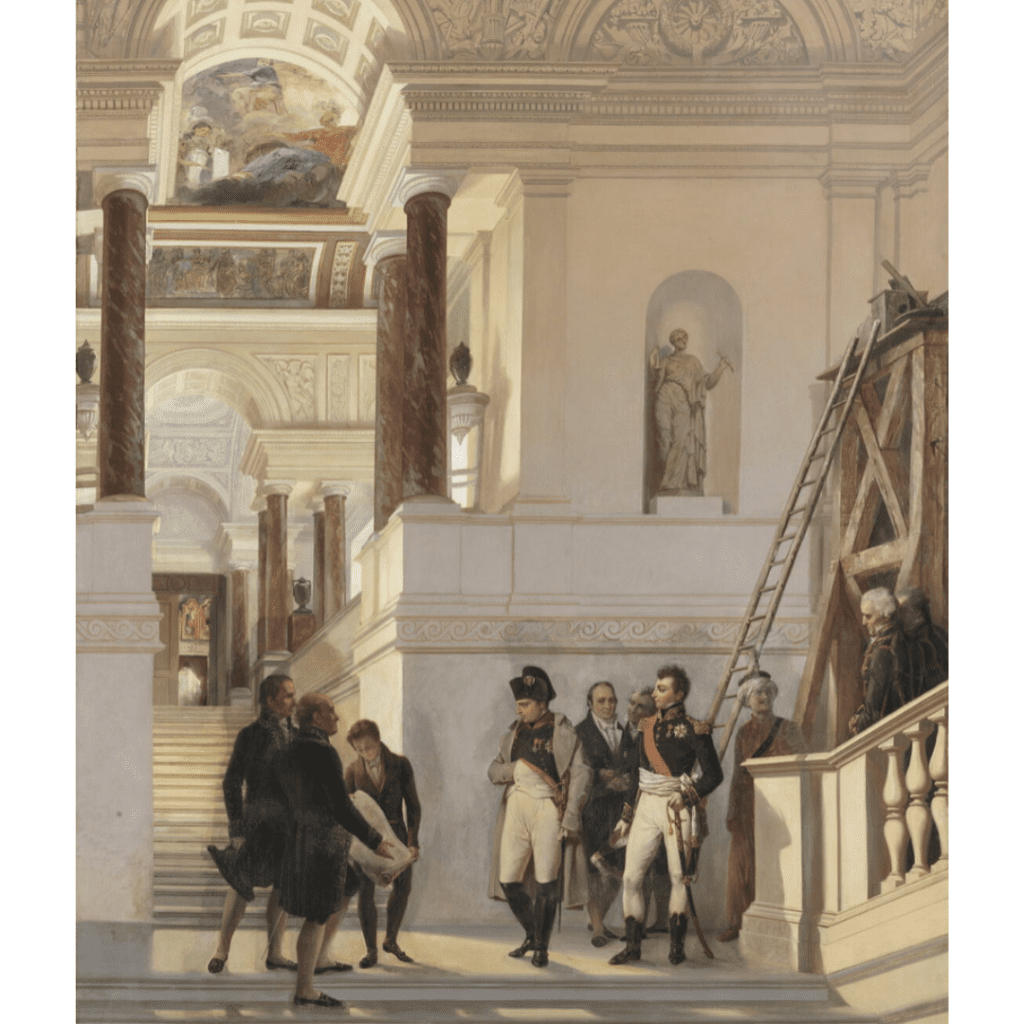 Napoléon continued this mission of the Louvre as a place of art and beauty for all — also, he needed somewhere to store all of the art he had stolen on his various campaigns! (Like the horses atop the Arc de Triomphe du Carrousel, most would eventually be returned to rightful owners; Veronese's glorious Wedding Feast at Cana is one that remained at the Louvre.) Napoléon also decreed that it was high time to restore a neglected Louvre, and complete it with a northern wing — which was now an easier job, thanks to the various demolitions that followed the Rue Saint-Niçaise bombing attempt.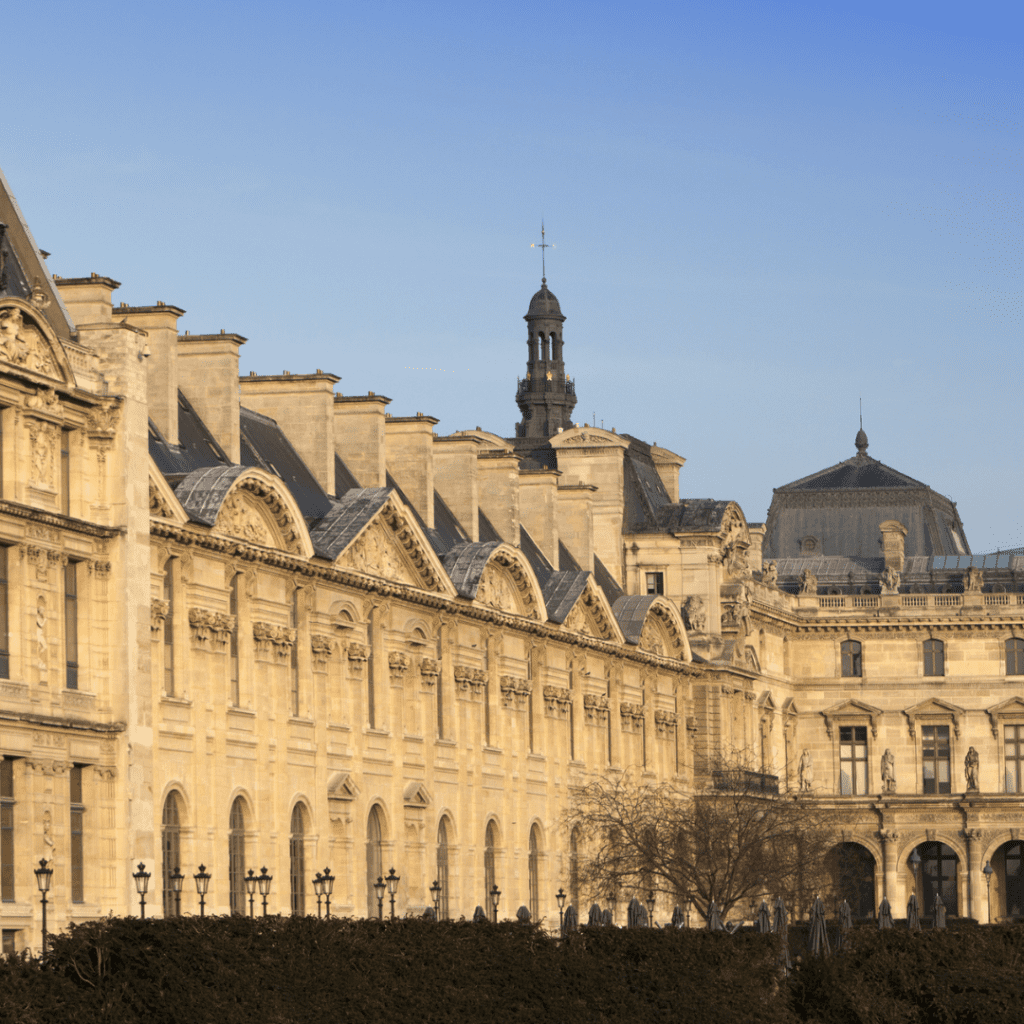 So Percier and Fontaine got to work on beautifying the Louvre in numerous ways, including completing the lovely Cour Carrée. (Much of their interior design no longer exists, but walk through the Salles Percier and Fontaine to admire their gorgeous Empire style.) They were in the midst of constructing the Louvre's northern wing, which now houses the Musée des Arts Décoratifs (above), when Napoléon was defeated at Waterloo, necessitating a putting-down of tools. The Louvre would finally be completed during the reign of Napoléon's nephew … although poignantly, the Tuileries Palace, which by now served as the western wing of the complex, burnt down the year after Napoléon III's abdication.
Also Not-to-Miss for Napoléon Fans …
Debauve & Gallais (30 Rue des Saints-Pères, 75007) is the most historically significant chocolaterie in town, with a classified interior that dates back to its 1817 opening and was designed, no less, by Napoléon's beloved Percier and Fontaine.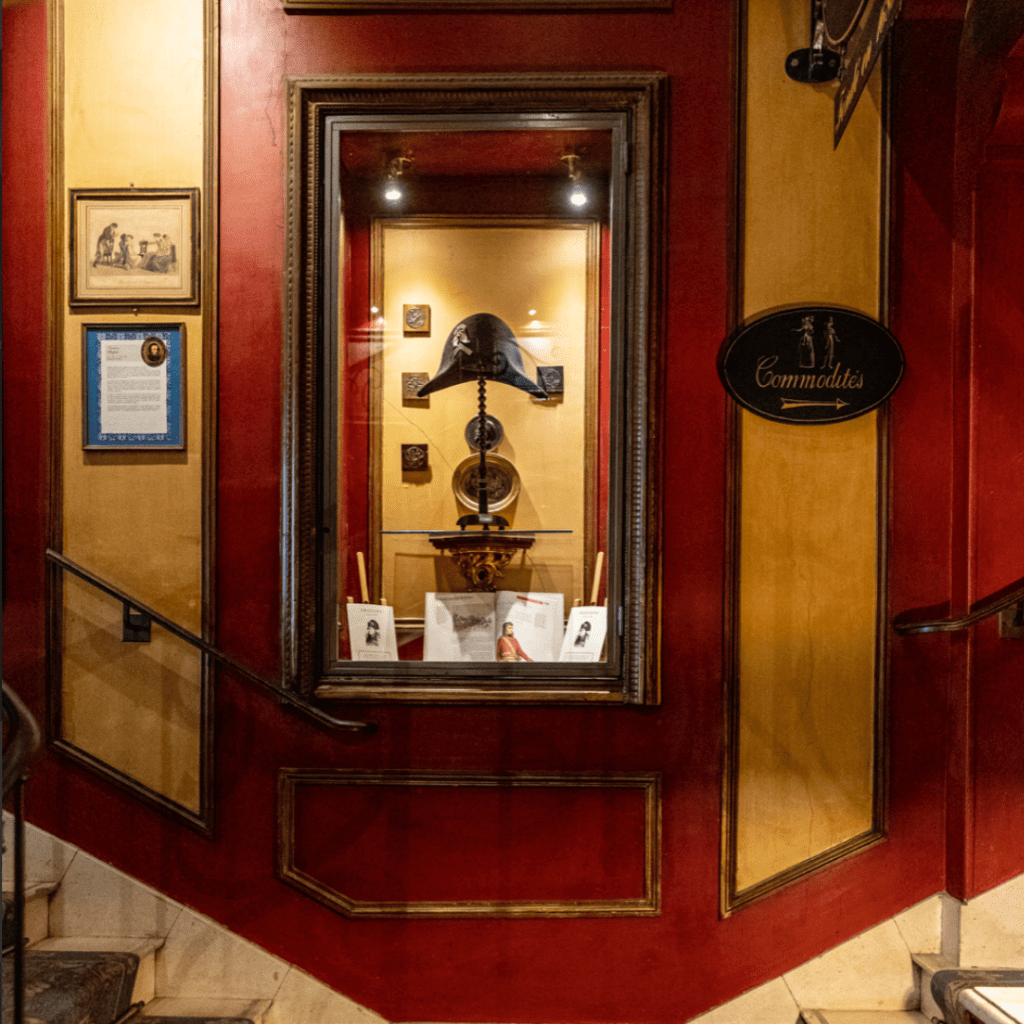 Le Procope (13 Rue de l'Ancienne Comédie, 75006), now a restaurant that serves classic Gallic fare in a glittering olde-worlde setting, was originally — from 1686 — one of Paris's first cafés, and served coffee along with an inspiring ambience to its philosophically-minded clientele. As the Revolution brewed, the crowds became more politically activist; the now-national motto 'Liberté, Égalité, Fraternité,' is said to have been coined here. Napoléon, as an up-and-coming mover and shaker, was by this time a customer, albeit a poor one … One of his famous bicorne hats is on display in a glass cabinet (above), said to have been left here one day by the man himself, in lieu of paying his bill with money.
Le Grand Véfour (17 Rue de Beaujolais, 75001). When Napoléon finally did have money, this jewel box of a restaurant was a favoured dining spot of the imperial couple.
While Napoléon's downfall was brutal, his exile punishing, and his death lonely, his remains made a triumphant return to Paris in 1840. Watched by thousands of Parisians (who had fallen back in love with their former Emperor once more), the horse-drawn hearse made its way from the Arc de Triomphe (which had finally been completed in 1836) down to Place de la Concorde, and then over to Les Invalides, where his tomb still rests under the gilded dome; to visit, buy a ticket to the Musée de l'Armée.