Paris might have come to a few standstills during the pandemic, but its hoteliers didn't stop working, forging ahead with their visions for the city's next generation of accommodation. Whether you like your hotels chic or charming, boutique or big, 1920s or 1970s in vibe … there's something new you'll love. And if you end up staying elsewhere, these eight addresses still merit a trip for their inspired food and drink experiences.
The 82 rooms and suites of this five-star hotel are located within the upper floors of the redeveloped Poste du Louvre development.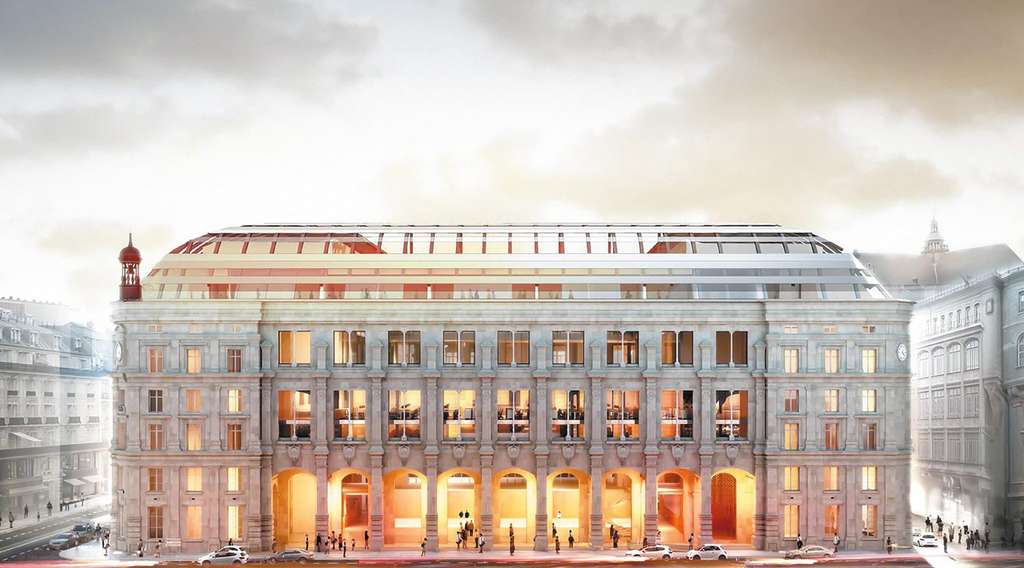 The location, for one, is superb: just up the road from the new Bourse de Commerce museum and Samaritaine complex. If you want to leave the hotel, that is.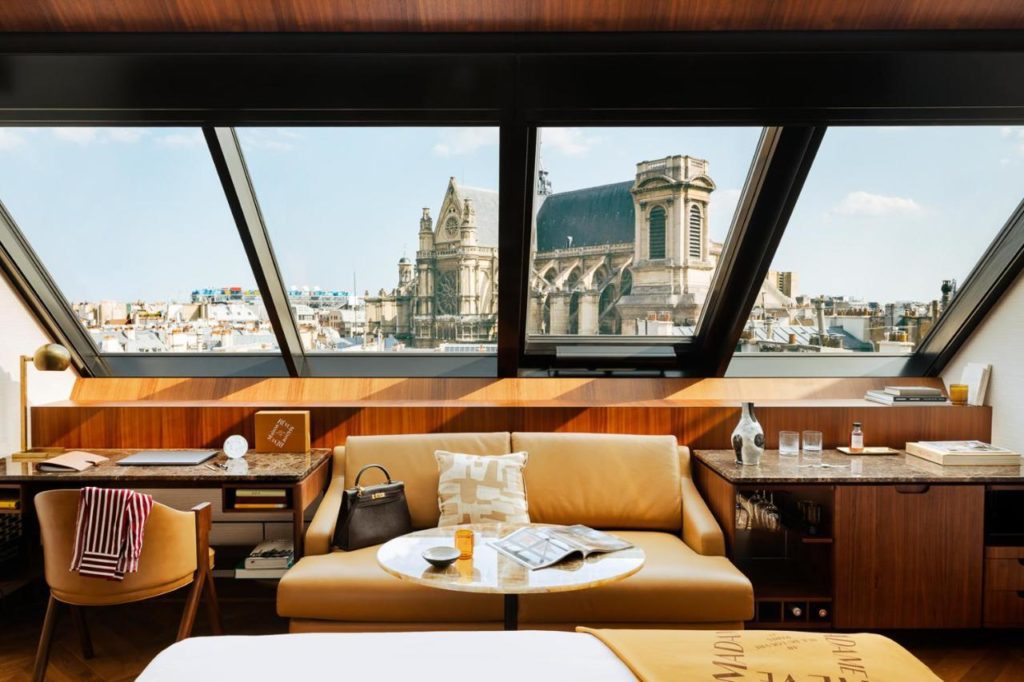 Thanks to some clever architectural ironwork additions, the cosy wood-panelled rooms ingeniously hover around the inner hanging garden, while the various suites, inspired by artist ateliers, float right up top, looking out to breathtaking views of the city's rooftops and monuments.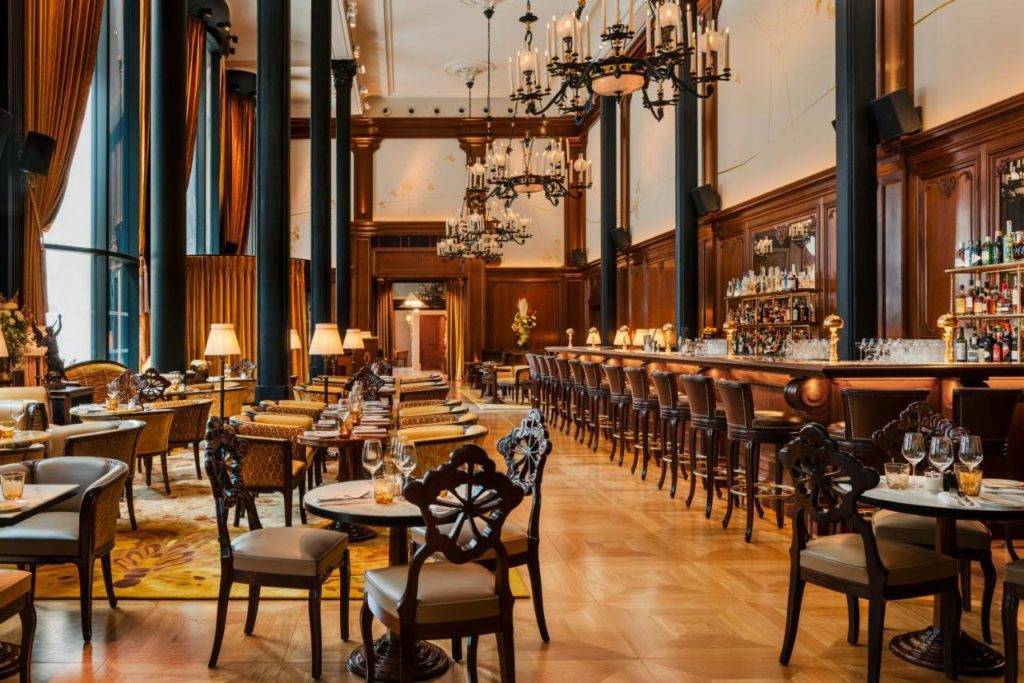 The lobby bar (above) is the kind that will make you feel like you're on a movie set from Hollywood's Golden Age, while later this month there will also be a panoramic Japanese restaurant and lush rooftop bar.
Rates: From €450
Address: 48 Rue du Louvre, 75001
If you remember the old La Samaritaine, you might recall popping up to the rooftop café to enjoy one of the best (and cheapest) views in town. Since its redevelopment, much of the old riverside department store is now the super-luxe Cheval Blanc, where the immaculately furnished suites come complete with dreamy views across Pont Neuf and along the Seine.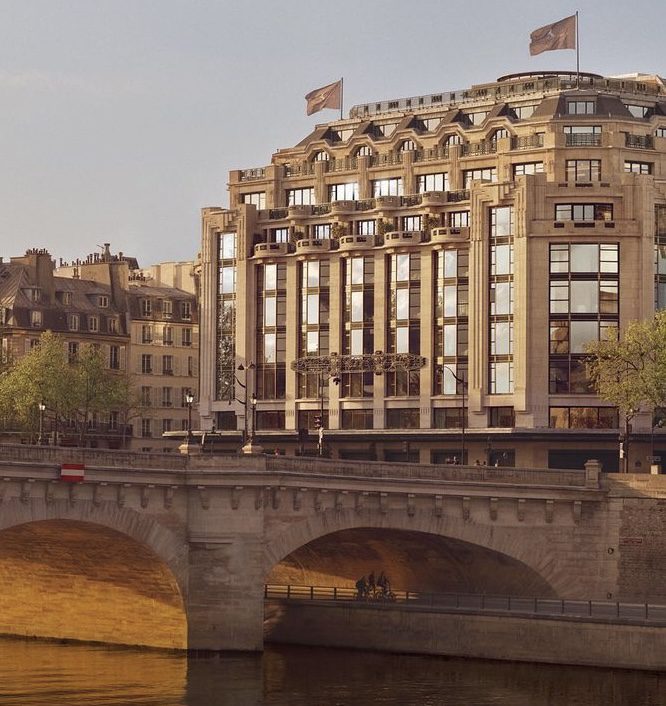 The price … well, let's just say this hotel likely falls into the category of if-you-have-to-ask-you-probably-can't-afford-it … but anyone can pop in for a meal or cocktail at, say, Le Tout Paris, a brasserie-bar up on the seventh floor featuring several areas such as a hanging garden with rooftop views.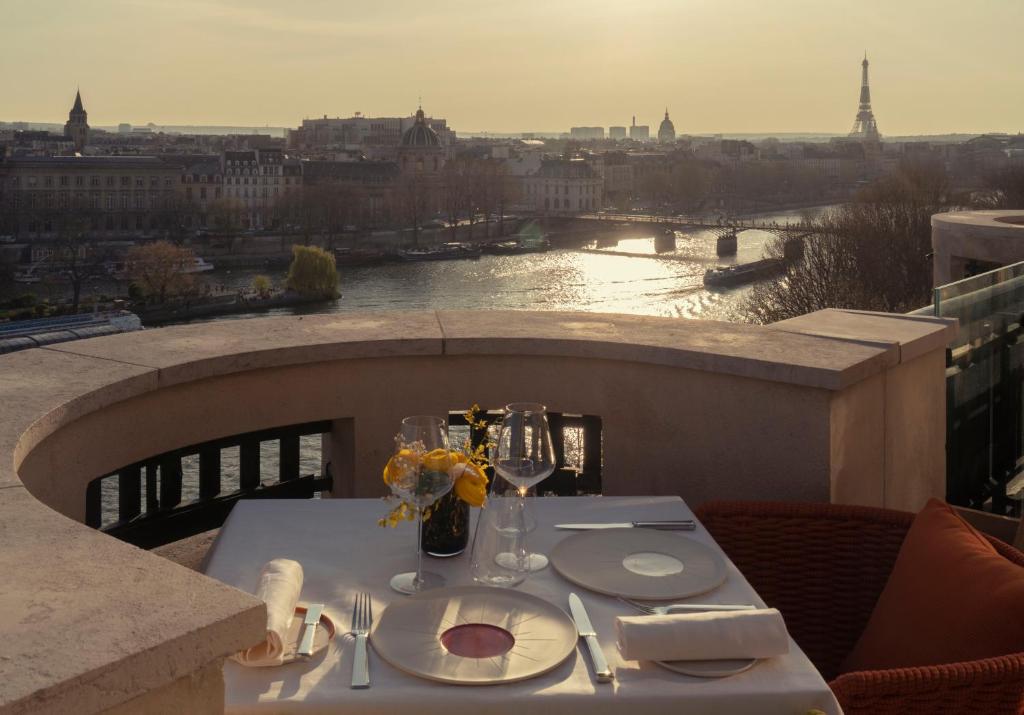 The panoramic terrace (above) boasts some of the best seats in the city, particularly at golden hour, when the shimmering vista downstream towards the Eiffel Tower is particularly glorious.
Rates: From €1350
Address: 8 Quai du Louvre, 75001
If you've wandered about the buzzing garment district known as Sentier, you've probably looked up in wonder at the Egyptian-inspired façade overlooking Place du Caire.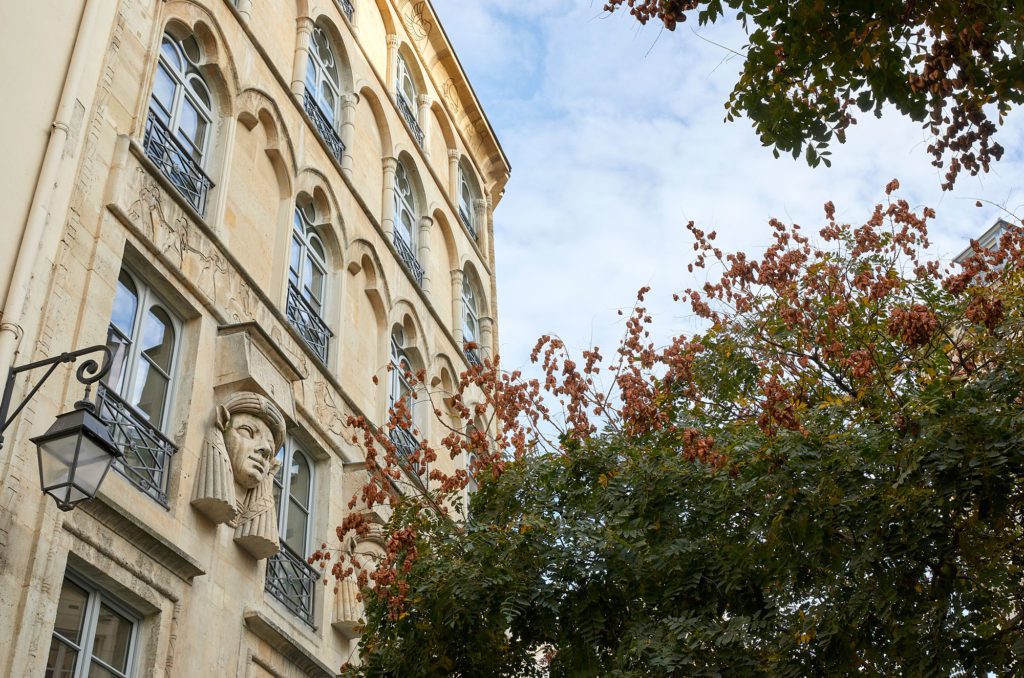 You can now look out from its prettily arched windows, by staying at the Hôtel du Sentier. The building, and the covered arcades behind it, date back to 1799 when Egyptomania was all the rage (thanks to Napoléon's Egypt campaign and the popularity of neo-Classicism), but the rooms of this four-star hotel are totally modern in comfort.
Fortunately, the restaurant (which offers all-day breakfast) serves up classic French fare of the old style; think œuf mayo, croque-monsieur, tartare de bœuf and crème brûlée.
Rates: From around €300 per night
Address: 2 Place du Caire, 75002
Only in the history-loving city of Paris can a place be modernised by making it retro. Whereas many Parisian interiors hark back to a century or more ago, the reborn Hôtel Saint-André des Arts, now boasting four stars, decided to take aesthetic inspiration from the 1970s, and the musicians who then passed through the doors of this Left Bank hotel.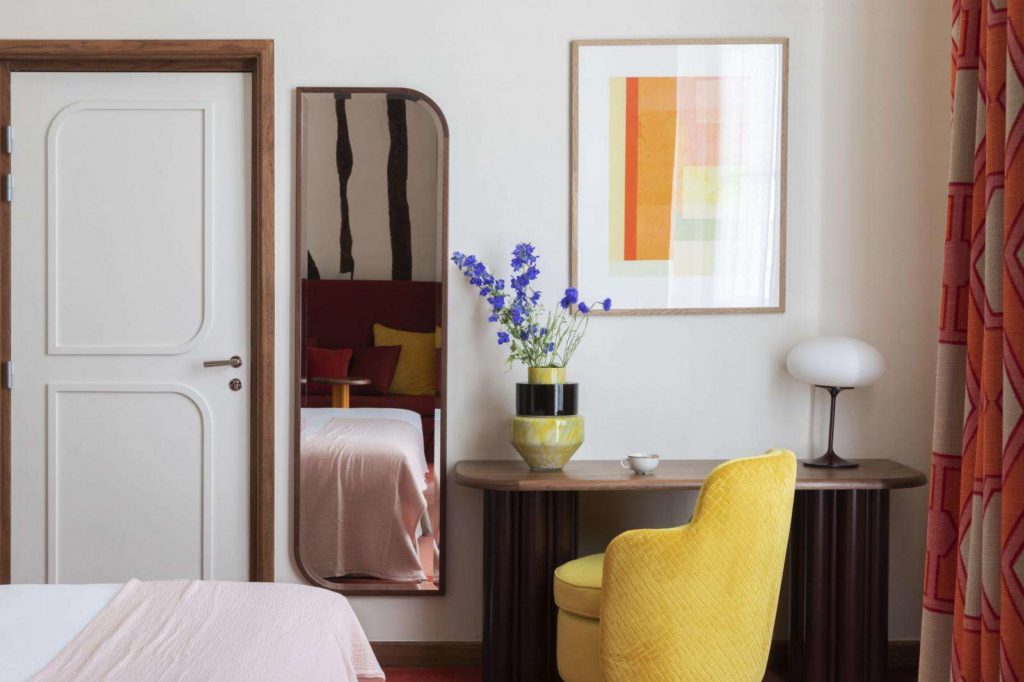 Cue pops of bright colours against the exposed beams, fabulously throwback furniture, and a green-tiled bar that will make you want to dress up in a maxi gown and order a piña colada.
Rates: From €143
Address: 66 Rue Saint-André des Arts, 75006
This ultra-chic five-star hotel, nestled behind the creamy walls of an old townhouse just off the Avenue de l'Opéra, is the creation of Thierry Gillier, founder of fashion label Zadig & Voltaire.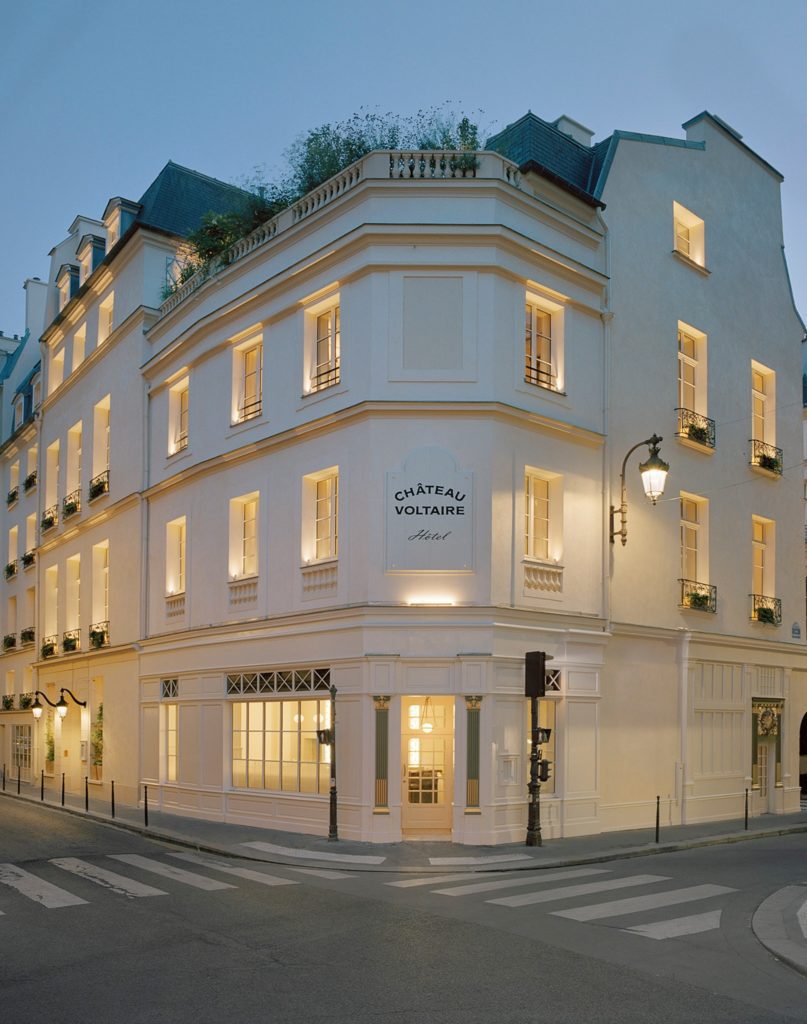 If the rooms are beyond your budget, you'll still love Brasserie Emil, the kind of old-school Parisian eatery you'll want to keep going back to, and La Coquille d'Or, the elegantly cosy bar.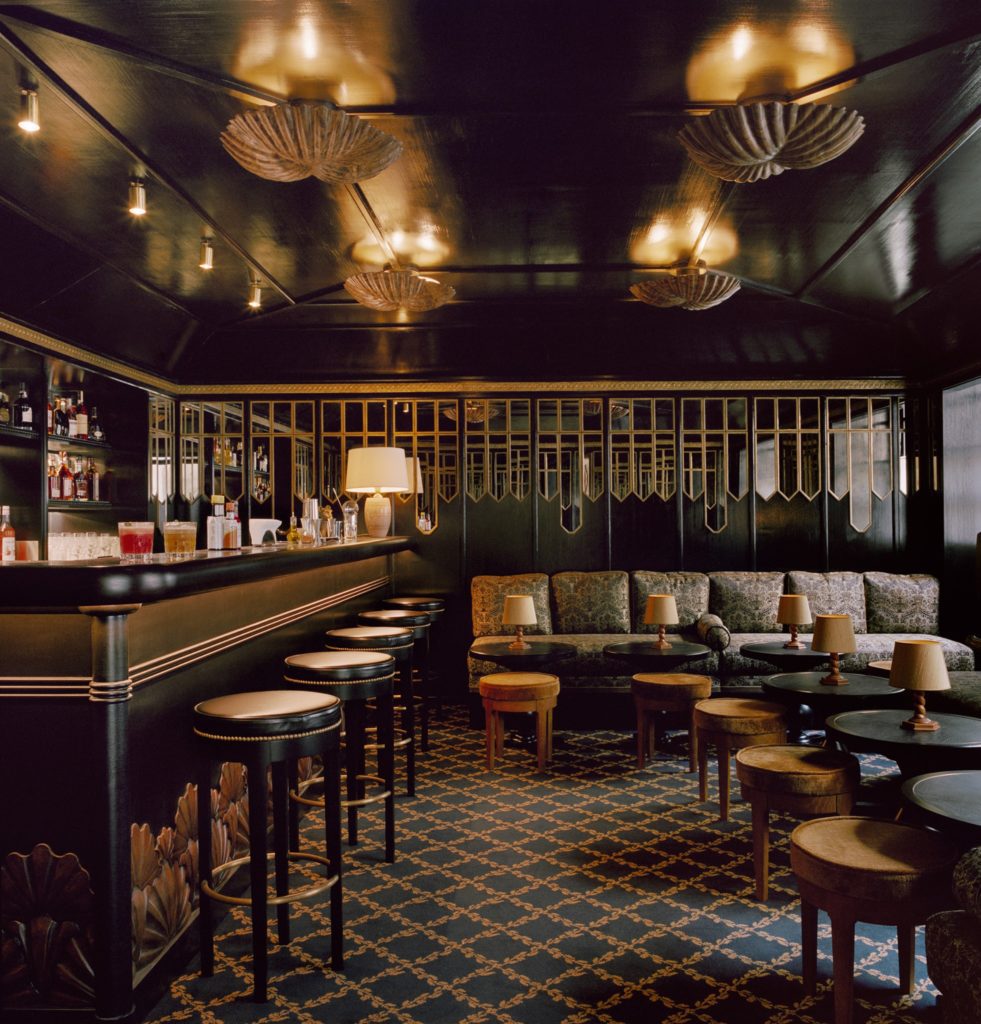 Rates: From €500 per night
Address: 55-57 Rue Saint-Roch, Paris 75001
The 34 rooms of this four-star hotel range from intimate nooks to a terrace-graced suite, but all come with a three-metre-wide screen and laser projector that transform your space into a private cinema theatre.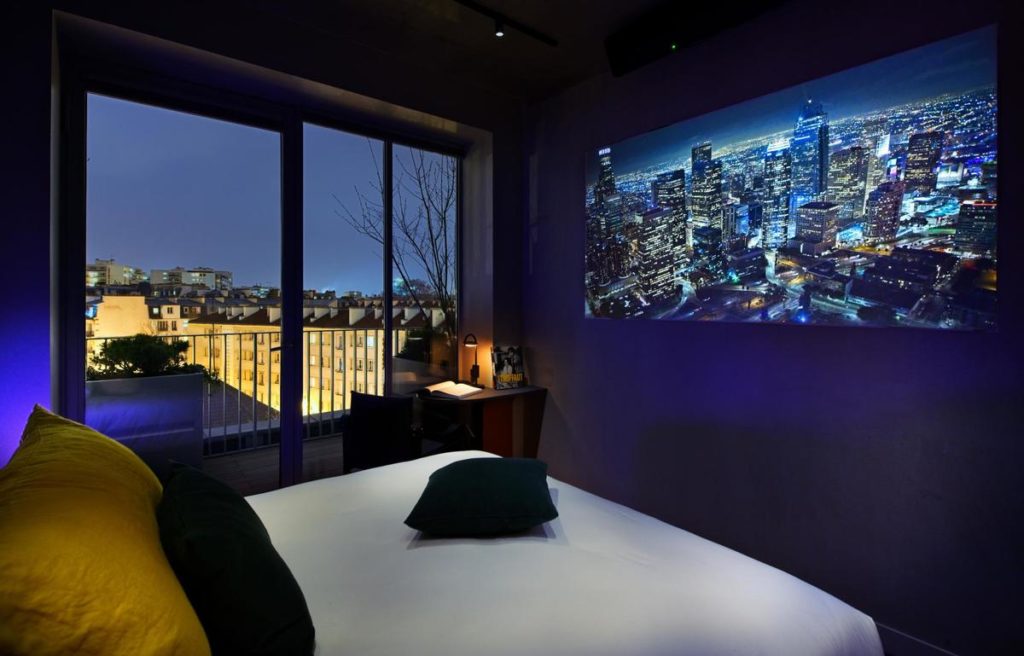 You'll have access to a selection of on-demand services, such as Netflix and Prime, and if you prefer to go more old-school, the hotel has a DVD library boasting over 2000 films from classic and cult genres.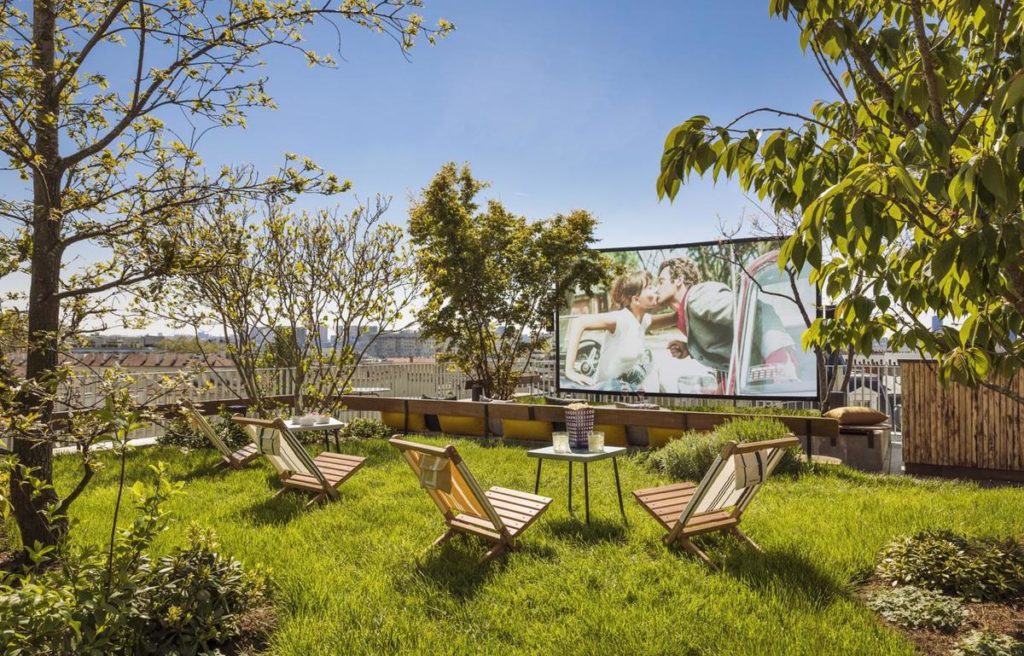 Popcorn is part of the package, of course, and you can order in cocktails or meals from local eateries. In warmer weather the rooftop bar doubles as an open-air cinema.
Rates: From €149
Address: 135 Boulevard Diderot, 75012
All black lacquer, gilded touches and jewel-toned velvet, this haven of a five-star boutique hotel, in a classic Haussmannian building just off the Champs-Élysées, is as luxurious as many of that avenue's high-fashion stores. Its interiors were designed, after all, by the celebrated Anouska Hempel.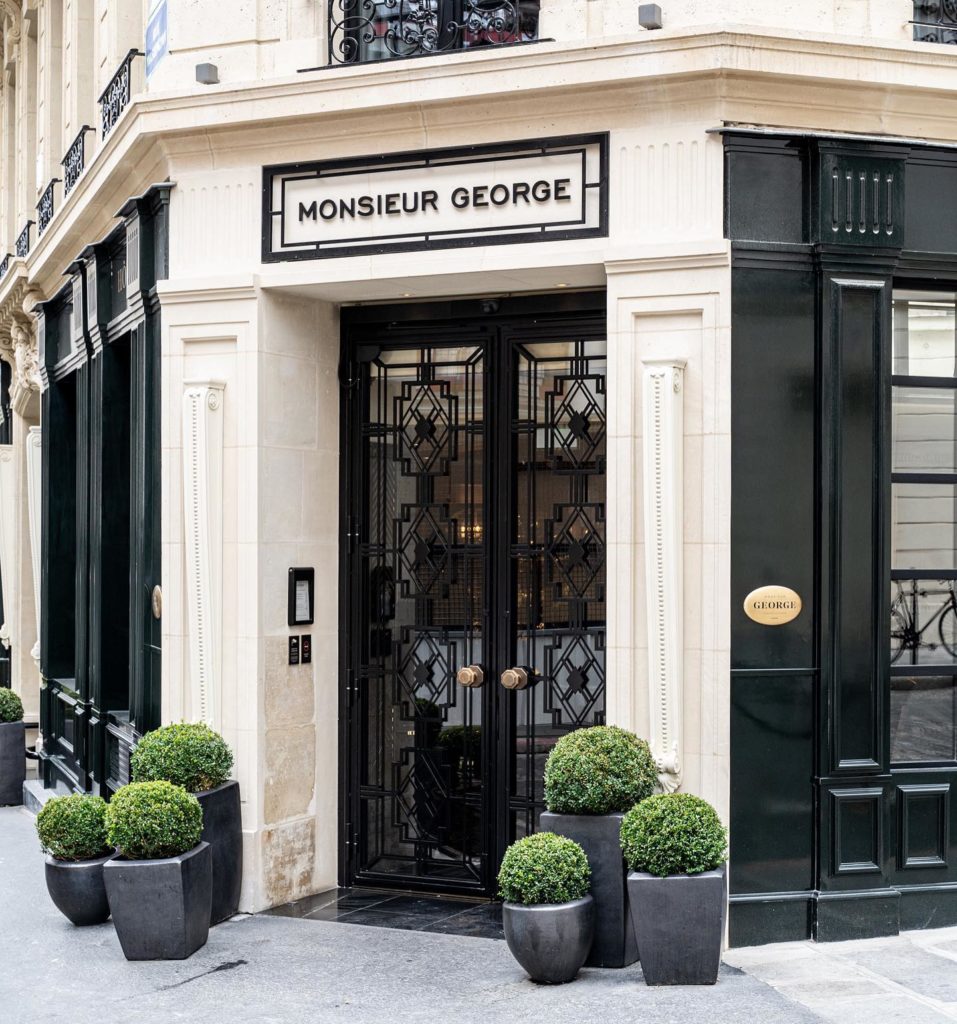 Even if you can't justify the room prices, visit for the bar, a glossy, seductive space that serves up cocktails laced with herbs freshly picked from the aromatic patio garden.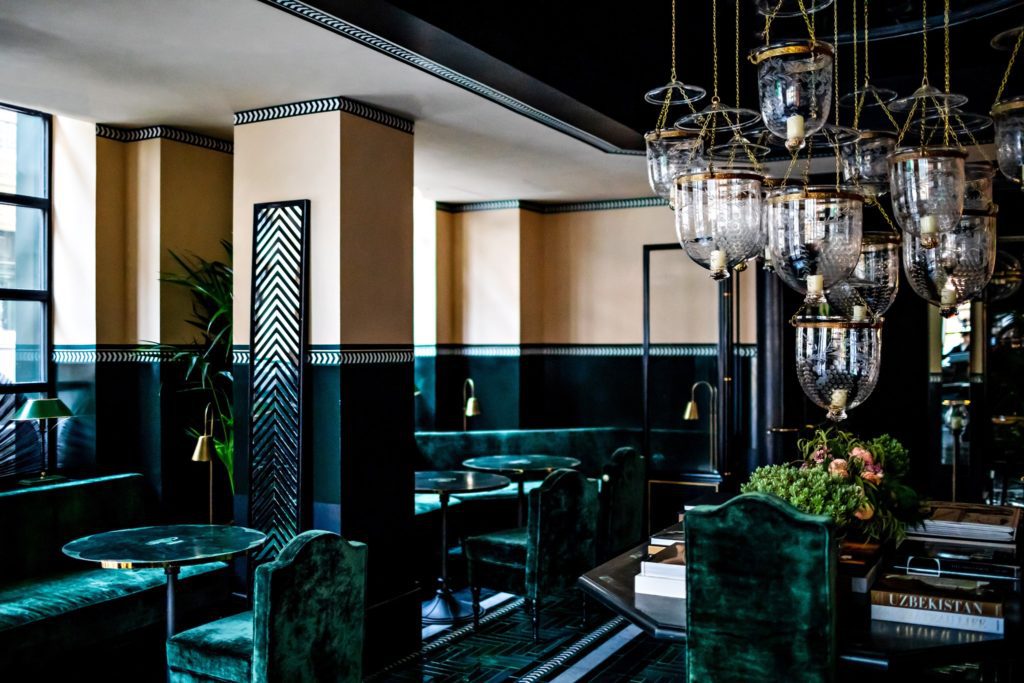 Rates: From around €500
Address: 17 Rue Washington, 75008
Situated at the base of Montmartre, the Hôtel Rochechouart is perfectly placed for an exploration of this mythical district.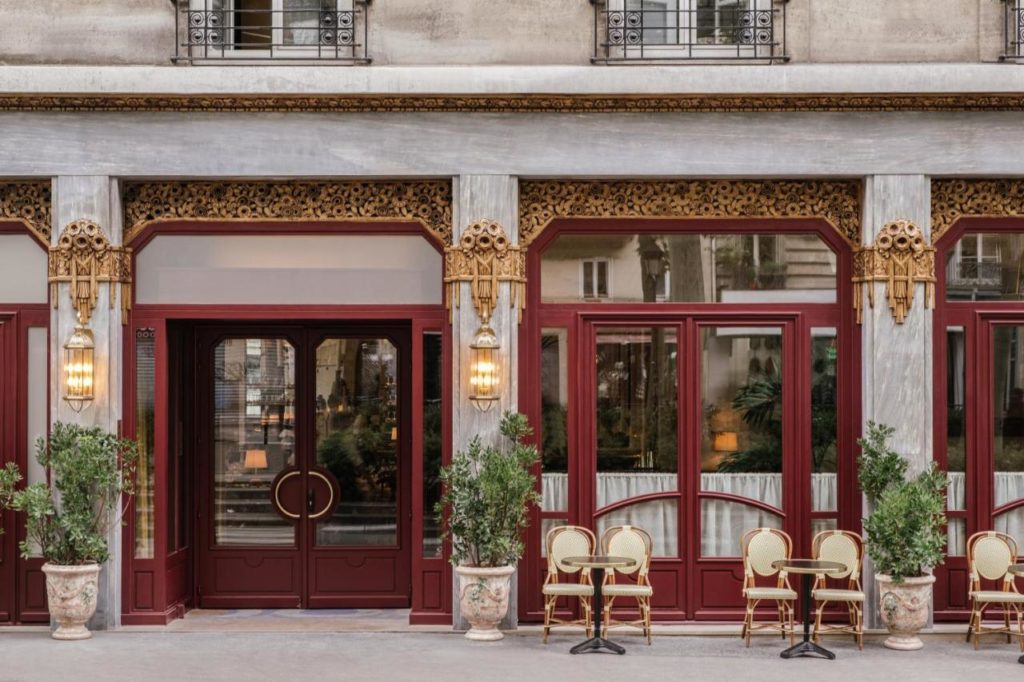 Its recent renovation only heightens the sense of adventure. First unveiled in 1929, the dusty Hôtel Carlton's has not only been reborn, but upgraded to four-star chic, without losing its sense of history. The interiors retain their Art Déco glow, and the 106-room hotel is the perfect example of how they used to do hotels back in the days of burgeoning international travel: large and lavish, but also with an intimate feel, thanks to moody lighting and a variety of spaces. Think a spacious lobby, and glamorous restaurant and bar.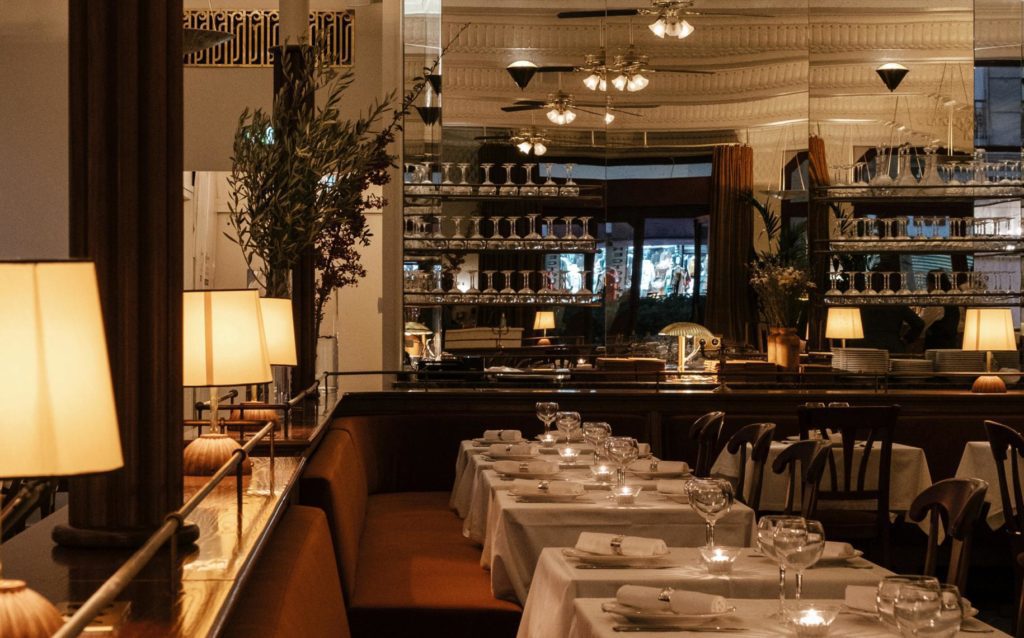 You can alternatively enjoy a drink in the library, or head up to the rooftop bar (via the marble stairs — or the old-school cast-iron elevator they swirl around). Open in the summer months, the bar's Sacré-Cœur vista is stunning.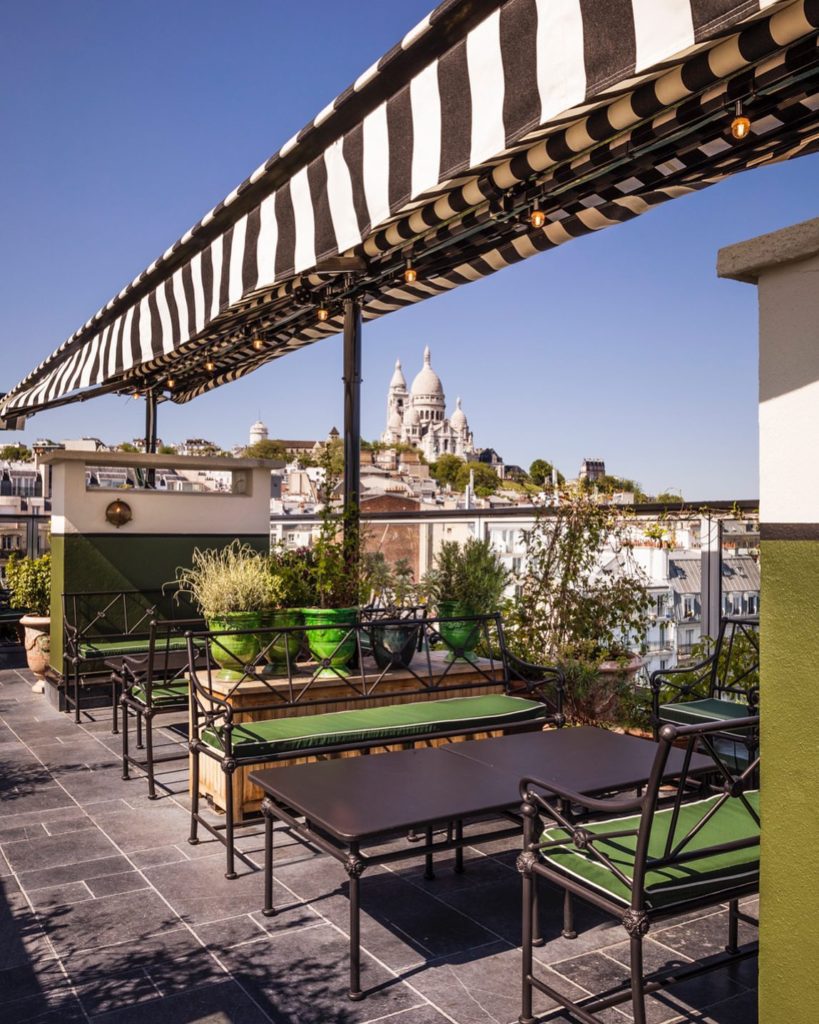 Rates: From around €200
Address: 55 Boulevard du Rochechouart, 75009
A delight of a hôtel, the four-star Chouchou (a French term of endearment, like 'pet' or 'sweetie') plays with colour as much as your senses.
Brightly lit (with a generous sprinkling of festoon lights), and popping with yellows and blues, the hotel has a festive vibe that is fabulously enhanced by its guinguette-style bar (below). There's also a fun food market-inspired eatery.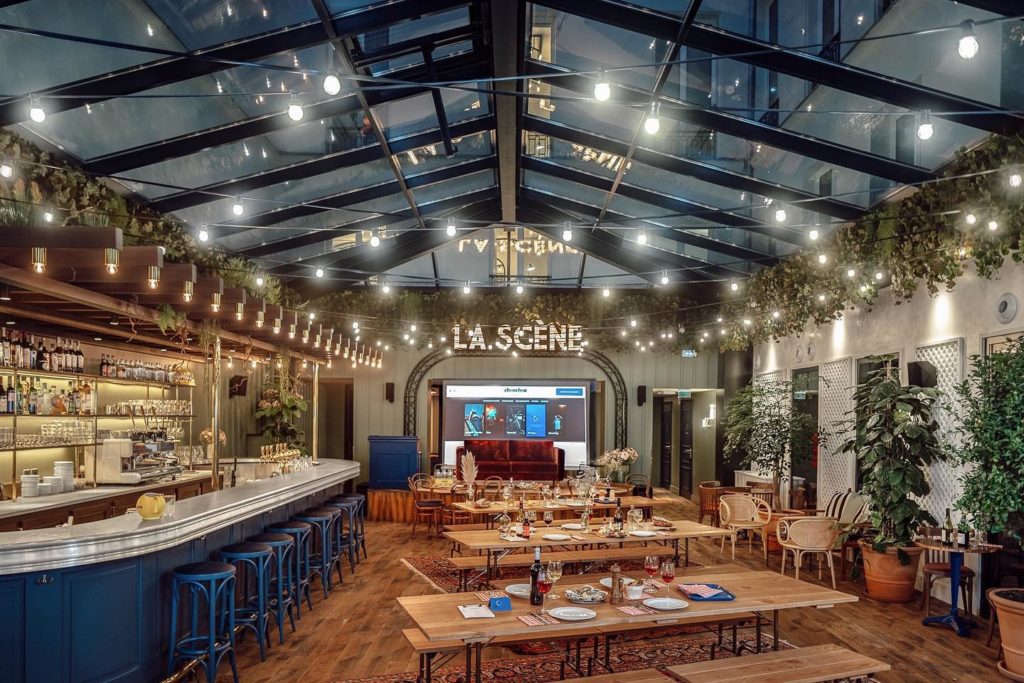 Its 63 rooms look down over the courtyard or out to the ninth arrondissement; it's located just east of the Palais Garnier and department stores Printemps and Galeries Lafayette.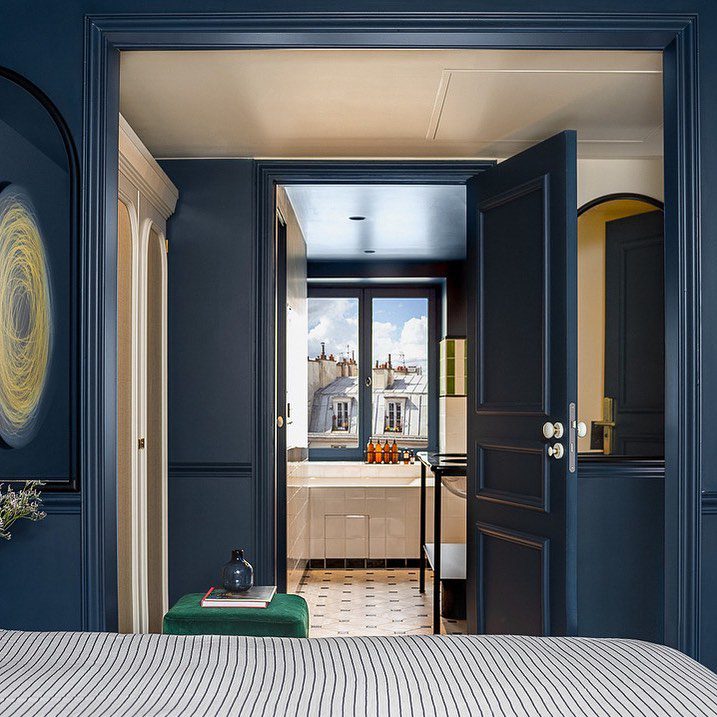 Rates: From around €215
Address: 11 Rue du Helder, 75009