With All the Light We Cannot See hitting Netflix screens, you might be interested in exploring other shows inspired by the occupation of Paris during World War II. If so, read on … These fifteen movies and series (in no particular order) examine the various experiences of Parisians during this dreadful time in history.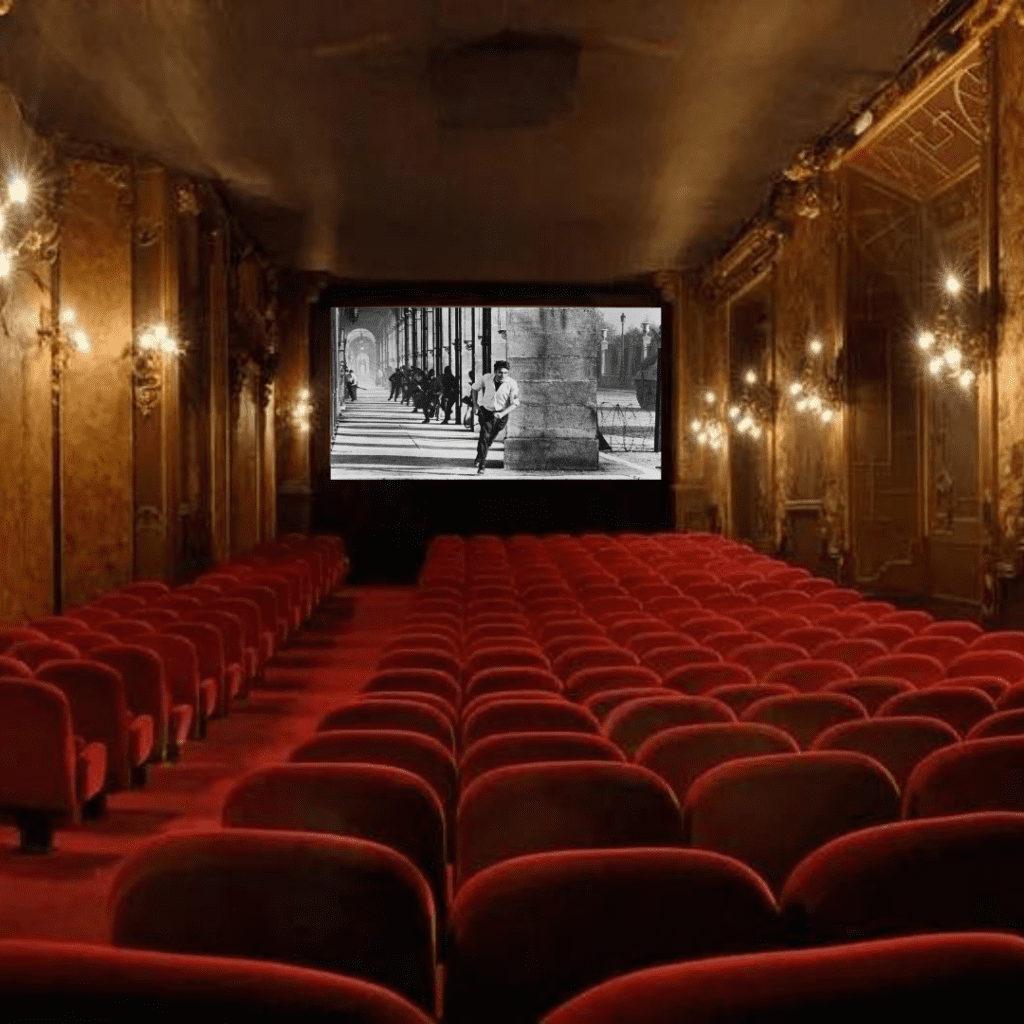 Note: Some of these titles might be difficult to locate in your particular region. In this case, head to Google; you might be able to track down a DVD online, or even find that one of the rarer, older productions has been posted on YouTube.
All the Light We Cannot See (2023)
As the fifteen-or-so-million people who read and loved Anthony Doerr's All the Light We Cannot See know, the main action of this story takes place in Saint-Malo, the ancient port town in Brittany. But the early Parisian scenes, where a blind Marie-Laure learns to navigate her neighbourhood thanks to a scale model created by her father are beautifully poignant — and this makes the looming German occupation of the city all the more devastating. Just launched on Netflix, this four-part series might not have the emotional heft of the novel (granted, the stakes are all that higher when adapting a book beloved by millions), but it's visually lavish, and a timely reminder of the human tragedy of war.
Is Paris Burning? (1966)
This patchwork of storylines, set in the final days of the Liberation of Paris, weaves into a fast-paced action film, in keeping with the tumultuousness of this period, while delivering the emotional sucker punch of an epic drama. That's perhaps because the movie was based on the eponymously titled book, which was in turn based on still-raw eyewitness testimony. Cue a documentary-like realism. Its intensity and impact are also, surely, thanks to its A-list screen writers (Gore Vidal and Francis Ford Coppola) and line-up of stars, including Jean-Paul Belmondo, Leslie Caron, Alain Delon, and Orson Welles (as Swedish Consul Raoul Nordling, who performed a key role in saving Paris from Nazi devastation). These actors play an assortment of protagonists to various effects, perfectly capturing the highs and the terrible lows of the Liberation.
Diplomacy (2014)
This edge-of-your-seat drama, based on a play, zooms in on the aforementioned Raoul Nordling's role in the Liberation (albeit with some creative licence). Diplomacy imagines an overnight encounter between Nordling and a Nazi officer, General Dietrich von Choltitz, as the latter muses the Hitler-ordered destruction of the city, which is glimpsed just beyond his hotel window. In the hands of two of France's most seasoned stars — Niels Arestrup and André Dussollier — Diplomacy is a masterclass in eloquence and persuasion, and in why words matter as much as action.
The Last Metro (1980)
Starring Catherine Deneuve and Gerard Depardieu, The Last Metro was directed by another French cinematic icon, François Truffaut, who defined the French 'New Wave' movement with his 1959 film The 400 Blows. Fast-forward a couple of decades … Truffaut had long wanted to make a movie about the German Occupation, and The Last Metro, one of his final films, became an international hit. The action opens in 1942, with Deneuve playing a theatre owner and leading lady who must hide her Jewish director husband in the theatre cellar. Enter stage left, Depardieu, playing Bernard, an actor with a double-life as a Resistance agent. The Last Metro masterfully demonstrates the tightrope-balancing act so many women had to perfect in the fraught period of Paris's Occupation.
Farewell, Mr Haffmann (2020)
Set in a similar time period as The Last Metro, this drama is just as gripping, and also expertly conveys the claustrophobia and creeping terror of day-to-day living that was felt by Jewish Parisians and their supporters. Monsieur Haffmann is a jeweller who must 'aryanise' his boutique and workshop, by turning his business over to his assistant Pierre, who agrees to hide his former boss in the cellar for the duration of the war. The Occupation dragged on until August 1944, and in this time, many Parisians decided to collaborate with the Nazis. The scene where an increasingly nasty Pierre dines with the creepily suave ambassador Otto Abetz, is particularly stomach-churning. At least the picturesque Montmartre streets — sweetly styled to evoke the quaintness of old Paris — provide a touch of prettily light relief.

Memoir of War (2017)
The beautiful Mélanie Thierry portrays author Marguerite Duras, whose 1985 novel La Douleur inspired this film. It's nearing the end of the Occupation, with the Allies inching ever closer, and Marguerite remains desperate for news of her husband, a fellow Resistance operative who has been deported to Dachau. She has been playing a tense cat-and-mouse game with the French Gestapo officer who imprisoned him, but the real action is her inner torment, as hope and grief pull her every which way behind the cool and weary, chain-smoking veneer. Some of the most emotionally devastating moments come after the war has been 'won' — and we realise that the scars of battle are innumerable, and enduring.
The Round Up (2010)
One of the most shocking moments in wartime Paris was la rafle, the round up of July 1942 that saw French police officers arrest thousands of foreign Jewish families, including babies and children, transporting them at dawn to the old Vélodrome d'Hiver (winter stadium) where these poor souls were held without food, water, or sanitary facilities, before being sent off to concentration camps. Very few survived. The film probably doesn't succeed in capturing the extent of the sheer terror and horror of the round up, but it's nevertheless an important story to keep telling — one that is also recounted in another movie of 2010, Sarah's Key.
Black Thursday (1974)
Les Guichets du Louvre (as it's known in its original French) is also based on the July 1942 police round up, and one Left Bank student's quest to save an innocent life from this horror. Amid the chaos, Paul finds the teenage Jeanne, and pleads to save her as they criss-cross the streets of Paris. Again, it's difficult but important viewing — especially as the film was based on a semi-autobiographical 1960 novel, and made at a time when talk of French complicity during the war was generally taboo. (On a side-note: 1970s Paris, coated in decades of grime, provides a powerfully evocative setting for this tale of one of the City of Light's darkest moments.)
A Bag of Marbles (2017)
Another movie based on a semiautobiographical novel (Joseph Joffo's Un Sac de Billes of 1973), and another absolute tearjerker, A Bag of Marbles sees two young Jewish brothers sent from Occupied Paris by their parents in order to reach the 'free zone.' Equal parts adventure and drama, it's also a rollercoaster of emotions, as the beautiful scenery is shadowed by the ever-present darkness of looming Nazi evil. Most poignant of all is perhaps how this movie lets us see this terrible period of history through a child's eyes.
A Secret (2017)
This dual-period movie shows the devastating aftermath of a war that destroys morals as much as lives. Warning: watch when you are feeling emotionally resilient.
Django (2017)
While the Nazis notoriously persecuted the Jewish population, other demographics were in their sights, too. They also hated Roma gypsies and jazz musicians (jazz being the music of an oppressed race, a music that yearned for freedom), so the Paris-based swing guitarist Django Reinhardt was especially in danger. Django might have been badly received by critics — and music experts, who recommend listening to the original recordings — but it's nevertheless an important glimpse into another facet of life in occupied Paris.
Resistance (2014)
This six-part French series revolves around seventeen-year-old Lili Franchet, a fictional character inspired by real-life Parisians who decided to fight Nazi evil in any way they could. As such, it celebrates the original résistants of Paris, those whose efforts to resist grew even as the threat of mortal danger grew, too. Resistance was critically acclaimed; The Guardian commended the way in which it conveyed a "great sense of the sludge and the trudge, and depression and rain, the heartache, and the general constant filthy low-level stress of a long sneaking war in which the most precious – the only – currency was trust, given as grudgingly as you would proffer your soul." A beautifully produced series, it's a perfect tribute to these everyday heroes and heroines, many of whose names remain unknown to history.
Bon Voyage (2003)
This film, while also French and also lavishly produced, tackles the subject of Nazi Occupation in an altogether different light — one of near-farcical humour. While that might not sit right for some, it will work for those who like a lighter take on weighty subjects. Not to mention those who adore Isabelle Adjani, who is fabulous in the role of a movie star who is as beautiful as she is shameless.
Blood of Others (1984)
Based on Simone de Beauvoir's 1945 novel Le Sang des Autres, which explored the theme of resistance and collaboration through the lens of the newly minted philosophy of Existentialism, this English-language film version — starring Jodie Foster and Sam Neil — might not have gone down as a cinematic classic, but it's worth trying to track down for its Parisian scenes, expertly directed by New Wave star director Claude Chabrol. (Fun fact: After watching this movie, and its scene in Bistrot la Renaissance, Quentin Tarantino decided to use the same Montmartre brasserie for his 2009 film Inglourious Basterds.)
Casablanca (1942)
Last but not at all least … Casablanca might be set far from Paris, but the City of Light nevertheless plays a key part in this classic film. And it inspired, of course, one of the all-time-best quotes about the city we love: "We'll always have Paris."