For an icon that is so quintessentially American in spirit, the Statue of Liberty is also so very French at heart.
A little history to explain …
In 1871, the French republican politician Edouard de Laboulaye approached sculptor Frédéric Auguste Bartholdi, who had an interest in colossal statuary, with a big idea. The Americanophile envisioned a gift from the French State to the United States: a monument to liberty, something that would make the grandest of statements about the nations' dual commitment to democratic freedom.
An excited Bartholdi ventured to America to raise interest in a national fund-raising movement. Once convinced the support was there, he got to work on a concept. Titled Liberty Enlightening the World, Bartholdi's model was approved in 1875 by the Franco-American Union, which had been established by de Laboulaye.
Now came the tricky matter of logistics. Bartholdi turned to his old mentor, Eugène Viollet-le-Duc (of Notre-Dame restoration fame) for assistance. Viollet-le-Duc recommended hand-hammered copper sheets, and worked to come up with an innovative interior solution, for he knew that stone would not cut it for such a mammoth undertaking.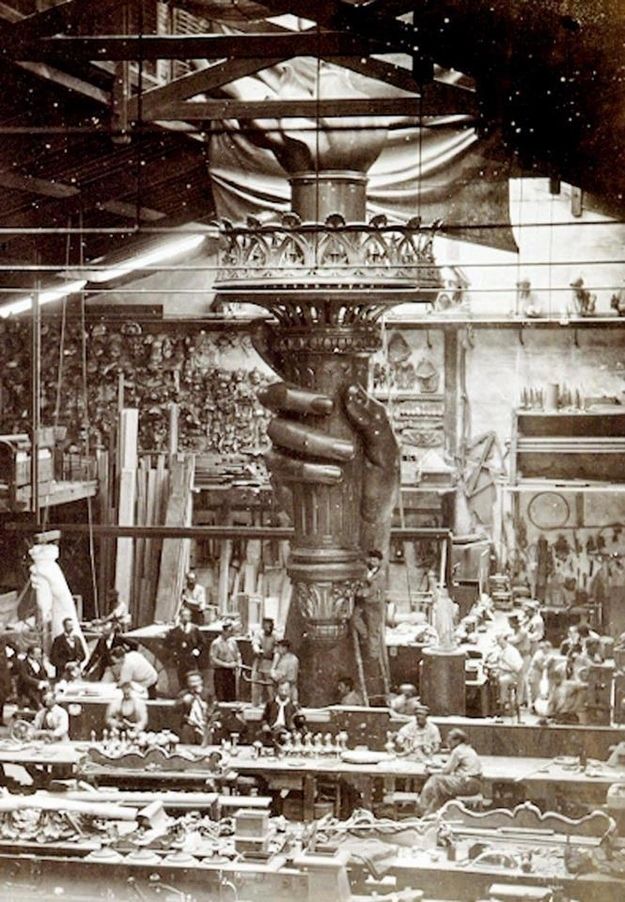 But Viollet-le-Duc's death in 1879 handed the task to an up-and-coming engineer, Gustave Eiffel, an expert in wind resistance after having built numerous bridges and viaducts. Eiffel reworked Liberty's interior, creating a tall central pylon as the main support structure, to which he attached a sort of iron skeleton.
As Lady Liberty took shape, she began to soar above the Paris skyline. Thousands flocked to her birthplace — the workshop of Gaget, Gauthier et Companie, just north of Parc Monceau — to admire this new landmark.
By 1884, she was ready for her new home; after having been carefully dismantled and packed into 214 numbered creates, she set sail for New York Harbour, Bartholdi's preferred site, which had been approved by Congress.
While the original Liberty is long gone from her homeland, little-sister statues are situated in various parts of Paris, and make for a fun treasure hunt. Here's where to find them …
Musée des Arts & Métiers
In this gem of a museum devoted to technological innovation, you'll admire all kinds of historic and eclectic wonders, such as Foucault's Pendulum and some of the earliest airplanes, which spectacularly hang from the vaulted ceilings of a medieval church. Just nearby is the original 1878 plaster model of the Statue of Liberty, measuring in at 2.86 metres (9.4ft) — it was donated to the museum by Bartholdi's widow in 1907.
Until recently a second Liberty stood at the museum's entrance, a bronze cast of the original plaster, dating from 2010. She's currently making an extended guest appearance at the French ambassador's residence in Washington, where she'll remain until 2031.
Jardin du Luxembourg
Before his death, Bartholdi also created some bronze casts of his famous statue. He gifted one to the Musée du Luxembourg in 1900 which, several years later, was moved to the western edge of the Jardin du Luxembourg.
The one you see here today, however, is a replica. Amid conservation concerns, and after the 2011 robbery of its torch, the 1900 Liberty was moved to the …
Musée d'Orsay
Happily, she is now polished and like new, and once again with her torch, which was recast from the original plaster. You'll find her happily in pride of place on the main floor, her arm drawing the eye up towards the museum's dramatic iron-and-glass barrel-vaulted ceiling.
Île aux Cygnes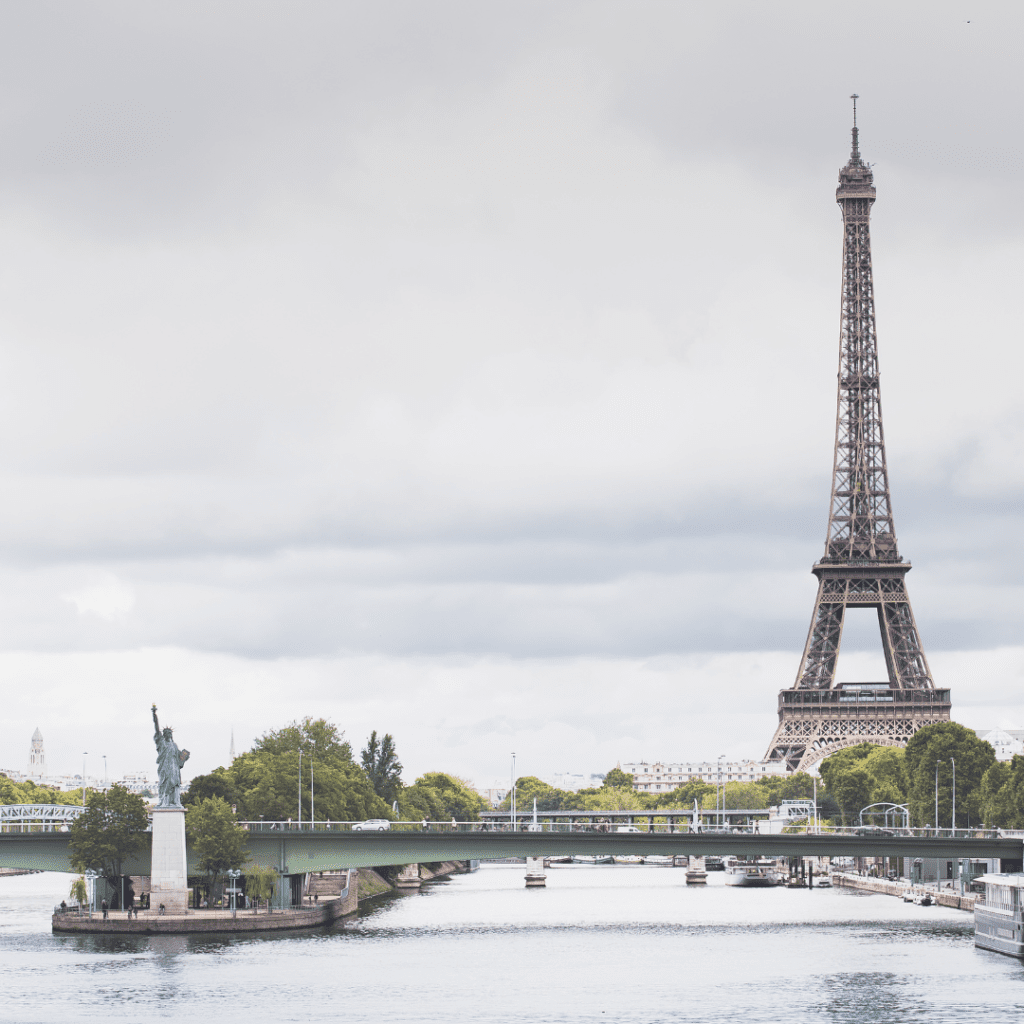 Continue westwards along the Seine and you'll eventually come to what is probably Paris's most photographed Statue of Liberty, at the tip of the Île aux Cygnes, a narrow tree-lined walkway of an island that you can access from Pont de Bir-Hakeim. Lady Liberty is at the other end, just beyond Pont de Grenelle, although if you want the most dramatic photo, with the Eiffel Tower in the background, you'll need to ascend to that bridge, and walk a little further downstream to Pont Mirabeau.
This Lady Liberty was, in 1889, a gift to France from Americans citizens living in Paris, to commemorate the centenary of the French Revolution. Another fun fact: she used to prop right next to the Pont de Grenelle, oriented toward the Eiffel Tower (above) — partly because politicians did not think it appropriate she turn her back on the city. But when the bridge was rebuilt in 1966, and Îles aux Cygnes extended, she was given her new outlook, now facing west, toward her big sister in New York, as per Bartholdi's original wishes.
The Flame of Liberty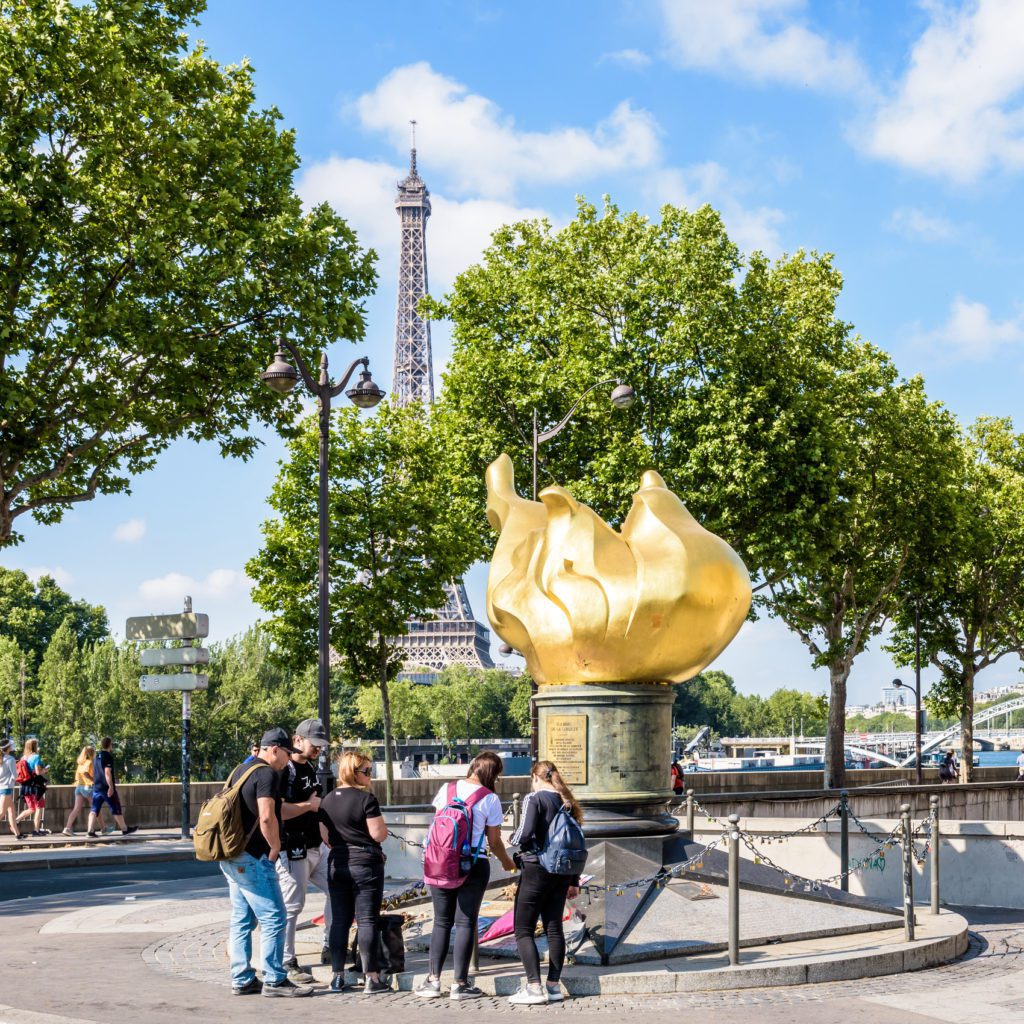 Walk back toward the centre of Paris, on the northern bank of the Seine, and as you approach the Pont d'Alma you'll a life-size version of the tip of Liberty's torch, its flame ablaze in gold leaf. This was also a gift in return; the International Herald Tribune, on behalf of donors, gave Paris La Flamme de la Liberté in 1987, to mark the centenary of the dedication of the Statue of Liberty in New York.
The Flame of Liberty has also become an unofficial shrine to Princess Diana, who tragically died in a car crash in the tunnel below.