There are atmospheric eateries all over Paris, serving up hearty, feel-good fare that warms your soul as much as your stomach. Here are just some to add to your Paris in Winter itinerary …
Au Petit Suisse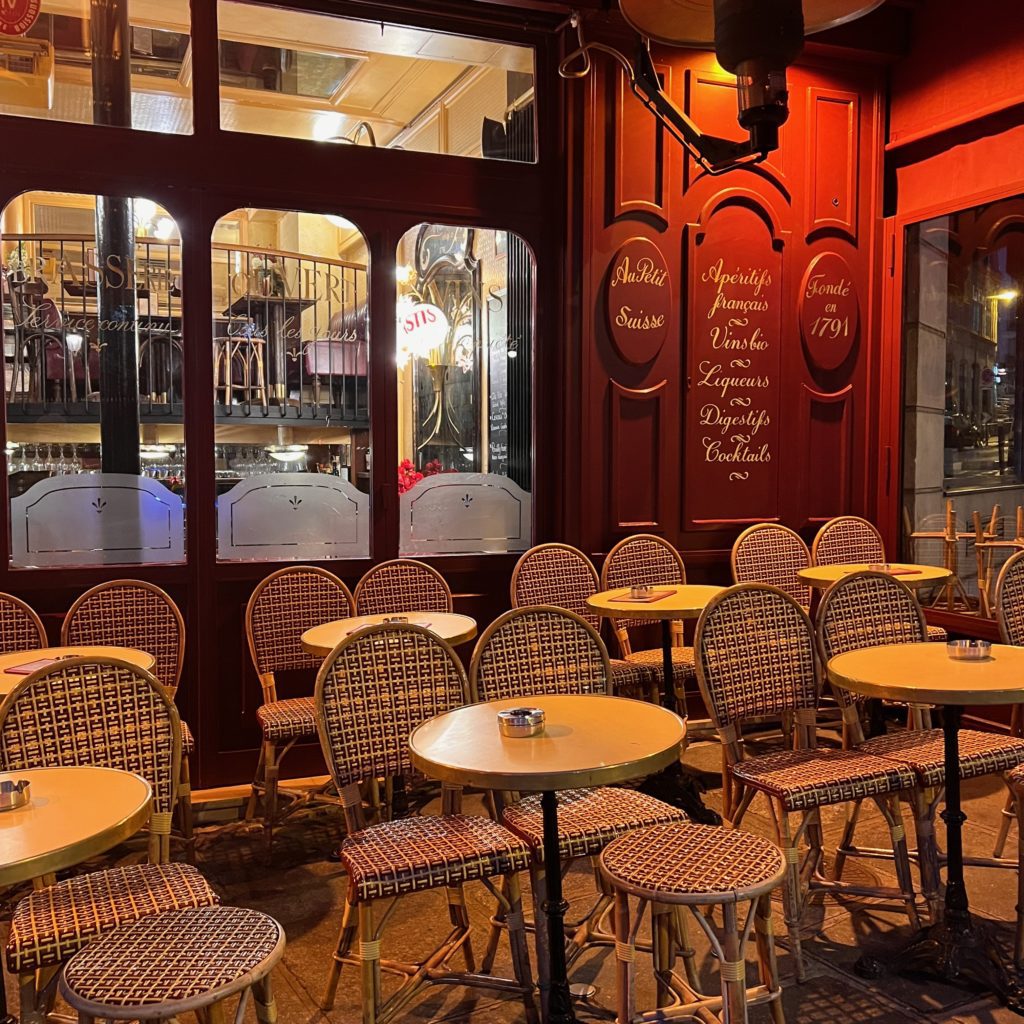 This ultra-charming restaurant, dating back to 1791, is an absolute treasure. There's a lovely terrace on which to sip red wine and gaze adoringly at the Jardin du Luxembourg opposite (just make sure you're well wrapped up: outdoor French terraces are no longer allowed to be heated), but make time for a meal inside, too.
The red-leather banquettes and old-worlde wooden chairs are nestled into every possible nook, on both the ground and mezzanine floors. So gorgeous is every interior detail — from the globe lights emitting a gas-like glow to the display case of home-made desserts — that it's hard to focus on the menu. But when you do, you'll find all the Gallic classics you love, and at a reasonable price, too.
Au Petit Suisse, 16 Rue de Vaugirard, 75006
Le Coupe-Chou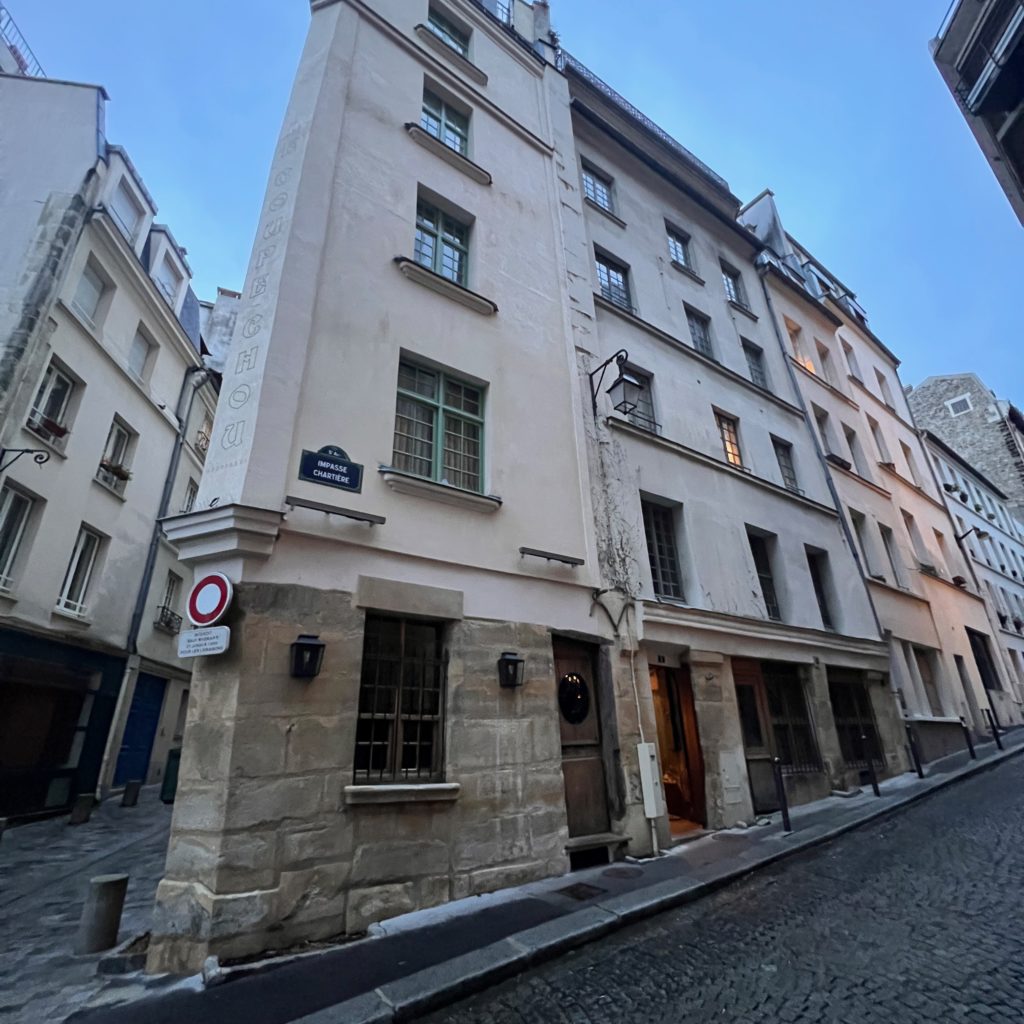 This mesmerising restaurant, in the heart of the Latin Quarter, takes you back to medieval Paris, with its rabbit-warren-like corridors leading into rooms within buildings that go back to the fourteenth, sixteenth and seventeenth centuries.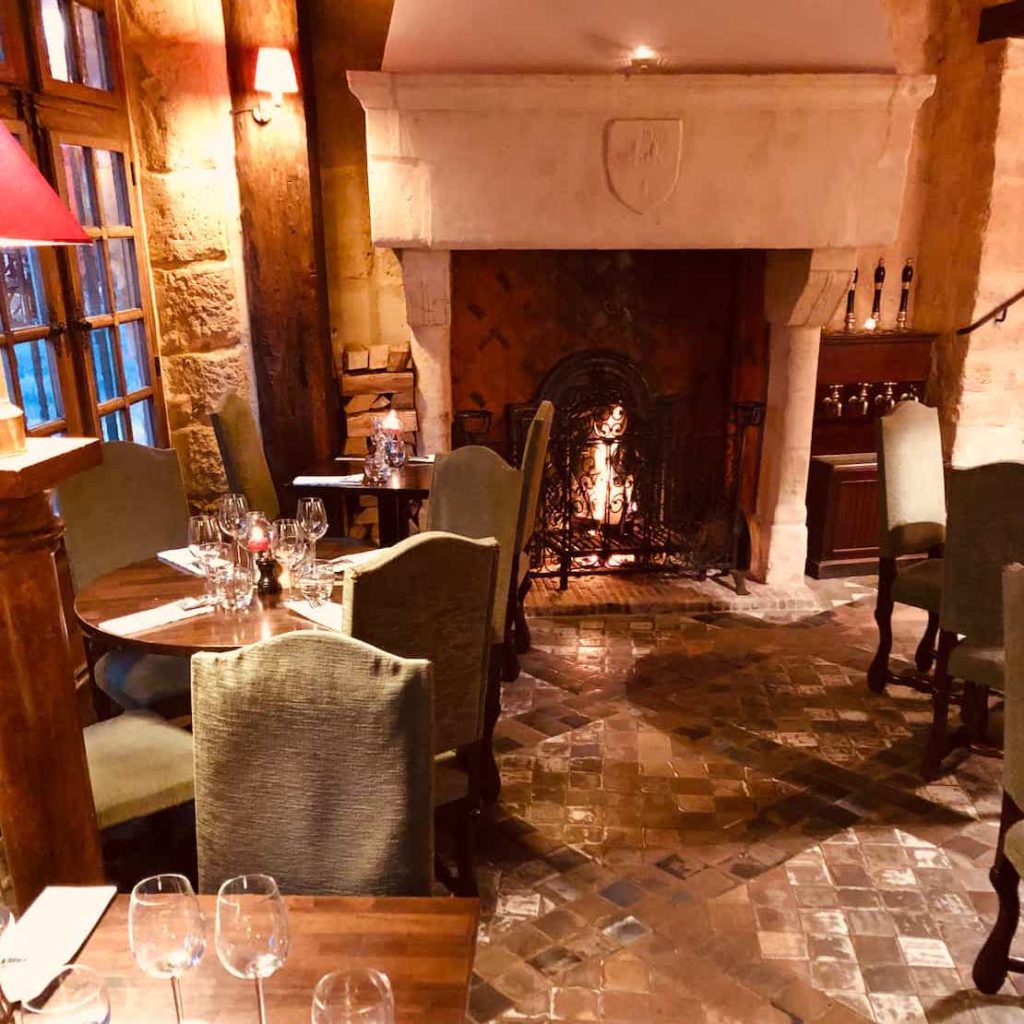 The interior details play up this rich and eclectic history: beamed ceilings, wall cabinets of antique bibelots, and old street plaques unearthed when the original restaurant founders, back in the early 1960s, were restoring the cellars. (Oh, they also happened across vestiges of a Gallo-Roman swimming pool and sixteenth-century public well.) When booking, add a request to be seated next to the large Louis XIII fireplace, which roars all winter long.
Le Coupe-Chou, Rue de Lanneau, 75005
Le Temps des Cerises
This lower Marais institution, loved by locals and visitors alike, is surely one of the sweetest restaurants in town. Nestled within an eighteenth-century cottage, with an interior dating from the 1930s, the food is as classic and comforting as you'd expect.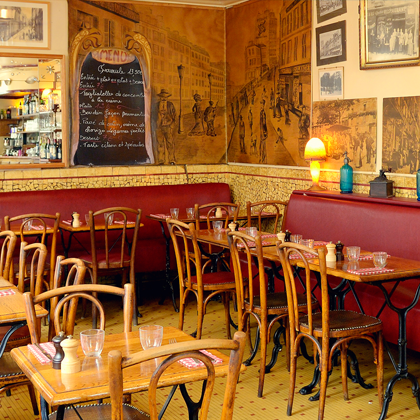 Start with an apéritif — you can order your kir royal mixed with one of a number of fruit liqueurs, such as the usual cassis (blackcurrant) and, in keeping with the restaurant's name, cherry. And end with one of the soul-stirring desserts; the tarte tatin is a highlight.
Le Temps des Cerises, 31 Rue de la Cerisaie, 75004
Chez Janou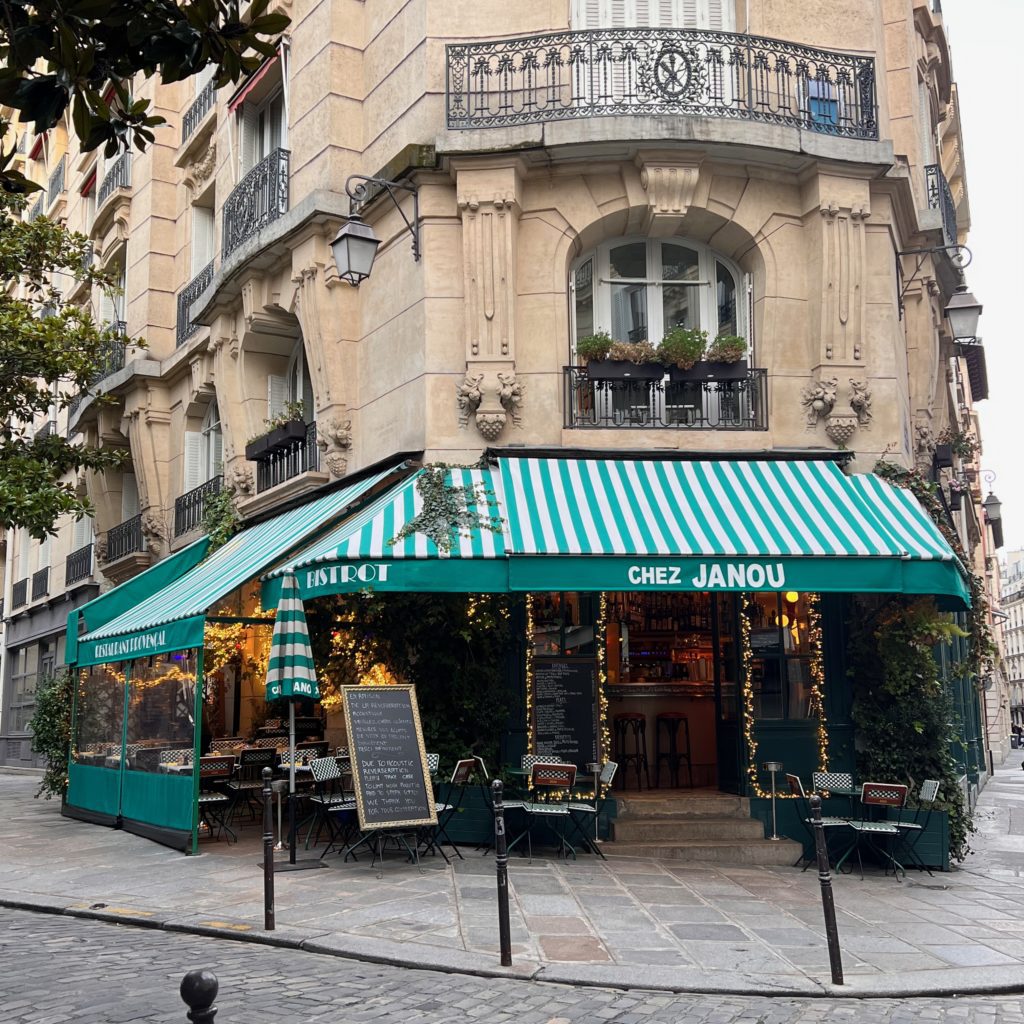 While this Provençal-themed restaurant, tucked away just north of Place des Vosges, lends itself beautifully to summer eating, it takes on an invitingly moodier atmosphere in the cooler months, when the terrace beckons with budlights and blankets, and the golden lighting and polished-wood tables within glow enticingly.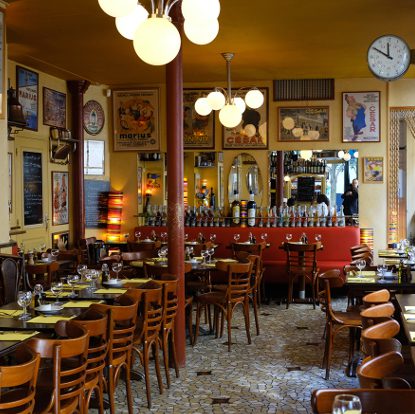 As well as perennial South of France star dishes that will have you dreaming of your next Côte d'Azur holiday (ratatouille etc) the winter menu serves up a rich selection of mains, some of which have a lot of fun with their inspiration. Prawns flambéed with Pastis and served with anise-infused rice, anyone?
Chez Janou, 2 Rue Roger Verlomme, 75003
Lapérouse
Behind the elegant gilded-boiserie façade of this seventeenth-century one-time townhouse is one of the city's most decadent dining experiences. The recently refurbished Belle Époque interior glimmers and glows, from the painted ceilings to mirrored walls to candelabra and chandelier lighting. If you're after a meal that is both cosy and romantic, book one of the exquisite private rooms for two. (There's also a series of smaller rooms catering to parties of four, six, eight and more.)
Fun fact: Parisian libertines of the late nineteenth century loved Lapérouse for these private nooks, where they would take their mistresses — via a secret stairway if discretion was necessary. Many of the rooms still have scratched mirrors, marked back in the day by courtesans testing the veracity of the diamonds gifted to them by their paramours.
Lapérouse, 51 Quai des Augustins, 75006
Le Petit Châtelet
Tucked into a sixteenth-century building that is in turn tucked between two taller buildings that date from a later period (one of which houses Shakespeare and Company), Le Petit Châtelet is firmly and happily ensconced in the past. A family business since 1951, it serves up a delightfully authentic French dining experience.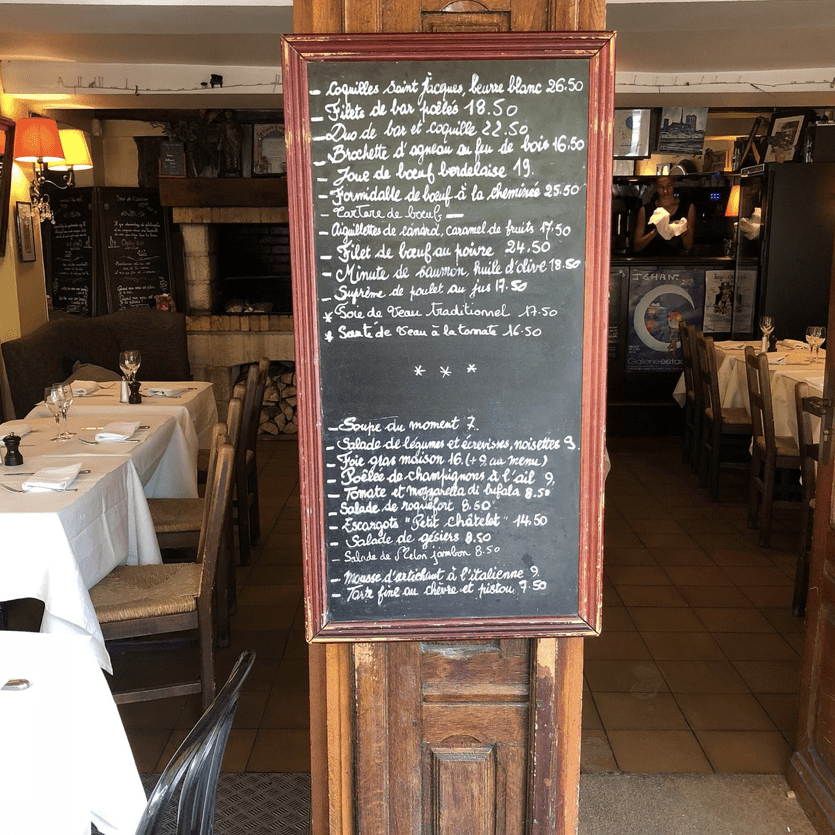 If your table is on the first floor, you might be lucky enough to sit by the dormer windows that peer out to the towers of Notre-Dame, although the ground floor is cosier, with its country-restaurant allure, old wood-fired grill and a large chalkboard menu that is carried around to every table, and reads like a hitlist of every Francophile gourmand's favourite meals.
Le Petit Châtelet, 39 Rue de la Bûcherie, 75005
Les Éditeurs
If you find yourself at the Carrefour de l'Odéon crossroad as your stomach starts to rumble its time-to-eat signal, you'll be spoilt for gastronomic choice. But if you're after the most relaxed ambience around, Les Éditeurs is your go-to.
With its comfy seating and friendly staff, Les Éditeurs has all the elements of a trusty local. That includes, of course, its menu, which has a high-low, crowd-pleasing mix that covers everything from comfort food à la française (croque-monsieur, onion soup …) to fancy mains. It's also a perfect spot if you're dining solo, as many do here. And if you don't have a book on you, you're welcome to pick one from the bookcases that line the walls, which give the ground floor of this restaurant a relaxing hotel-library vibe.
Les Éditeurs, 4 Carrefour de l'Odéon, 75006
Chez Georges
When you're craving a true Paris Brasserie experience, you can't do better than Chez Georges, with its lace-curtained windows, tiled mosaic floor and banquette seating that surely date back to its 1964 opening.
Don't be intimidated by its mysterious façade; within is a bustling, beloved restaurant that is as welcoming to tourists as it is to locals. Take time to savour the hand-written menu, which lists a lengthy selection of home-made dishes, and covers everything a traditional French food lover could hope for, from œuf mayo to sole meunière to profiteroles, with a petite but perfectly complementary wines-by-the-glass list.
Chez Georges, 1 Rue du Mail 75002
Bistrot Vivienne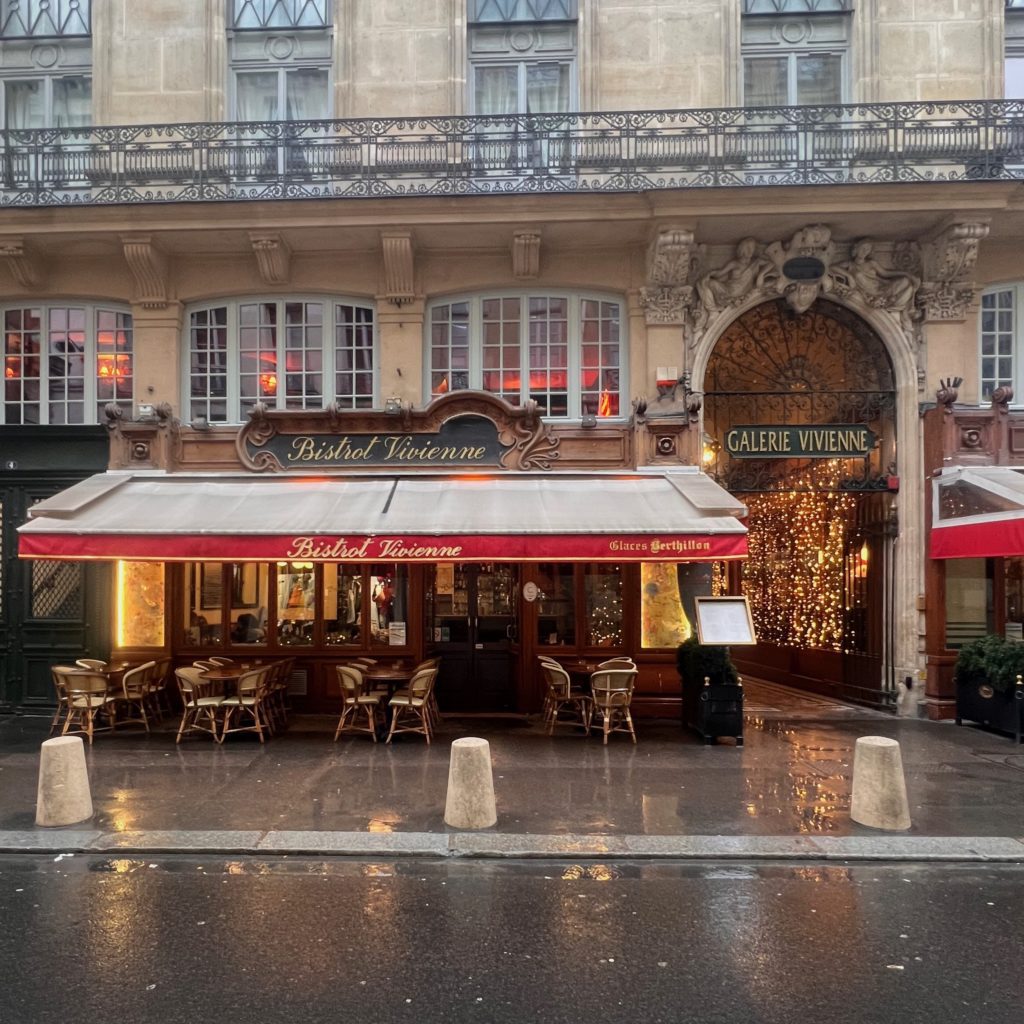 Sitting on each side of the southern entrance to Galerie Vivienne, Paris's loveliest covered arcade, and just a few steps north of Palais-Royal, Bistrot Vivienne is ideally located for a day of boutique shopping. Fuel yourself with a classic breakfast; alternatively, escape a rainy day for a long lunch, any time from midday, as there's continuous service right through to 11pm.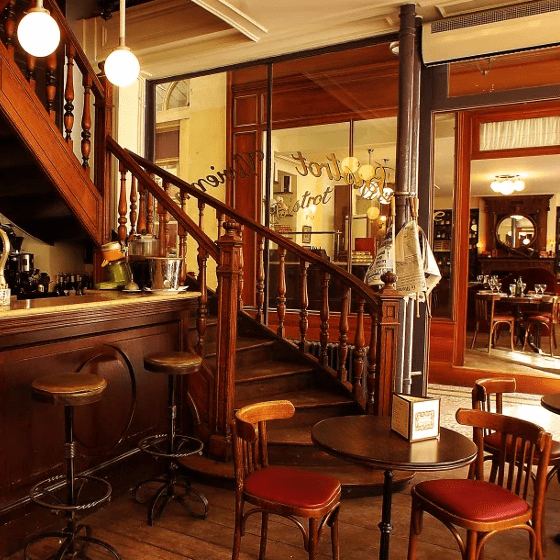 There are several areas — and ambiences — to choose from, including the pretty terrace on the tiled arcade floor or the velvety boudoir-like room upstairs, but the original nineteenth-century space is as soothing in its authenticity as the home-made dishes on offer, such as French Onion Soup and creamy truffle-infused pasta.
Bistrot Vivienne, 4 Rue des Petits-Champs, 75002
Au Petit Fer à Cheval
This bijou emerald-green bar in the Marais is so named for its horseshoe-shaped counter, and it's a joy to prop up at the le zinc for apéro, or even sit en terrasse watching the world go by, resting your feet after a day spent in the district's museums and boutiques.
But for the cosiest time here, request a table in the tiny back room, where chalked script on a blackboard menu prettily calls out the daily specials — usually a soup, along with a meat and fish main. You'll swear you're tucked away here in another decade.
Au Petit Fer à Cheval, 30 Rue Vieille-du-Temple, 75004