You might be one of those Paris travellers who spend so much time outdoors exploring the streets and museums that they couldn't care less where they rest their head — for sleep is something they hardly want to do in this endlessly fascinating city. Or you could be someone who expects her hotel to live up to the beauty and glamour of its city. If you're in the latter camp, you'll adore the latest offerings in the world of four- and five-star Paris hotels. (And if your budget doesn't quite stretch to these? There remain classic options that are as pretty as their price points.)
Hôtel Dame des Arts
Located at the Saint-Germain edge of the Latin Quarter, just behind Place Saint-Michel, the Hôtel Dame des Arts is a stunning makeover of the old Holiday Inn. And although the prices are somewhat higher, so too is the quality.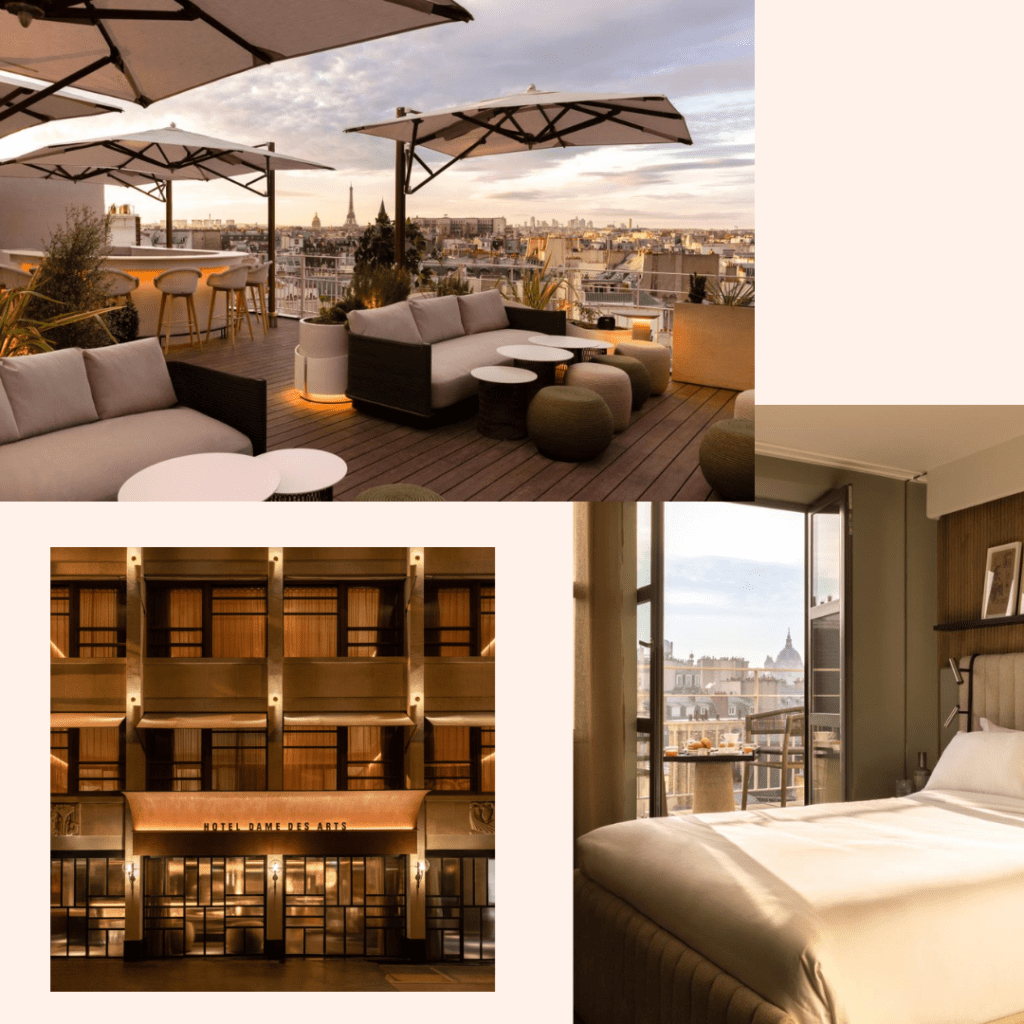 The four-star hotel's interior tones are warm and comforting; its natural textures, too, with eye-pleasing contrasts of the likes of wood and wool. It's the kind of place in which you want to cocoon. But you shouldn't for too long — there's a lovely outdoor courtyard and, more spectacularly, a rooftop bar that serves up views as exquisite as the Mexican- and Japanese-fusion cocktails and snacks. (The bar is open from 5pm, for guests and visitors alike.) There's also a wellness centre for further indulgence, or a fitness centre if you've over-indulged.
Hôtel Dame des Arts, 4 Rue Danton, 75006; from around €400 per night.
La Fantaisie (opening mid-June)
Another incredible makeover of an old hotel that had seen better days, the five-star La Fantaisie has taken its botanical inspiration from the history of this street: Rue Cadet was named for the Cadet brothers, Jean and Jacques, who, back in the sixteenth century, transformed this part of outer Paris into lush fruit and vegetable gardens. The strip still has a charming, market-street vibe. It's a spot that is fairly unassuming and neighbourly, but for visitors to Paris one appeal is that it lies in easy access to both Montmartre and the Marais; or, scoot south instead, and you soon hit the covered passages and the Palais-Royal.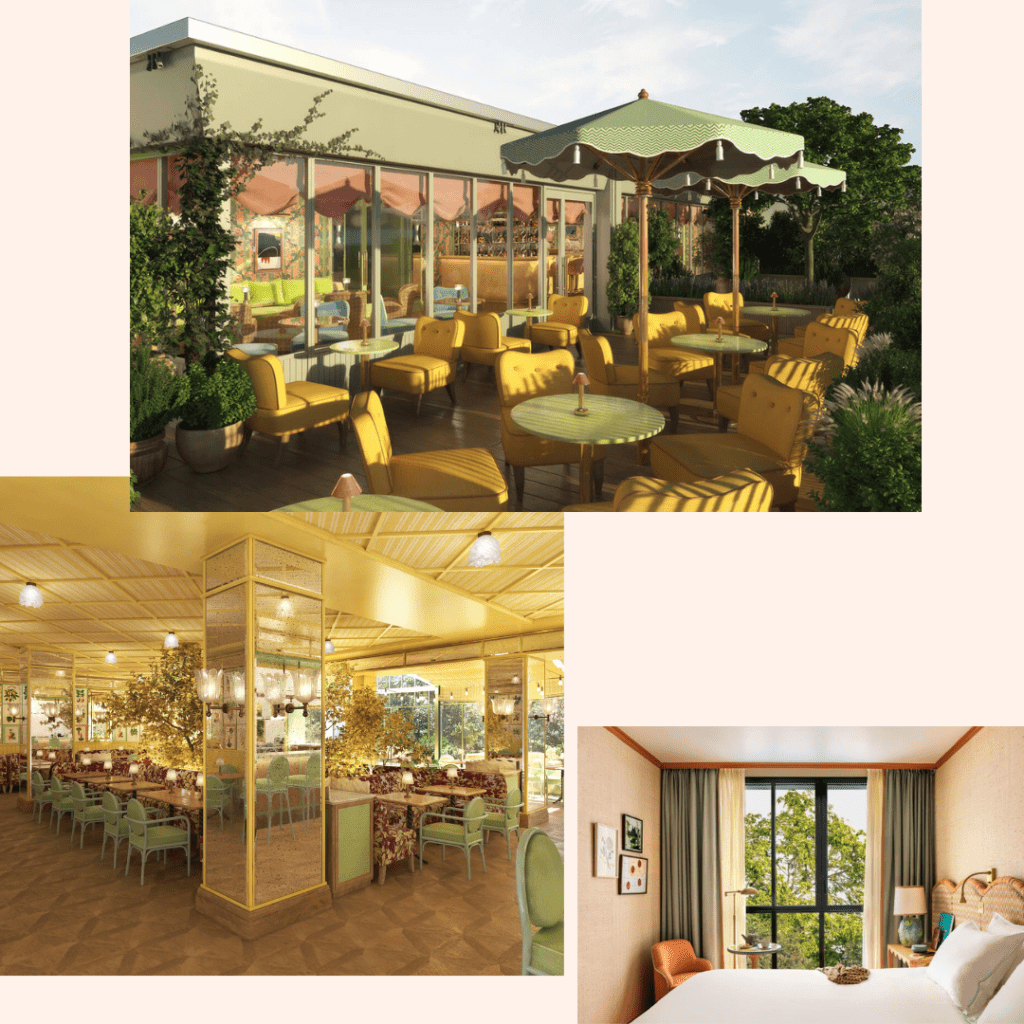 But the street's other attraction for out-of-towners is now this gorgeously fun and vibrant hotel, which seems to shimmer with joie de vivre, in calming tones of green, gold and peach. There's a mini parkland out back — overlooked by the restaurant, Golden Poppy, which specialises in vegetarian and seafood fare — and a rooftop bar with a hanging-garden feel. Its super-pretty spa treats the skin with holistic brand Holidermie, and there's also a delight of a swimming pool.
La Fantaisie, 24 Rue Cadet, 75009; from around €600 per night.
Le Grand Mazarin (opening September)
Swedish interior architect Martin Burdniki has been busy in Paris of late. As well as designing La Fantaisie, he has been art-directing another hotly anticipated new five-star hotel. Le Grand Mazarin, nestled within a window-boxed Haussmannian corner building opposite the BHV department store, takes its inspiration from the aristocratic townhouse era of the Marais, when literary and artistic types met in sumptuous salons to inhale new ideas as much as champagne and canapés.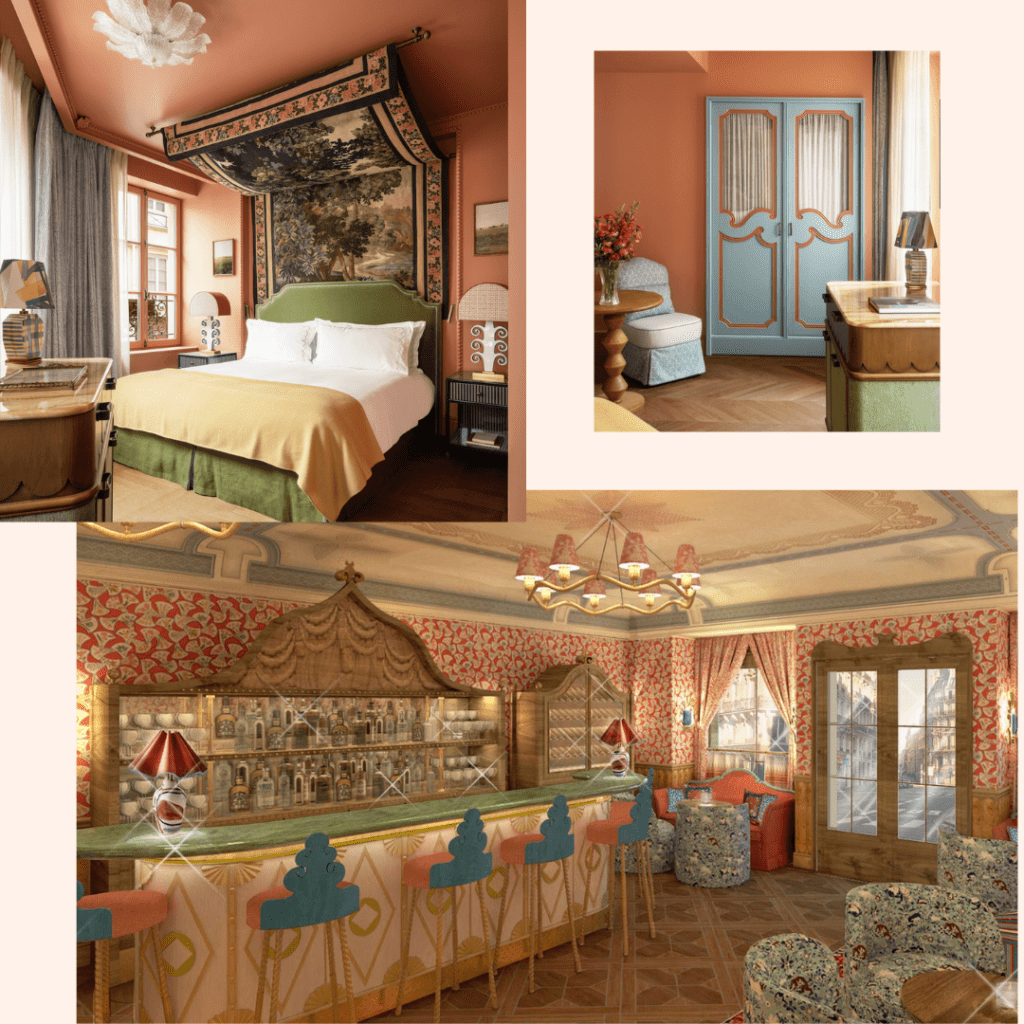 It's an eclectic take on seventeenth-century Paris, and exotic, too, for this was the century when the world was opening up. As such, the restaurant, bar, winter garden and terrace promise a gastronomic voyage to Central Europe and the Mediterranean. Rounding out the luxurious offerings will be a pool, gym and hammam.
Le Grand Mazarin, 17 Rue de la Verrerie, 75004; from around €700 per night.
Maison Proust
This is five-star Parisian luxury at its velvety best, as only interior genius Jacques Garcia (of Hôtel Costes fame) can do when he has a visionary job before him (and, evidently, a big budget). This time the inspiration is, as the hotel's name suggests, Marcel Proust, and his glamorous Belle Époque world.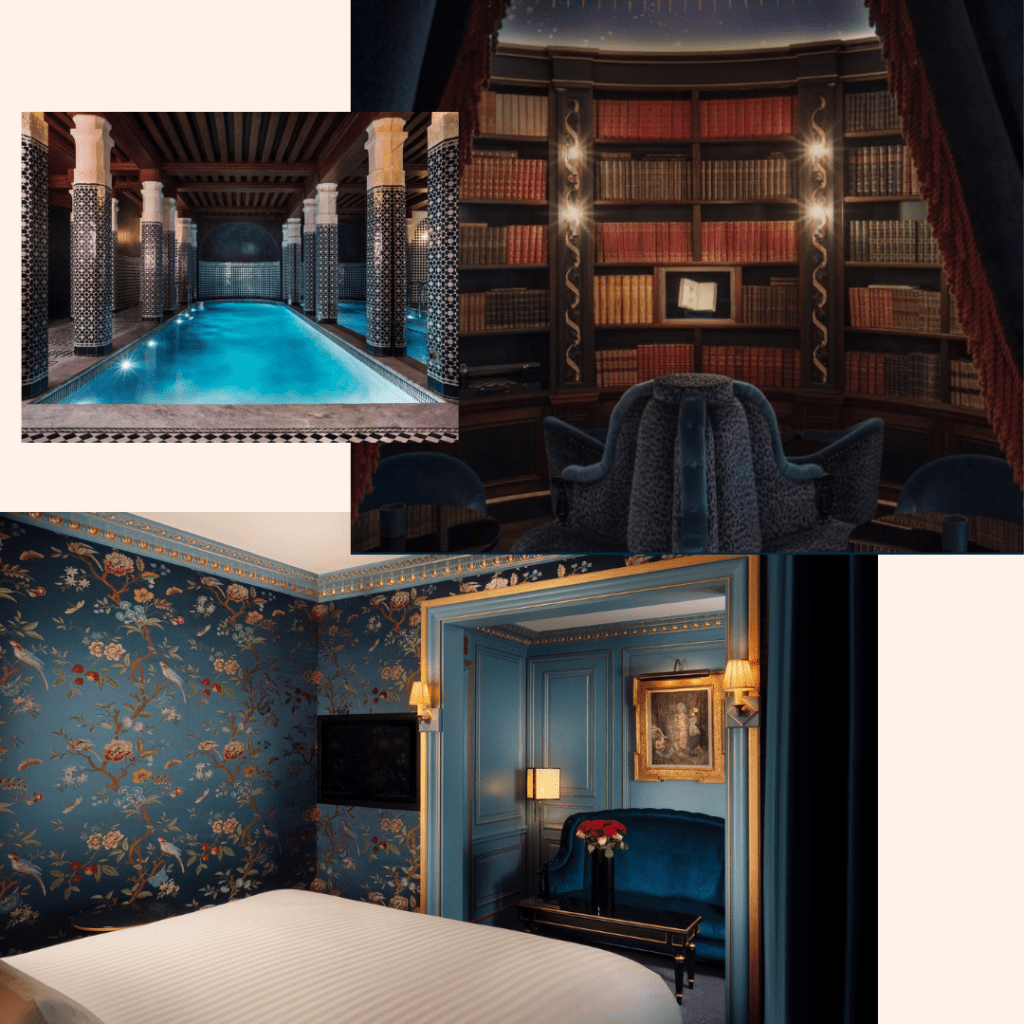 The author famously wrote In Search of Lost Time, and this hotel indeed is like stepping back into a world gone, one of ornate antiques, sumptuous fabrics and wall-papering, fragrantly polished wood, lavish gilt-framed art, and leather-bound books. The rooms are all bespoke but equally beautiful. Even more mesmerising are the winter-garden terrace, salon-esque bar, and circular library, which is topped with a shimmering, star-studded dome ceiling. There's also a Moorish-style spa with a pool, hammam and sauna. Maison Proust is located in the Upper Marais, so it's the ideal excuse to explore this less-touristy side of Paris, with its cool bars and arty boutiques. Then again, you probably won't want to leave the hotel at all.
Maison Proust, 26 Rue de Picardie, 75003; from around €650 per night.
SO/ Paris
This five-star hotel actually opened last year and I've been remiss to cover it, because it's a brilliant addition to the Parisian hotel and hospitality landscape. Situated just south of Place de la Bastille, SO/ Paris overlooks the eastern point of Île Saint Louis, with 'overlooking' being the operative word, for its outlook is incredible.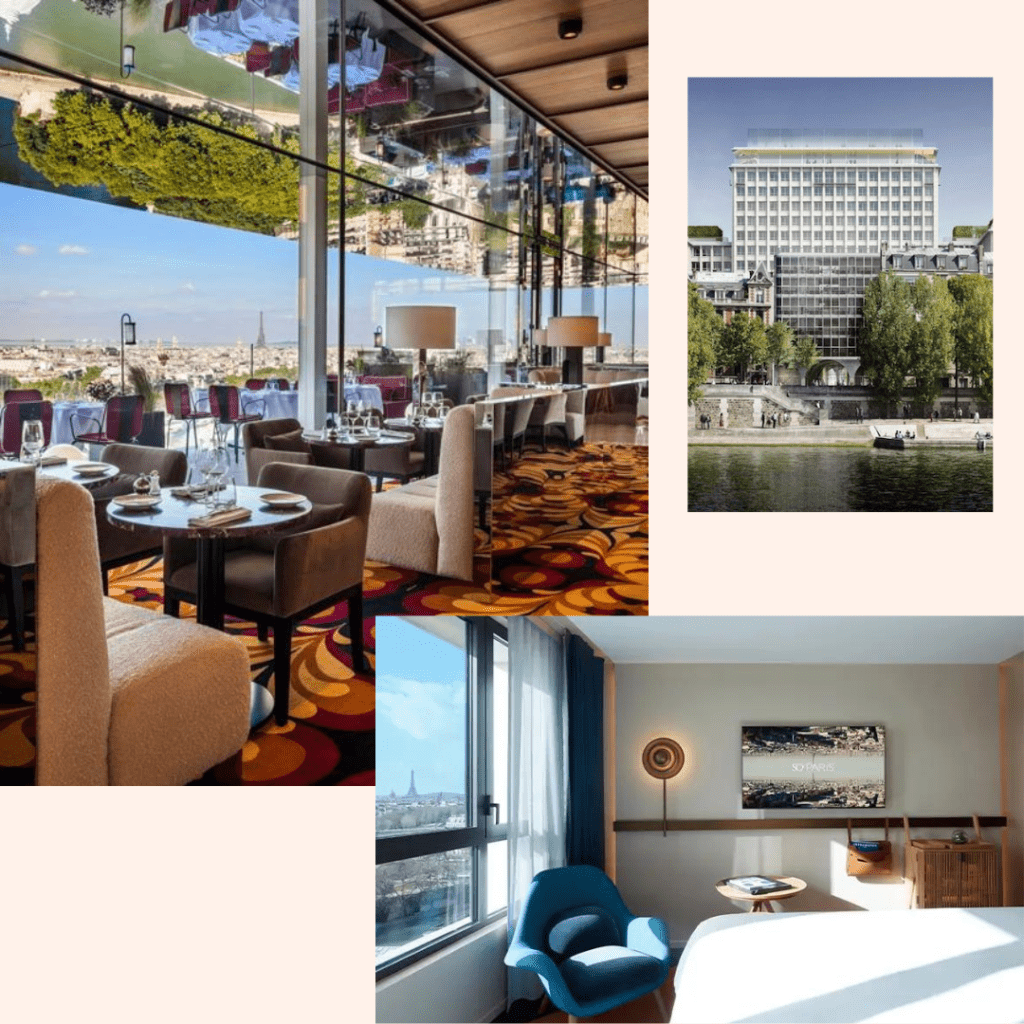 The 162 light-filled, all-have-views rooms are on floors 7-14 of the building, which once housed the Préfecture de Police. The shiny jewel in the crown is Bonnie, the fifteenth-floor restaurant, whose panoramic view is made all the more jaw-dropping by the mirrored ceiling. The glossy futuristic vibe — think space age via the sixties — extends to the bar and club. There's also, of course, a spa, pool and gym, as you'd expect from a top-tier hotel.
So/ Paris, 10 Rue Agrippa d'Aubigné, 75004; from around €700 per night.