Sure, in a dream holiday you wouldn't need to interrupt your itinerary for something as mundane as a search for a public toilet. But sometimes reality hits, especially if you're travelling with kids … Fortunately, in Paris, it's not as difficult as you might imagine to aller aux toilettes …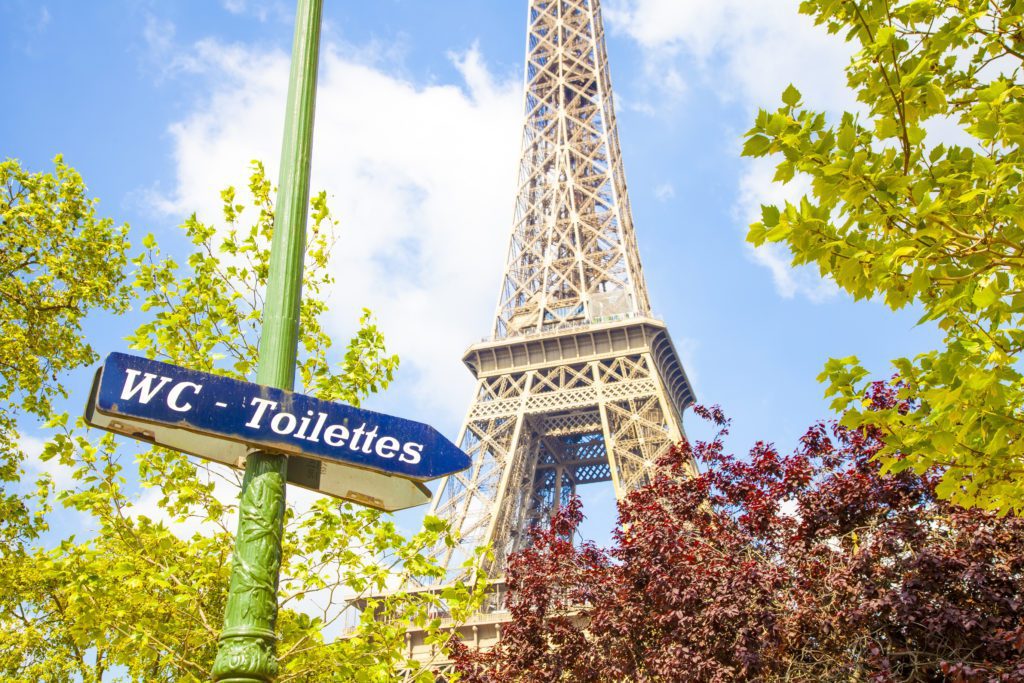 Lavatory de la Madeleine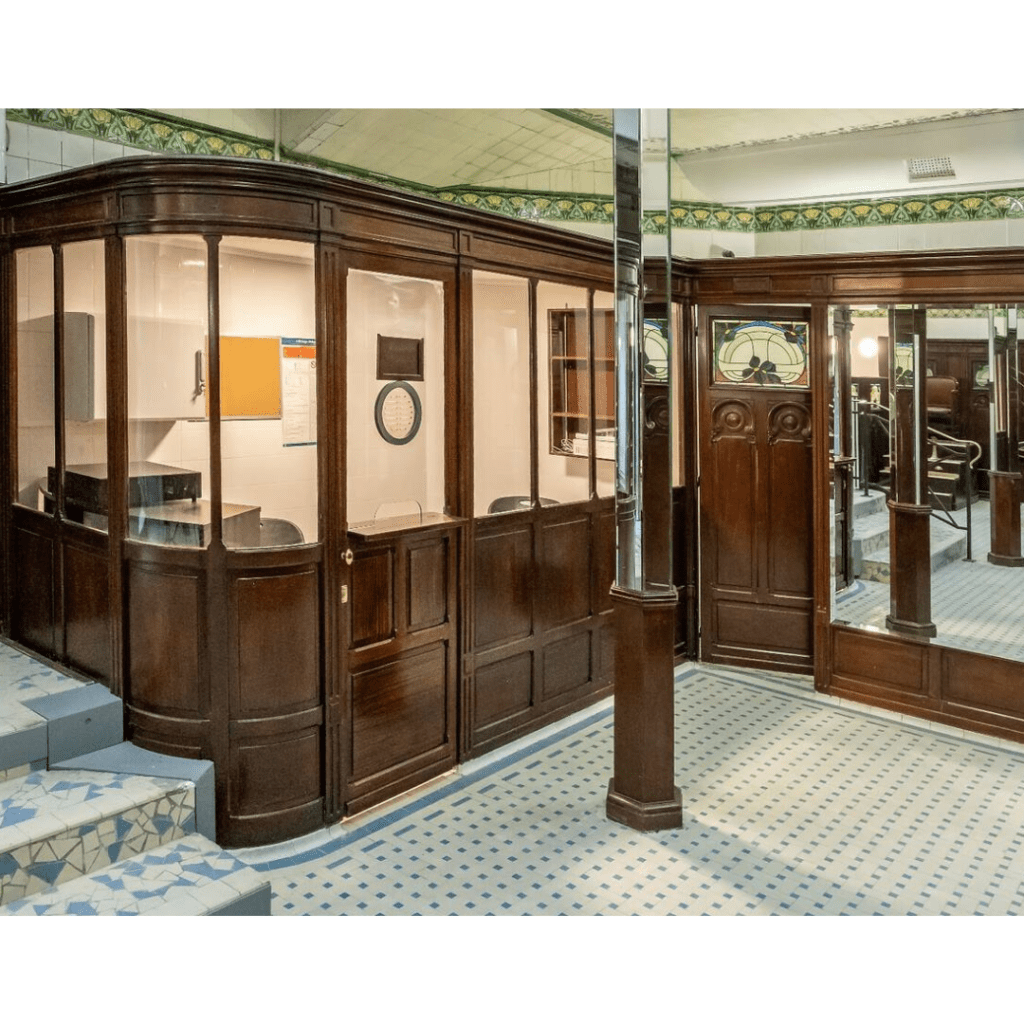 Let's start with the most glamorous public toilet imaginable … This Belle Époque public convenience, dating from 1905, has relaunched after closing in 2011, when it was officially listed as a historic site. During that time, the space was lovingly restored — woodwork polished to a high shine, chipped Art Nouveau tiles replaced — and a visit here is well worth the €2 charge (which covers the attendant and cleaning costs). One for all lovers of Paris architectural history … and anyone near the Église de la Madeleine who has a more practical reason for visiting a restroom! The entrance to the Lavatory de la Madeleine can be found by the south-east corner of the curch, and it's open from 10am-6pm every day.
Les Sanisettes
Paris's public toilets have come a long way from les pissoirs of decades past …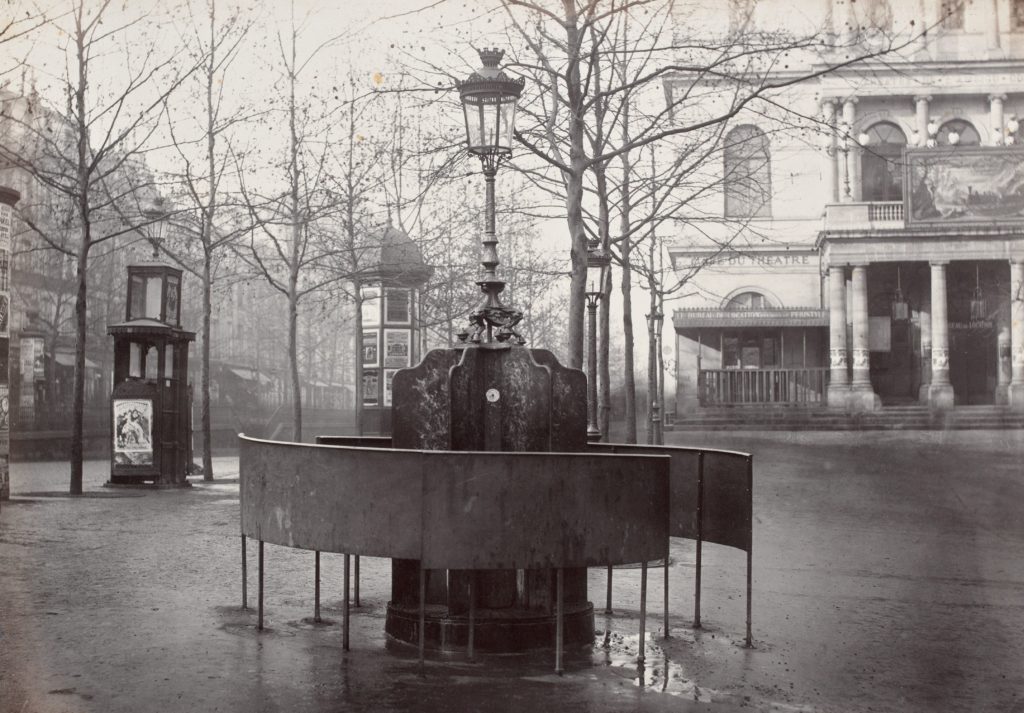 Now they're private, gender-inclusive, and high-tech to boot: an automated washing and disinfecting system activates after each session to ensure (at least in theory) that using a sanisette is a hygienic and stress-free process.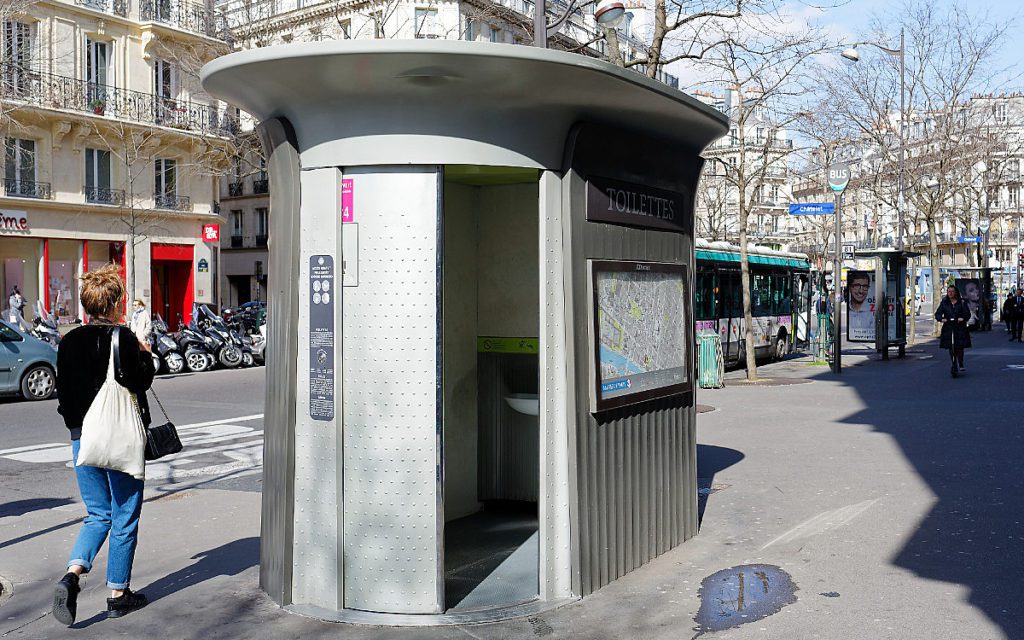 Sanisettes are also free, and come with easy-to-follow, English-language instructions. Just be aware that the door will automatically unlock after 20 minutes. (Hopefully, you'll be well gone and back to your itinerary by then!)
There are over 400 sanisettes situated all around Paris. To locate them, bookmark this link. The information pop-up for each listing will tell you its operating times (those on main roads and near key monuments are usually open 24/7; others tend to be 6am-10pm) as well as if it's disability-friendly ('access PMR' will note either 'oui' or 'non').
Parks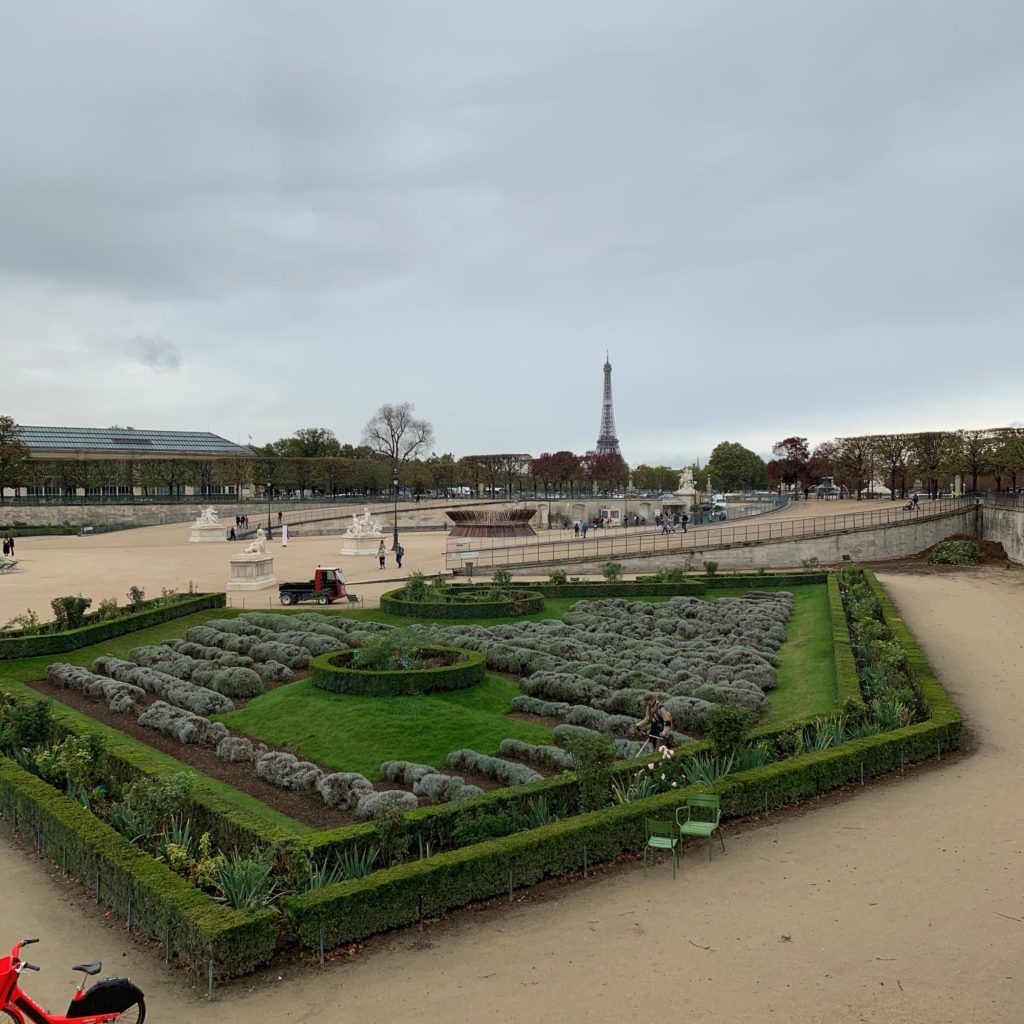 When nature calls, you'll find public toilets in most large parks in Paris. In the Jardin du Luxembourg, for example, there's a free bathroom next to the restaurant, La Terrasse de Madame, and another by the children's play zone. That of the Tuileries, which costs 70c, is located by the Place de la Concorde entrance (above). If you're heading west from here, along the Jardin des Champs-Élysées, you'll see, on the right, the historic toilet kiosk; this one costs €2 per person.
Museums
At the risk of sounding like a cultural philistine, Paris's free museums do great double-duty as a public restroom. In the Marais, there's the Musée Carnavalet; just west of Place de la Concorde, the Petit Palais; and, up in the 9th, a little south-east of the Moulin Rouge, is the Musée de la Vie Romantique (above). (Another for this list is the Musée Bourdelle down near the Tour Montparnasse, although it's closed for renovation until January 2023.)
Once you've located and used the museum toilets, you might even want to stay a while and peruse the permanent collections (exhibitions usually require a paid ticket) or, in the case of the Musée de la Romantique and Petit Palais, even take tea at these museums' lovely cafés. Perhaps, if so, a second toilet trip will be required before you leave!
Department Stores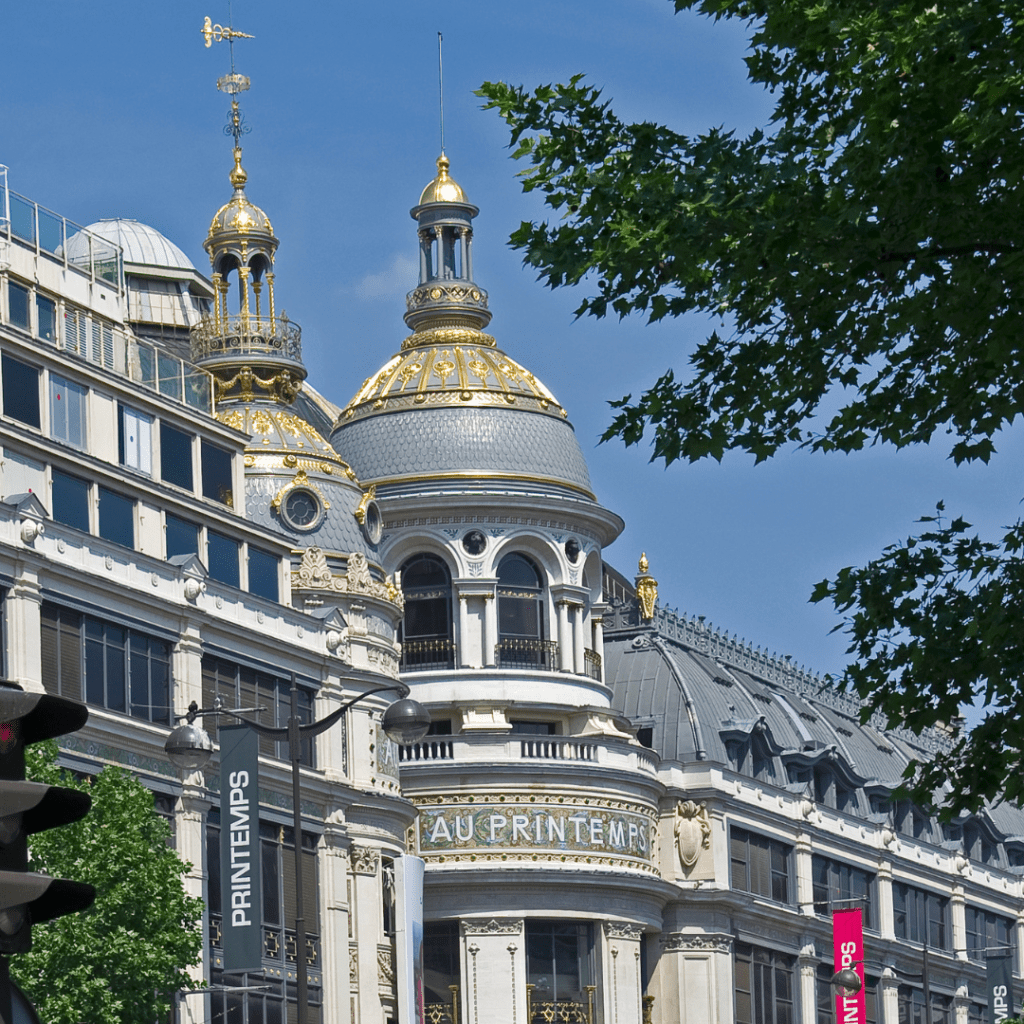 A department store is, of course, an ideal location for a lavatory stop. And there's nothing to feel ashamed about; after all, you're very likely to buy something while you're inside the store and passing all sorts of tempting displays. (There's a reason department store toilets are never located right by the front door!) With this in mind, always keep a mental map of where you are in location to Galeries Lafayette, Printemps, Le BHV and Le Bon Marché.
Hotels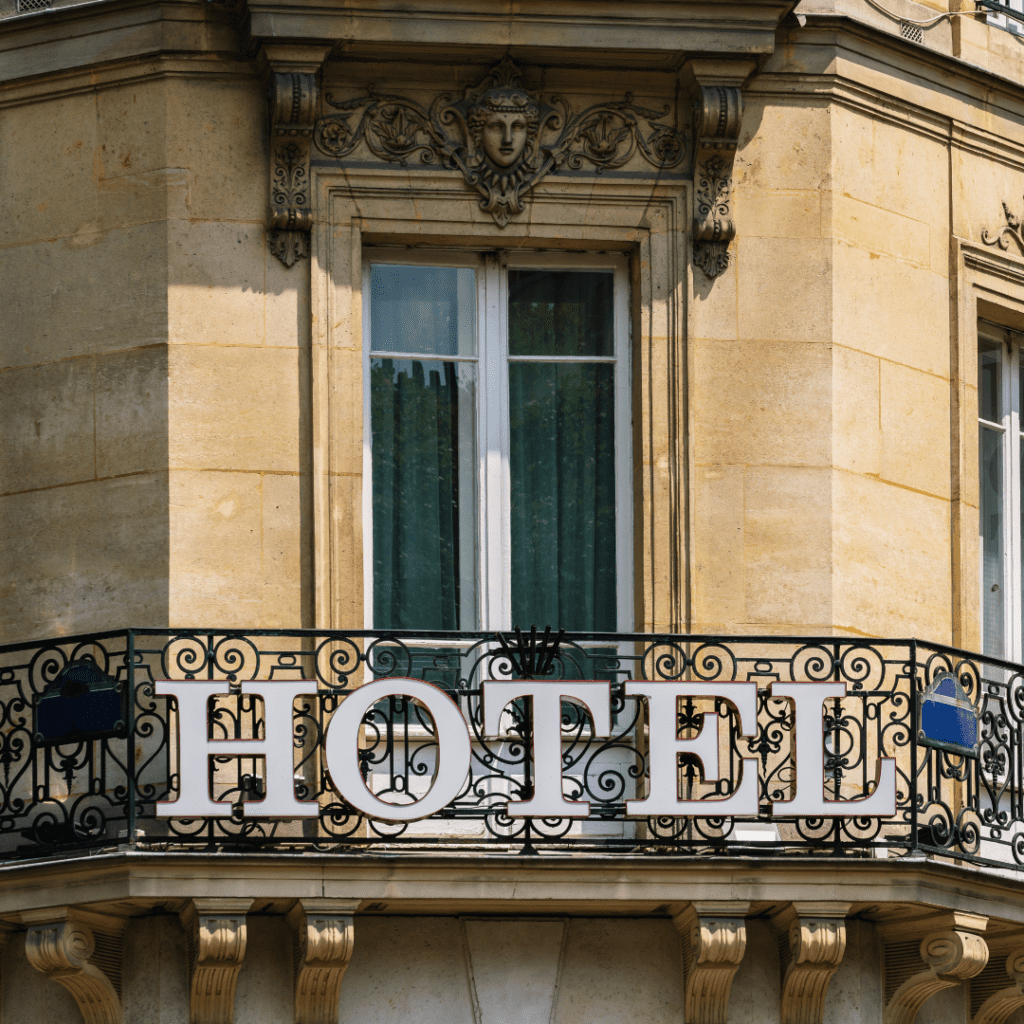 Using a toilet hotel, however, is a slightly grey area … The lobby restrooms are supposed to be for overnight guests as well as bar and restaurant customers, because their money helps to keep these toilets well-maintained. But if you choose a larger hotel, such as the Westin, it's easy enough to be discreet about the fact that you're only there for one reason. Just walk in as though you know where you're going, and quickly scan the lobby for les toilettes signs. If you do need to appease any guilt you feel about using a hotel's amenities, you can always sit down at the bar for a quick coffee, tea or wine to make up for it.
Cafés
In this instance, you'll most likely have to buy a coffee, even if a un express at le zinc, if you want to access the WC. Unless, say, you have a squirming child in tow and come across a sympathetic waiter, in which case no money will be needed and all you need to leave is a 'Merci, Monsieur/Madame' on the way out.