May is a month of celebration in France. It begins with Labour Day and its lovely lily-of-the-valley traditions, moves on to Victory in Europe Day, and ends with Mother's Day.
And somewhere amid all this festivity is another reason to raise a glass: the city's rooftop terrace bars reopen for the summer.
Rooftop terraces make so much sense in Paris, where inner-city height restrictions mean your view is rarely interrupted — save for an Eiffel Tower here, a church spire there.
And in summer, when late sunsets make a day deliciously long, you get such great panoramic value. True, you have to pay for this view — these drinks tend to be pricier than those served in more down-to-earth bars. But the extra euros are worth it for the magical memories they give in return.
Read on for some rooftop terraces you'll want to add to your next Paris itinerary …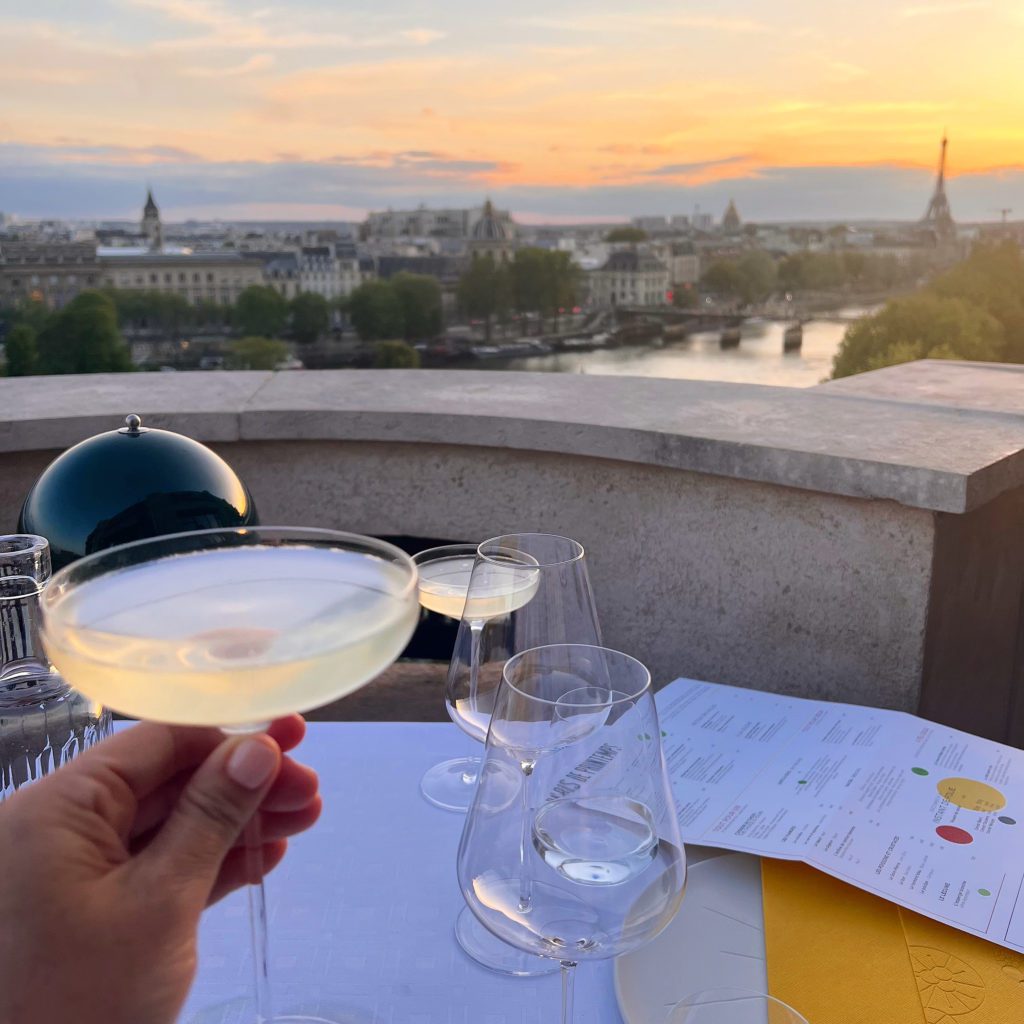 Perched up the top of the ultra-chic Cheval Blanc hotel, Le Tout-Paris is located at the riverside end of the La Samaritaine redevelopment. Once upon a time you could come up here, to the old department store café, and enjoy the river views for the price of a few francs. These days, things are a little pricier. But then, the view is priceless. Le Tout-Paris is both a brasserie and bar, so you can adjust your budget accordingly. Sit at the stunning marble horseshoe-shaped bar, and pounce on a terrace table as soon as one becomes free. Then sip away as the setting sun transforms the Seine into a shimmering ribbon. Linger until twilight, when the Eiffel Tower turns twinkly. It's a pinch-me kind of a place.
8 Quai du Louvre, 75001; open daily, 7am-midnight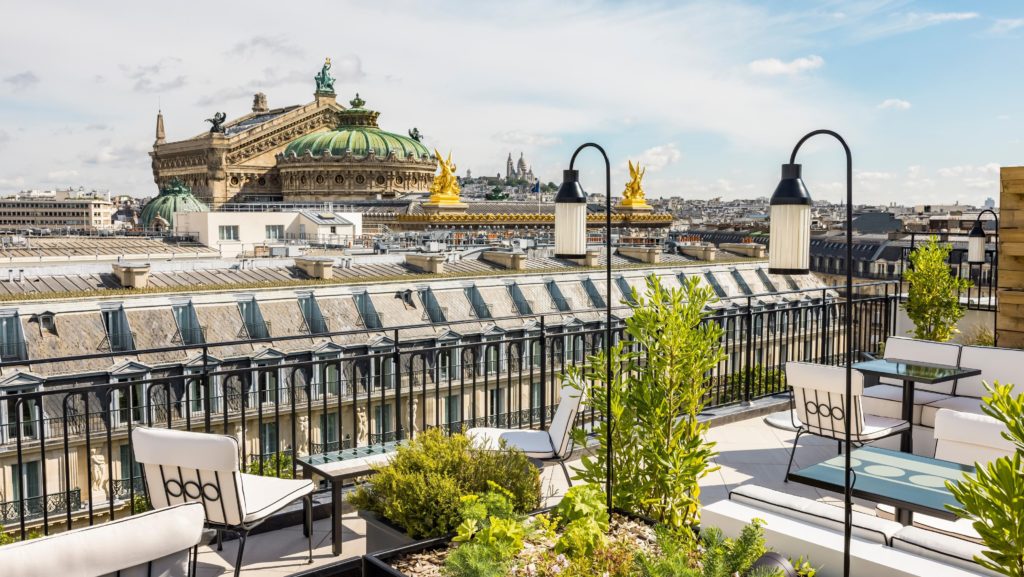 The Kimpton Saint-Honoré, another of the city's most luxe new hotels, is set within the old La Samaritaine de Luxe, the one-time upmarket sister of the La Samartaine — note the matching floral-mosaic frontage, the sweeping marble-and-wrought-iron-railed stairs, and the cage elevators, now purely decorative. More modern lifts whiz you up to the rooftop, a sprawling affair offering both shady and sunny spots, and 360-degree views that well deserve a toast. The gin & tonic and aperol selections are suitable refreshing for sunset drinks, while a martini or a mai taï will relax you into the night, and there's a small menu of bar snacks.
27-29 Boulevard des Capucines, 75002; open daily (weather permitting), 5pm-midnight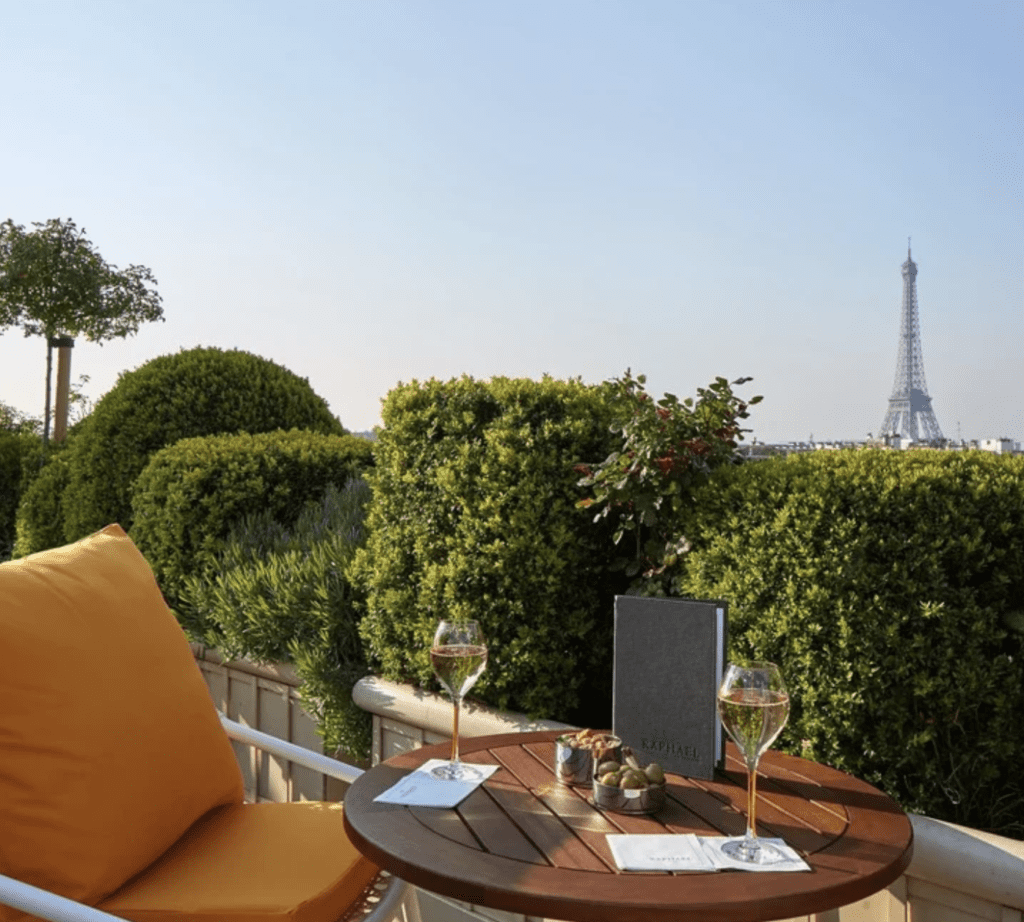 Another hanging garden boasting panoramic views atop a five-star hotel, Le Rooftop has long been a haven during the summer months, just a few steps from the bustle of the Champs-Élysées. All-day snacking, several choices of champagne by the glass, and all the classic cocktails are available. You can also dine up here (with a 45€ lunch offer of a main and glass of rosé); for this option, make a reservation online.
17 Avenue Kléber, 75116; open daily (weather permitting; meal reservations will be moved to the ground floor bar in the case of rain) 12pm-11pm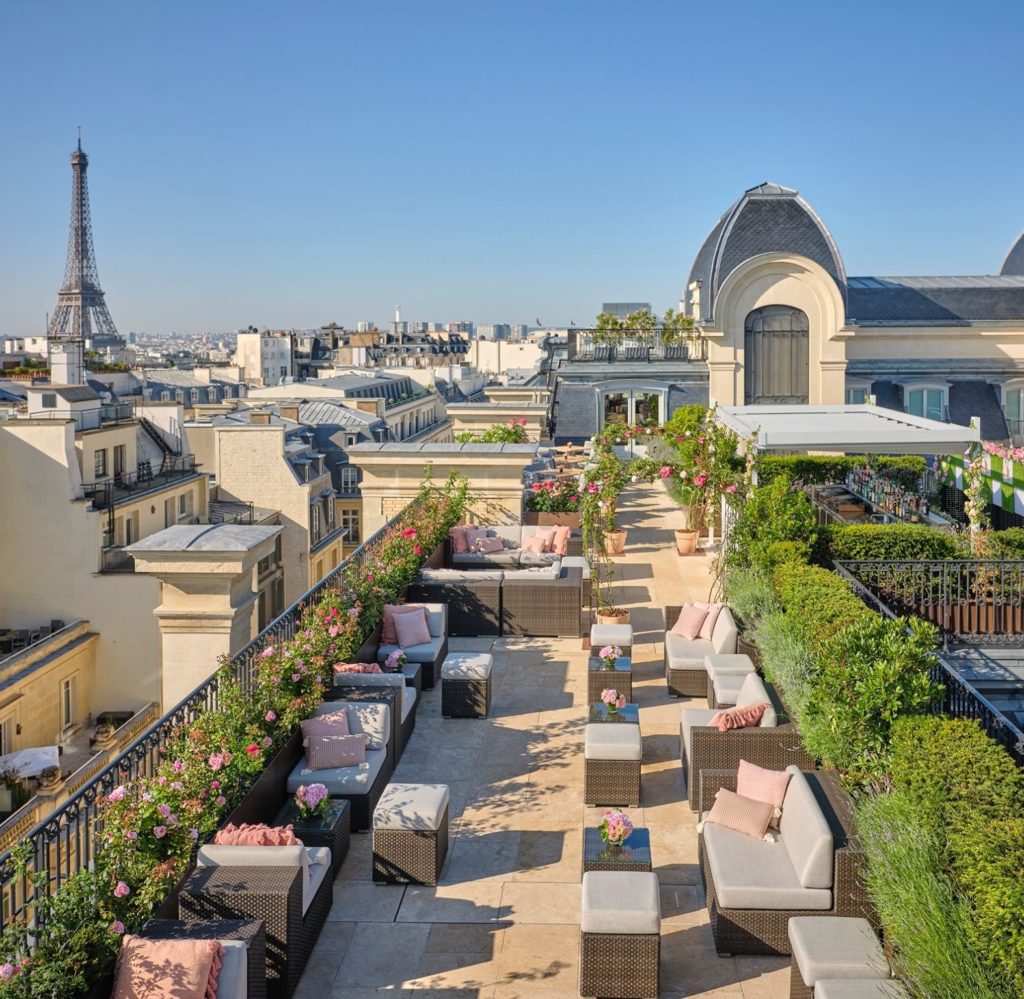 If the Raphaël's terrace bar is too crowded, or if you want to bar-hop in seriously high-end style, pop next door where the Peninsula hotel is also crowned by a beautiful rooftop oasis. This year, the air is perfumed by roses, which edge the terrace, climb over archways and burst from vases. It's the perfect setting in which to also inhale a rosé or two, and savour the plant-based tapas canapés.
19 Avenue Kléber, 75116; open Sunday to Wednesday, 4pm-12:30am; Thursday to Saturday, 4pm-1:30am (with food served from 6pm-10:30)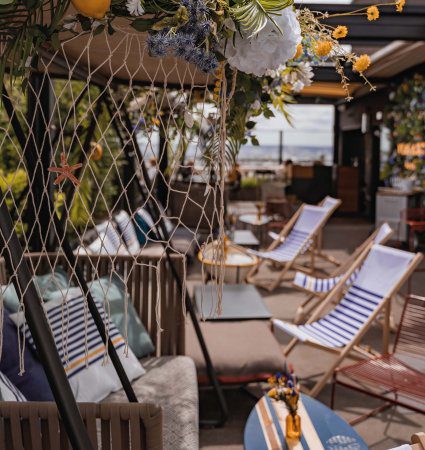 For a more sweeping city view, head out to a rooftop terrace in one of the outer arrondissements. At the Terrass" hotel at the foot of Montmartre, for example, Paris is spread out before you like a visual feast, especially when the sunset sets the zinc rooftops aglow and the Eiffel Tower sparkles on the horizon. The bar is currently decorated in breezy west-coast style, with a suitably seafood-oriented menu offering fish & chips, tarama with nori seaweed, mackerel ceviche and gin-infused grilled prawns.
12-14 Rue Joseph de Maistre, 75018; open Tuesday-Saturday, 5:30pm-12:30am; Sunday-Monday, 3:30pm-11:30pm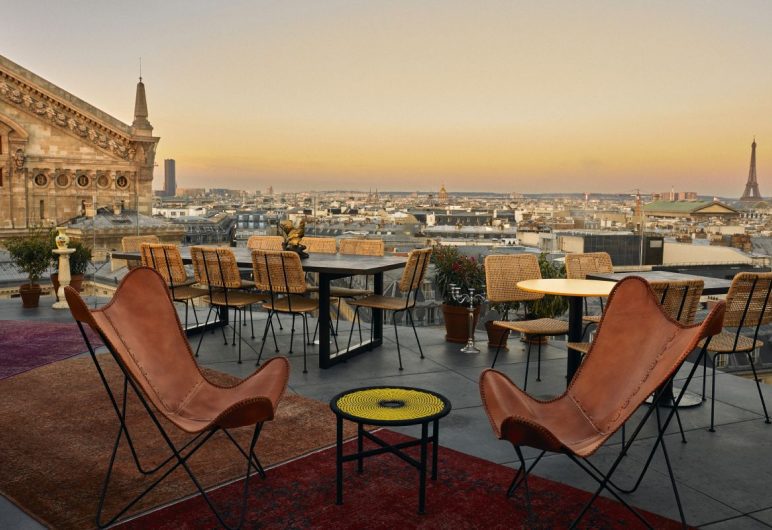 Hotels aren't the only Parisian buildings having some rooftop fun. Some department stores also feature terrace dining and drinking spots — ideal for fuelling a shopping expedition, or for calming shopped-out legs. For many years, Galeries Lafayette has hosted a pop-up restaurant-bar on its expansive rooftop, which gives you a bird's-eye view of the elaborate architectural confection that is the Palais Garnier, as well as taking in a swoop of a vista from Sacré-Cœur to the Eiffel Tower. This year, Créatures returns, with its celebrated vegetarian menu. You can dine, or choose to sink into one of its comfy chairs and savour the view along with a drink; the bar mixes up mouth-wateringly aromatic cocktails and mocktails, as well as serving up a tempting selection of wines.
25 Rue de la Chaussée d'Antin, 75009; open daily, 10am-1:00am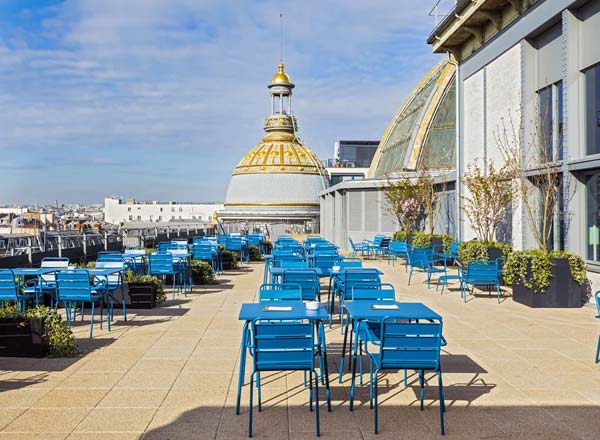 Just down the boulevard, Printemps has a new panoramic bar. Take the elevator to the seventh floor of the women's store, up to the vintage shopping space known as 7ème Ciel (7th Heaven). Outside, by one of Printemps' famous gilded domes, is a laidback terrace bar looking over a clutter of rooftops to the Eiffel Tower. Sit down and recharge with a snack and a drink, be that coffee or a cocktail, a chocolat chaud or a champagne.
64 Boulevard Haussmann, 75009; open daily, 10am-8pm
Translated as 'perch' in English, Le Perchoir nestles among greenery on top of the BHV department store. Come for the close-up view of the Hôtel de Ville's neo-Renaissance splendour, stay for the twilight twinkling of the Eiffel Tower. In between, enjoy inspired cocktails and moreish snacks like bahn mi and dumplings, as well as the charming guinguette-style décor. Warning: Le Perchoir fills up early, so aim to arrive as close to opening as possible. Once security ushers you in, take the elevator to the seventh floor, and a corridor will lead you to Le Perchoir's terrace, as much as to an immensely enjoyable evening.
33 Rue de la Verrerie, 75004; open Monday-Sunday 8:15 to 2am; Sunday 7:15 to 2am