Sure, you could always grab a miniature Eiffel Tower or a snow globe of a shimmering Parisian landscape as you rush to the airport, but why not make souvenir shopping something you'll enjoy as much as your recipients will love receiving their more inspired holiday gifts. Read on for ten shopping destinations that double as great souvenir-scouting spots …
Marin Montagut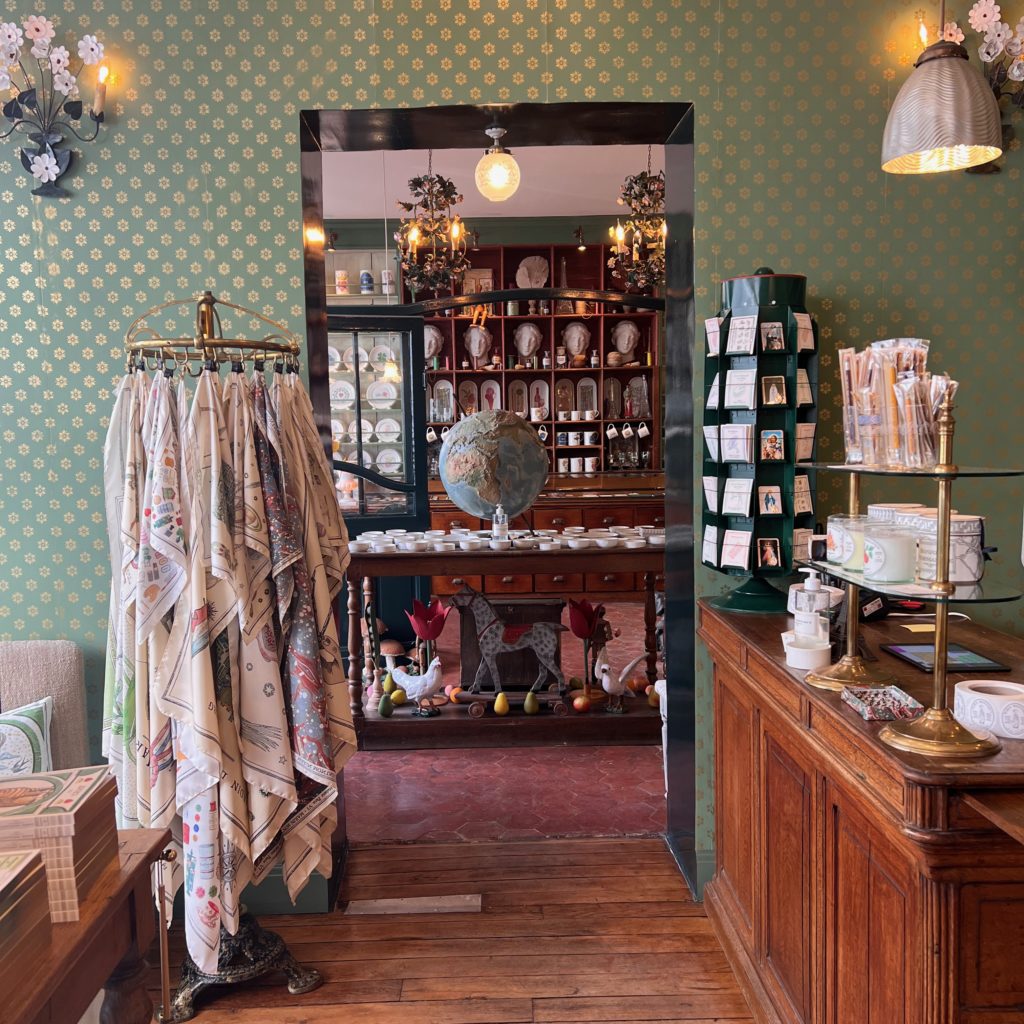 This Aladdin's Cave of a boutique, a block west of the Jardin du Luxembourg, is the delightful vision of famed illustrator and designer, Marin Montagut. A long-time lover of artisanal history, traditional techniques and objects of timeless beauty (albeit with a fresh and whimsical touch), Montagut has created a portal into an old Paris, one where products were lovingly handmade, uniquely inspired, and collected and kept for years, to be passed down as heirlooms. It's ostensibly a homewares store for house-proud Parisians, but there's much for out-of-towners to buy, too, because Montagut has a knack for giving a fun souvenir twist to many of his creations. Think glasses or scatter trays hand-painted with Paris street signs or city icons such as the green garden chair. The printed scarves and cushions are also gorgeous options for your Francophile friends at home.
48 Rue Madame, 75006; click here for more information.
Buci News
For a more budget-friendly selection of gifts, in a similarly rabbit-hole-like boutique, you'll love the nearby Buci News (as its name suggests, it's just by Rue de Buci). Here is where you'll find quirky stationery items such as pens in the form of baguettes or the Eiffel Tower, métro-map place mats, and lovely notebooks decorated in Paris-themed illustrations.
4 Rue Grégoire de Tours, 75006.
Bouquiniste Stalls
The famous Seine-side metal boxes are also veritable treasure chests, and offer up many unique souvenir ideas. Old black & white postcards and yellowing maps capture a lost Paris, as do vintage Paris guides and coffee-table tomes; prints of Redouté flowers or vintage advertisements for Parisian perfumes will make for cherished art when framed; and bibliophile/Francophile friends will appreciate an antique novel, especially classics by Gustave Flaubert, Françoise Sagan or Colette that feature wistful illustrations on their covers.
Shakespeare and Company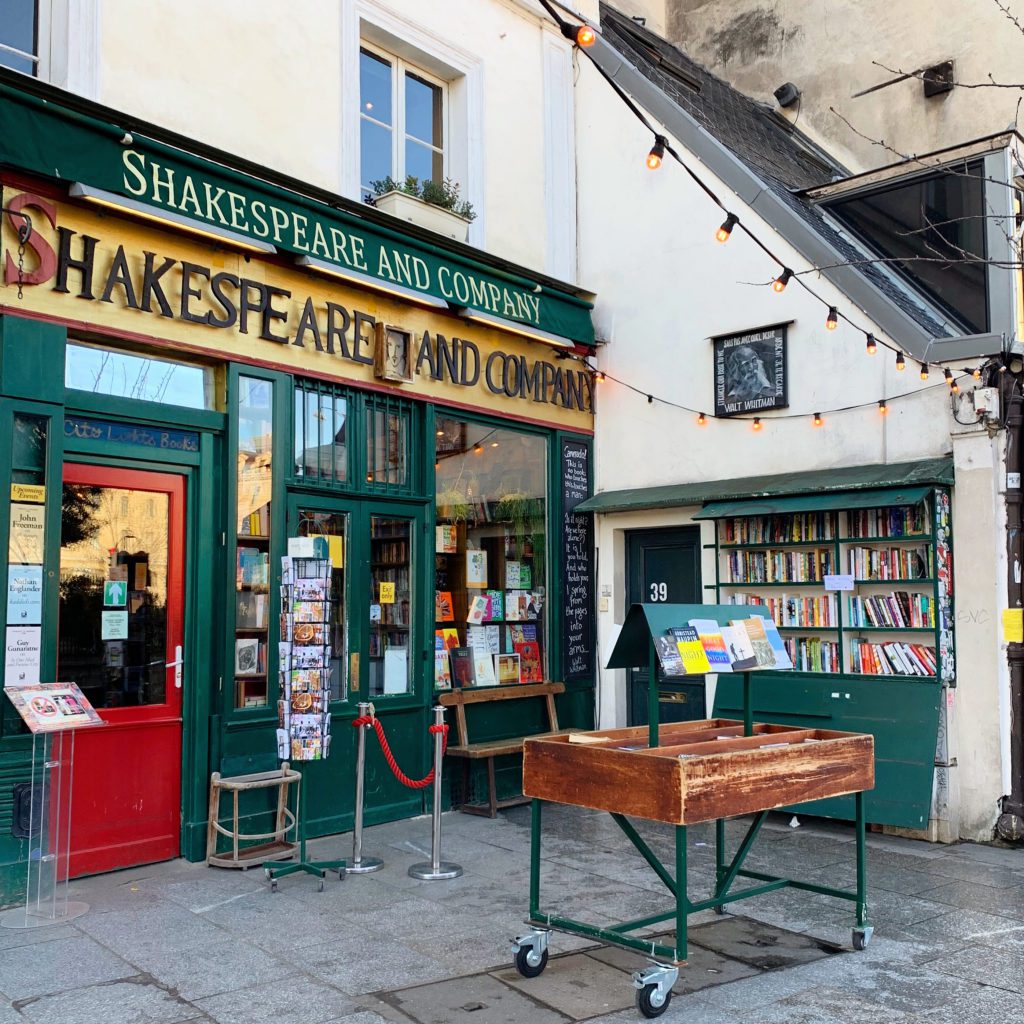 Speaking of book-loving friends … they will also adore anything from this iconic store, especially if you have the inside cover stamped, and add-to-cart one of the store's illustrated canvas totes. If you're not sure of the best title to buy, you can't go wrong with anything from 'The Lost Generation' or 'Paris' sections.
37 Rue de la Bûcherie, 75005; click here for more information.
E. Dehillerin
For those friends and family more in the foodie camp, you might well find their perfect Paris gifts at this legendary, since-1820 kitchen supply store (where practically every top chef, and Julia Child, have shopped). If you can't quite fit a copper pot into your luggage, a silicone madeleine mould would be a great Plan B.
18-20 Rue Coquillière, 75001; click here for more information.
La Grande Épicerie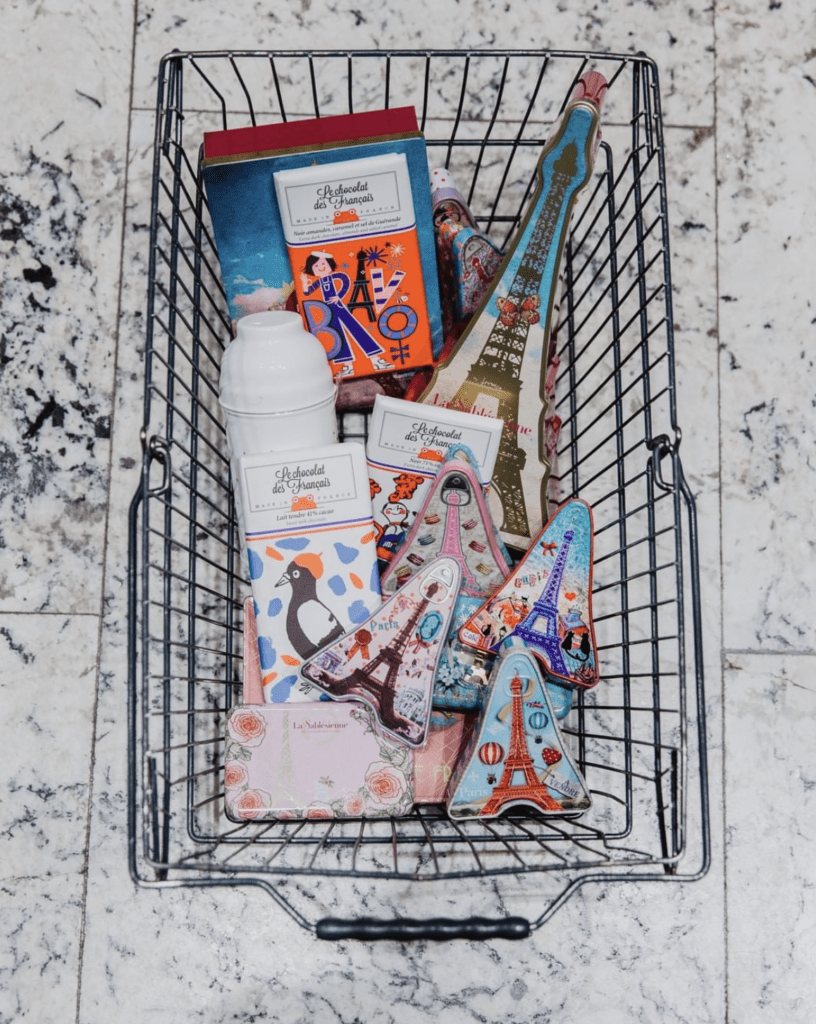 For other gourmet-inspired gifts, head to this gastronomic wonderland — the luxurious food hall of Le Bon Marché department store — for a head-spinning range of products that double as delicious souvenirs. There are chocolates and caramels from all over France, biscuits in every shape and flavour, sweet and savoury spreads, exquisite salts and spices, and all the tea in, well, Paris.
38 Rue de Sèvres, 75007; click here for more information.
Samaritaine Paris
Another must-visit department store, the recently renovated Samaritane Paris also has a souvenir-perfect destination in the form of Boutique de Loulou, the ground-floor concept store selling a wide and eclectic selection of locally made designs and accessories. Look out for the print bags and cushions embroidered with 'Paris' or various French words, colourful market string bags, uniquely scented candles and glossy coffee-table books.
9 Rue de la Monnaie, 75001; click here for more information.
Monoprix
If you're on a budget, you'll love Monoprix for cheap-and-chic fashion staples that work well as souvenirs for every age. There are stripy tops in all sizes and many colours, while the printed totes and scarves are great alternatives if you're worried about getting the sizing wrong. While you're there, scope the beauty department for French skincare and makeup buys, as well as the inspired homewares section (depending on your luggage allowance, of course).
Various locations around Paris; click here for more information.
Passage Jouffroy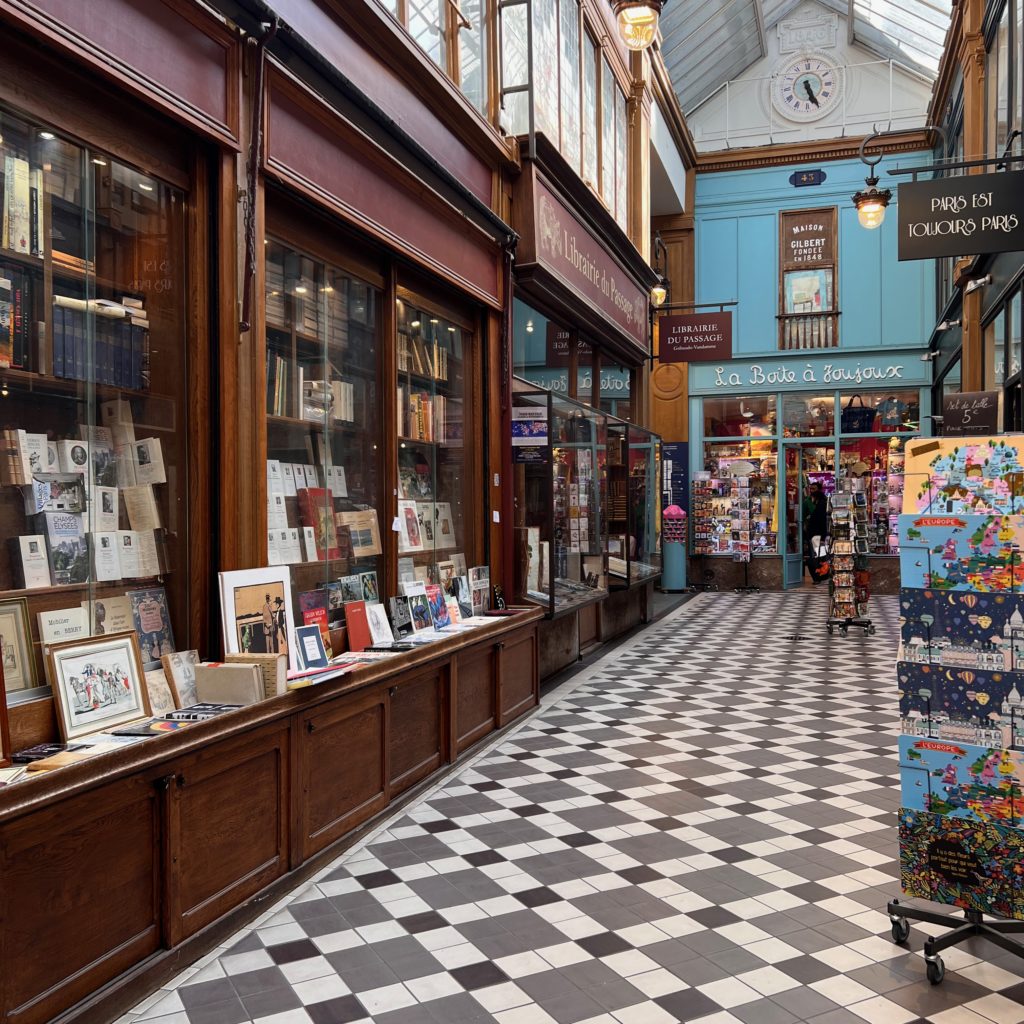 This historic covered arcade could well be the place where you find something for everyone on your to-buy-for list. The boutique Paris Est Toujours Paris is unashamedly souvenir-oriented, but in a superbly edited, high-low way. Alongside the requisite trinkets — magnets and snow globes and the like — are quality buys such as Laulhère French berets, Saint James marinières and Gien porcelain plates featuring pretty Parisian scenes. Across the way, the Librairie du Passage will have the perfect book or poster for your more literary or artistic friends. And for the kids, there are two stores selling all sorts of olde-worlde toys and games that will still manage to captivate in these modern device-drive times. Oh, and there's also a historic boutique, Galerie Fayet, that sells luxury walking canes and umbrellas — for that person on your list who has practically everything!
10-12 Boulevard Montmartre, 75009.
Le Marché aux Puces de St-Ouen
At this fabulously sprawling fleamarket, just north of the Porte de Clignancourt métro station, you'll uncover the kind of delights that will have your more romantically inclined gift recipients swooning: genuine Art Nouveau posters, prettily embroidered napkins and tablecloths, eggs stands that would have once graced the zinc counters of old Parisian cafés, dainty porcelain café au lait bowls … A particularly fabulous gift to buy here is an antique enamel house number plaque, if you can find the corresponding figures. For best souvenir-hunting success, focus on Marché Vernaison and Marché Paul Bert Serpette, both of which you can enter along Rue des Rosiers.