Walking, a perennial Parisian pleasure, is all the more enjoyable in autumn, when leaves crunch underfoot, and the city's palette softens into a harmonious blend of browns and golds. Read on for the most sensorially appealing places to seek out in the fall …
Montmartre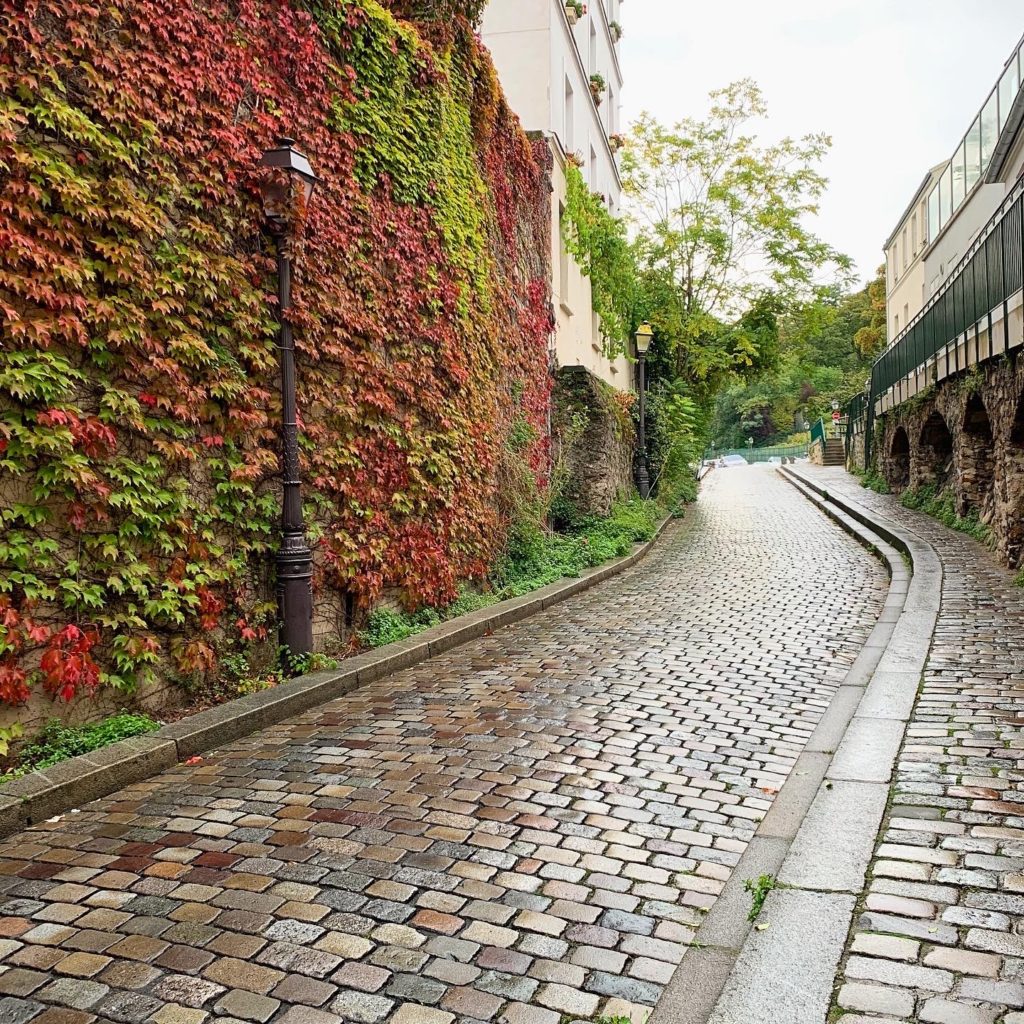 Go early in the morning, when the crowds are thinner on the ground. If you take the train to métro station Lamarck-Caulaincourt then cross over Rue Caulaincourt, you'll curve ahead into Rue Saint-Vincent (above), where the cemetery wall of Boston ivy turns a brilliant red in October, and where the old lamppost is arguably Paris's most photographed at this time of year.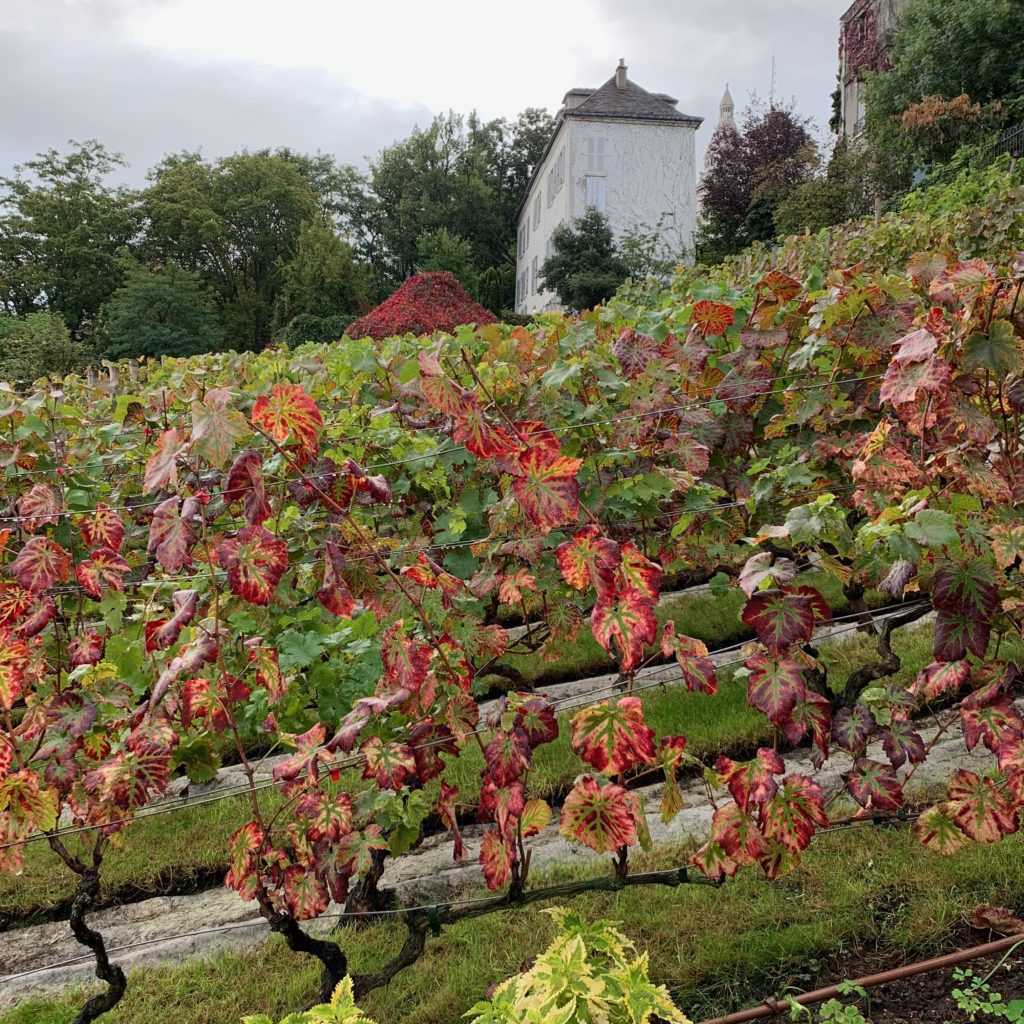 A little further on you'll come to Le Clos Montmartre, one of Paris's last remaining vineyards and, along with the cobbled streets and quaint cottages around here, a great indication of what this hillside neighbourhood was like in bucolic times, when windmills whirred, crushing the grapes that would produce the residents' favourite drink.
Each October, Montmartre celebrates the Fête des Vendanges, with vineyard visits, wine tasting, music and more; for details of this year's festival, from the 5th-9th, click here.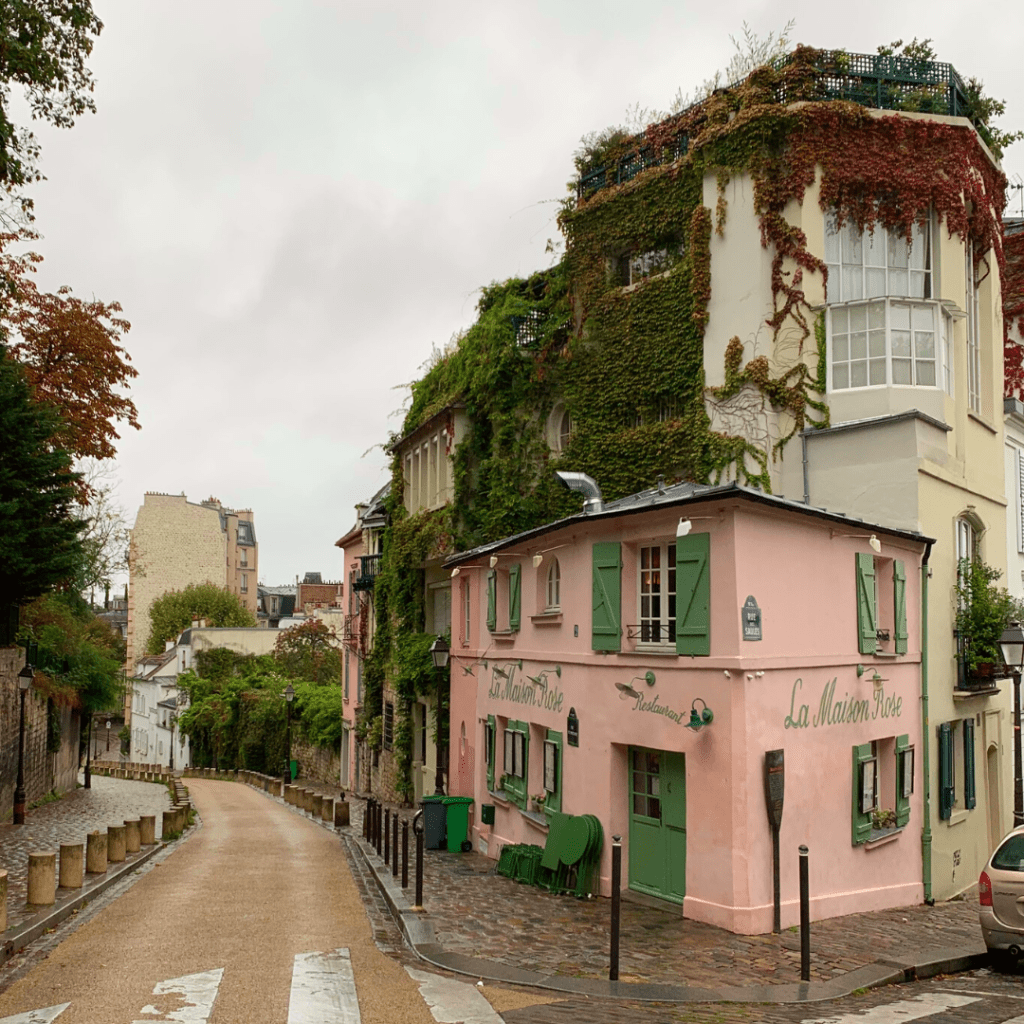 Continue to wind around the cobbled back streets of Montmartre. On cooler mornings, you often have them to yourself, and you can easily imagine what life must have been like when Montmartre was a rustic village, so much so that you often feel as though you've stepped back into the past. There's something about autumn that helps create this mood; perhaps it's because this month is nature's reminder of time's passing.
As the crowds (and modern reality) descend, retreat into the Musée de Montmartre to keep your head in the past for a while longer. (You would have seen part of it looming over the vineyard hill, but its main entrance is 12 Rue Cortot). For a hearty lunch, the museum's Café Renoir might be serving up soup, or you could head back down to the gorgeous La Maison Rose (reservation is required for meals) where the traditional French fare is inspired by local ingredients and artisans. Order a glass of wine, too — it would be rude not to, non?
Jardin des Tuileries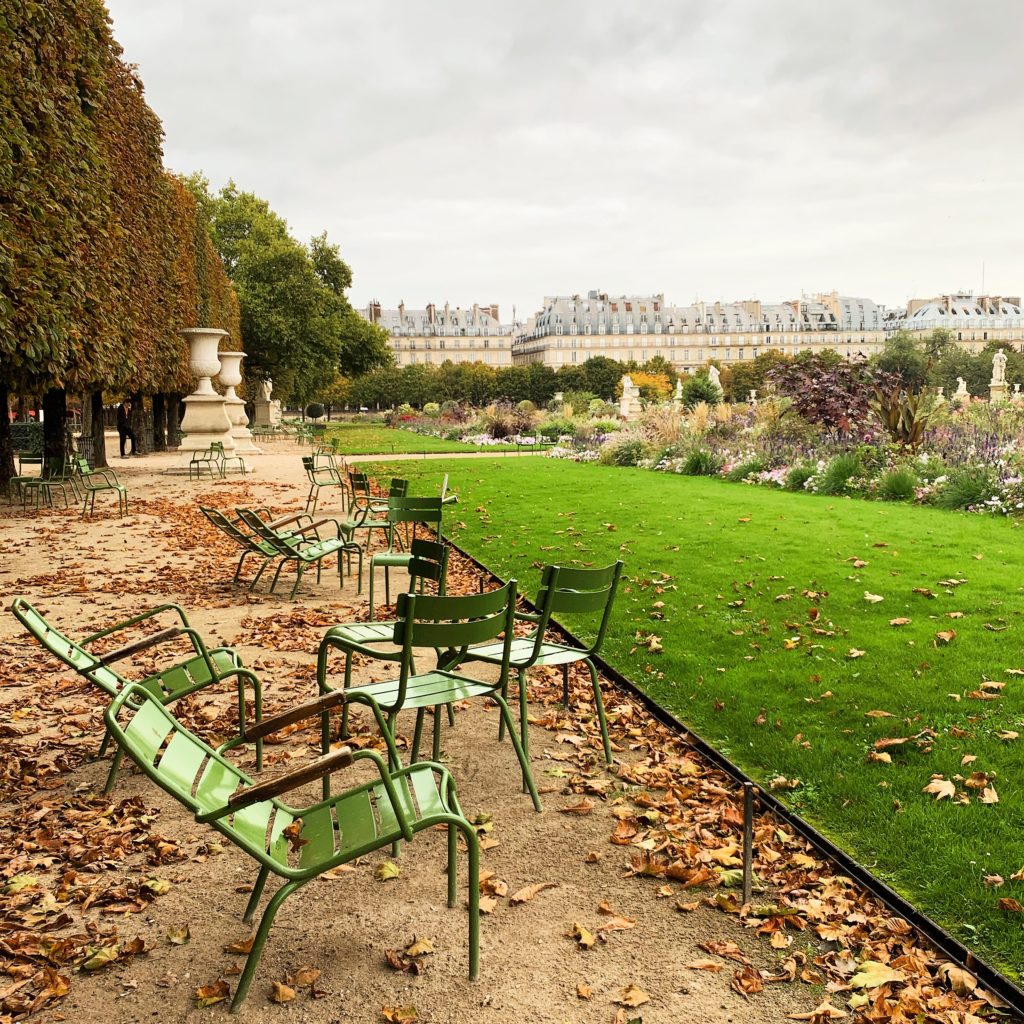 The perfect way to begin an autumnal jaunt through the Tuileries is at Angelina just on Rue de Rivoli — its chocolat chaud warms the body as much as the heart. It's so addictive you might even want a second takeaway helping, to warm your hands, too, as you amble around the delightful park just over the road.
As the leaves begin to turn and fall, you start to appreciate fully the beauty of this formal French garden, laid out by legendary garden designer André le Nôtre (of Versailles fame), the geometric genius of it all.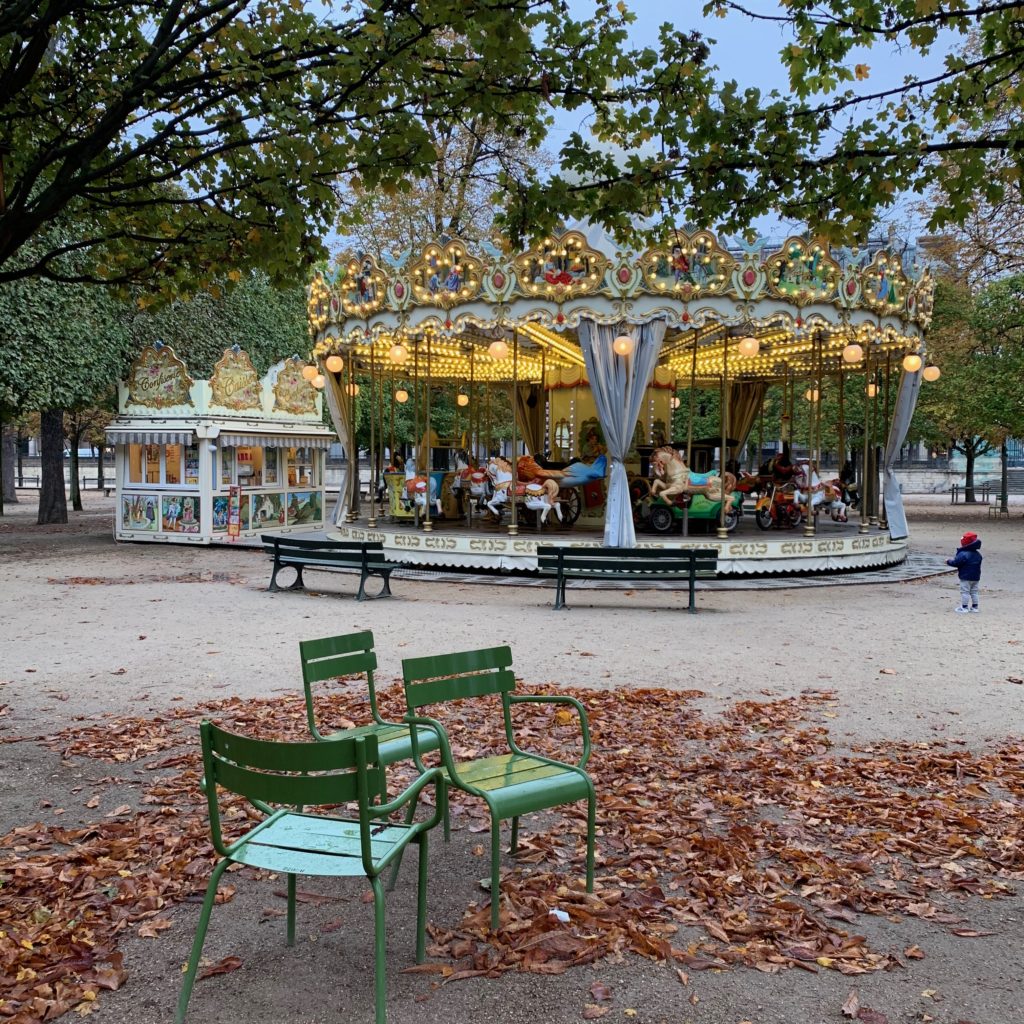 Wander around the criss-cross of allées lined with clipped horse chestnuts, detouring into the occasional grove or discovering a hidden delight, like a glittering carousel or whimsical artwork.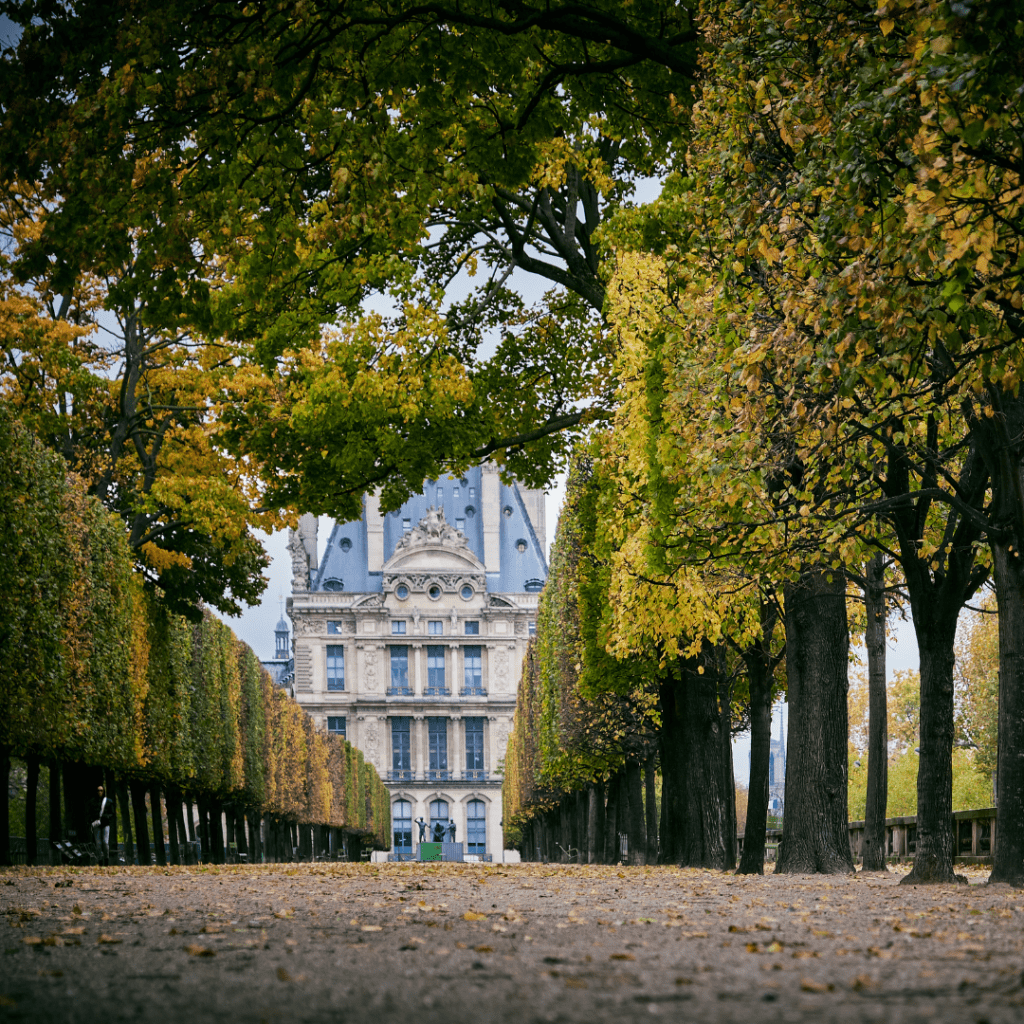 Then stroll along the southern terrace, by the trimmed plane trees that eventually turn a brilliant orange, where you'll have a lovely view of the seasonal flower arrangements by the park's ponds, gorgeously designed by the resident gardeners, Le Nôtre's spiritual descendants, to be in harmony with the changing colours of nature.
Jardin du Luxembourg
The Luco, as it's affectionately known by locals and regular visitors, is more of a neighbourhood park. Sure, there are some formal, clipped elements to it — it does have history as the regal garden of Marie de Medici's palace, after all.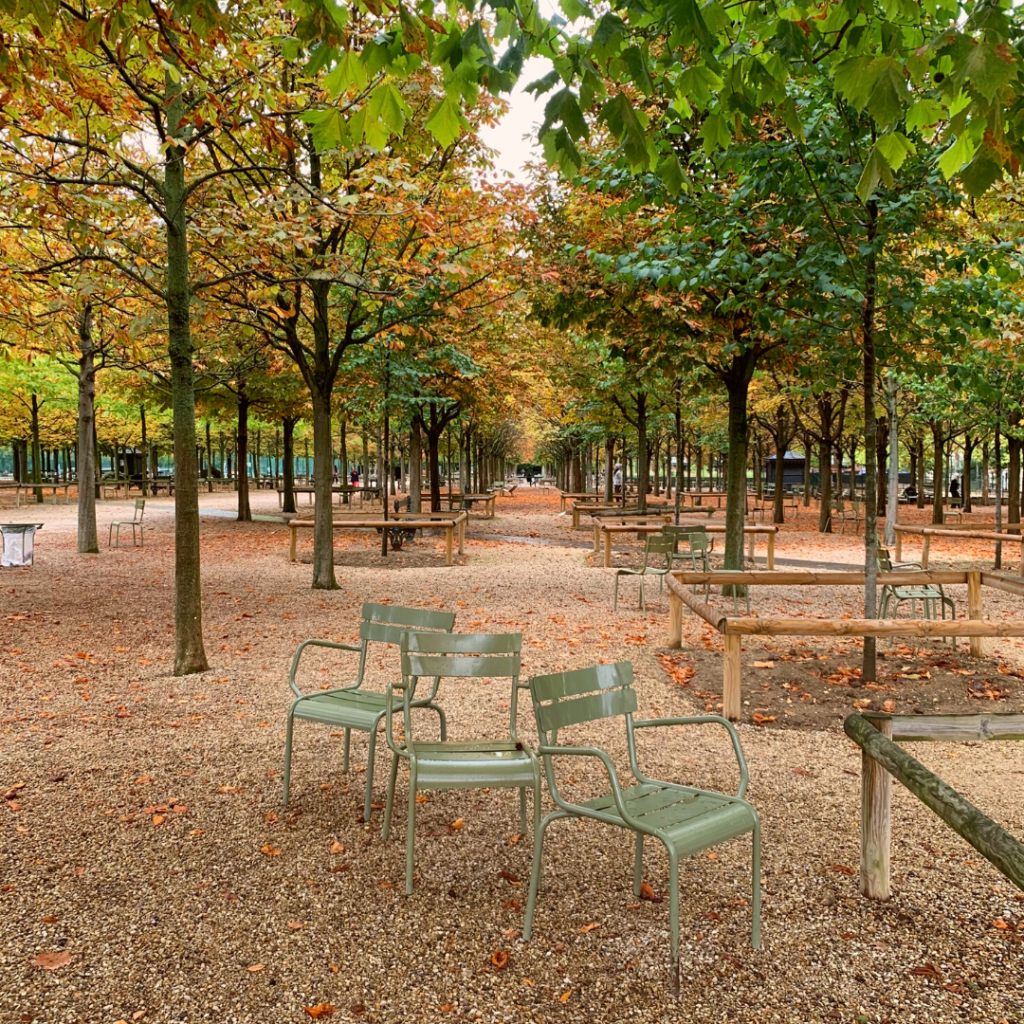 But it's also quite a rambling affair, with at what seems at times like a forest of horse chestnuts, as well as winding paths and orchards inspired by the informal English style of garden.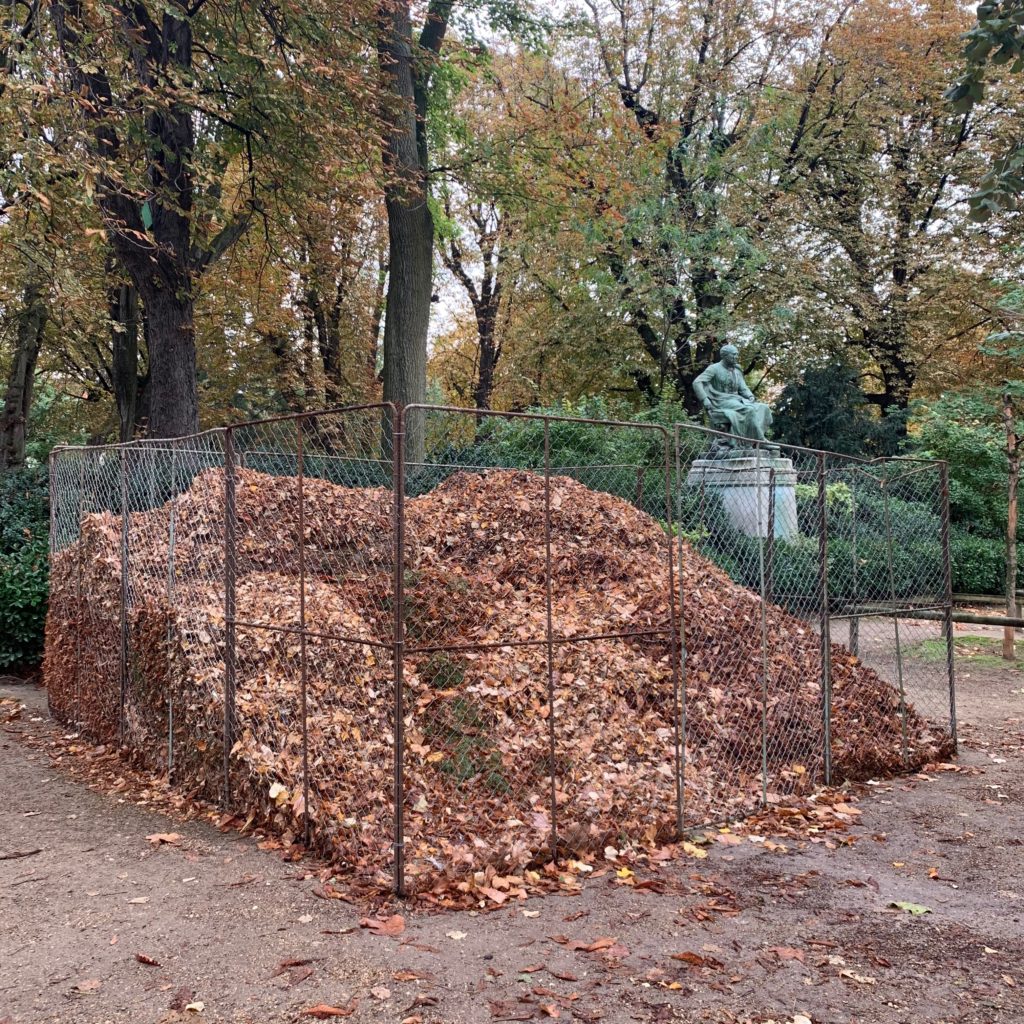 The gardeners have their job cut out for them at this time of year, having to rake the copious leaves into large cages. And still the leaves fall, weaving themselves into a glorious golden carpet. It takes you back to childhood, when autumn colours seemed more magic than science, and you almost want to run through it all. Still, you can at least walk and walk, letting your mind happily wander, too, as you go.
So conducive is this park to wandering and pondering, that you understand why poets and authors and philosophers have a history of walking these very paths, especially in cooler weather, which hones the mind all the more.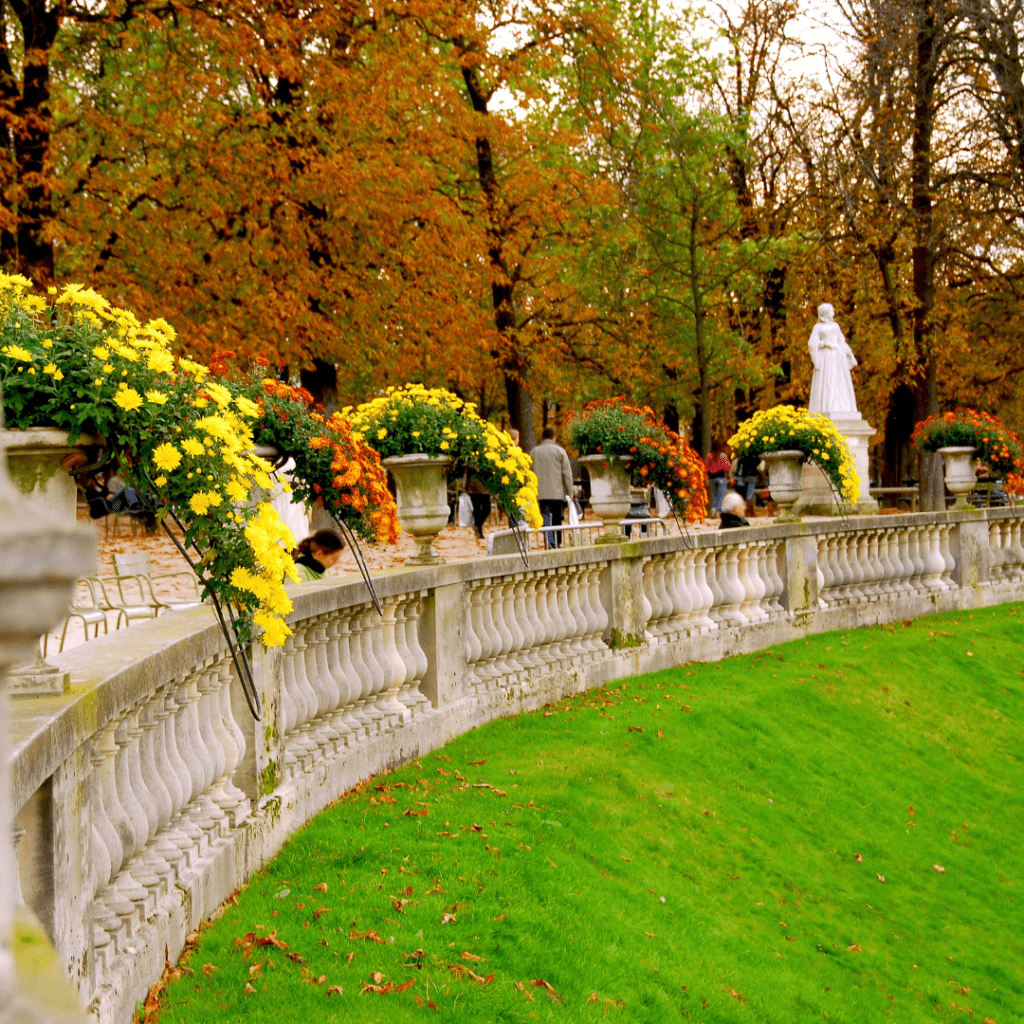 Without the glare of summer, the scenery comes into sharper focus, too. It seems easier to observe the world, take in its details. Albert Camus was one writer who would stroll here; perhaps this very park inspired his beloved quote, 'Autumn is a second spring when every leaf is a flower.'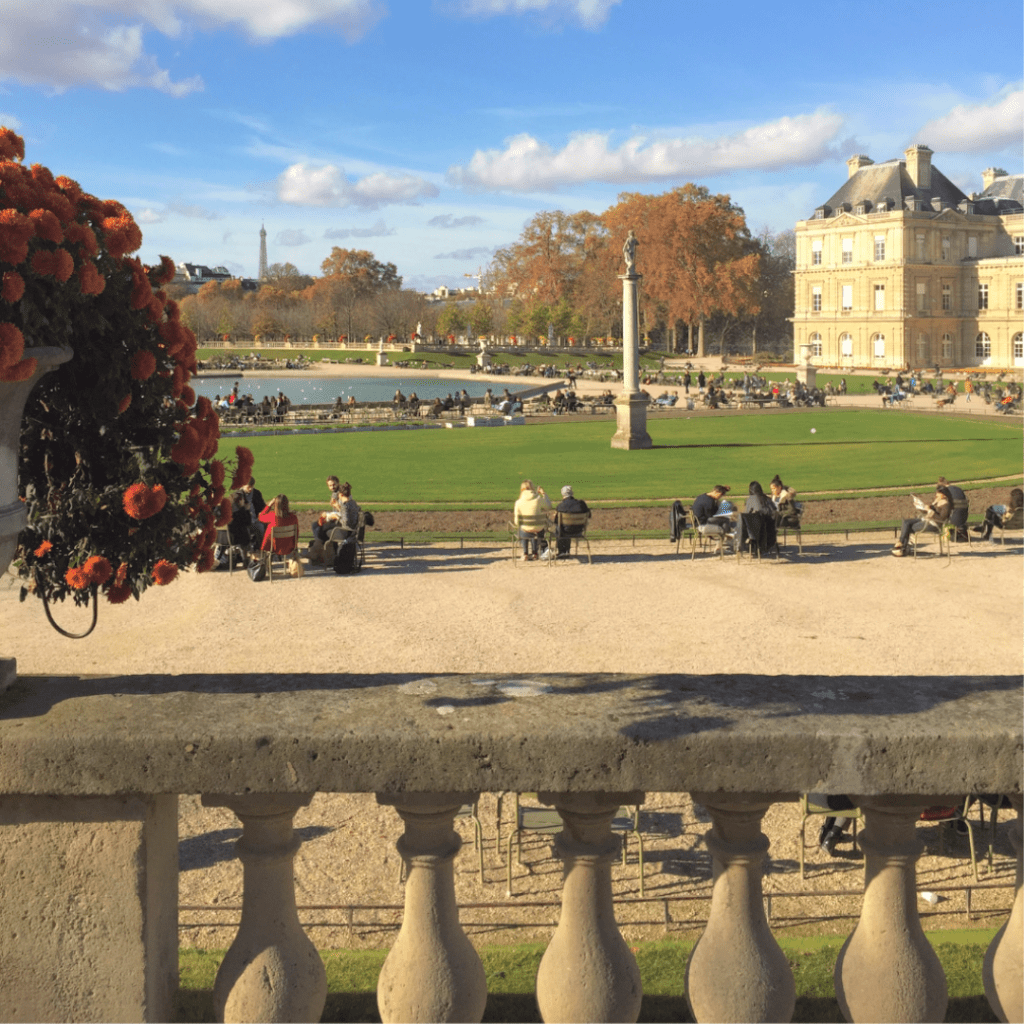 You can sit as much as walk here — the famous green chairs are scattered everywhere so you can rest where you please. If it's sunny, it's lovely to perch by rail of the terrace — which is usually at this time dotted with urns of seasonal chrysanthemums — and look down to the octagonal pond, on which children sail their wooden boats.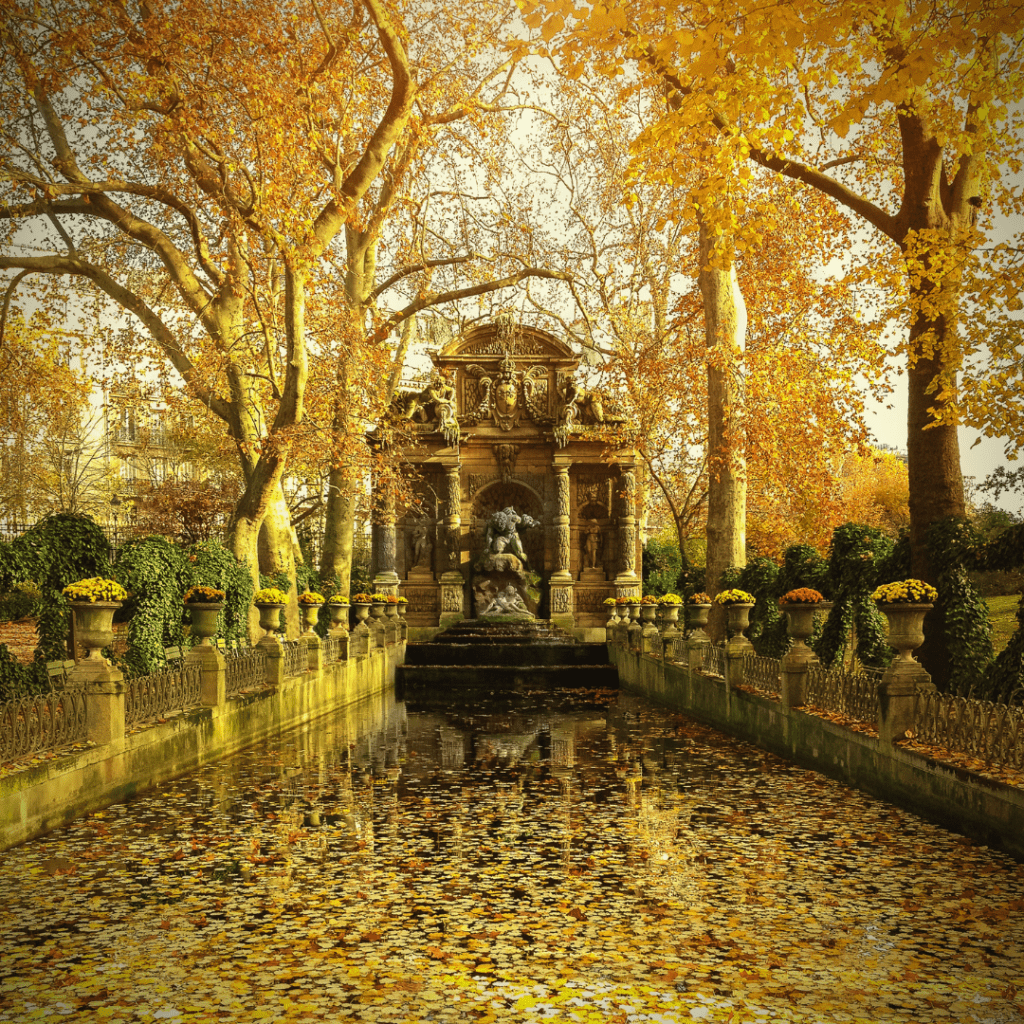 Or if you need shelter, you could claim a chair at the Medici fountain, under the canopy of tall plane trees, where the golden leaves are slowly drifting into the basin of water below.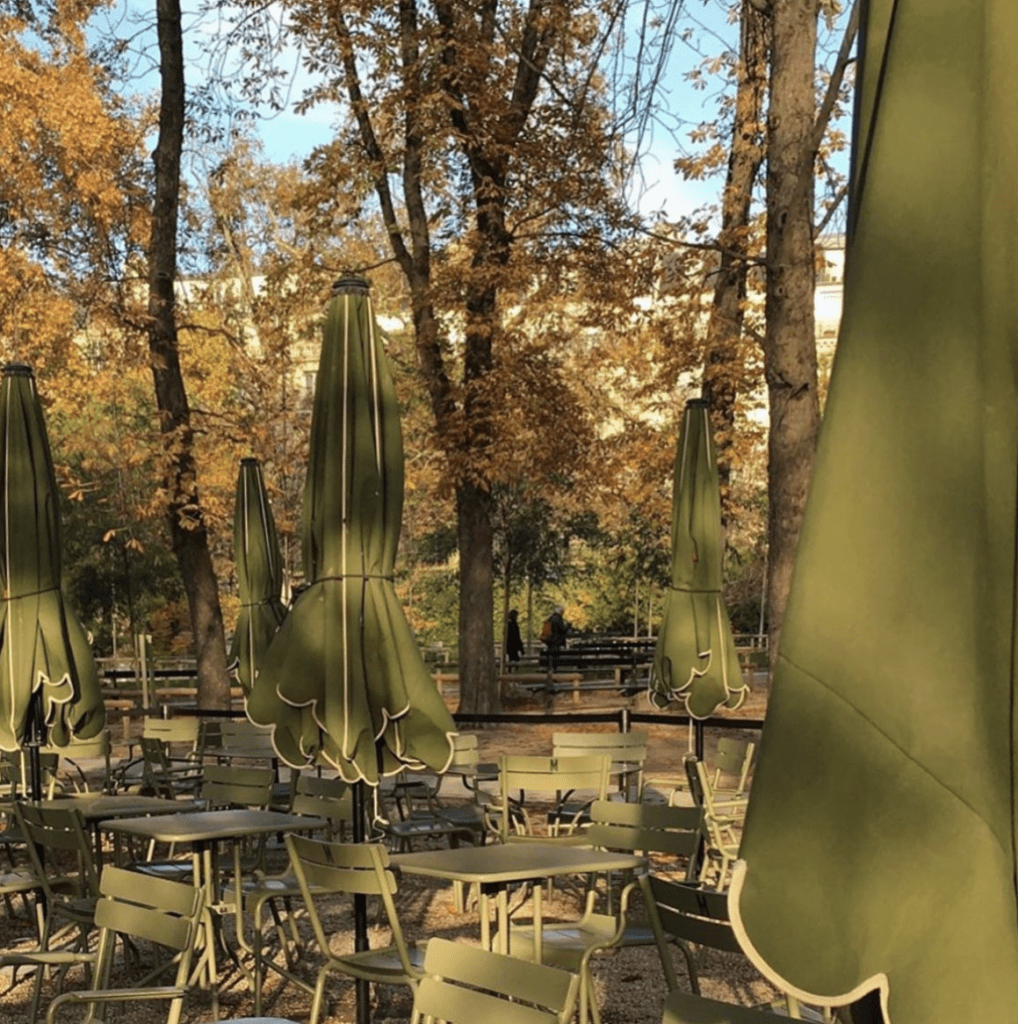 Cosier still: a warming lunch, or even just a glass of vin rouge, at the delightful La Terrasse de Madame; eat within the pavilion or, if weather permits, out on the terrace, beneath the glittering amber leaves of the chestnut trees.
Parc Monceau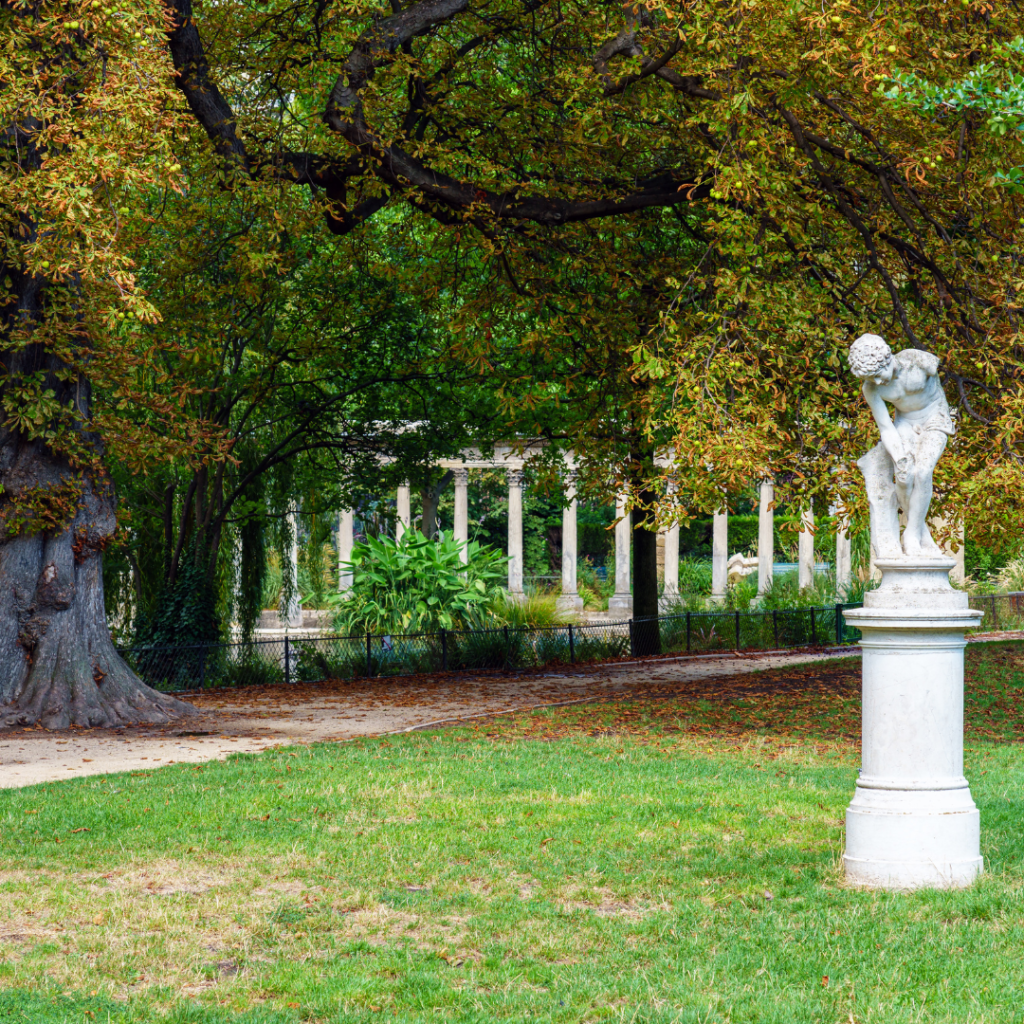 This utter delight of a park, situated in the eight arrondissement, is even more à l'anglaise than the Jardin du Luxembourg. Its paths meander about, past randomly placed statues, Romantic in vision, and past whimsical follies — a pyramid here, a Rialto bridge there …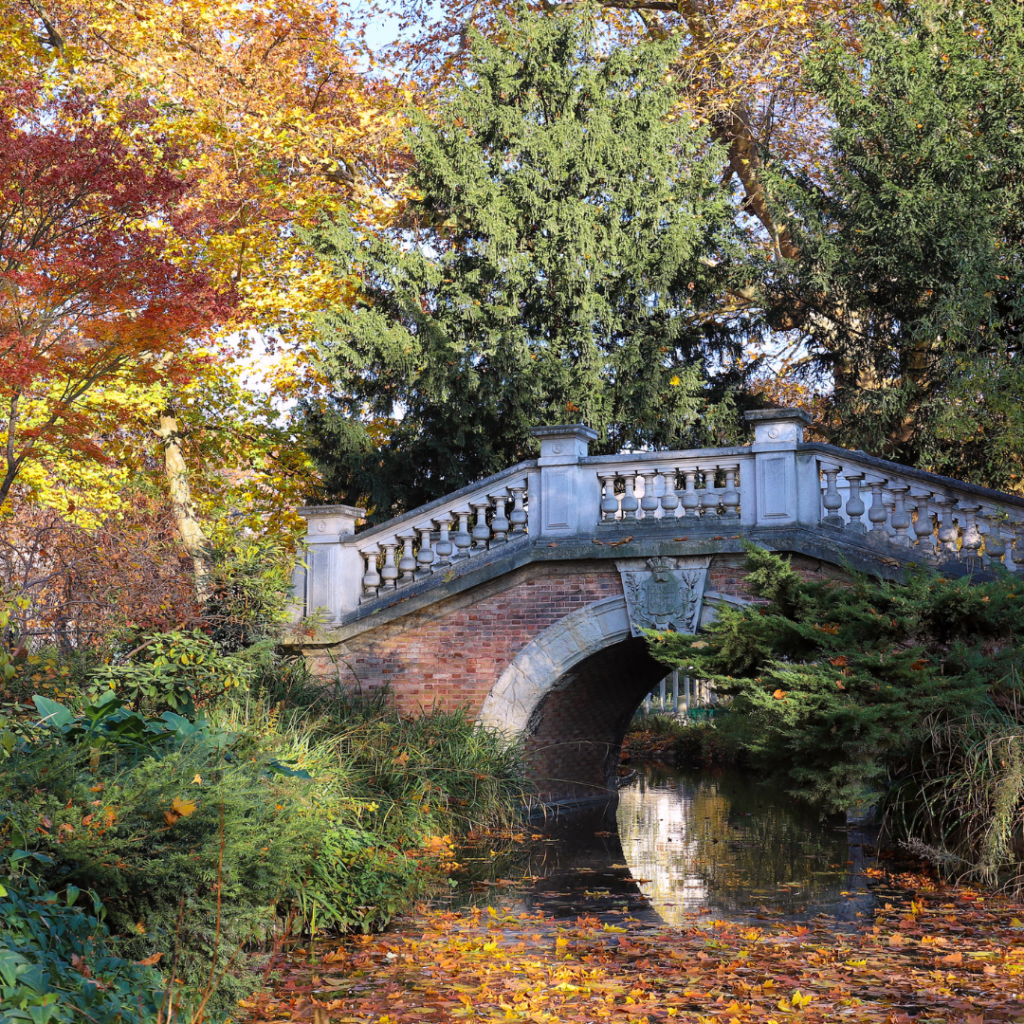 There's also a more varied, fanciful mix of trees than found in many French gardens, and surely they were originally chosen by a lover of autumn. Think mulberry, walnut, poplar, birch, maple and beech, which all play up beautifully to the autumnal cliché, although the soaring ginkgo biloba here, in the fall, is a true golden sight to behold.
Incidentally, follies such as the ones in Parc Monceau, were originally an eighteenth-century English affectation, but the term derives from a French word: feuille (leaf), perhaps because adding such touches as a chinoiserie pagoda or Dutch windmill or Roman temple decorated a garden as prettily as leaves on a tree.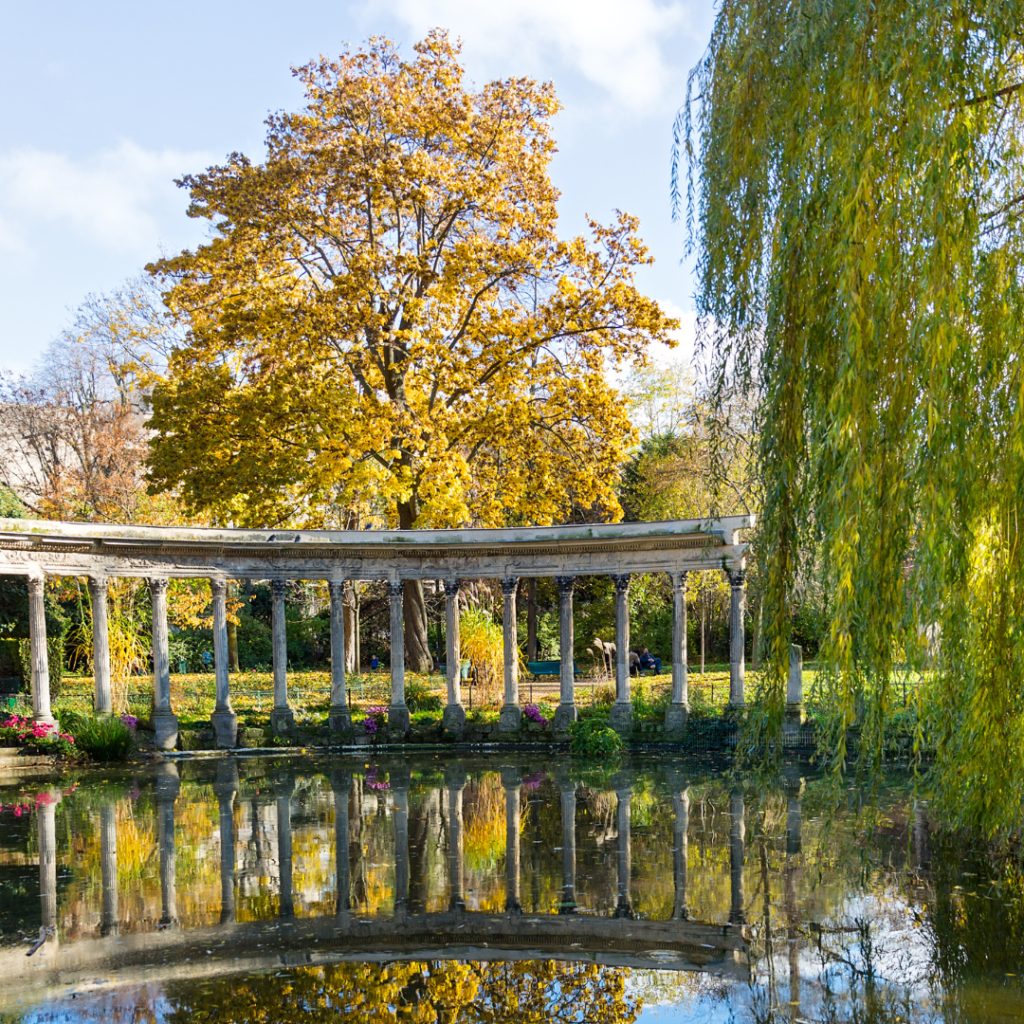 Some of the follies, dating from the park's nineteenth-century development from a former aristocratic playground to a public space, were created to look old. Others actually are ancient. Curving around one end of Parc Monceau's pond are Corinthian pillars, placed here by the garden's original eighteenth-century designer, who repurposed them from a funeral chapel Catherine de Medici had commissioned in the late sixteenth century. In late autumn, the antique ruin appears all the lovelier and more fragile next to the delicate, yellowing leaves of the willow trees that also grace this pond.
Canal Saint-Martin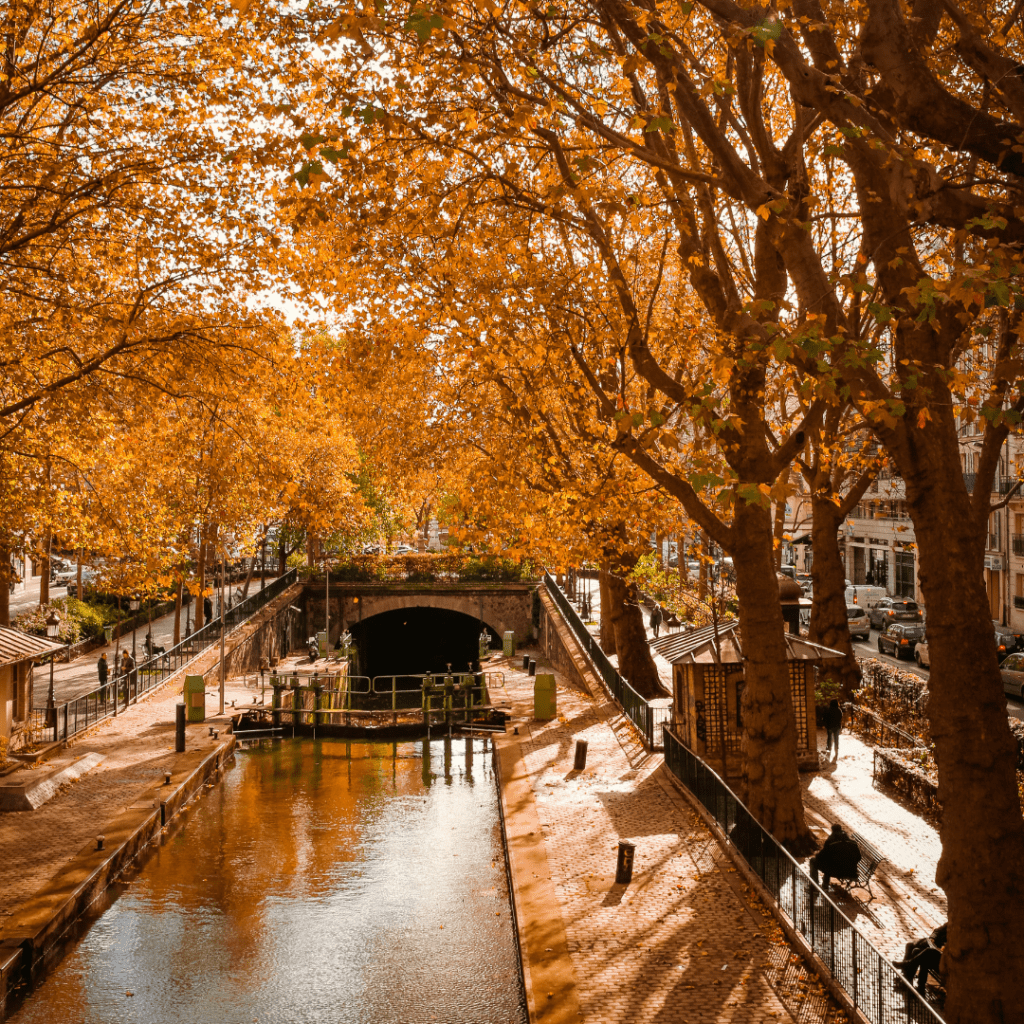 Find the Amélie section of the canal, in the tenth arrondissement. The old plane trees that line this stretch of water are beloved in warmer months for the shade they provide, but they're just as gorgeous in autumn, when their leaves create shimmering reflections below, which you can admire from the series of arched iron pedestrian bridges.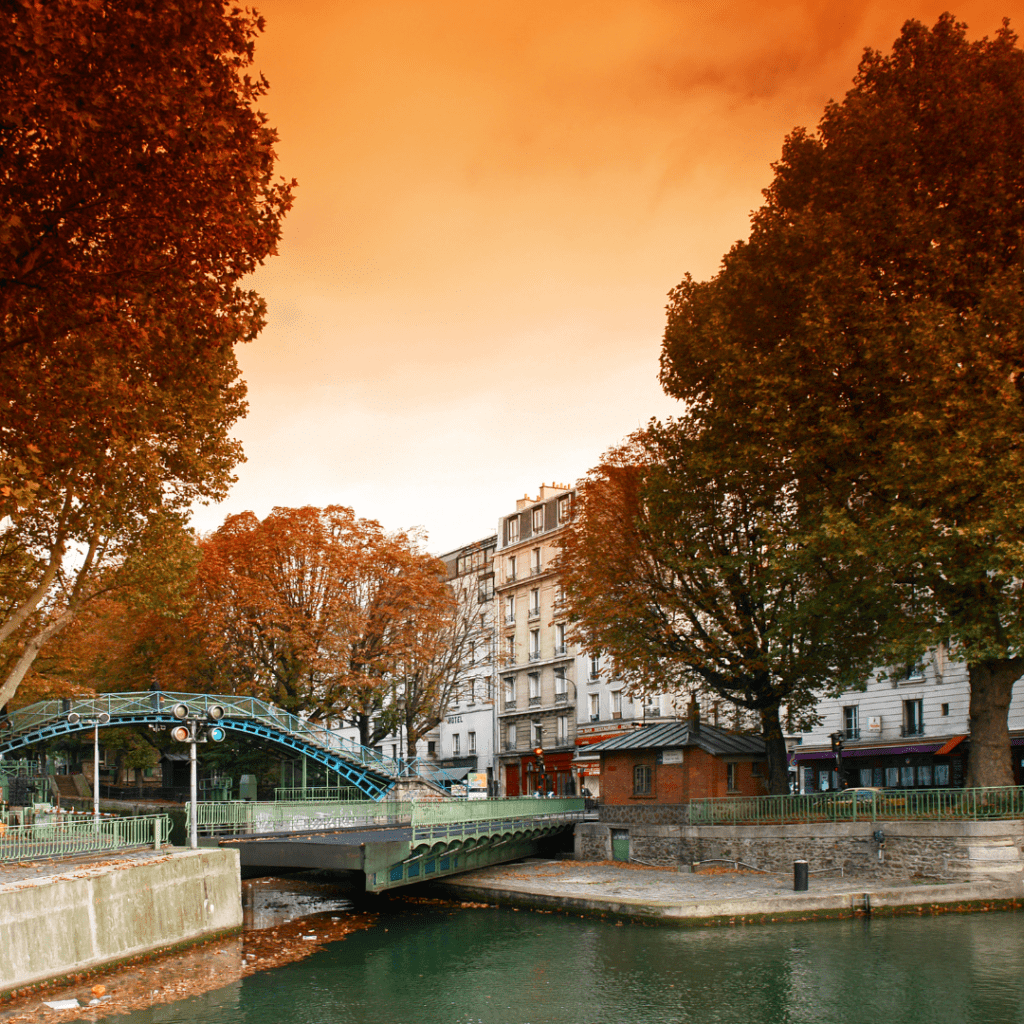 Go at sunset, ideally on a clear-skied day, when the scenery glows all the more. If you want to extend your leaf-peeping session, head to one of the canal-side eateries or wine bars (La Vache dans les Vignes is a local favourite); if it's a balmy night, make the most of one of the year's final picnic-worthy evenings with a waterfront feast.