Author Edith Wharton, whose social novels gently critiqued the morals and manners of Manhattan's Gilded Age, might be forever linked to her birth city of New York, but she was at heart and soul a Parisienne, residing in the French capital and then countryside for her final thirty years of life — from 1907 to 1937.
As literarily inspiring as New York was, it was also as emotionally stifling as the tight-laced corsets of the times. And this even for a woman whose place in this rarefied world was never questioned; born in 1862, Edith Newbold Jones hailed from the trend-setting family said to inspire the phrase 'keeping up with the Joneses.'
Edith, however, was also born to Francophile parents who took their young family to Europe on an extended six-year holiday that would in turn mould a young Edith and her two brothers into passionate Paris lovers, as well as fluent French speakers. From a very young age, they knew that there was much more to life than New York high society, as glamorous as that world was.
Travel was also what kept her dull marriage alive; Edith married Edward 'Teddy' Wharton in 1885, and they holidayed in France, England and Italy extensively. At a time when women were expected to be little more than decorative and reproductive, Teddy also gave Edith scope to fulfil her dream of writing. Her best-selling, critically acclaimed 1905 novel The House of Mirth transformed her into a literary star. And it was perhaps around this time that she started planning to make Paris a more permanent base, because for her, Paris was the city of liberation, where intellectuals, and intellectual women, were taken seriously — while also being a place that soothed her aesthetic spirits and yearning for beauty. She was a Jones, after all.
'Je l'ai dans le sang!' Edith wrote in a letter at the end of 1907, the year when her new French life began. Translation: I have Paris in my blood. Edith lived here until 1920, when she moved from a too-rapidly-modernising city to an elegant eighteenth-century pavilion just north of Paris.
During her Paris years, Edith belonged, for this relatively brief moment in time, to a glitterati that was slowly-but-surely losing its sparkle as the Belle Époque faded out. But while much of Edith's Paris seems agonisingly lost to history — and there are frustratingly few photos of her glamorous existence — it's still possible to find traces of her Paris life …
Faubourg Saint-Germain
Edith had sensed an affinity with this historic district — the eastern part of the seventh arrondissement — back in 1893, when her friend, French poet and novelist Paul Bourget, invited her and Teddy to stay in his apartment at 20 Rue Barbet-de-Jouy and introduced her to his neighbourhood's literary salons.
Edith must have felt rather at ease in the chichi district, it being densely packed with aristocratic townhouses and tightly bounded by unspoken codes of etiquette, and perhaps it was at this time that she started dreaming of making the Faubourg Saint-Germain her future home, somewhere she could revel in luxury as much as intellectual conversation.
In 1907, she and Teddy (along with six servants, a chef and chauffeur, and two dogs) temporarily moved into 58 Rue de Varenne, now an annex of the Prime Minister's office. A few years later, after some stays with her brothers on Place des États-Unis and in various hotels, the couple moved into the étage noble of a building just down the road from their first Parisian address (below). Edith lived the remainder of her Paris days here, at 53 Rue de Varenne, and a plaque attests to these 'rich years, crowded and happy years.'
Edith went to exhibitions and to the theatre, and loved to shop as much as the next Parisienne — she adored Au Bon Marché and her favourite dressmaker was on Place Vendôme — but she wasn't in Paris to party. She came here to nurture her art and her inner life. And though she remained somewhat of an outsider, as so many anthropologically minded authors are, she was famous and fluent and fascinating enough to be regularly invited to the neighbourhood salons. But at other times, she was content to curl up at home, admiring her interior decorating skills, or prop at her desk, writing away. One of the first works she wrote at 53 Rue de Varenne was Ethan Frome which, amazingly, was originally drafted in French.
Hôtel de Crillon
Before settling at her second Rue de Varenne address, and when the first apartment was unavailable for rent, the Crillon was Edith's hotel of choice.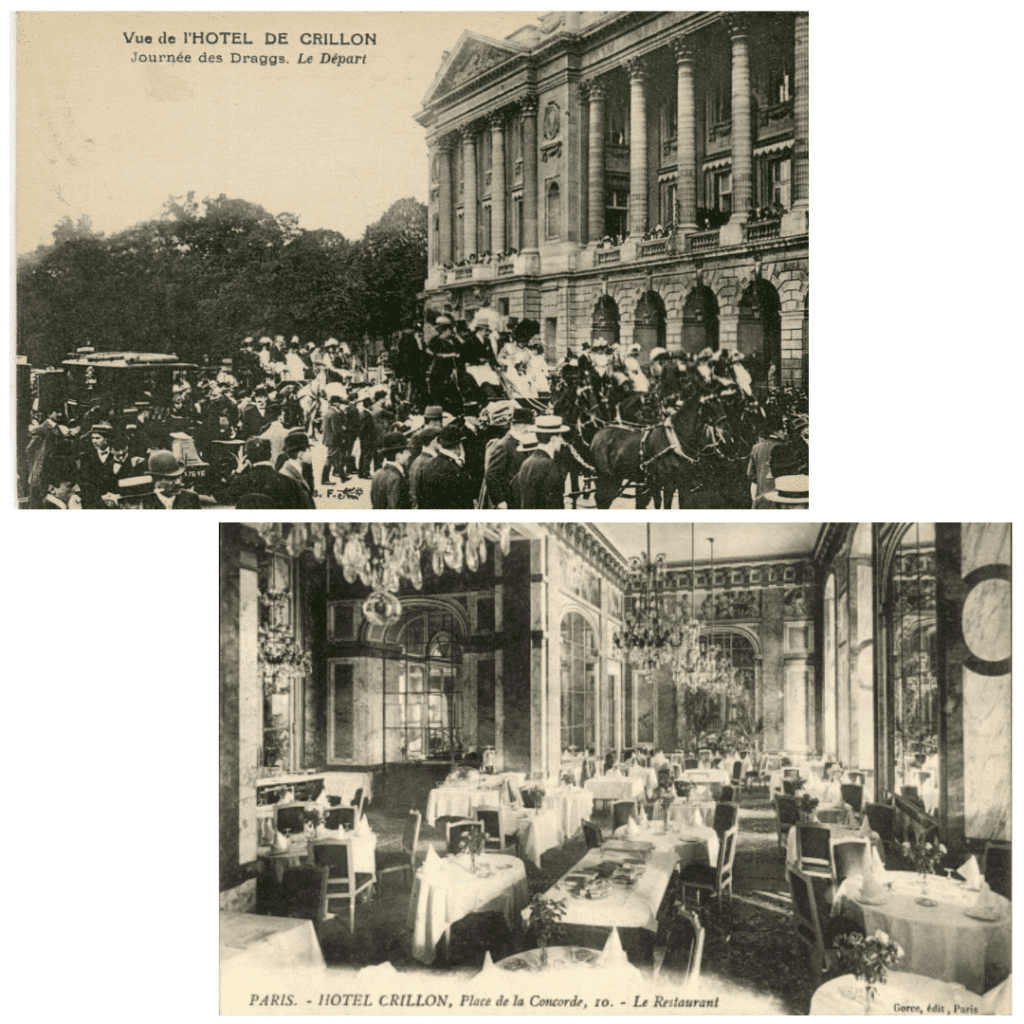 She despised the Ritz, which she thinly veiled as the 'Nouveau Luxe' in her 1909 novel The Custom of the Country, which tells the story of midwestern beauty, Undine Spragg, and her shameless quest to scale the social heights of New York and Paris. Edith drafted the novel at the Crillon, in a 'very nice apartment up in the sky, overlooking the whole of Paris.' For the author, the Crillon was much more discreetly cultured than the Ritz, which attracted more of a fast party crowd.
The recently renovated Crillon is much changed these days, though its stunning outlook remains as Edith would have once admired; it's thought that Edith's one-time apartment is now the sixth-floor, terrace-wrapped Suite Bernstein.
Left Bank to the Louvre
The Whartons' marriage was floundering even before their Parisian adventure truly began. Its end was hastened when Edith met the American journalist Morton Fullerton in 1907, in the salon of Countess Rosa de Fitz-James, at 142 Rue de Grenelle. The dark, suave, and mysterious Fullerton piqued more than Edith's intellectual interest, although their friendship didn't progress further until the following year. For the author, this mid-life affair was no less than an erotic awakening. The pair met for secret assignations in the countryside, dined in quiet Left Bank eateries, and went for long walks, meandering around the Luxembourg Garden or to the Arènes de Lutèce in the fifth arrondissement.
A favourite meeting spot was by the Fontaine de Diane in the Louvre, a fountain once owned by Diane de Poitiers that is tucked away in a room just off the Cour Marly, a quiet space that still seems ideal for a romantic rendez-vous.
Musée Rodin
Sculptor Auguste Rodin was a neighbour, if not a friend; he lived and worked at the Hôtel Biron, at 77 Rue de Varenne, when Edith resided nearby.
The beautiful mansion became the Musée Rodin in 1919, as Edith was preparing to leave Paris. It's not known if she ever visited the newly minted museum, but she did admire the artist's work. In her delightful collection of essays, French Ways and Their Meaning, also unveiled in 1919, Edith commended the broad Gallic definition of beauty: 'The artistic integrity of the French has led them to feel from the beginning that there is no difference in kind between the curve of a woman's hat-brim and the curve of a Rodin marble.'
It's not a stretch to walk through the museum's exquisite rooms, and imagine the ghost of Edith gushing over everything from The Kiss to the stunning sweep of a staircase (above).
Place Furstemberg
After the war — when Edith threw herself so passionately and effectively into charity work that the government would award her a Legion of Honour medal — Edith started to fall out of love with Paris. "Paris is simply awful,' she wrote in a letter. 'A kind of continuous earth-quake of motor-busses, trams, lorries, taxis & other howling & swooping & colliding engines, with hundreds & thousands of U.S. citizens rushing about in them."
One final Parisian act was to publish The Age of Innocence, one of her most beloved and emotionally powerful books. In the closing scene, New Yorker Newland Archer, now an elderly widower, decides against visiting his one-that-got-away, leaving Countess Oleska to her Parisian life. It was, in a way, Edith's own good-bye to a Parisian world fast fading.
In the 1993 movie adaptation of the 1920 novel, this scene takes place not in the horse chestnut-shaded square near the Place des Invalides that Edith seems to have conjured up for her book, but on the quaint Place Furstemberg, with its paulownia trees, five-globed lamppost and unassuming old-stables entrance to Musée Delacroix. Stand here and you'll almost expect a carriage to come clattering by. It's one of those Parisian spots that seem a portal into a prettier past, one you can well imagine Edith would have adored.