So you've packed your 'Summer in Paris' wardrobe (#priorities). Now it's time to style yourself an itinerary that will make the most of every fabulous minute. Read on for your inspiration …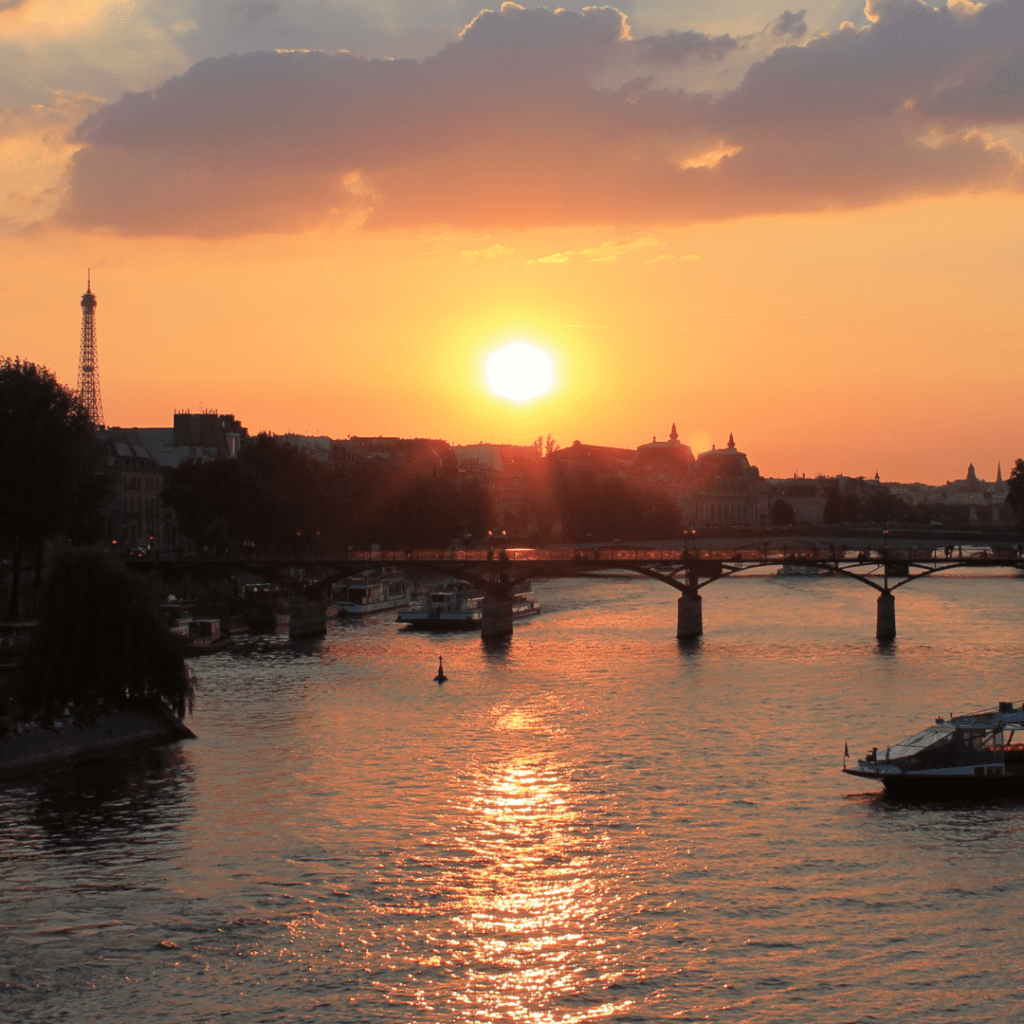 KEY DATES
3rd June: Nuit Blanche
This all-night celebration of art, which used to take place on the first Saturday of October, is now the kickstarter for a summer of Parisian fun. This year's 'White Night' sees streets and monuments come vibrantly alive with over 200 art projects and performances. Find the programme here.
21st June: Fête de la Musique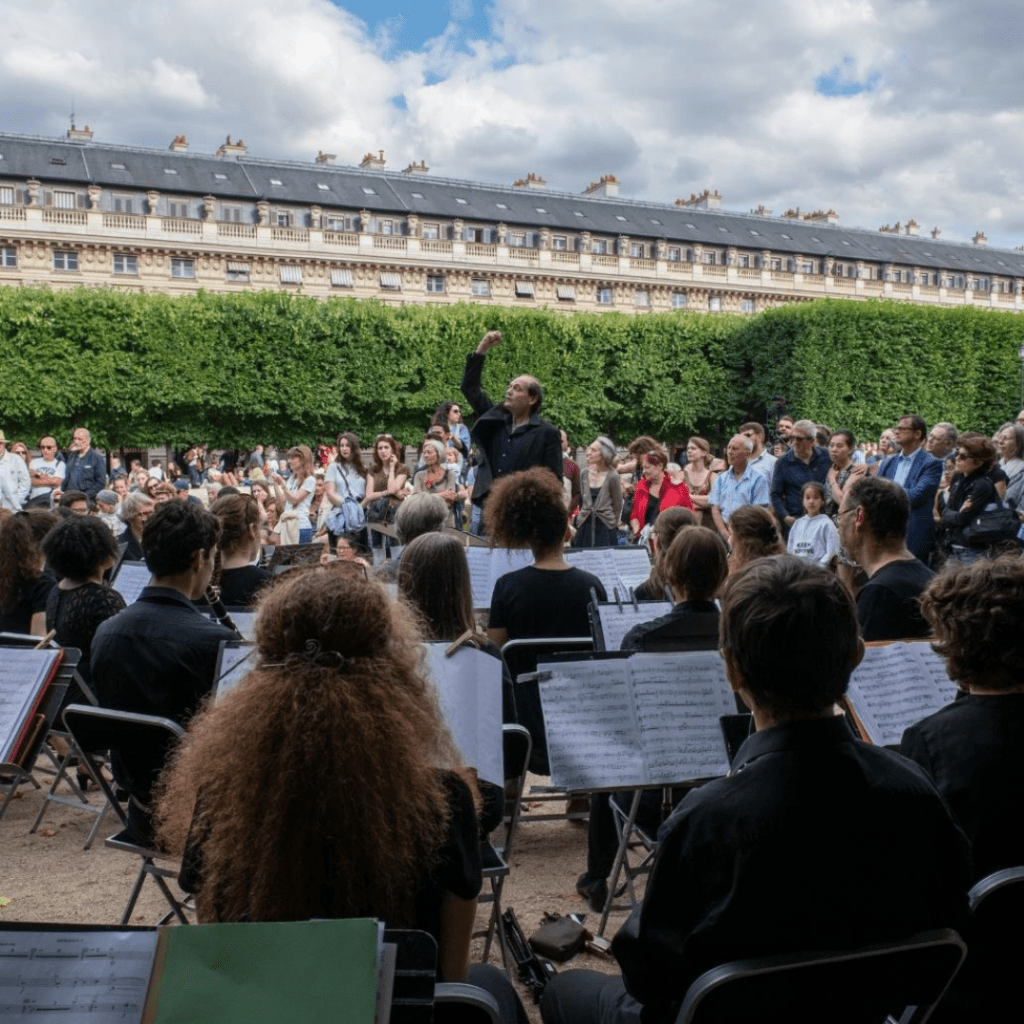 For the past 38 years, Paris has partied the night of summer solstice away with a jubilant carnival of song and dance, with musicians, bands and singers of all genres, from professional to amateur, taking over the city's streets, squares and parks, and serenading a joyful crowd. It's one of the most feel-good times of the year. If you're lucky enough to be in town, here's the programme.
28th June: Les Soldes d'Été
The summer sales are officially on! Get in early for the best bargains, although department stores and boutiques continue to offer greatly reduced items through to 25th July.
13th July: Bal des Pompiers
Quatorze Juillet celebrations start early for some, with the Bastille Day Eve series of Fireman's Balls, which take place in fire stations around town from about 9pm, through to dawn. (Some stations move their parties to larger premises nearby; for instance, the Bal des Pompiers of the fifth arrondissement is usually spectacularly set within the Arènes de Lutèce, the remnants of the city's Roman amphitheatre.) The balls are open to the public, but just be aware that there might be a queue, and perhaps an entry fee of a couple of euros. Once inside, expect a guinguette-style celebration of drinking and dancing. And the main attraction, of course: meeting members of the city's revered fire brigade.
14th July: La Fête Nationale
Bastille Day officially begins with an awesome military parade along the Champs-Élysées. Proceedings set off at 10am, but if you can't get to the avenue early enough to secure a good vantage point, make sure to be somewhere nearby at 10:45am, when the famous Patrouille de France flies overhead, trailing its stunning tricolour of blue, white and red smoke. (The Arc de Triomphe du Carroussel is a perfect location for this.) Once formalities are over, you can relax, along with the city. Bastille Day, as much as it symbolises the gory beginnings of the French Revolution, also represents the start of the French summer holiday, and as such, there's a lovely, light-hearted mood to Paris on this day. Many museums and shops will be closed, but it's an ideal day for wandering about, for picnicking by the river or in parks, or for sitting en terrasse watching the world go by. In the evening, the Eiffel Tower fireworks show dazzles from 11pm, while some fire stations back up for a second night of revelry.
25th August: La Libération de Paris
This year marks the 79th anniversary of the Liberation of Paris from Nazi occupation. Various celebrations take place around town, but if you're after a deeper way to commemorate the date, visit the Musée de la Libération de Paris, which importantly showcases the devastation wrought by the occupation.
FESTIVALS
18th June- 14th July: Festival Chopin à Bagatelle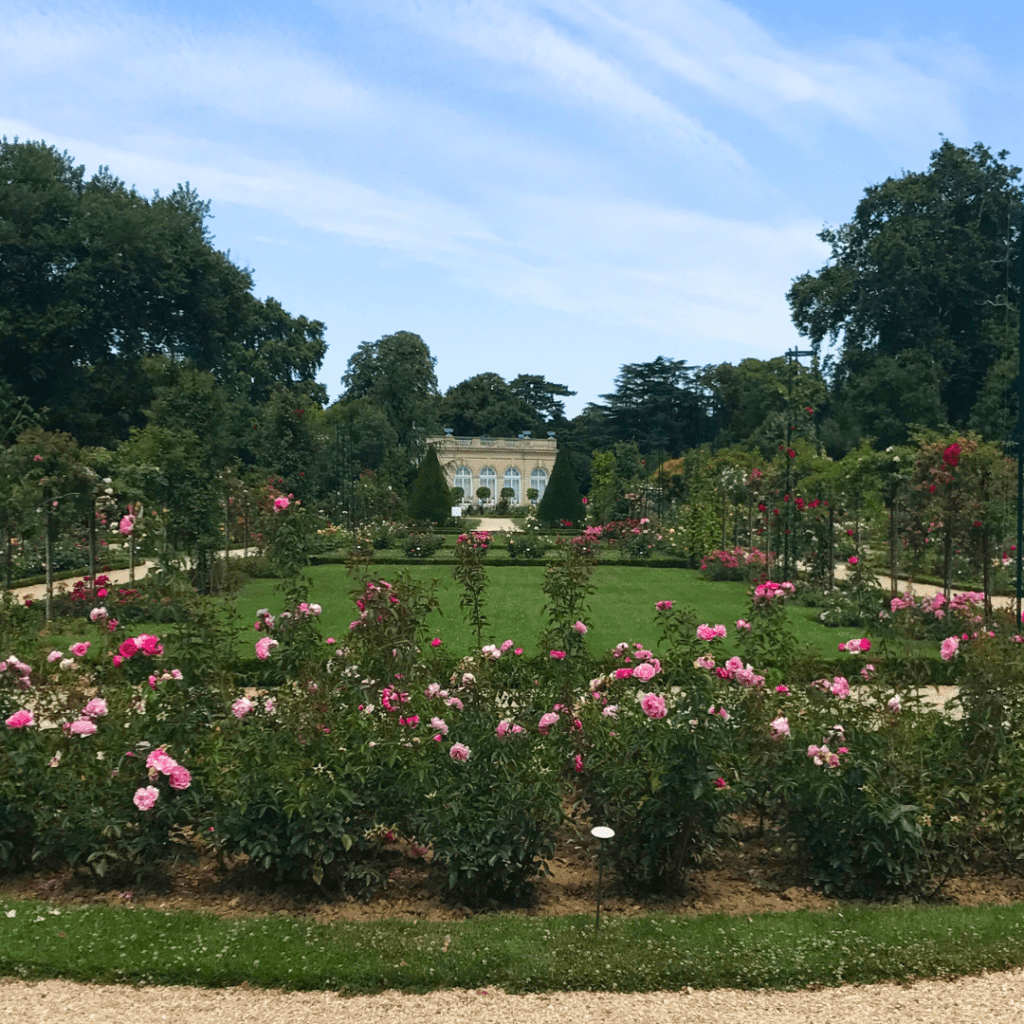 There could surely not be a more exquisite, soul-stirring way to enjoy Chopin than in the elegant orangerie of the beautiful Parc de Bagatelle. Click here for the Festival Chopin programme. To enhance the sensorial experience, linger in the park for a while, wandering about the trellis-lined pathways of the parterre rose garden, which is in fragrant and colourful bloom every June, when it hosts the Concours International de Roses Nouvelles.
25th June-28th August: La Fête des Tuileries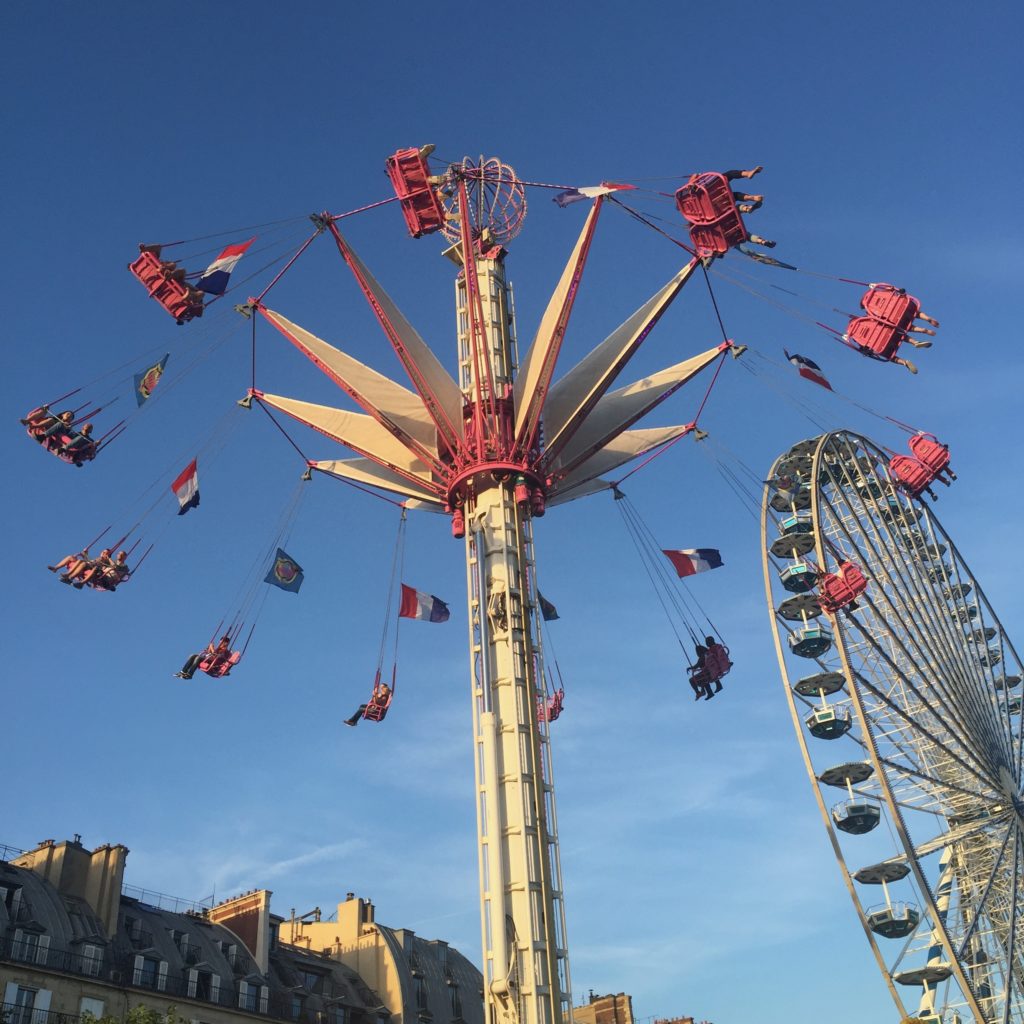 This annual summer funfair of bumper cars, tin can alleys and ghost trains is beloved by children, of course, but all kids-at-heart will adore the rides that offer the thrill of spectacular city views. Expect all the carnival food you secretly crave: fairy floss, toffee apples, and doughnuts, to name a few. The funfair is open from late morning to late evening.
9th July-21st August: Paris Plages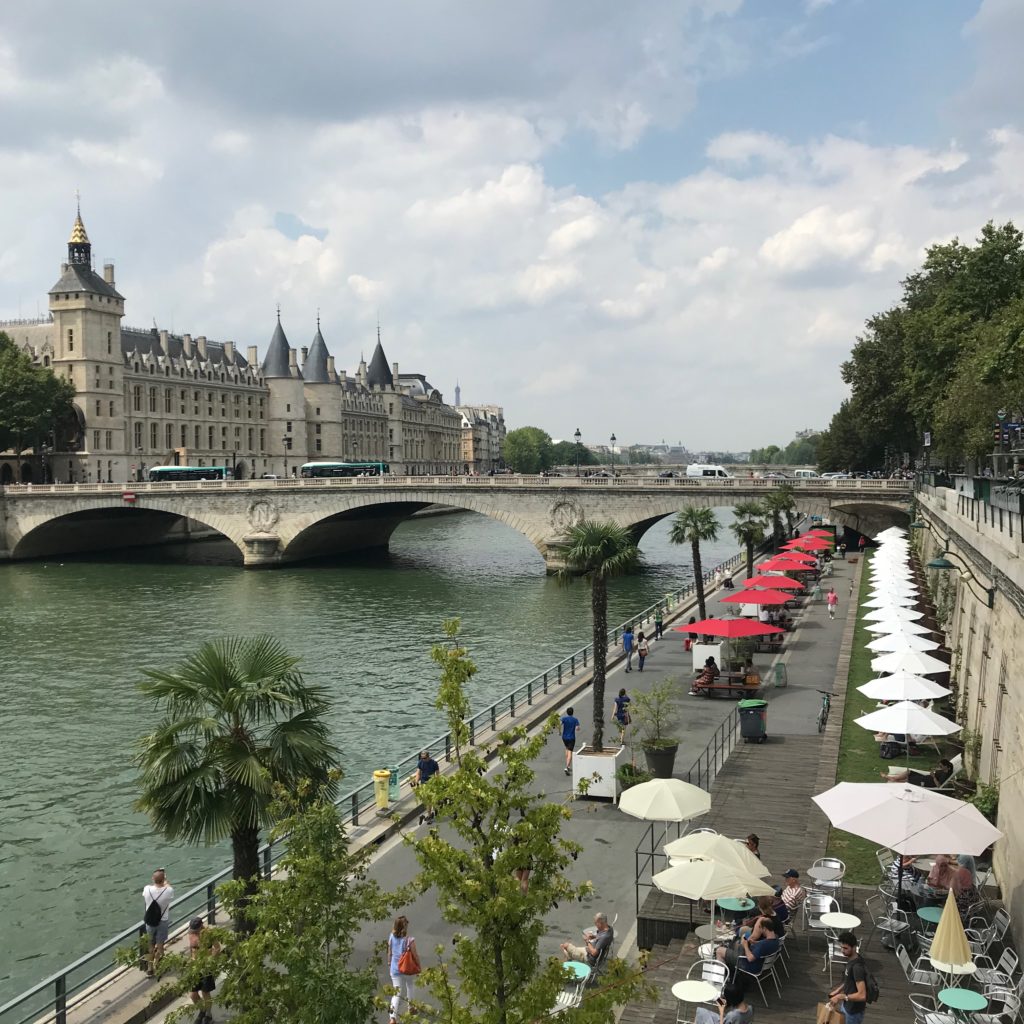 For those who can't leave the city in the height of summer, several locations around Paris transform into Mediterranean resorts, complete with sand, deck chairs, parasols and palm trees, and a variety of leisure activities and food and drink offerings. The riverside strip opposite Île Saint-Louis, on the Right Bank, is a key location. Get in early for prime position, but be aware that you can't swim in the Seine (yet — authorities are working hard to make the river bathing-friendly by the Olympics, after which they plan to install river pools for the public). For more on Paris Plages, click here.
EXHIBITIONS
Paris's museums can verge on the overwhelming in summer, when crowds are at full capacity, so it's a perfect time to visit the city's smaller galleries, such as the artist atelier museums. Nevertheless, some of the season's blockbuster exhibitions are worth the effort and the throngs — just make sure to pre-purchase your tickets online to streamline entry time.
Sarah Bernhardt: and the Woman Created the Star
A lavish tribute to one of history's most fascinating Parisiennes, this exhibition features depictions of the celebrated actress by her famous friends (including Alphonse Mucha) as well as sculptures created by la grande dame herself.
Until 27th August, at the Petit Palais; buy tickets here.
Manet/Degas
This dual exhibition showcases the two painters' works during the early years of Impressionism, and the clever side-by-side execution demonstrates how their art both converged and diverged, and how it was influenced by the men's friendship and rivalry as they worked to develop and define modern painting.
Until 23rd July, at Musée d'Orsay; buy tickets here.
Basquiat x Warhol: Painting Four Hands
In the mid-1980s, Andy Warhol and Jean-Michel Basquiat created over 150 works together, many of which feature in this fabulous exhibition, along with other artwork that brings to life the energy of that era's New York downtown art scene.
Until 28th August, at Fondation Louis Vuitton; buy tickets here.
LIGHT SHOWS
16th July-7th September: La Nuit aux Invalides
For its annual summer sound & light show, the Invalides this year celebrates France's iconic emperor, with Napoleon: the Flight of the Eagle. It's a 50-minute immersive experience within a stunningly historic setting. For more information, pop over here.
10th June-23rd September (every Saturday night): Versailles Night Fountains Shows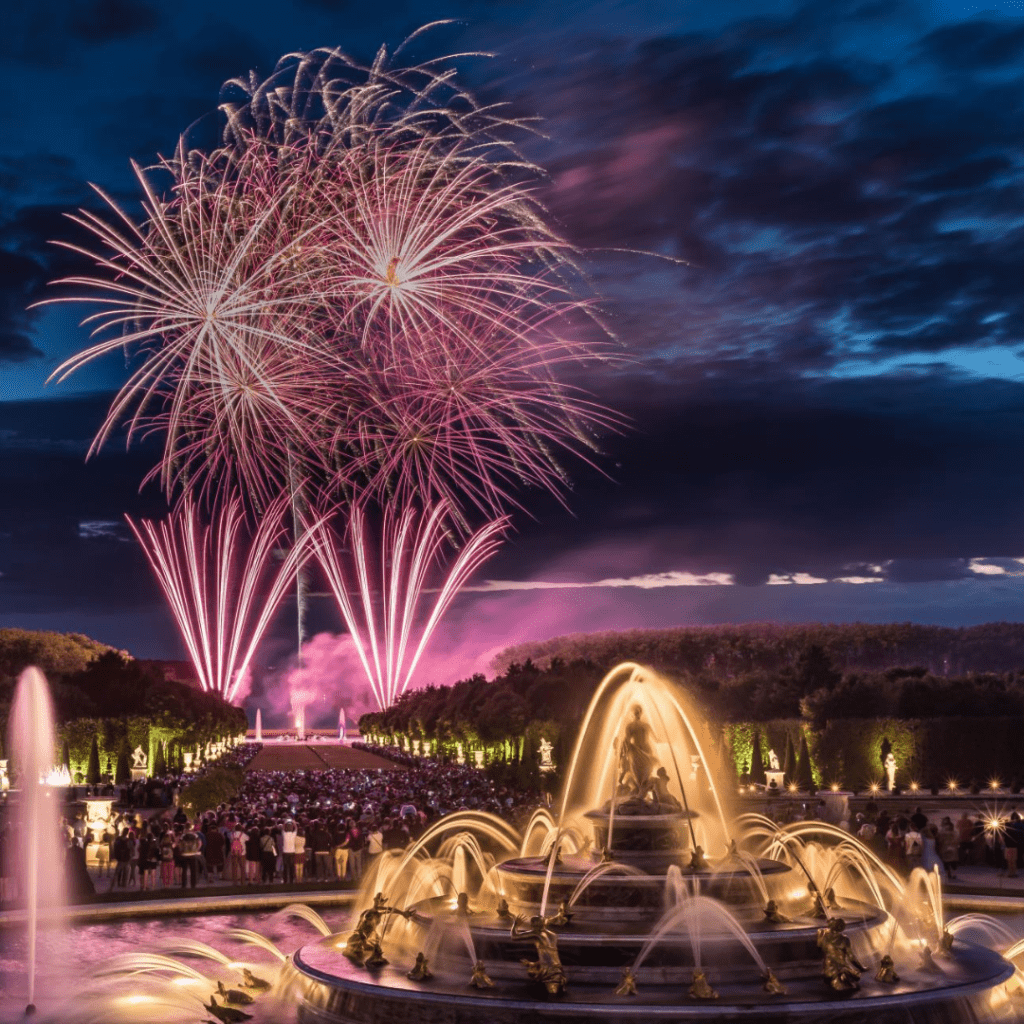 Like a fairytale party come true, the Palace of Versailles' gardens and groves light up with stunning colours and effects, while the fountains synchronise to beautiful baroque music, just as they did back in the Sun King's day. It all ends with a glorious fireworks display. Read more about the event, and buy tickets here.
20th May-30th September (every Saturday night): Château de Vaux-le-Vicomte Candlelight Evenings
The sumptuous Vaux-le-Victomte was the château that inspired the Sun King's grandiose makeover of Versailles, so any lover of all things French and fabulous should have a visit here on the bucket list, especially on a summer evening, when you can see the exquisite gardens and château in a whole new light — specifically, in the light of 2,000 shimmering candles. For more information and for tickets, click here.
DINING & DRINKING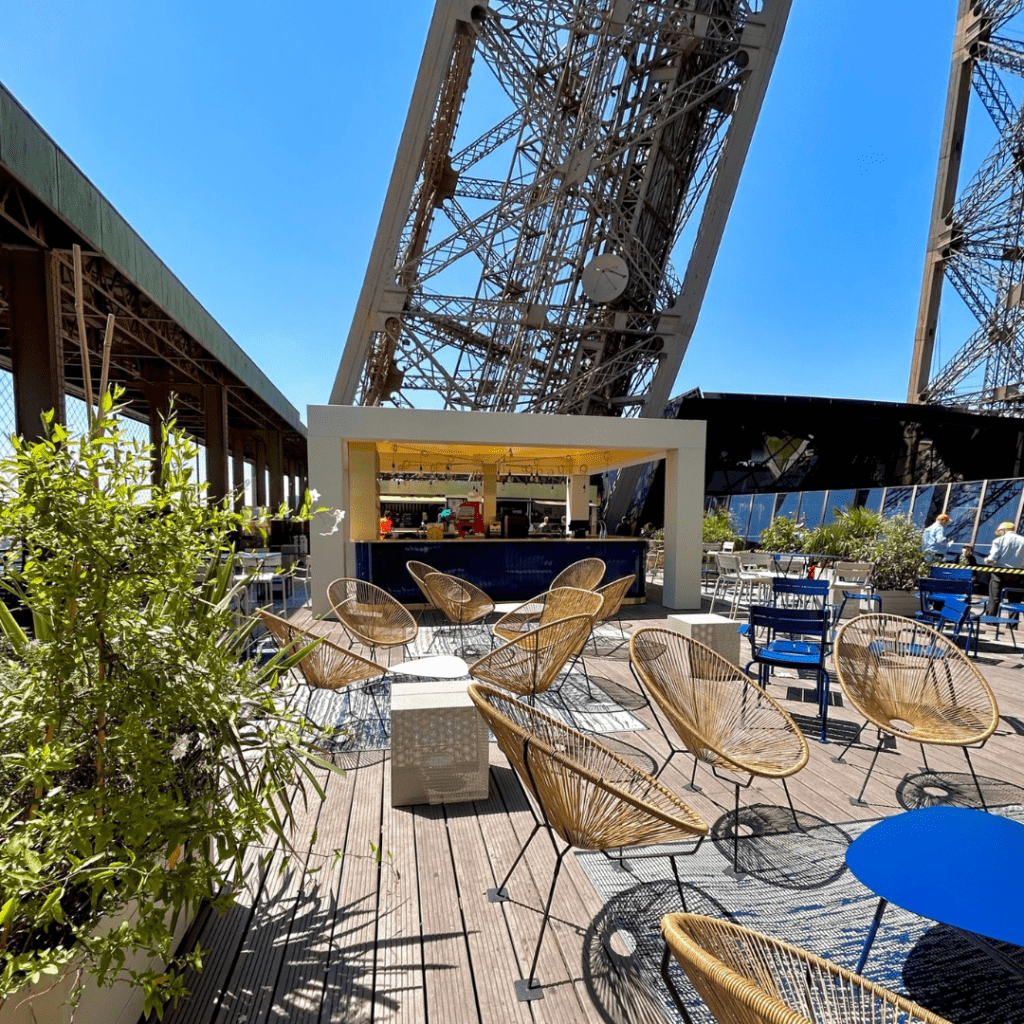 There's a smorgasbord of delightful options when it comes Paris summertime sipping and snacking. You can retreat to a prettily shaded terrace or courtyard garden café. Rooftop bars and restaurants bask in the sunshine as much as the stunning views; see this list for some ideas (just note that Le Perchoir Marais is closed this year). Or there are river barges that double as inspired drinking and dining spots, such as Sena and Péniche Le Marconet, which overlook the northern edge of Île Saint-Louis, and Mademoiselle Mouche, just across from the Eiffel Tower. Speaking of the Iron Lady, her first floor will feature a terrace bar this summer (photo above) — purchase a stair-climb ticket and you'll be able to justify an extra drink and plate!