This springtime sees the reblooming of some of Paris's sweetest terraces, as well as garden cafés and restaurants within the city's most scenic museums. The following eateries are feasts for all the senses; go for the delicious food, stay for the soul-satisfying settings.
Place Dauphine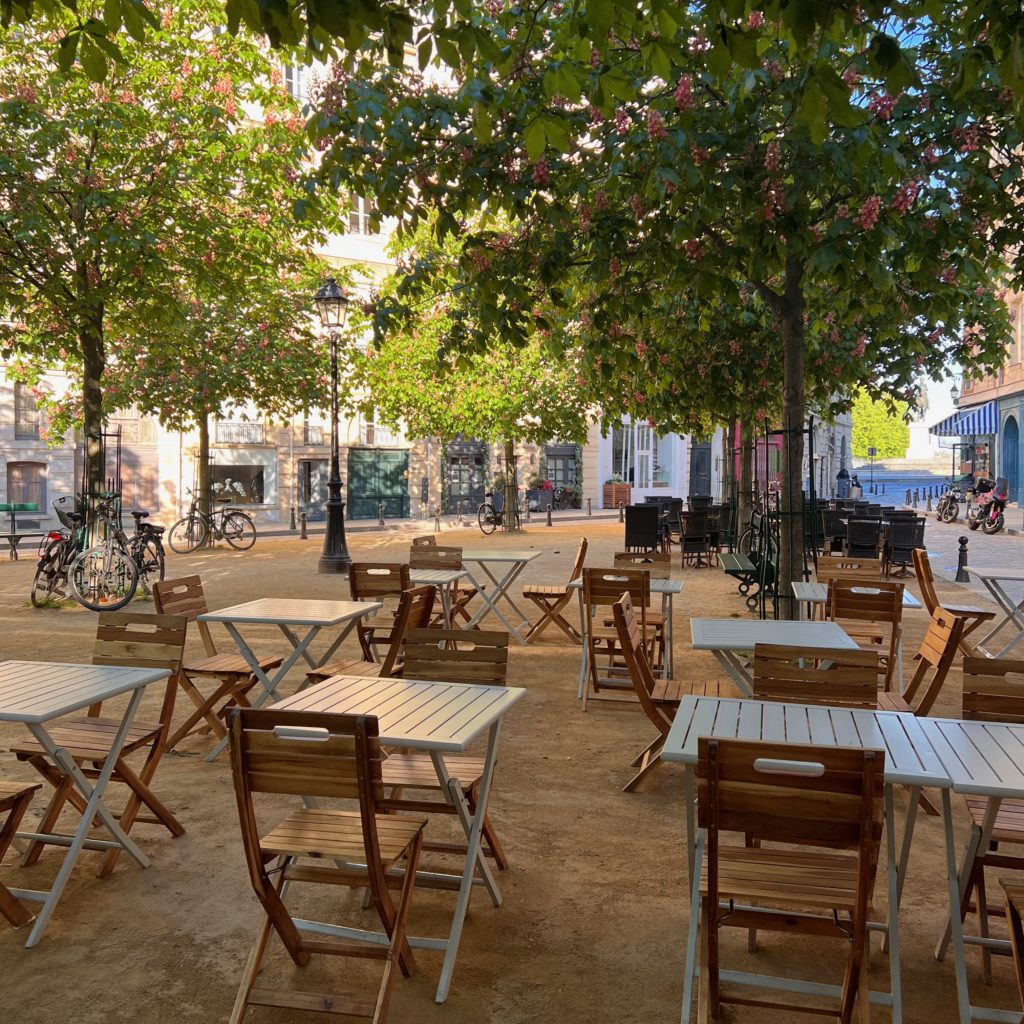 Several restaurants on this gorgeous Parisian square extend their terraces out to under the horse chestnut trees, which double as a natural canopy, during the warmer months. Every day feels like Sunday in this quiet, calm nook, where you can easily while away the hours, admiring the picturesque façades, sipping rosé, and watching locals play pétanque.
To find Place Dauphine, walk to the midpoint of Pont Neuf, and turn eastwards.
La Terrasse de Madame
Also shaded by a grove of horse chestnut trees is the lovely La Terrasse de Madame, which is just another reason to linger longer in the delightful Jardin du Luxembourg. Its crowd-pleasing menu consists of French classics, with good options for kids and vegetarians, too.
Find La Terrasse de Madame in the south-east corner of the Jardin du Luxembourg,
La Closerie des Lilas
If you're after a refreshing yet stylish retreat on a sunny day, indulge in oysters and rosé while you nestle within this extravagant garden terrace, which blooms with seasonal flowers, such as signature lilacs or camellias. If the weather turns, head inside to the glamorous cocktail bar, which remains as luxe as it was when Ernest Hemingway used to write (and, of course, drink) here in the mid-twenties.
La Closerie des Lilas, 171 Boulevard du Montparnasse, 75006.
La Brasserie de l'Isle Saint-Louis
Situated by the bridge that links the city's two islands, this leafy restaurant terrace is perfectly positioned for people-watching and jazz appreciation (if you're lucky, a band will be playing on the aforementioned bridge). With its cheery red rattan chairs and traditional table settings, this old-school brasserie — don't miss a trip into the 1930s interior — serves up homemade food that is suitably, classically Gallic.
La Brasserie de l'Isle Saint-Louis, 55 Quai de Bourbon, 75004.
Restaurant Palais Royal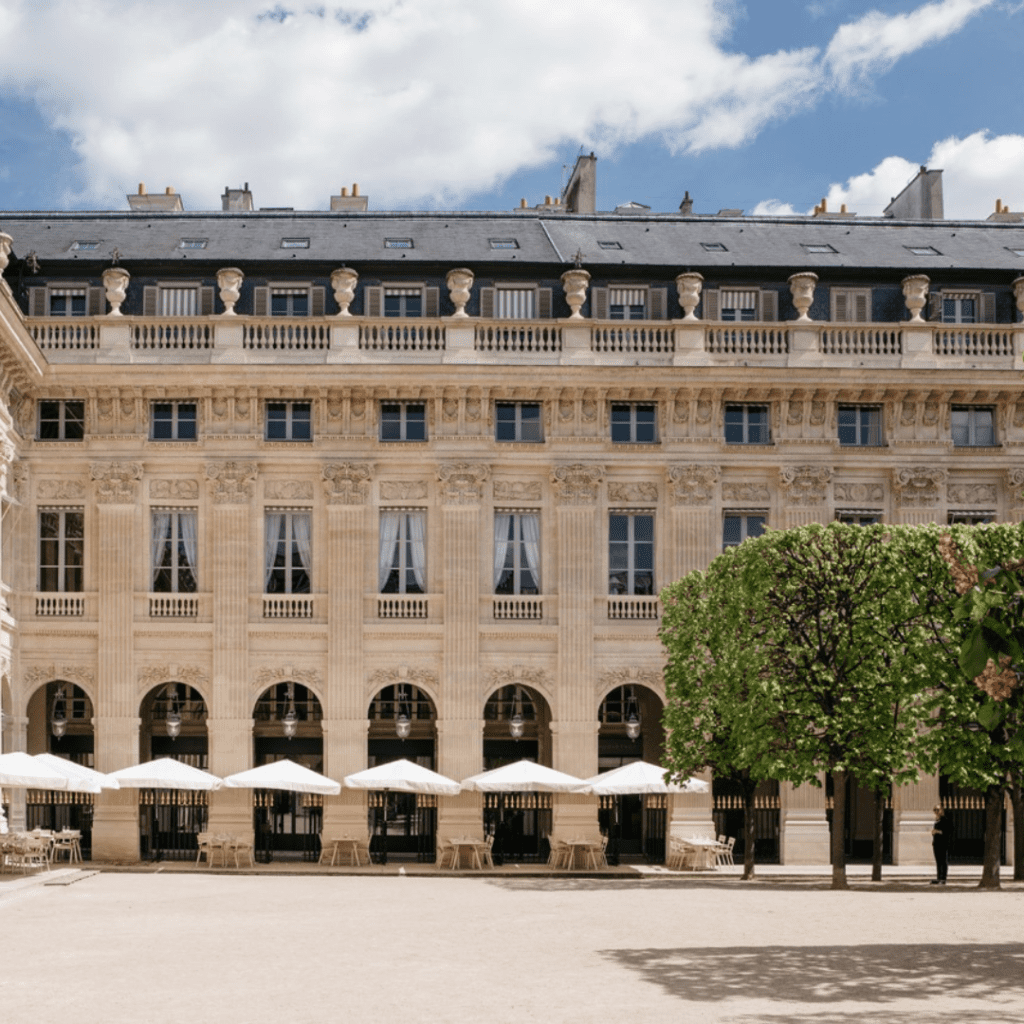 If you want to take your terrace dining to the next level (or even the one above that), this two-Michelin-star restaurant offers food (French with a zesty Mediterranean twist) as sublime as its setting. Make sure to book a terrace table so that you can gaze through the line-up of linden trees to admire the magnolias and horse chestnuts within the midst of what is surely Paris's most elegant garden.
Restaurant Palais Royal, 100 Galerie de Valois, 75001.
Fabula, Musee Carnavalet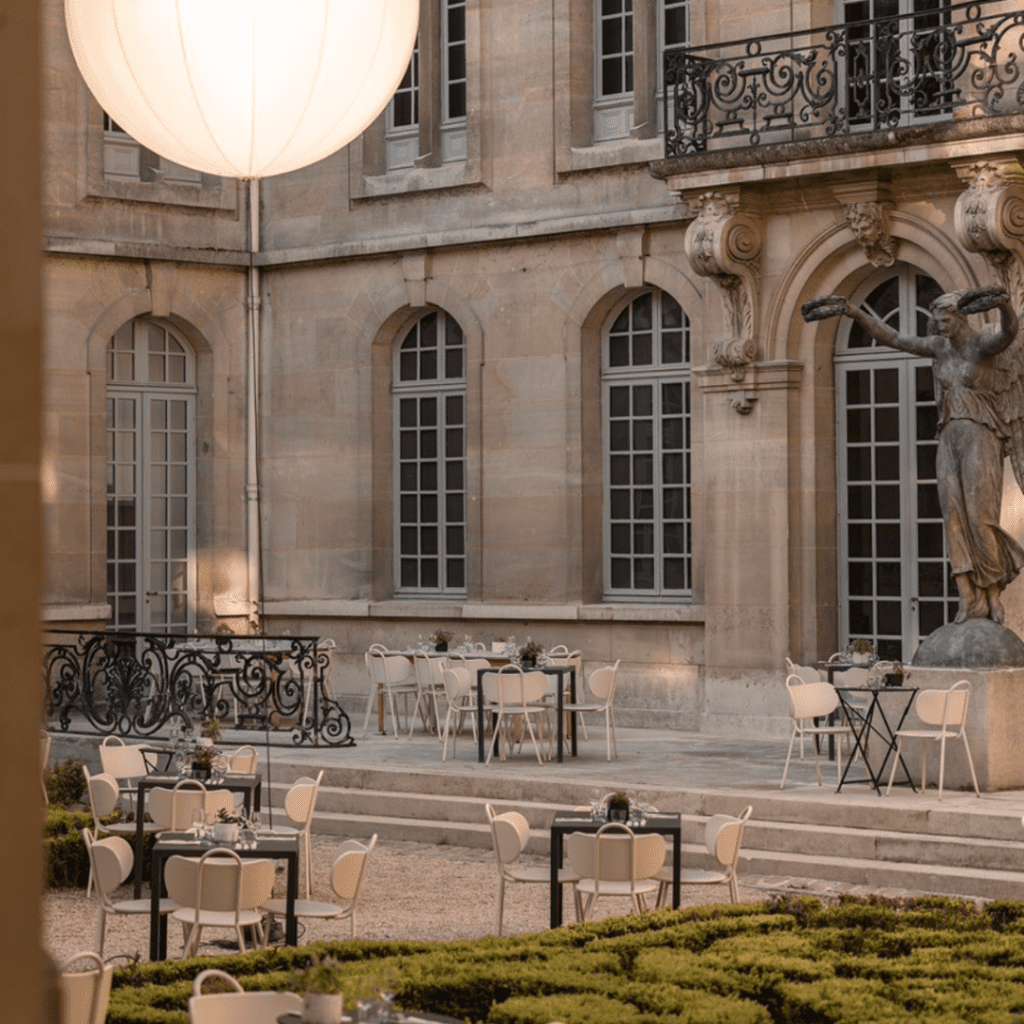 Fabula has launched for its second spring/summer season, within the inner courtyard of the Musée Carnavalet. Inspired by this graceful jardin à la française, the menu is an ode to fresh ingredients, celebrating clashes of flavour and colour, with a generous array of vegetarian options. The cocktails also boast inspired botanical themes. Snacks are on offer during museum opening hours; dinner is served Tuesday to Sunday, from 7:30pm.
Fabula, 23 Rue de Sévigné, 75003; entry is free.
Les Petites Mains, Palais Galliera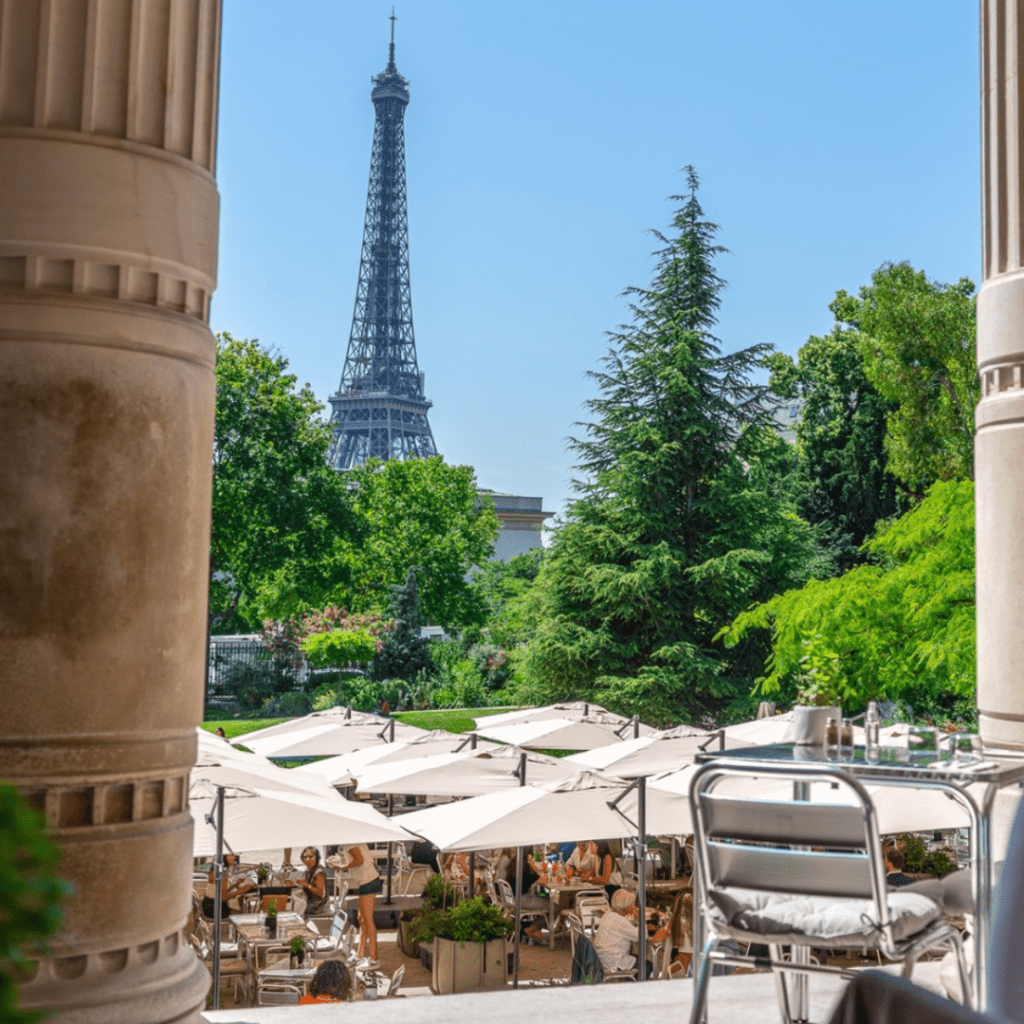 This beloved pop-up is also returning for spring/summer 2023, again situated in the glamorous colonnade and garden of Paris's fashion museum, with the Eiffel Tower decorating the vista. Suitably for a restaurant by a museum that's dedicated to an ever-evolving art, the menu changes weekly, inspired by the latest market offerings. (And if you go on a Wednesday or Saturday, you'll also be able to do some market shopping of your own, at the adjacent Marché Président Wilson.) Also appropriate for a fashion museum restaurant: the meals — with their focus on vibrant, healthy ingredients — are presented so exquisitely they deserve to be social media stars. Lunch is on Tuesday to Sunday from midday; follow Fabula's Instagram for its forthcoming dinner announcement.
10 Avenue Pierre 1er de Serbie, 75116; entry is free.
Rose Bakery, Musée de la Vie Romantique
This glasshouse salon de thé — within the garden of the gorgeous museum dedicated to George Sand and Romanticism — is open all year round, but it's especially wonderful to sit on the outdoor antique tables when the roses are in bloom. The food is light (think quiche and salad), and particularly well suited to afternoon tea (you'll find it hard to choose between the cakes, scones and cookies).
Rose Bakery, 16 Rue Chaptal, 75009; entry is free.
Le Jardin du Petit Palais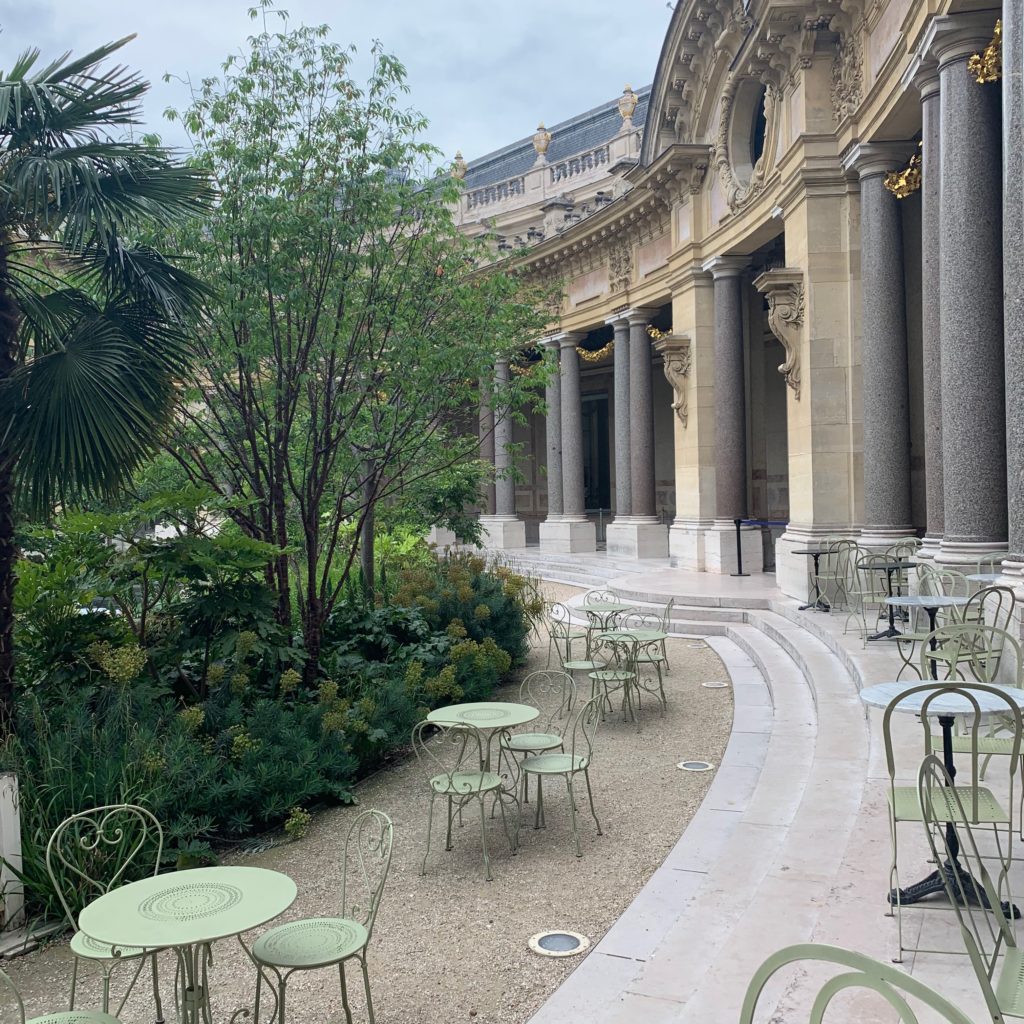 Another oasis of an eatery within a treat of a museum, the Petit Palais' courtyard-garden restaurant revives the spirits with its cool, calming backdrop (a mix of exotic plants edging tranquil ponds) and simple but satisfying meals (such as croques, salads, quiches and pastas).
Le Jardin du Petit Palais, Avenue Winston Churchill, 75008; entry is free.
Le Café Renoir, Musée de Montmartre
If you find yourself in Montmartre, and overwhelmed by the burgeoning crowds, take yourself at once to the Musée de Montmartre — it's one of the city's most alluring, and illuminating, museums yet it's usually surprisingly quiet. So named because Renoir once painted in these gardens, the café has a menu of light meals (salads and sandwiches) and snacks, which you can enjoy either in the dainty glasshouse, or seated al fresco on the vintage garden settings.
Le Café Renoir, 12 Rue Cortot, 75018; entry is €5, but free if you purchase a ticket to the museum.