Ahhh Paris in summer … it doesn't quite have the same ring to it as Paris in the springtime, sure, but as the song I Love Paris goes, there is still something magical about the City of Light in the summer when it sizzles …
Parisian days are deliciously long in summer, stretching out to 10pm, with a syrupy sunlight that melts over your skin, and sets everything aglow. It's the time for picnics of sweet berries, gooey cheese and crisp rosé, savoured by the Seine during summer's extended golden hour.
Summer is when Parisiennes have a little more fun with their look, and let their hair down — or, se laisser aller, to let oneself go, loosening and lightening up a wardrobe, too. Some staples remain just that — think all-season classics like a neat black or navy blazer, a stripy top and denim jeans. But these are paired with pieces that pop with colour, flirt with pretty prints, and flash some extra skin. Many Parisians look as though they're dressing for the coastal holiday they're about to have — or that they've just come back from.
The weather in Paris during summer is mostly mild, with daily temperatures averaging between 15°C (59°F) and 25°C (77°F). You should, however, prepare for la canicule — a heatwave that renders Paris sweltering, when you might opt for slow and leisurely days in parks or by the river.
It's une bonne idée to have a water bottle on you; regularly refill at one of the city's many Wallace Fountains, which run with cool, fresh drinking water throughout summer.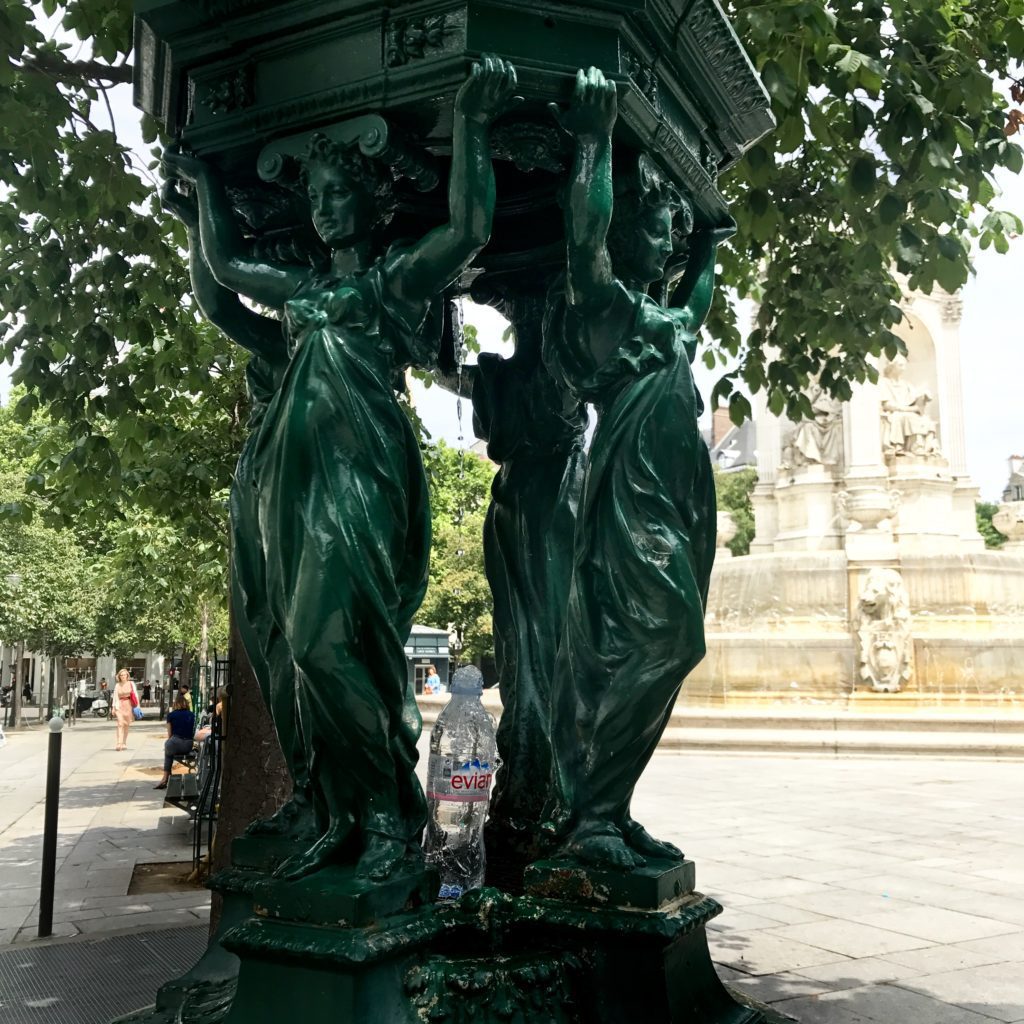 But speaking of water … summer in Paris also sees its fair share of rain. So also pop a fold-up umbrella in your bag. Muggy storms are a real possibility, or the occasional bout of rainfall. Which is pas de problème in Paris, of course, where there's always a nearby museum or café in which to take shelter.
The upshot: you want a wardrobe that is pretty with a dash of practical. Read on for more inspiration …
'Paris in Summer' Wardrobe Ideas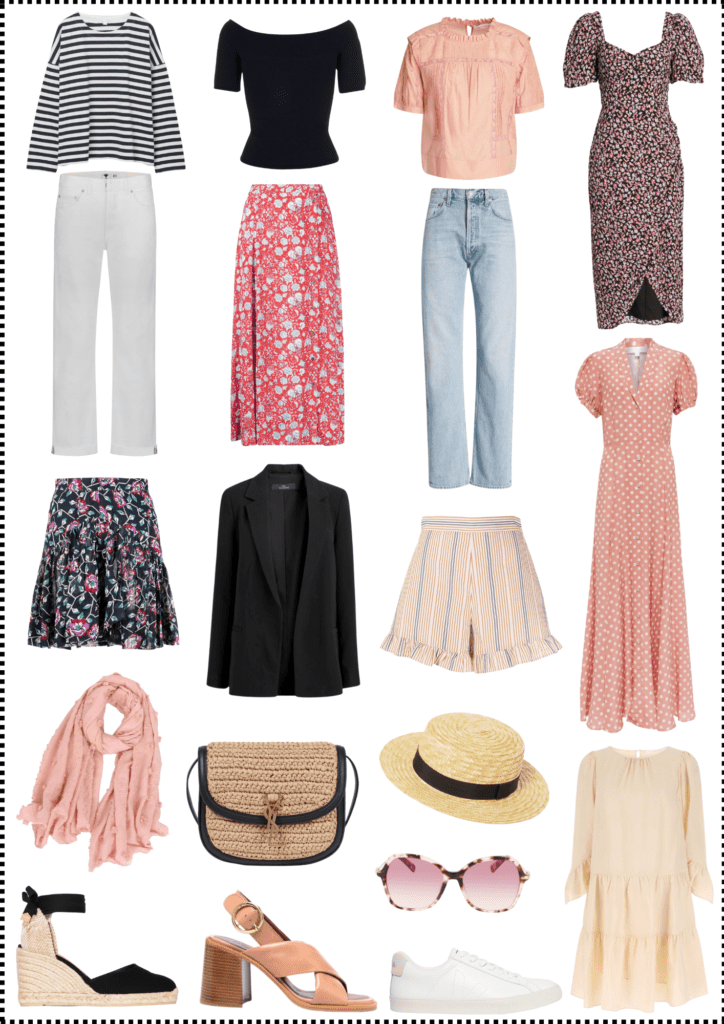 Some sundresses. Think pretty, flirty prints, such as floral and polka dot, and perhaps one brighter version for day, and one with a darker base that can move seamlessly into evening mode. And also pack a breezy linen frock in a tone of cream or white, which will strike the perfect sartorial balance on stuffy, stifling days.
Skirts & shorts. Light but tailored shorts and floaty skirts of varying lengths and detailing (a ruffle here, a split there) also suit summertime Paris. Pair them with …
A few tops. Such as a dainty blouse, a ballet-style t-shirt and the classic striped marinière. Speaking of staples …
Jeans. Pack a couple of pairs of denims, one white, one pale blue. And that other essential:
A black or navy blazer. Because evenings can be brisk, and because a tailored blazer instantly converts any daytime look to nighttime chic.
Several styles of shoe. A heeled sandal is another wardrobe essential that works from jour to soir. For a more casual touch, slip into some espadrilles. But if you plan to walk for much of the day, stick white sneakers, which work in Paris no matter the season.
Accessories. Scarves are also as essential here in summer as in cooler months, especially as they're a chic suncare strategy, protecting delicate décolletages; of course, you can go lighter in texture and brighter in colour. The other ways to protect yourself from UV rays: with a large-brimmed hat, like a boater, and an oversized pair of sunglasses. Of course, a high-factor SPF cream is the ultimate suncare must-do. Pop one in your bag — ideally a raffia cross-body or basket tote — along with your water bottle and umbrella. And you're all set for a perfect Parisian summer's day.