Those who are only just beginning their journey of discovering the delights of Paris might originally dream about visiting in spring, when the city is at its prettiest, its muted canvas a backdrop for pink pops of cherry blossom and lilac daubs of wisteria; or fantasise about being in Paris in summer, when the sun stays high in the sky until late at night, illuminating champagne picnics by the Seine and tinting all below in golden loveliness.
But once you've been to Paris several times, and at varying times of the year, you know that there's a unique magic to Paris in autumn.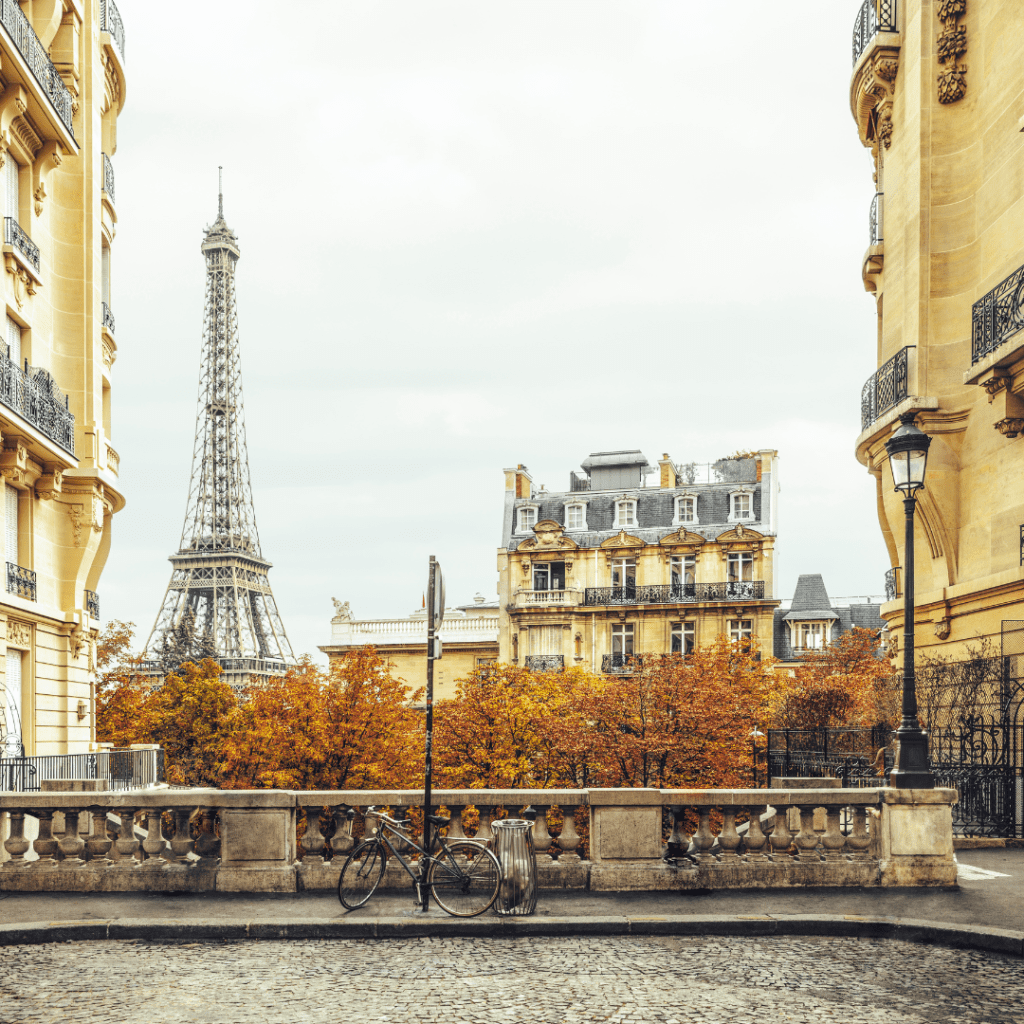 There's something about Paris in the fall that warms the heart. You'd think, at first, it would be the opposite, that this time of year would leave you a little cold. Because this is when the city is stripped of its spring and summer bells and whistles: the green leaves of its many gardens turning neutral before falling, the sunlight flattening and shortening.
But it's at this pared-back moment that Paris shows its true beauty, its classic elegance, and you well understand how this is a city whose appeal has endured for centuries.
The joy of Paris is arguably in its harmonious palette. Its limestone façades and slate rooftops and wrought-iron detailing — a blur of beige and greiges — are so easy on the eye. To see the city in this soft light is to exhale. It's a balm for the soul.
There's a cool calm to Paris which, in autumn, is only enhanced, as the climatic colours tone down to complement their surroundings: a greyer sky, browner parks, a darker Seine.
The days are shorter, of course; daylight savings finishes in late October, and by the end of November the sun will be setting by 17h. And these days are less sunny, too; the daily amount of sunshine can plummet from almost eight hours in September to half that in November.
Autumn doesn't just look moodier; the weather, too, is cooler. In September, the average temperature spans from a base of 11.8°C (53.2°F) to a high of 20.9°C (69.6°F); by November, that range is considerably lower, from 5.7°C (42.3°F) to 10.6°C (51.1°F).
For those not totally sold on the merits of Paris in the colder months, there's also this argument for the affirmative: a cooler Paris is simply more chic. It's a time of year — coinciding with la rentrée, the post-summer return to school and work — that sharpens the fashion instincts, that inspires you to dress up for the occasion, to layer in interesting ways, to dust off fun and glamorous wardrobe essentials like coats and knee-high boots and berets.
So, with that in mind, what should you pack if you're en route to Paris for the fall?
For starters, consider your overall palette. Bright shades can look a little gaudy against a cool Parisian backdrop; you can't go wrong if you take your lead from the city's colours. Again, think beiges and greiges.
But, for extra spice, warm it up a little with the changing colours of nature: the browns and golds of autumnal leaves. The French famously love to live by the rhythms of nature, and this can also apply to dressing as much as to eating. The markets, at this time, are awash in gorgeous autumnal shades that would work perfectly in clothing: pumpkin, squash, mushroom …
And don't forget rich browns, inspired by the luscious hot chocolate you will now be able drink in abundance (another positive about doing Paris in the cooler months). Or rich merlot, to which you'll switch from your light summer rosé.
Now you have your palette sorted, let's hone in on the details. Read on for more suitcase-packing inspiration …
'Paris in Autumn/Fall' Wardrobe Ideas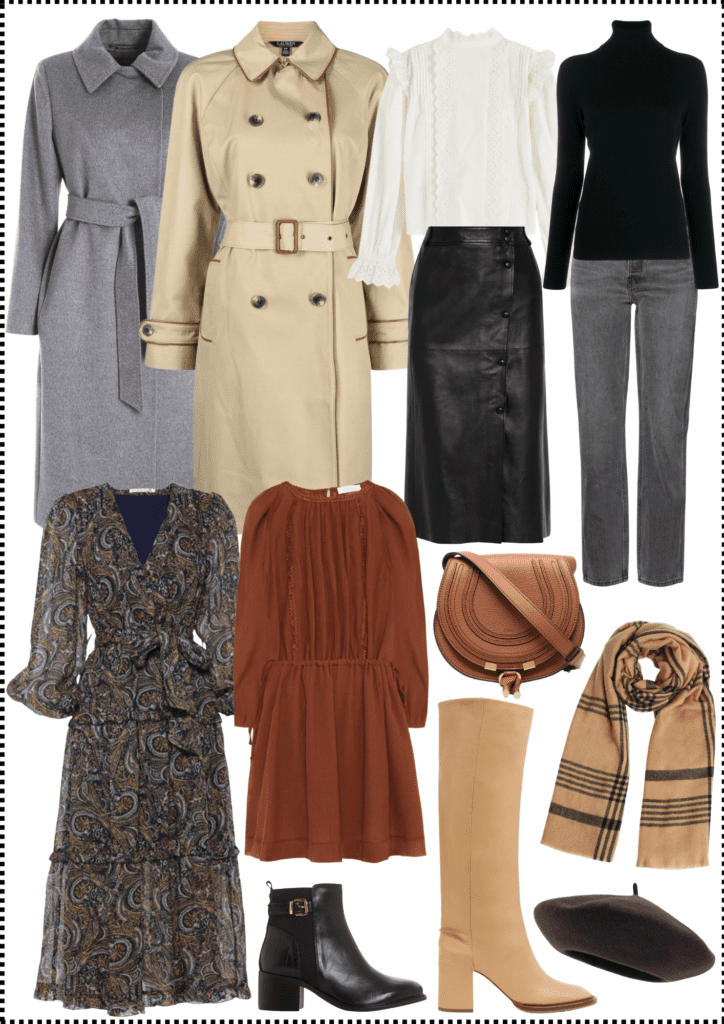 Coats. A trench is the ideal coverall for early autumn, or for milder days; a heavier, woollen belt-on or button-up perfect for late fall or for dressy evenings.
Dresses. Consider which of your dresses would layer up well. A wrap dress, say, looks great paired with a turtleneck, tights and boots (simply lose the sweater and add jewellery for an evening spin) . A shorter tunic-style dress might also look fab worn this way, but could also double as a breezy top over jeans. Speaking of which …
Jeans. Classic denim never goes out of style in Paris, but consider a faded grey hue instead of default blue to complement your capsule autumnal wardrobe.
Black skirt. A leather pencil style would be très à la Parisienne — but really, any black skirt will do the trick, if it can be dressed up as much as down.
Tops. As mentioned, a black turtleneck is a great base on which to layer. Just make sure it's not too heavy — you'll be going from cool outdoors to heated indoors, and so the key to adapting is lighter layers that can be added or subtracted as needed. If you're worried your sweater might be too light, have a cardigan on hand that can back it up. One other staple of Paris style is a white shirt … but consider a cream blouse as your fall version. Whereas a white button-through looks crisp and breezy in summer, a cream blouse with details such as lace trimming is a more full-bodied and substantial look in the cooler weather.
Boots. Throw in one pair of ankle boots, one knee-high. Just make sure the heels are low enough to lend themselves to long walks about town. Extra brownie points if they're water-proof.
Cross-body bag. It's the safest option and one that also leaves your arms free to swing on those said wanderings about town. Make sure it's large enough for your lipstick and phone … and maybe also a fold-up umbrella.
Scarf. For warmth, évidemment, but also for a swirl of Parisian chic. Take your application cues from locals — the French know how to swoosh on a scarf like no other nationality.
Beret. Because it's autumn in Paris and pourquoi pas live up to the cliché?! Clichés are usually so for good reason. And a beret worn just-so is always — like Paris — a very good idea.