Winter is a magical time of year in Paris. In December, the City of Light truly lives up to its name, as the glittering festive decorations and illuminations flicker into action, often lasting well into January.
With such a sparkling backdrop, you can't help but want to dress up to the opulence of it all. Neutral shades of black and camel remain Parisian perennials but look to add a jolt of colour (berry-reds look particularly great at this time of year, adding to the theme of festive cheer) or an interesting print (think tweed, plaid, or winter floral). And make sure, of course, to have at least one glamorous evening dress on hand.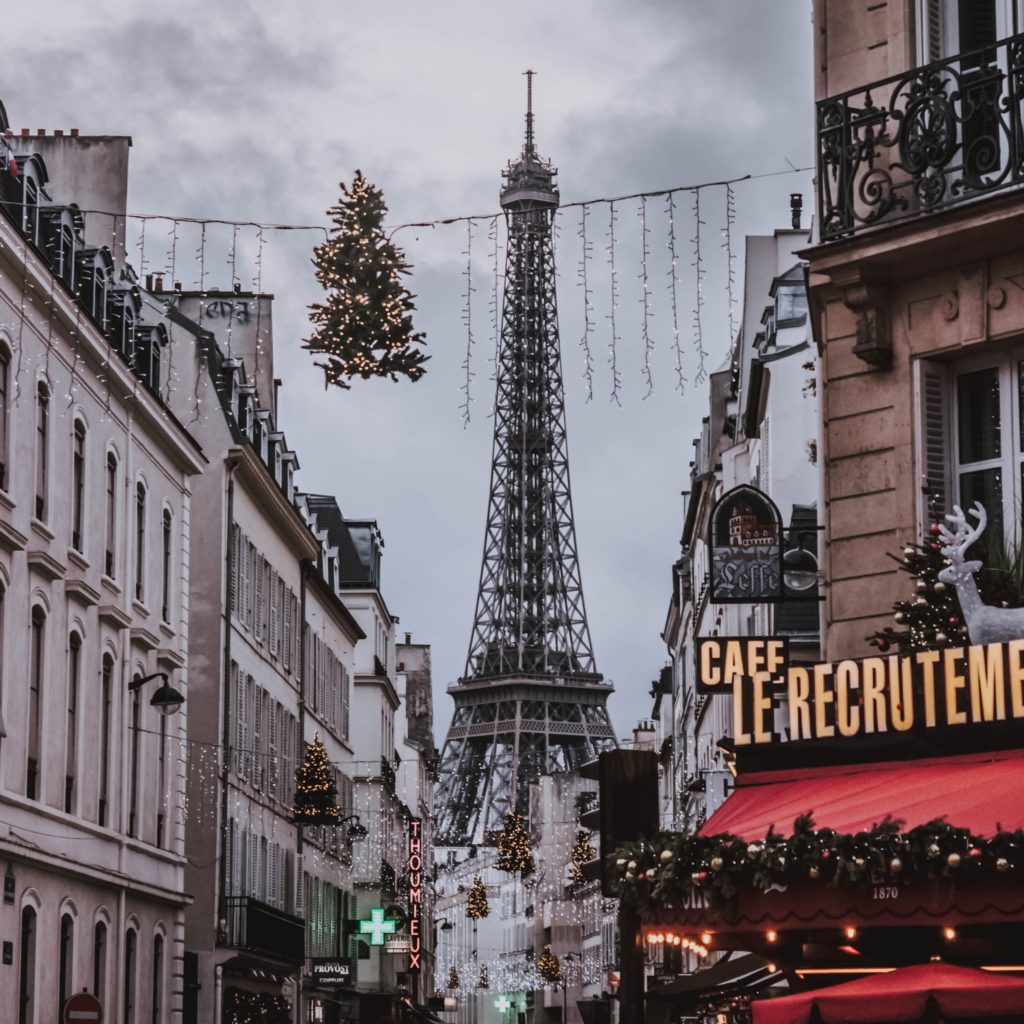 But packing for a Parisian winter is as much about strategy as style because it's about ensuring that dressing up means rugging up, too.
From December to February, the daily temperature swings between a near-freezing low of 3°C/37°F and a maximum of 8°C/46°F. In other word, il fait froid!
Of course, you can cosy up in museums, department stores, covered passages and cafés (although due to the passing of the Climate and Resilience Law, outdoor terraces are no longer allowed to be heated) …
… but one of the pleasures of Paris is that it's a city for walking, whether rain, snow or shine. The secret to making your walk as pleasurable as possible is, of course, to be suitably sartorially equipped.  
For your suitcase-packing tips and inspiration, read on …
'Paris in Winter' Wardrobe Ideas
A Couple of Coats. A camel-hued woollen design (the winter version of a trench) is ideal for the everyday; also pack a statement option (tweed, plaid …) for those days when you feel like dressing things up.
Ditto for Dresses. A sweater dress is an ideal partner for said camel coat; for fancier occasions, or for evening, slip into something more shimmering, such as a velvet wrap.
Jeans. They're an all-year staple, of course, but in winter they work especially, tonally well in hues of black and charcoal.
Skirts and Trousers. When jeans just seem too casual, reach for a pair of wide-legged tailored pants or a wool skirt in a winter-esque print.
Sweaters. Throw in a few — in different colours, and the ubiquitous stripes of course, but also with varying necklines and thicknesses. And choose accordingly, depending on your itinerary. If you're planning a museum day, go for a lighter knit; even though many businesses are turning down the heating levels a little in these energy-conscious times, you'll still bake indoors if you're clad in lush cashmere. Save the thick wool and high necks for days that will be spent mostly outdoors.  
Boots. Firstly, make sure you at least have one snug, waterproof pair with a grippy sole and low heel; you'll want these when it rains, or hopefully even snows. Pack a couple of other waterproof options: another pair of low-heeled boots that are walk-friendly while still being dressy enough for a nice lunch; and a knee-high, possibly colourful, pair that is ready to paint the town rouge, especially paired with a sweater dress and opaque stockings.
Bags. You'll want a day bag that is large enough to tote around a fold-up umbrella, and perhaps a second scarf. (see below). For evening, your bag should be able to fit at least a pair of cosy gloves.
Extras. Pop a few scarves into your case; the aforementioned second daily scarf will work nicely as a blanket for those moments on unheated terraces! And then add something to warm your head, be that a beret, beanie, or fedora. And if you really feel the cold, consider stocking up on thermals; Uniqlo (numerous locations around Paris) has an especially great range of leggings and tops that, when worn as a first layer of clothing, help preserve body heat.