The Marriage of Figaro, showing at the Palais Garnier from now until the end of the year, is one of those ballets and operas that are perfectly placed on the to-do-in-Paris list. That's because it's so quintessentially Parisian in soul as well as story.
Sure, it does have a Spanish setting … But Mozart based his 1786 opera on the 1778 play by Pierre-Augustin Caron de Beaumarchais, a Parisian who embodied the revolutionary spirit of his hometown at that turbulent moment in history.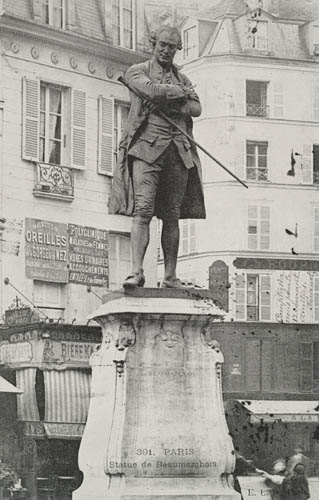 Caron de Beaumarchais also played no small hand in the American Revolution (more on that below), which is why he's beloved beyond the borders of his home country.
Part of his international appeal to this day is surely his utter modernity. The original slashee, Beaumarchais juggled many jobs and passions: clockmaker, musician, comedian, playwright, poet, publisher, entrepreneur, policy maker, courtier, spy, gunrunner …
He lived out his philosophy of meritocracy. Yes, he had an aristocratic-esque name, but Caron de Beaumarchais was born poor, and totally earned and deserved the acclaim he worked so hard for.
If you want to know more about one of history's most fascinating Parisians, read a biography (Improbable Patriot by Harlow Giles Unger is brilliant), see The Marriage of Figaro, and its prequel The Barber of Seville (preferably in Paris!), and channel his spirit by following his ghostly Parisian footprints …
Humble Beginnings
Pierre-Augustin Caron was born in 1732, in the family's house on Rue Saint-Denis:
You wouldn't know it these days, with the disappearance of the atmospheric old Les Halles market and the current clutter of seedy shops, but this thoroughfare, before the construction of the nearby Boulevard de Sébastopol, as well as other new roads, used to be one of the city's most important streets, lined as it was with thriving trades and businesses.
And with the seventeenth-century triumphal arch at its northern end, Rue Saint-Denis, which traces its history back to the first century, was the prestigious route by which royals made their processions into Paris.
Caron was born at what is now no.30 Rue Saint-Denis (although the building here dates from a later time). Caron père was a clockmaker and his ground-floor shop and atelier looked over to one end of Rue de la Ferronnerie. Fun fact: this street is home to Paris's longest house, built in the 1660s, which today stretches from nos.2-12. In Caron's time, Rue de la Ferronnerie boasted many bourgeois fashion shops. Another fun fact: two mistresses of King Louis XV, whom Caron would get to know well, worked in boutiques along this street, before their royal discoveries transformed them into rags-to-riches heroines.
This was a working class, though upwardly aspirational, area in Caron's time. His mother and five sisters fostered a happy home environment, one filled with music, singing, stories, poems, plays and laughter. They were all gifted but knew, in that time, that sons were the ones to shine publicly, and so they doted on Pierre-Augustin, helping him toward his grand future. By twelve he could play the violin, piano, cell, flute and harp.
Thanks to his father, Caron could also, from a precociously young age, dismantle, repair and remake timepieces. As a teen he worked in the family business; by the age of twenty, he had invented a way to make a watch so small it could be worn on the wrist. Louis XV, no less, was soon one of the business's most high-profile clients.
Palace of Versailles
Beaumarchais soon found himself a regular visitor to Versailles, where his designs won many fans. He found the court head-spinning, especially how its glitz and glamour contrasted so starkly with the grit and grime of the world in which he lived. But though he wasn't to the palace born, he could play the part to perfection, and the naturally charming and effervescent Caron was soon offered a courtier position — as Controller of the Pantry, he had the privilege of marching in the procession that brought meat to the King's table, and staying on to watch the King eat.
It was at Versailles that Caron met his first wife, a beautiful rich widow whose small country estate Boismarché inspired his new surname: Caron de Beaumarchais. Sadly, she died not long after their marriage, without leaving him any of her estate. Caron de Beaumarchais found work, however, with the King's daughters, who had adored his watches, and also a reinvented harp of his design. He would visit their apartments to teach them to play this instrument, as well as to sing and read to them, and generally amuse and entertain. 
Left Bank
While the women of Versailles mostly swooned for Caron de Beaumarchais, the men snubbed him, or worse, openly mocked him for his commoner roots. So it was no surprise that Caron de Beaumarchais found his people back in Paris — specifically in the political, philosophical and literary circles of the Left Bank.
Having become a wealthy investor, he could afford, in 1763, to buy a luxurious townhouse — 26 Rue de Condé, into which he and his extended family moved — and concentrate on the good things in life, as well as his dream of becoming a playwright. It was at this address that Caron de Beaumarchais wrote his satirical, anti-aristocratic The Barber of Seville (which Gioachino Rossini would turn into an opera in 1816).
Odéon-Théatre de l'Europe
Originally the Théatre-Française, this theatre was built on the land of the Hôtel de Condé (which you can see in the above snippet from the Turgot map); after the Condé family moved to the Palais Bourbon in 1763, King Louis XV bought the estate, ordering in its place a home for the Comédie-Française troupe.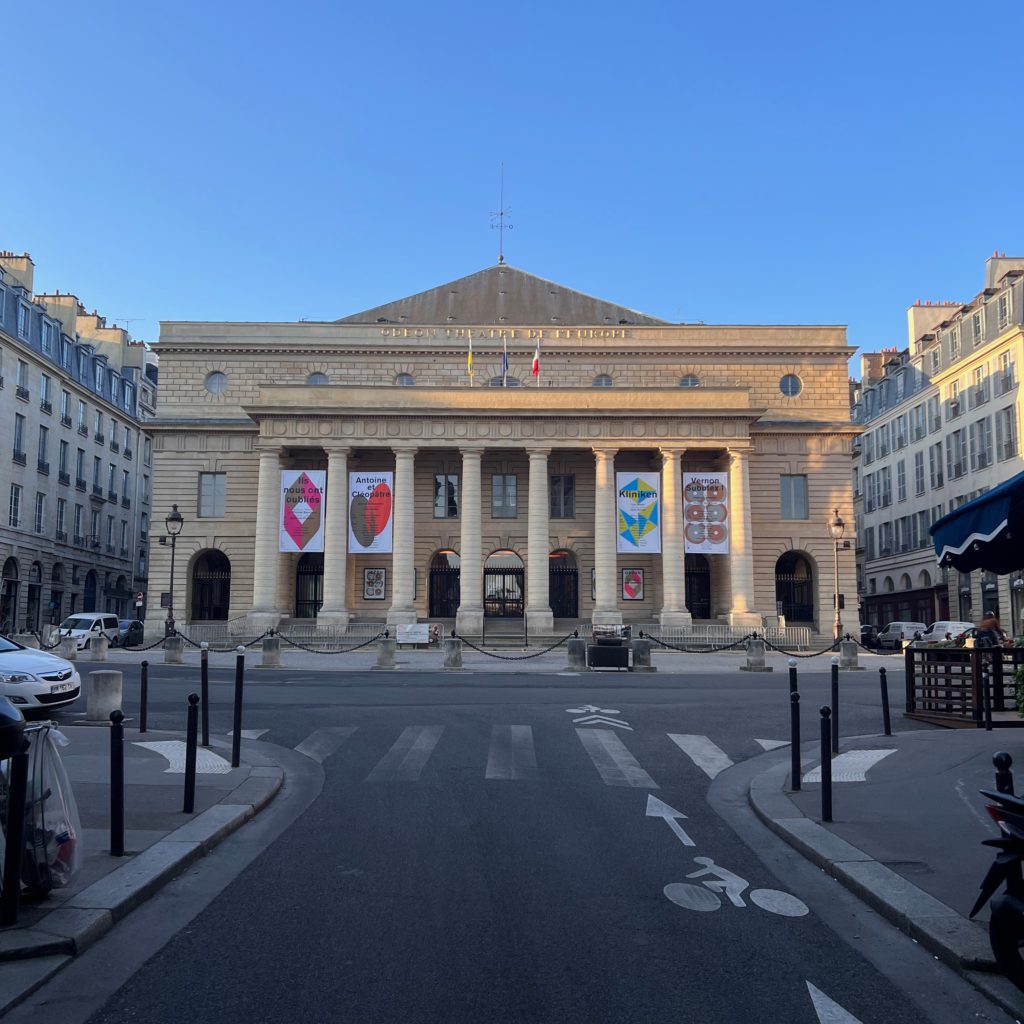 The Théatre-Française opened in 1782, inaugurated by Marie Antoinette. Caron de Beaumarchais had written The Marriage of Figaro, his follow-up to The Barber of Seville, in 1778, but censors had managed mostly to block it from being shown. At the time, plays and novels were stealthy ways to criticise the monarchy, or filter out a philosophy to the masses, and the royal censors rightly feared the potential social impact of The Marriage of Figaro.
But rumours about this hilarious underground comedy fueled a public demand too great ultimately to ignore. After the censors caved, the play premiered at the Théatre-Française in 1784. In the pent-up atmosphere, three people were crushed to death, and the performance lasted five hours to accommodate the regular outbursts of applause.
Receiving the rowdiest ovation was the servant Figaro's monologue in the fifth act. Furious that his master, Count Almaviva, wanted to sleep with Figaro's wife-to-be by asserting droit du seigneur (a supposed medieval legal right for feudal lords), Figaro railed: 'No, my lord Count, you shan't have her… you shall not have her! Just because you are a great nobleman, you think you are a great genius—Nobility, fortune, rank, position! How proud they make a man feel! What have you done to deserve such advantages? Put yourself to the trouble of being born—nothing more.'
This passionate rebuke of aristocratic privilege was, in retrospect, no less than a pre-Revolutionary call to arms.
Le Procope
One of Caron de Beaumarchais' favourite cafés was Le Procope (now a restaurant serving traditional French fare), which had been the go-to for intellectual, philosophical and political types since its 1686 opening. This was especially so during the Enlightenment period. As royals and aristocrats, now decamped to Versailles, grew ever more distant from the Parisian populace, Le Procope became an incubator of revolutionary throught. The free thinkers of the Enlightenment wined and dined here, it was the birthplace of France's first Encyclopedia, and it's said that the motto 'Liberté, Égalité, Fraternité' was coined within these walls.
On the evening of the première of The Marriage of Figaro, Caron de Beaumarchais waited at Le Procope — just down the road, at 13 Rue de l'Ancienne-Comédie — to see if his play would be judged a success. He surely celebrated long and hard that night, before rolling home …
Rue Vieille du Temple
In 1776, Caron de Beaumarchais had moved to the Marais, to the sumptuous seventeenth-century hôtel particulier at 47 Rue Vieille du Temple known as the Hôtel des Ambassadeurs de Hollande, from the time it was rented out to the Dutch embassy.
The new address was partly a show of Caron de Beaumarchais' growing wealth and status; but it also housed a secret side-gig: he had convinced the King to support the American revolutionaries, and to allow him to supply weapons to Washington's army, trading them for tobacco, cotton, indigo and other New-World goods. This new address, behind grand doors decorated with gorgon carvings, housed his clandestine operation.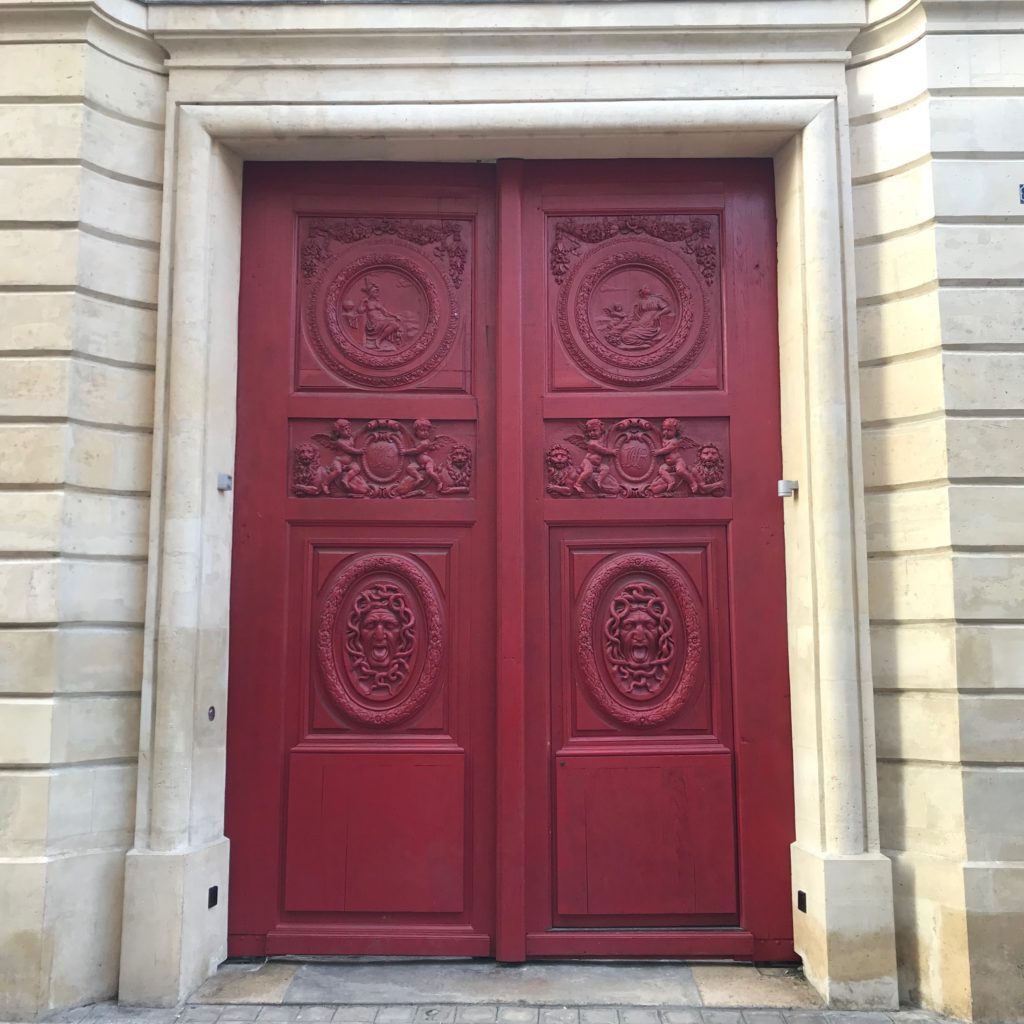 Caron de Beaumarchais had an inner American revolutionary, along with an inner Figaro. With his general loathing of the aristocracy, he had long empathised with the American soldiers' plight, and could now actively assist them to break from the tyranny of British rule. It's commonly believed that Caron de Beaumarchais' intervention — his supply of weapons to Washington at a crucial moment — helped to turn the course of the war in America's favour.
During this historically momentous period, Caron de Beaumarchais also found the time to pen The Marriage of Figaro. After America won independence, he could return full-time to his love of writing in the gilded, frescoed rooms of his luxurious home.
This address has long been a collection of private apartments (fun fact: Jane Fonda also once lived here!), but is currently being converted into a luxury boutique hotel, complete with basement spa and ground-floor retail.
Boulevard Beaumarchais
Walk along the eastern side of this boulevard from no.2-20; Caron de Beaumarchais' final address was just to the right.
Super-wealthy by the late 1780s, he bought a 4,000 square metre plot of land, on which he lavished an Italianate pleasure palace for his extended family, and a garden full of follies: statues (including one of his hero Voltaire), grottoes, a bridge, waterfall, labyrinth, Greek temple … It was designed by François-Joseph Bélanger, of Bagatelle fame.
The Bastille was, ominously, a stone's throw away, and on 14 July 1789 Caron de Beaumarchais and his friends watched in horror as rioters stormed the prison, killing scores of people in the process. Caron de Beaumarchais was safe for now. He was still a man of the people and even though he lived in luxury, his gardens had been open for Parisians to visit. But as the period became more precarious, he was named an enemy of the people, and spent two years in exile and poverty.
In 1796 Caron de Beaumarchais was allowed to return to Paris, a city calm once more and under new government. Although his palace was now mostly derelict, he lived in relative peace until his passing in 1799.
The estate was eventually bought by the State, and destroyed to make way for the Canal Saint-Martin and Boulevard Richard Lenoir; Caron de Beaumarchais' remains were moved to Père Lachaise. Le Grand Boulevard de la Porte Saint-Antoine was renamed Boulevard Beaumarchais in 1831.
'Théatre Beaumarchais'
Caron de Beaumarchais funded a theatre, then called the Théatre du Marais, at 11 Rue de Sévigné — all that is left of it is the Neoclassical façade. It was under construction when the Revolution began and Caron de Beaumarchais, wily and entrepreneurial as ever, had some of the stones from the demolished Bastille sent over to help with the theatre's build. It was here that he staged the third in his Figaro series, The Guilty Mother.
Hotel Caron de Beaumarchais
Inspired by Pierre-Augustin Caron de Beaumarchais, this charmer of a hotel, with its Rococo-decorated rooms, might not have been one of the great man's addresses in his lifetime, but his spirit could well be living on happily here. In fact, you can easily imagine his ghost happily ensconced in the lobby, playing at the card table, lazing by the fire, or plucking away at the antique harp.