The cherry blossom might be traditionally emblematic of Japan, but Paris has made the beloved flowering tree its own, too — especially the 'Prunus Kanzan' variety, whose exuberant flowers paint the city in pops of pink in early springtime.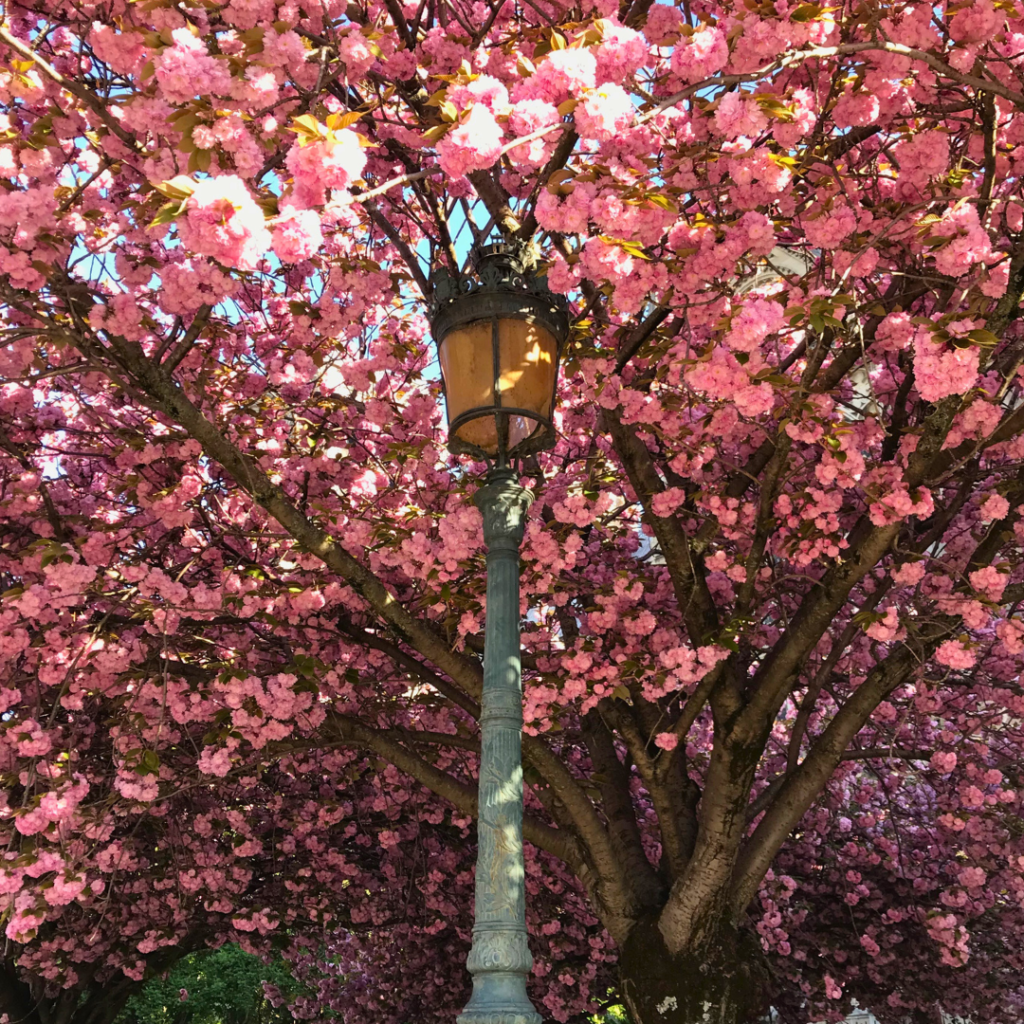 If you're hoping to be in Paris for prime cherry-blossom viewing, time your holiday for the first week of April (this is a little give-or-take, of course; much depends on the severity, or not, of the preceding winter).
You'll come across pretty bursts of cherry blossom all over town, but for maximum impact, make sure to have the following addresses on your itinerary …
Jardins du Trocadéro
In this grandly landscaped park, directly opposite the Eiffel Tower, cherry blossoms line the central basin of water, shading lawn that begs to have picnic rugs unfurled on it.
Blossom bonus: Stock up on treats at the nearby Marché Président Wilson, which runs every Wednesday (7-1:30pm) and Saturday (7-2:30pm).
Square Gabriel-Pierné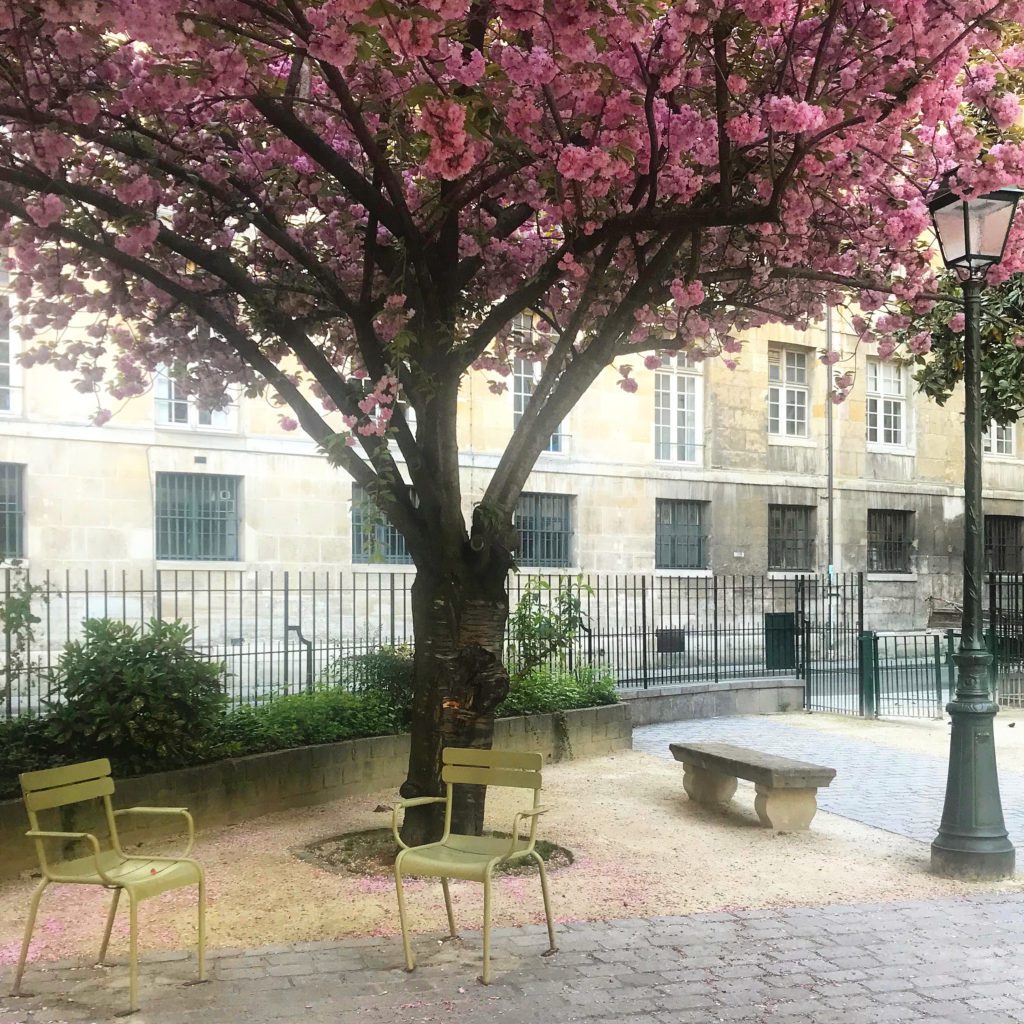 Wander east along the Seine, and nip into just behind the Institut de France. Here you'll find a wistfully lovely square shaded by a gorgeous canopy of Kanzan.
Blossom bonus: Go via Ladurée (21 Rue Bonaparte, 75006); this nook is the perfect place for nibbling macarons.
Shakespeare and Company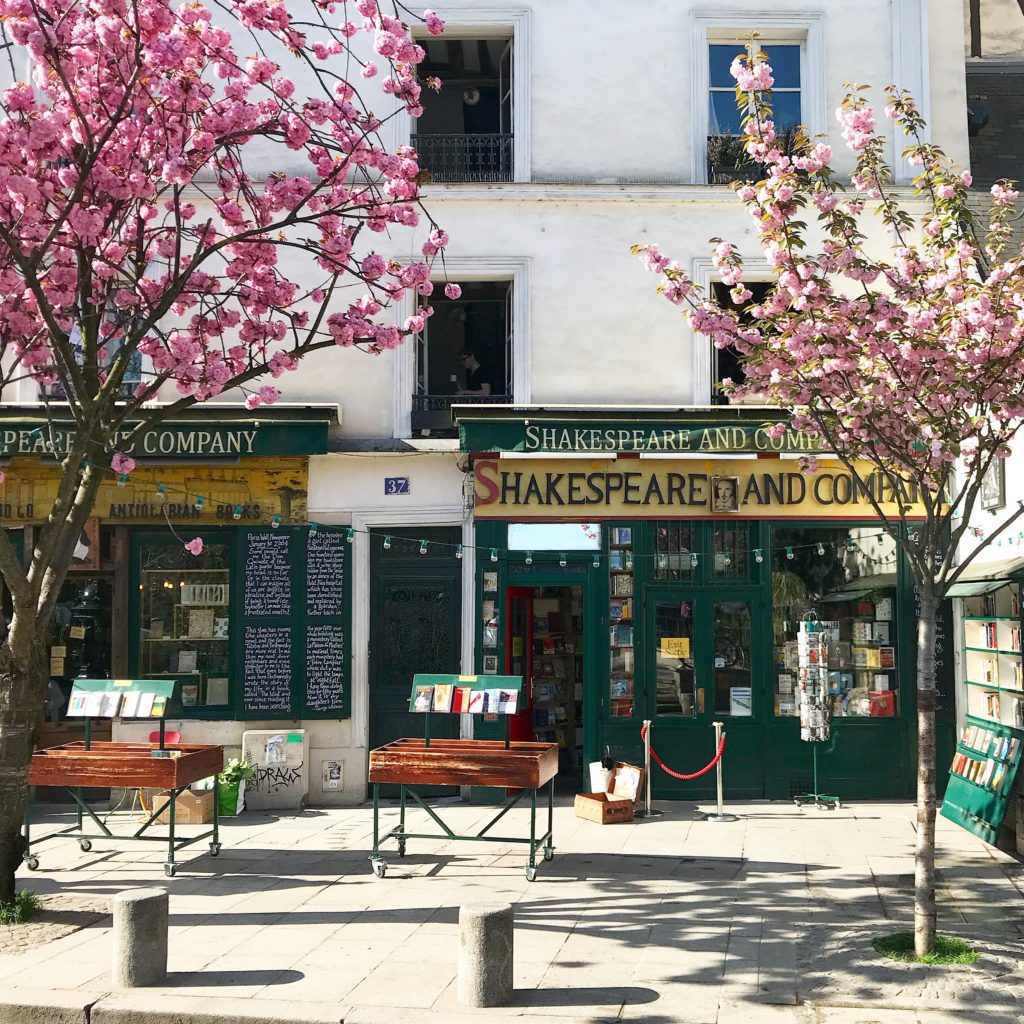 Wander eastwards a little more — this iconic bookshop (37 Rue de la Bûcherie, 75005) is more picturesque than ever when the two cherry blossoms out front are in bloom.
Blossom bonus: Buy Georgianna Lane's exquisite book Paris in Bloom so you can hold onto the Parisian springtime vibe for a little longer.
Quai de Montebello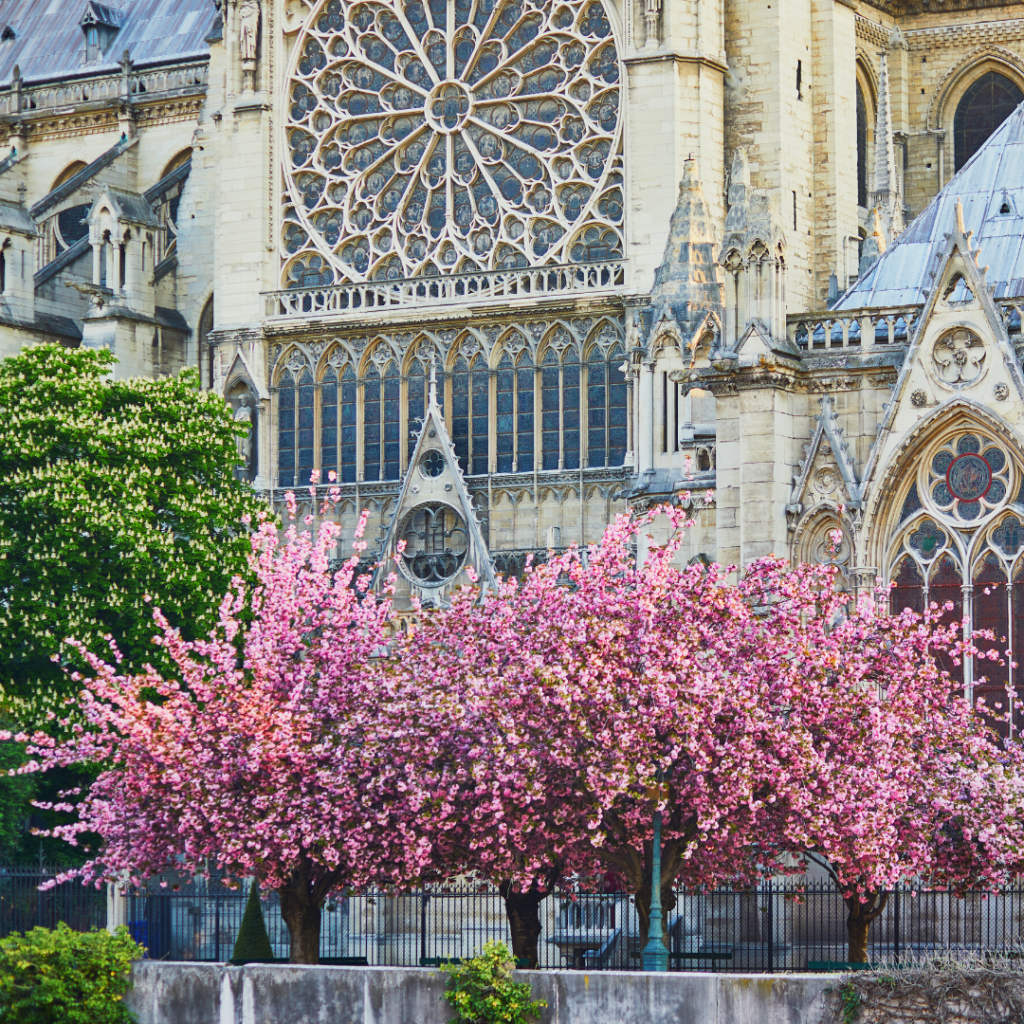 Gaze across at the famous grove of cherry blossoms by the southern edge of Notre-Dame. In springtime these trees are a poignant symbol of hope in front of the battered cathedral, which survived its devastating fire against all odds, and is due to reopen in late 2024.
Blossom bonus: Visit the Marché aux Fleurs on the Île de la Cité to see what other flowers are in bloom right now.
Jardin des Plantes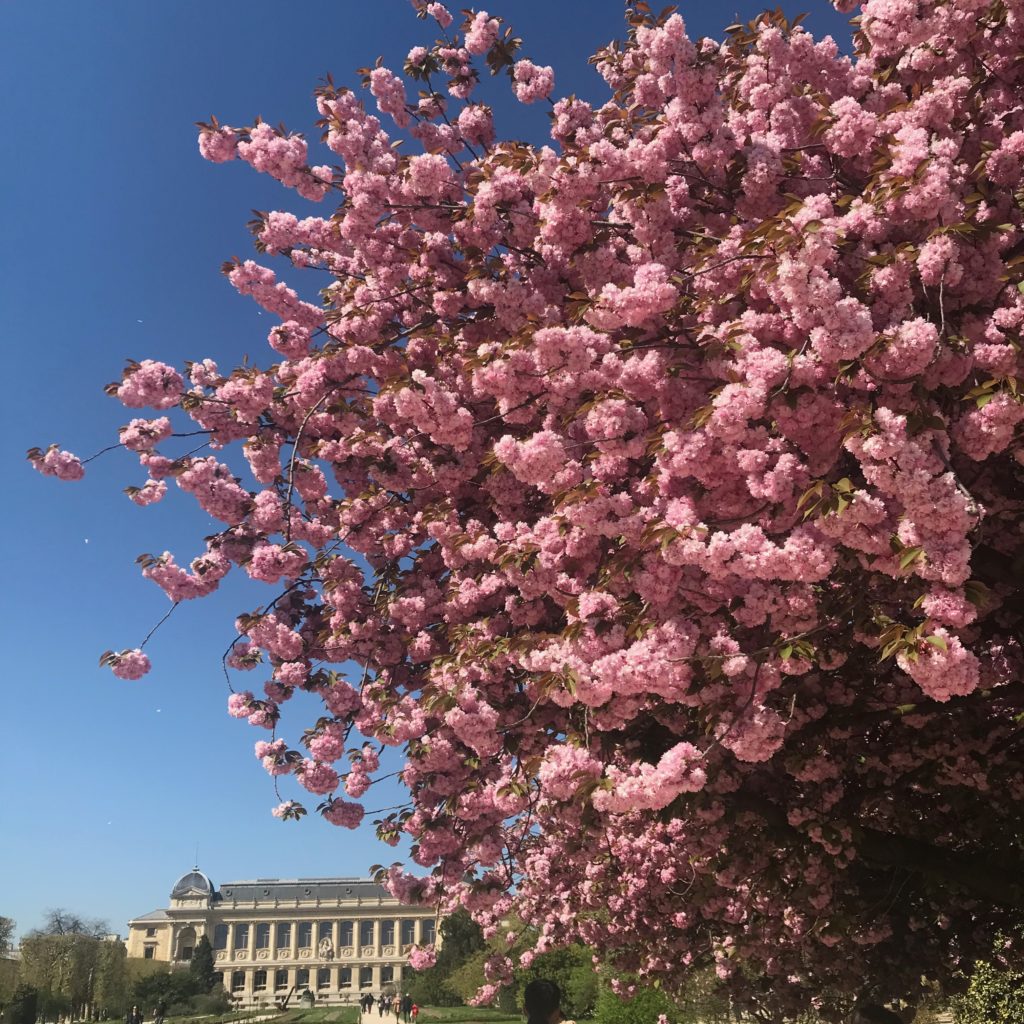 Another ten minutes' walk east along the Seine will take you to the entrance of Paris's stunning botanical gardens. Here you'll find the city's largest, most breathtaking Kanzan (along with numerous other blossoming trees).
Blossom bonus: From here, wander to the fragrance store Diptyque (34 Boulevard Saint-Germain, 75005) and buy the 'Fleur de Cérisier' candle — a perfect fragrant souvenir of your day.
If you have extra time …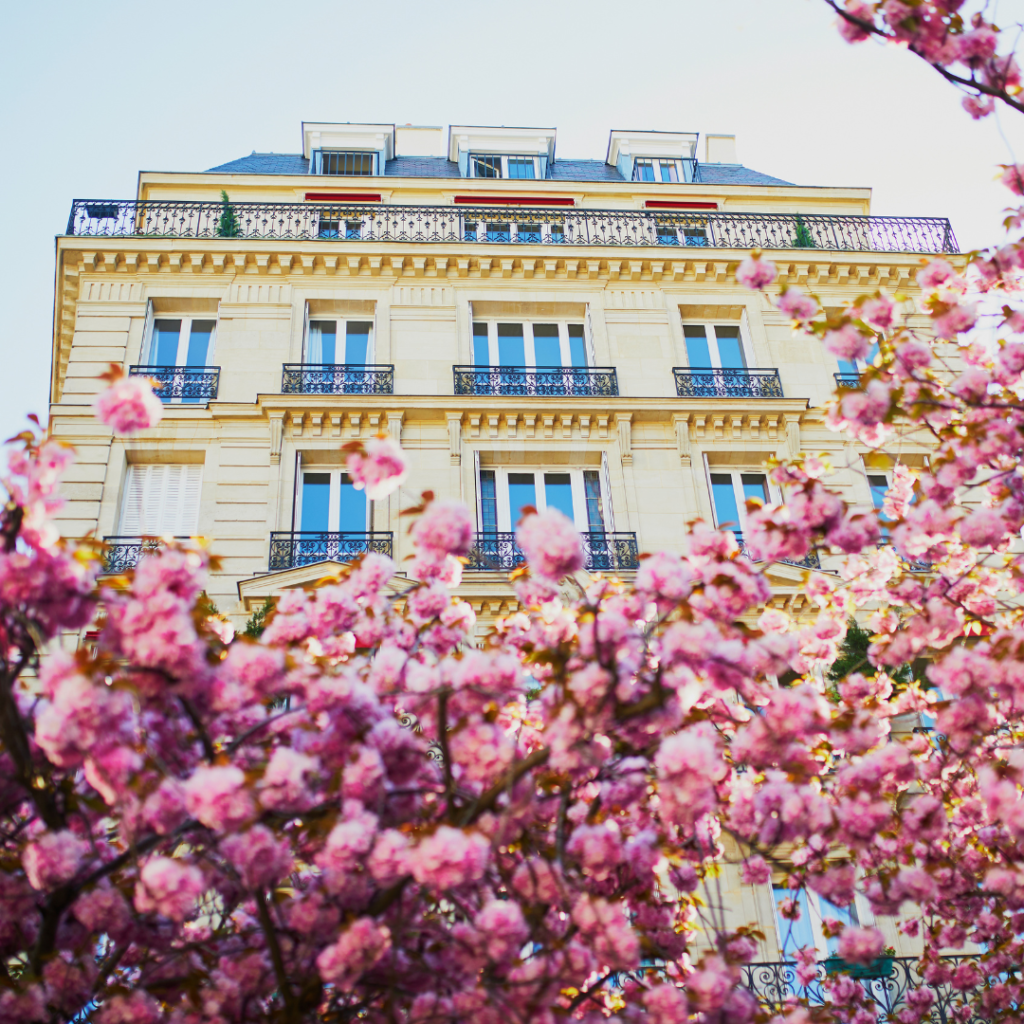 You'll also spot pretty displays of cherry blossom in Parc Monceau and the Jardin du Luxembourg, as well as at the entrance to the métro stations Falguière (above) and Saint-Paul.
If you have an extra day …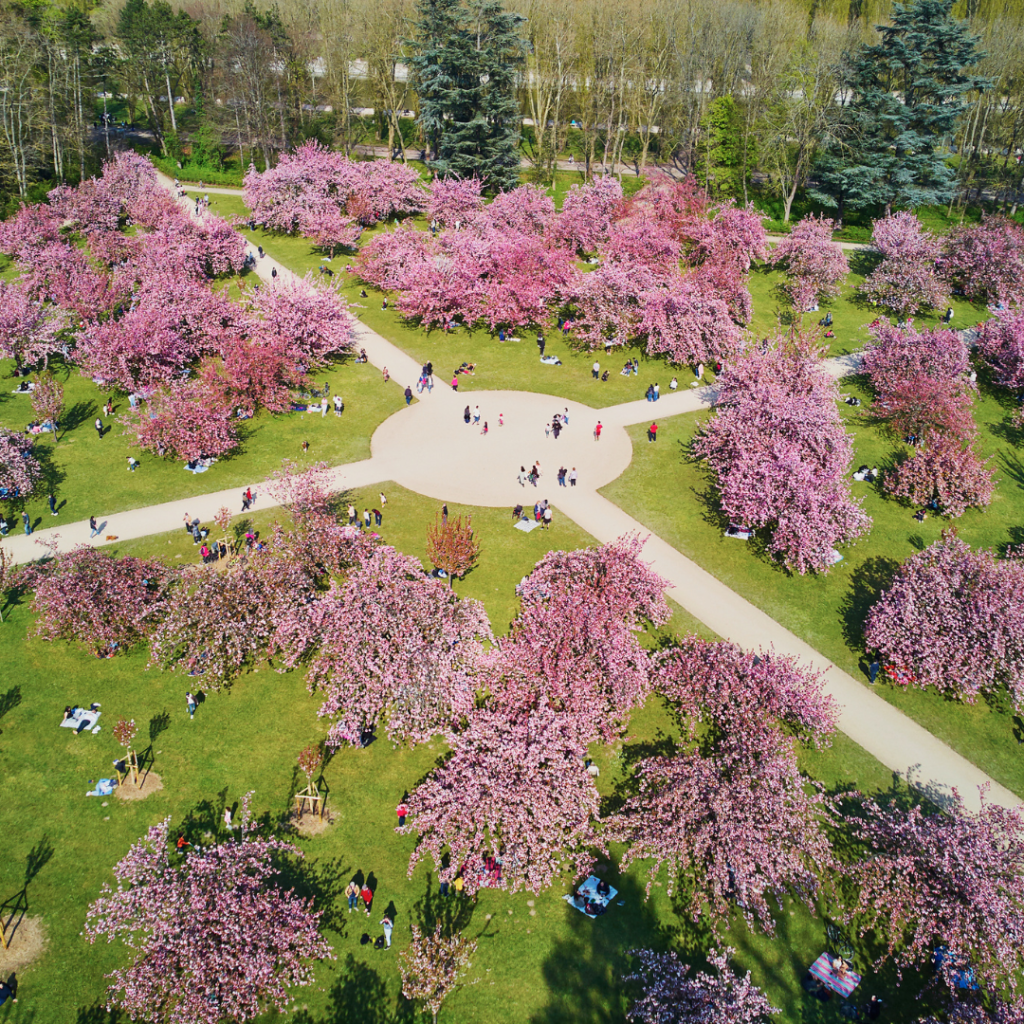 Go to Parc des Sceaux. An exquisite seventeenth-century chateau — now the Museum of the Île-de-France — is surrounded by landscaped grounds originally designed by André Le Nôtre (of Versailles fame). There's so much to admire in the immaculate French gardens (ponds, parterres, topiairies …) but when the orchard of Kanzans is in full pink flower you'll feel like you're in a fairytale. Pack a picnic basket and go early.
The domaine is situated about ten kilometres to the south of Paris; to get here, take the RER B line, making sure your ticket extends to Zone 3, and hop off at either Parc de Sceaux or Sceaux station.