I have a theory that if you were to group Agatha Christie fans and Paris lovers in respective circles, you could create a Venn diagram with quite the overlap. Okay yes, Agatha is celebrated for cosy murder mysteries that mostly unfold in quaint ivy-sprawled, rose-scented, quintessentially English villages … Bear with me here … It's just that when you get to know a little about the woman behind the books, you appreciate that she might have also been very much at home penning tales of Parisian intrigue.
Agatha knew Paris well, and much of France, too. As a child, she holidayed with her family in Paris, Pau, and Dinard. In 1905, at the formative age of fifteen, Agatha was sent to the French capital once more, to study at several boarding houses — more or less finishing schools that polished the dance, dictée, and deportment skills of upper-middle-class English girls. During her two years in Paris, Agatha came of age, dressing in feminine, flouncy clothes, which she would wear to the theatre to marvel at Sarah Bernhardt, to the salon de thé Rumpelmayer's (now Angelina) to savour a Paris-Brest, and to the Palais Garnier to swoon over the opera. She painted scenes inspired by trips to the Louvre, practised the piano for hours each day, wrote reams of lyrical poetry, and fantasised about becoming a professional singer. Paris fired up her inner artist, as well as inspiring her inner romantic — it was here that she experienced her first romantic frissons and came to anticipate the potential of amour.
Agatha's dream of singing for a living was dashed when an industry expert deemed her voice lovely but weak. It must have been crushing, but her need for artistic expression was evidently too strong for her to wallow for long. And so, fortunately for us, she discovered the creative outlet of writing.
One of Agatha's earliest published novels is Murder on the Links (1923), which is set in a fictional seaside town in Northern France. One biographer, Laura Thompson, notes that the book is 'very French; not just in setting but in tone, which reeks of Gaston Leroux.' Leroux's most famous work, Phantom of the Opera, was published in 1909; Agatha had surely read it, especially given her glamorous outings to the Palais Garnier, where Leroux's novel is set. She certainly read his The Mystery of the Yellow Room, one of the first of the genre known as 'impossible murders' or 'locked-room mysteries'; in her 1963 novel The Clocks, detective Hercule Poirot says of Yellow Room, 'Ah, that is really a classic! I approve of it from start to finish. Such a logical approach!'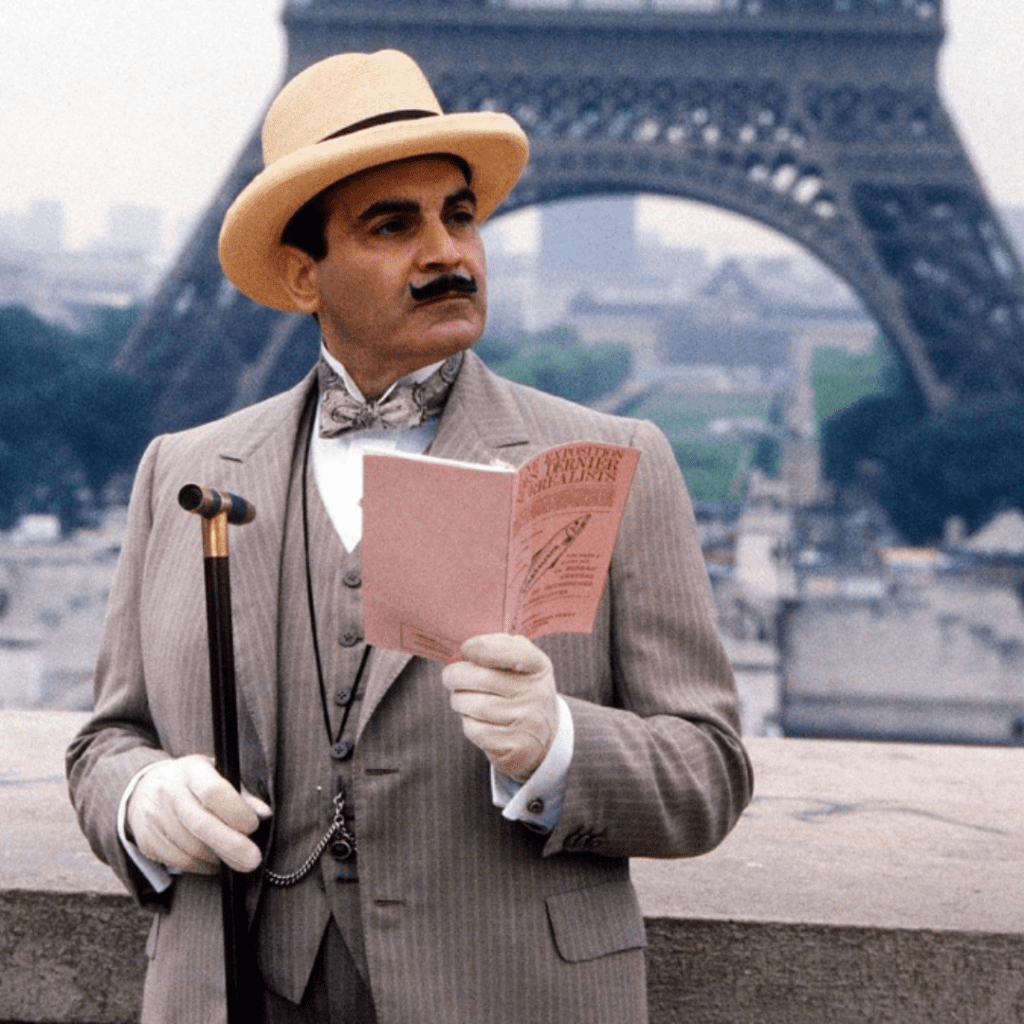 Poirot was famously Belgian, adamantly not French, although in many ways he represented 'Frenchness': his clear and logical mind, his sophistication, his bon vivant style of living, his love of food, his appreciation of women … Agatha — whose French nanny was an eager audience for her ward's childhood plays and concerts — seems to have been rather fond of French people, who are sprinkled throughout her novels.
But hélas, Agatha did not end up writing a huge number of scenes set in Paris. She occasionally visited Paris to see her French publisher, who had taken her on in 1927, with The Murder of Roger Ackroyd. And she seems to have travelled widely in Europe during the 1920s. So, she had enough Parisian inspiration for 1928's The Mystery of the Blue Train, which travels through Paris en route to Nice. And if her journeys had have remained centred on the continent, perhaps France might have featured more extensively in her future work, but after a traumatic divorce, she gravitated eastwards for escapism — to Iraq, Egypt, Istanbul … travels that not only led her to her second husband, but also to the inspiration for some of her most famous works.
A year after 1934's Murder on the Orient Express, Agatha published Death in the Clouds, in which much action takes place in Paris. Cue a grumbling concierge, a Rue-Saint-Honoré antiques dealer, and a clear-thinking detective. Perhaps she was, in a way, thanking her French readers; from the start, she was hugely successful in France, and continues to be a best-seller to this day, when France is the largest market for Agatha Christie outside English-speaking countries. (The most recent French screen adaptation, Les Petits Meurtres d'Agatha Christie, set in Northern France from the 1930s through to 1960s is a delight for Francophile fans of Christie.)
But sadly, Agatha did not literarily return to Paris, and so the Parisian murder mysteries that she might have devised must be stored in that wistful genre of Wishful Thinking. But imagine what fun she could have had with Paris; with a cast of cabaret dancers and expat authors, faded-glamour aristocrats and ambitious nouveaux riches, all mingling on the world's most beautiful social stage; with the ornate settings of Maxim's and the Moulin Rouge; with the various tribal differences between the city's districts; with apartment buildings that threw classes together in a kind of stratified order, from the haute bourgeoisie on the étage noble (the floor just above ground level) to the maids and struggling artists in the tiny garrets up top; with the dirty wartime secrets some Parisians desperately tried to hide; with the comme il faut ways of old Paris, its strict social codes like a costume mask that Agatha would have surely loved to peek behind.
Le sigh … At least we can take solace in the fact that many other books are set in our favourite city, and that includes some murder mysteries that are as cosy and enjoyable as an Angelina chocolat chaud (with or without an accompanying Paris-Brest). Read on for a few suggestions …
COSY CHRISTIE-ESQUE MYSTERIES SET IN PARIS
The Paris Apartment by Lucy Foley
Set predominantly in an atmospheric old apartment building in the back streets of Montmartre, this isn't a book to take you strolling past and sighing over the graceful sights of Paris. But that barely matters because this is such a fabulous collection of (mostly Parisian) characters, as well as an excellent puzzle of a whodunnit. Foley credits Christie's classic And Then There Were None as the book that turned her to the genre of murder mysteries. It was when she was renting an apartment in Paris, to write a draft of what would become her top-selling The Guest List, that she began developing the idea for a Paris-based book. She has said that she is fascinated by the grime beneath the beautiful, gilded surface of the City of Light.
The Aimée Leduc collection by Cara Black
This series of 20 books (and counting) began in 1999 with Murder in the Marais. Since then, the quirky but cool private investigator Aimée Leduc has solved all sorts of grisly crimes in pretty much all Parisian quarters. To read these well-plotted, fast-paced novels is to understand better not only the topography of Paris, but also its history, culture, and politics — not to mention its underworld, too. Black credits Agatha Christie as a favourite author and key influence.
All the Devils are Here by Louise Penny
Louise Penny is often compared to Agatha Christie, and has won the 'Agatha Award' several times, including in 2020 for All the Devils are Here. This breathlessly paced, intricately woven tale of corporate intrigue is part of her popular Inspector Gamache series, and the only one (so far) to be set in Paris, rather than the usual Quebec. Echoing Foley, Penny has described Paris as a 'city of facades.'
The Paris Mystery by Kirsty Manning
In this cosy mystery meets historical fiction, Charlie James, a plucky and ambitious Australian reporter, clinches a plum job in Paris, but amid the ensuring swirl of parties she soon finds herself at the centre of a society murder. It's 1938, a time of frantic fun and champagne-soaked glamour, when everyone is in desperate denial of the upcoming war, and Manning makes sure to pepper her plotline with lovely, escapist descriptions of the fashions and foods. Look out for more; this was planned as the first of a series.
Mastering the Art of French Murder by Colleen Cambridge
Another mystery set cosily in the past, Mastering the Art of French Murder sees a young American move to post-war Paris, where she finds herself living next door to Julia Child. Life is delightful — and delicious! — until a body is found in the building's cellar, along with the murder weapon: one of Julia's knives.