Art Hiding in Paris (Running Press, 2022) is a brilliant, ticks-all-the-boxes book. It's a travel guide, yes, but also a treasure hunt, a history primer, and a whimsical love letter to Paris. Not to mention a visual treat.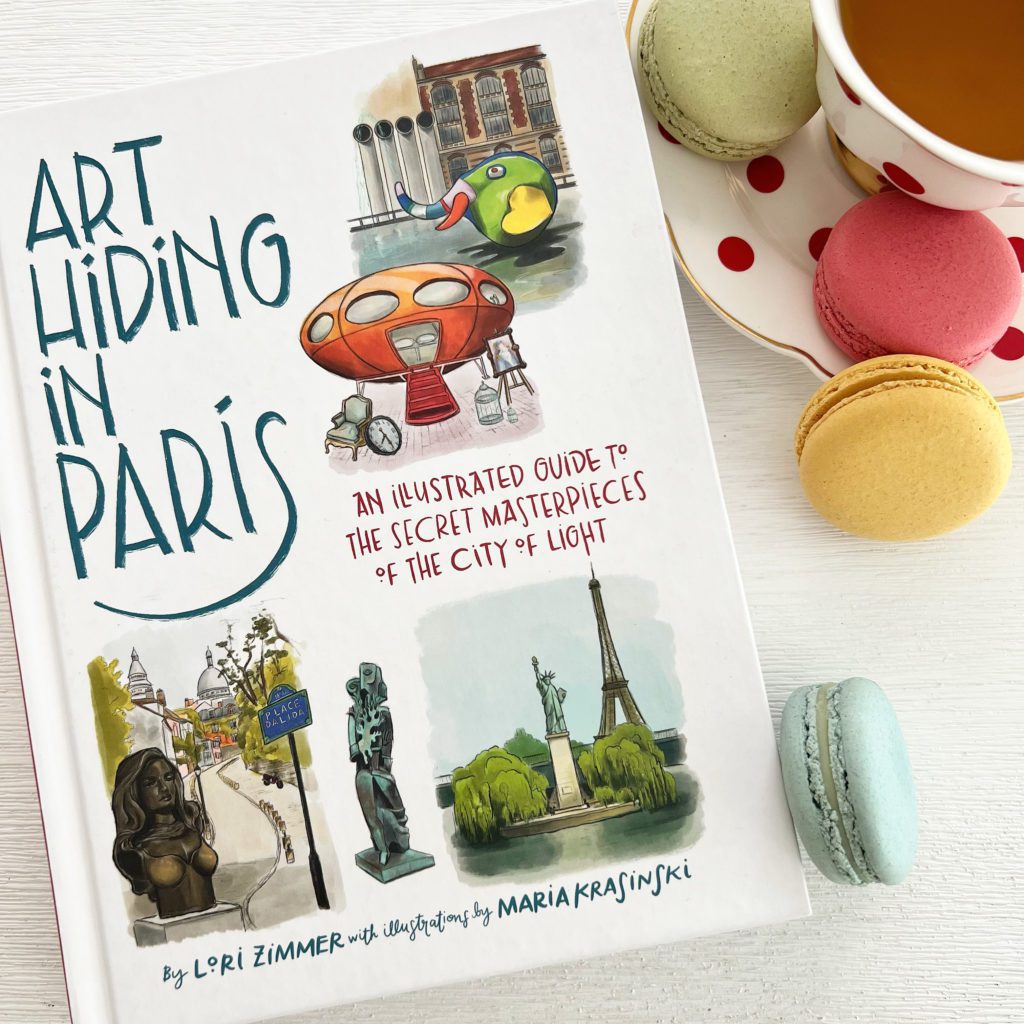 Some books are illustrated at the expense of information, while others tell too much when they should also be showing. Art Hiding in Paris, however, is the perfect balance of both, of style and substance. It's the kind of book that suits prime position on your coffee table — but also a spot on on your bedside table, as you'll want to devour every word.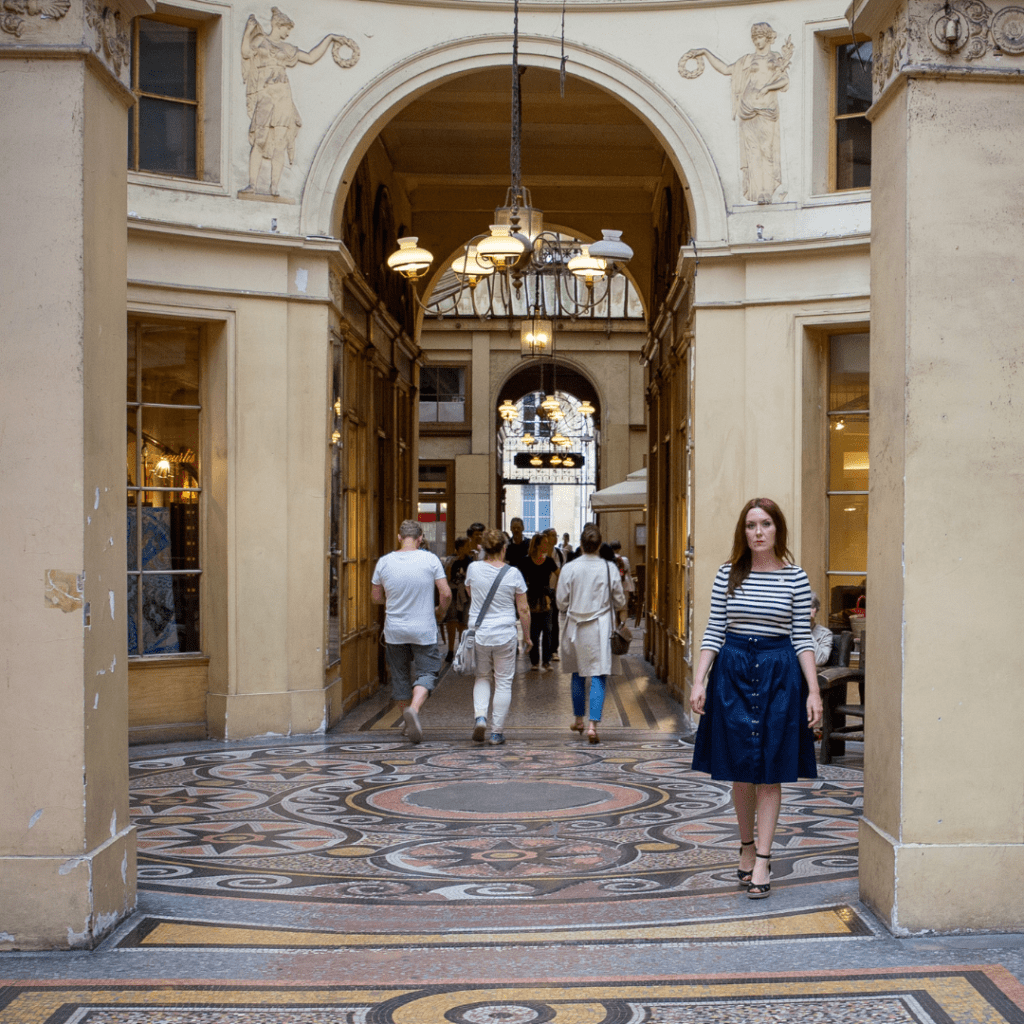 Lori Zimmer is the woman behind those words. The New York-based writer has written several books, including Art Hiding in New York, for which she also partnered with illustrator and friend Maria Krasinski (below).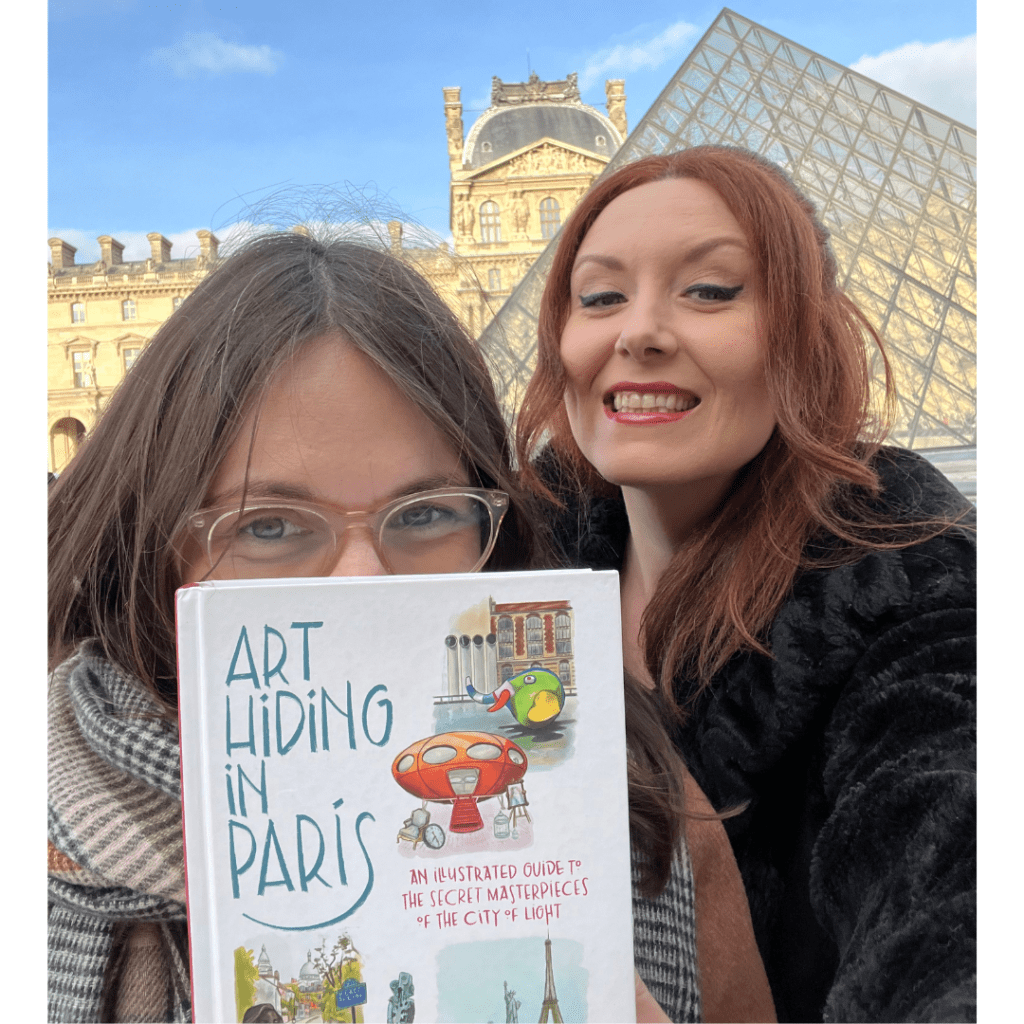 Here, Lori — a lover of history, art and Paris alike — shares some of her favourite book highlights, city addresses, Parisian moments and more …
To start, tell us why you love Paris so much …
'It checks off all of the things I love: wandering aimlessly looking at architecture, going to museums, eating dangerous amounts of bread and cheeses, being able to afford actual good wine, lots of pockets of green space, something to learn around every corner. Paris is the perfect place to recharge for me.'
What's your favourite Parisian memory?
'For my fortieth, somehow fifteen of my friends decided to fly to Paris to hang out with me (I'm not a destination birthday party person, I swear, it just turned out that way!). I did a big dinner at Pink Mamma (below), and it was incredible.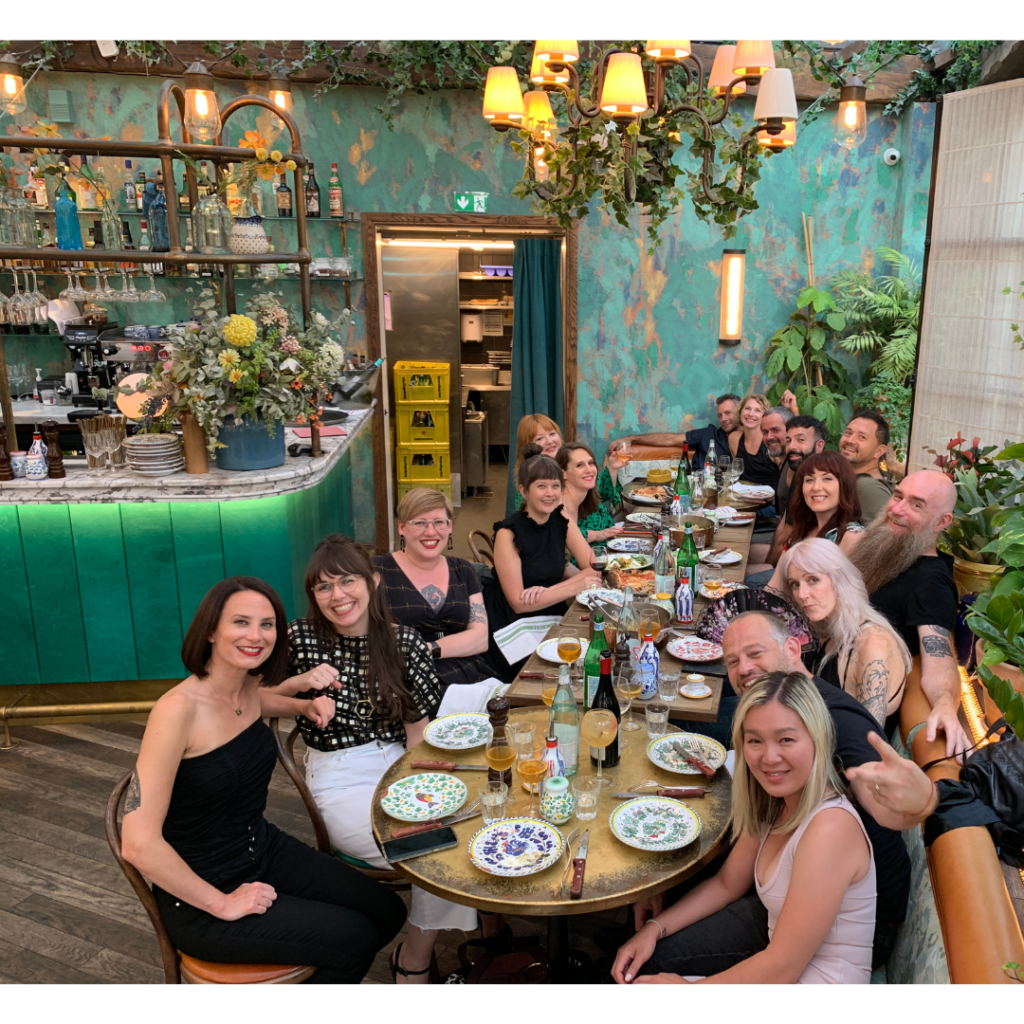 It's one of the prettiest restaurants in Paris AND had this insane special for like €70 a person (it was well worth it) that included a cocktail, endless wine and never-ending plates of food. Balls of burrata in pesto, platters of prosciutto, green tomato caprese salads, fresh baked bread, four different kinds of pizzas, followed by several bowls of three different kinds of pasta (including the famous truffle pasta I had already become addicted to), then came sides of charred carrots and braise broccoli alongside giant steaks, and then one of their fabulous desserts. It was like the food was never going to stop, each course surprised us, and yet somehow we managed to leave most of the plates spotless.
I really never thought anyone would fly across the ocean to celebrate my birthday, and here were fifteen of them, in this gorgeous restaurant in Paris. I had just lost my dad a couple of months before, so having all of my friends come all the way to Paris for me was just surreal, and the first time I really was happy since my dad had passed.'
You've just come back from Paris — what were the highlights of that trip?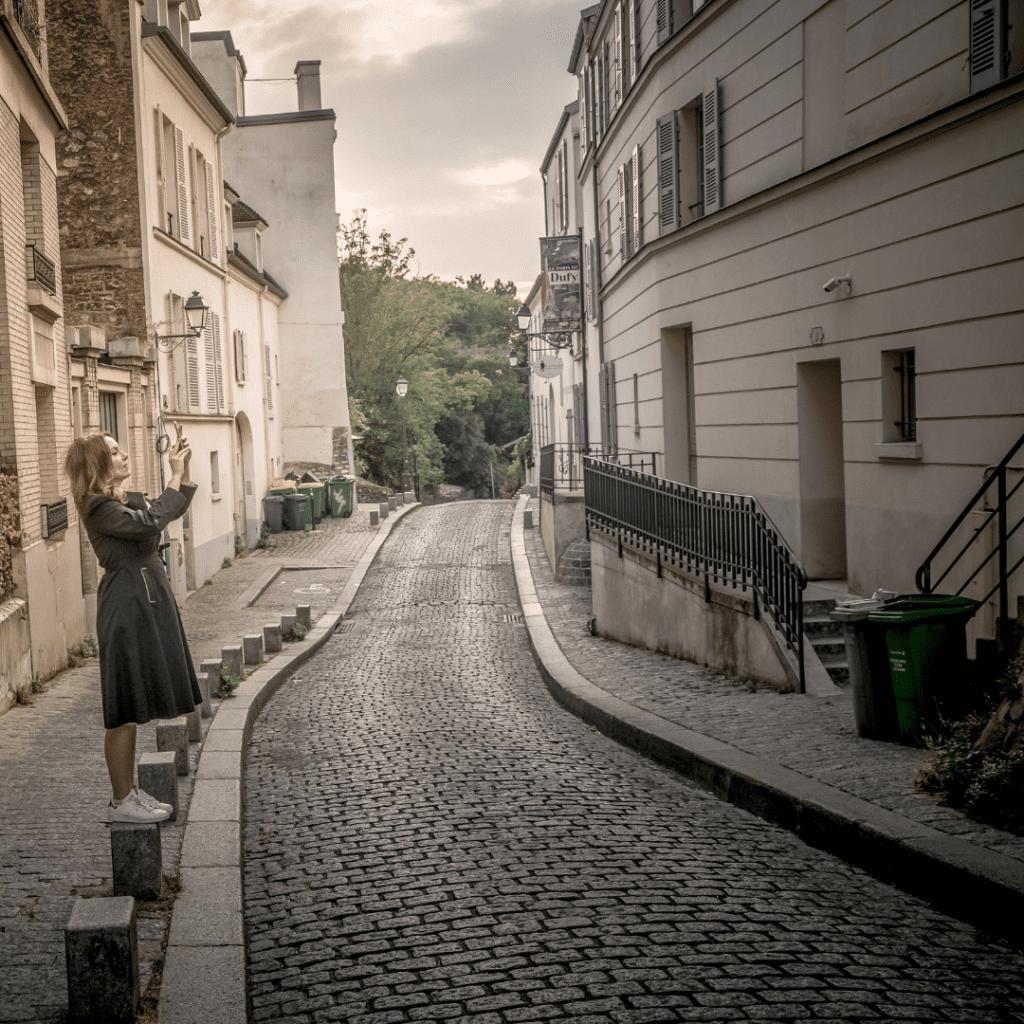 'This trip was mostly book business. Work-wise my biggest highlight and thrill was to find out the book is going to be sold at the Louvre and Centre Pompidou shops. I really can't believe it, I'm still in a bit of shock. I stayed in Montmartre this past trip, so when I wasn't working, I spent a lot of time wandering around the area (above), up and down all those stairs, and sitting in the cafes. It was great.'
Tell us about the inspiration for your book …
'I had dreamed up the New York version of these books years ago. I'd been doing the research for fun, but didn't know it would one day become a book. In February 2017, I visited Maria (Krasinski) while she was living in Tbilisi. We had been friends since we were nine, but she'd never shared her artwork with me. She showed me some illustrations she had done of some of the decaying Art Nouveau architecture in town, and they were so gorgeous that they inspired these books right there. I wrote and she illustrated the entire New York book with no plan.
Paris seemed the obvious choice after Art Hiding in New York came out in 2020. I had already been researching Art Hiding in Paris, way before we ever knew if we'd get a book deal. I love learning everything art and art history, so I thought at the very least, I'd learn some really cool stuff for myself. But, after the success of New York, we got a deal for Paris, and then the really hard part came — trying to decide what would make it into the book. Paris was much more difficult to write than the New York book because art and history are just EVERYWHERE. I tried my best to curate a comprehensive slice of old, new, obvious and surprising for this book. I've had several Parisian friends tell me they learned new things from my book that they never saw growing up here, and I consider that a win.'
What were the most fascinating discoveries you made while researching and writing your book?
'My favourite stories are the ones where a treasure was discovered after many years. For example, a giant seventeenth-century painting was found behind a wall when the Oscar de la Renta boutique was being renovated. The designer had the piece, which shows an ambassador of Louis XIV in a scene of horses and men outside Jerusalem, restored for the public to enjoy (above).
There is a mural by Henri Mahé at the Grand Rex Theater (above) that has been there since the film house opened in 1931, which depicts a movie set with buccaneers, actors and a clown. During the lockdown in 2020, the theatre decided to restore the mural (it had been covered with posters for some years), and discovered it held a secret! The clown was not original at all — it had been painted over to conceal an image of Charlie Chaplin by the Nazis, who had taken over the theatre for their soldiers during WWII, and painted over Chaplin because of his overt criticism of Hitler in the film The Dictator.
I love that there are still new treasures to be found, even in the 2020s. My research kept bringing me back to fascinating women in the arts that I'd heard of, but only in relation to the male artists from history I was studying. These women are the subject of our next book, which is coming out in 2024.'
Can you please share a few other favourite listings from your book?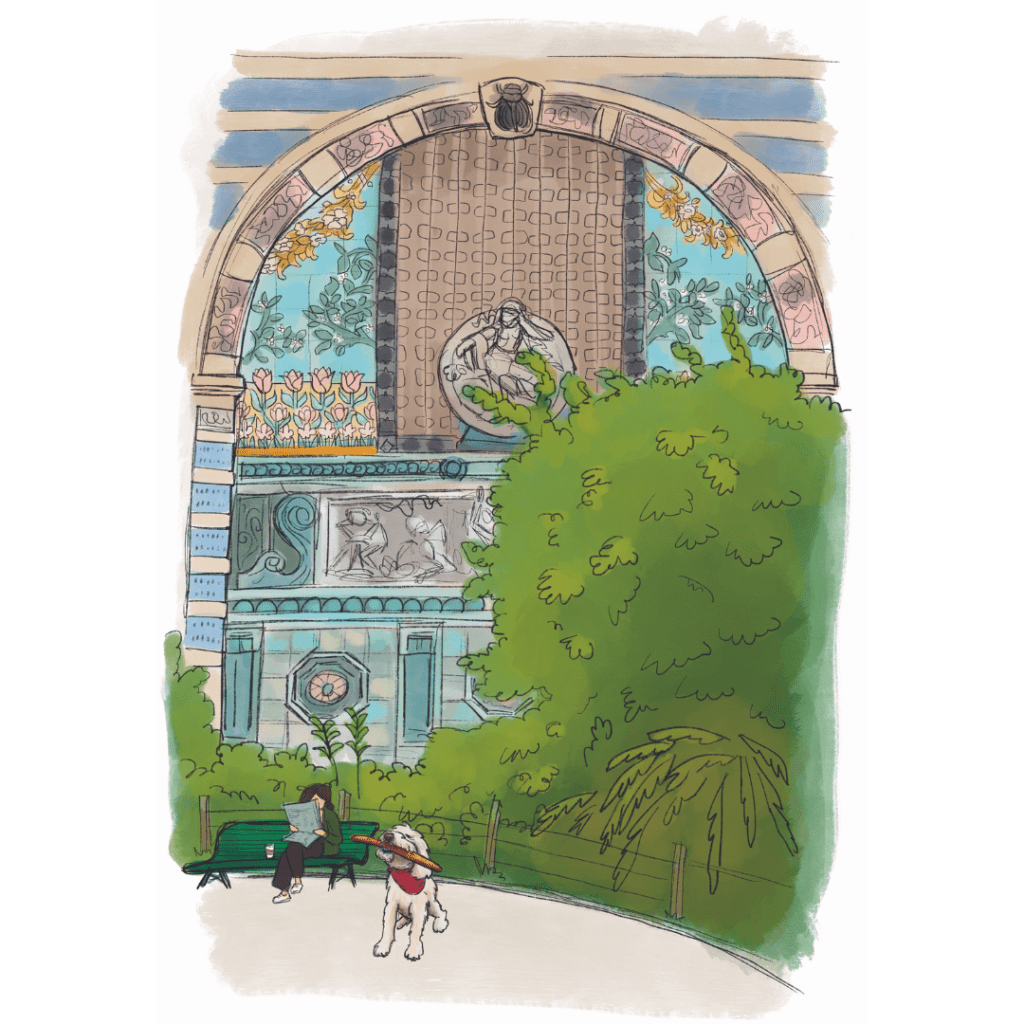 'It is hard to pick! I love the Art Nouveau portico behind Saint-Germain-des-Prés (above). It is from the Exposition Universelle of 1900, and basically served as a catalogue of all of the porcelain gorgeousness that could be made in the Sevres manufactory. It is beautiful and set in a cute park.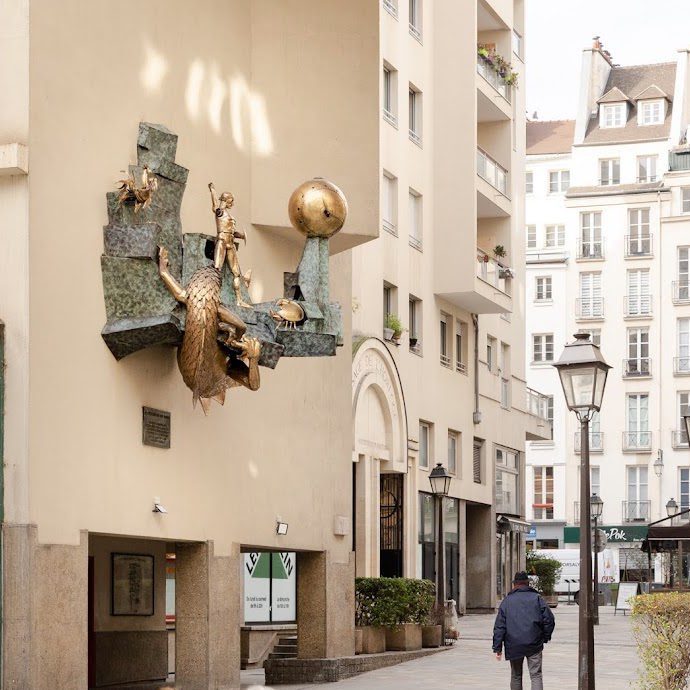 Another is The Defender of Time (above), an automaton sculpture by Jacques Monestier near the Centre Pompidou. It was broken for years and I still loved it, but I was so excited to see that it has been restored! Each hour, the automaton clicks into action, and a metal man fights a crab, a dragon and an eagle. It's so cool.'
What are your favourite Paris museums?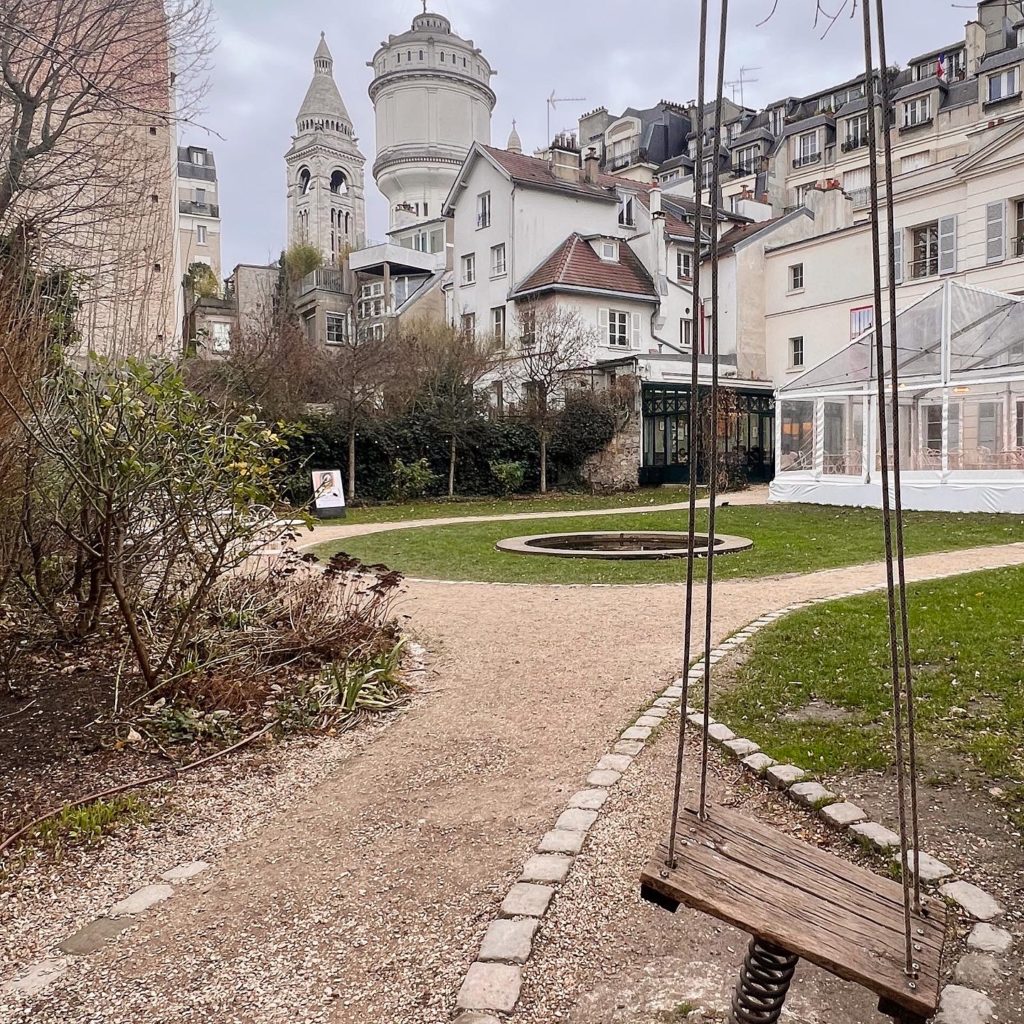 'The Musée de Montmartre (above) because it's like stepping into the Belle Époque. It's the house museum of Suzanne Valadon and Maurice Utrillo, the garden where Renoir painted The Swing, it has exhibitions about the history of the area, and also the artists who lived there. It is also next door to where composer Erik Satie lived. It is just a magical place.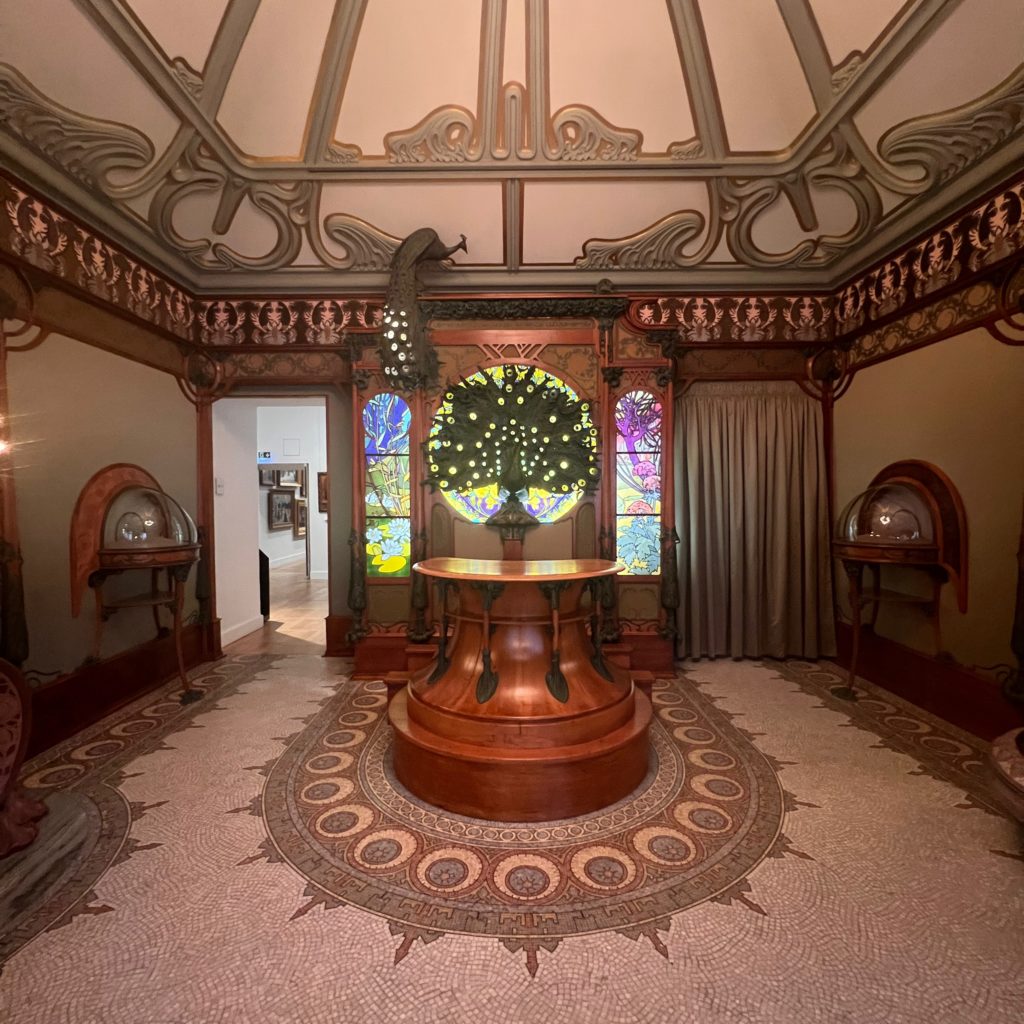 I also love the Musée Carnavalet, the museum of Paris. They have a great collection of Belle Époque paintings, as well as an Art Nouveau jewellery store designed by Mucha (above), and a gorgeous ballroom by Josep Maria Sert (he also painted the lobby of 30 Rockefeller Center). In the summer, the interior garden is the most beautiful café. And, the museum is free.'
Could you share any artistic features of Paris that many of us might not know about?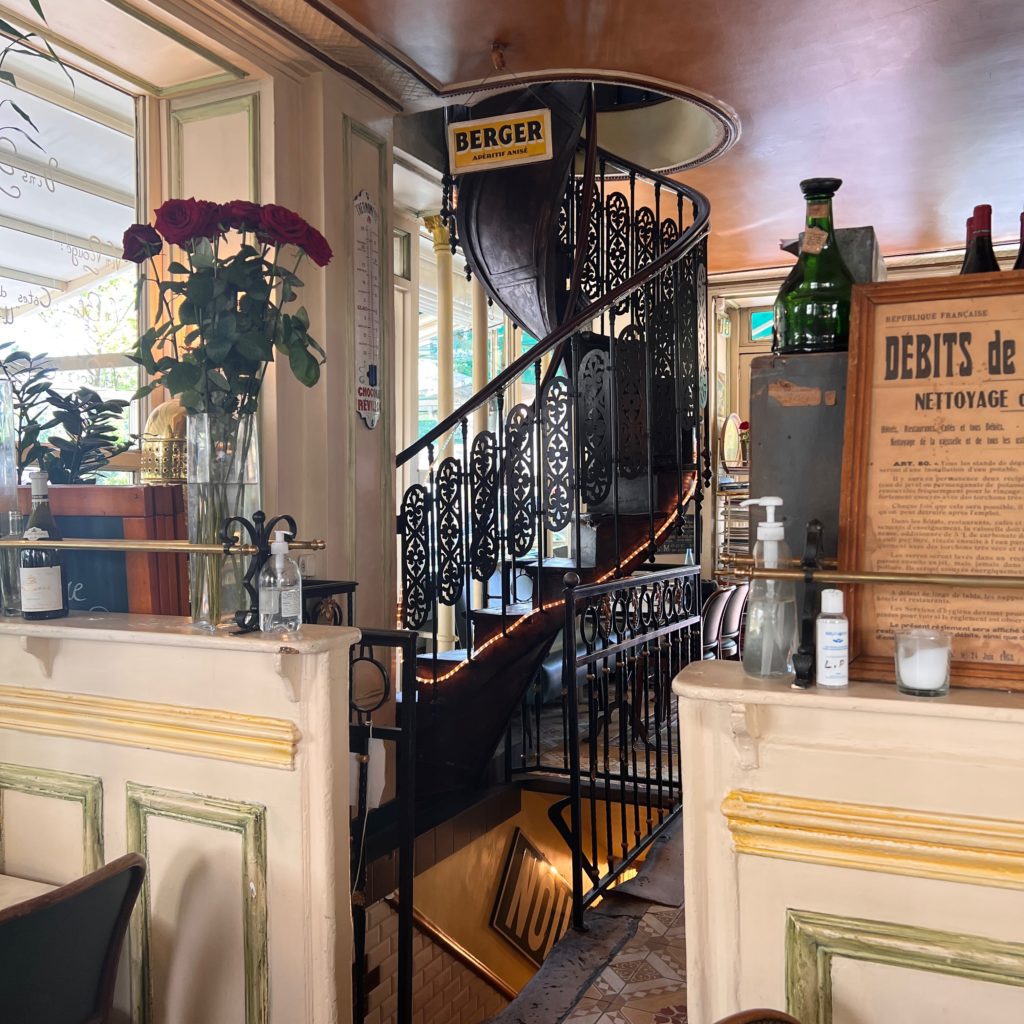 'I loved learning about how much of Parisian architectural elements are recycled. Many of the spiral metal staircases in cafes along the Seine were originally made for the Eiffel Tower, but sold because they were deemed too narrow. They are also considered historical monuments. I especially love the one at Café Louis-Philippe (above).'
Is there anything else you can share about the Paris art scene?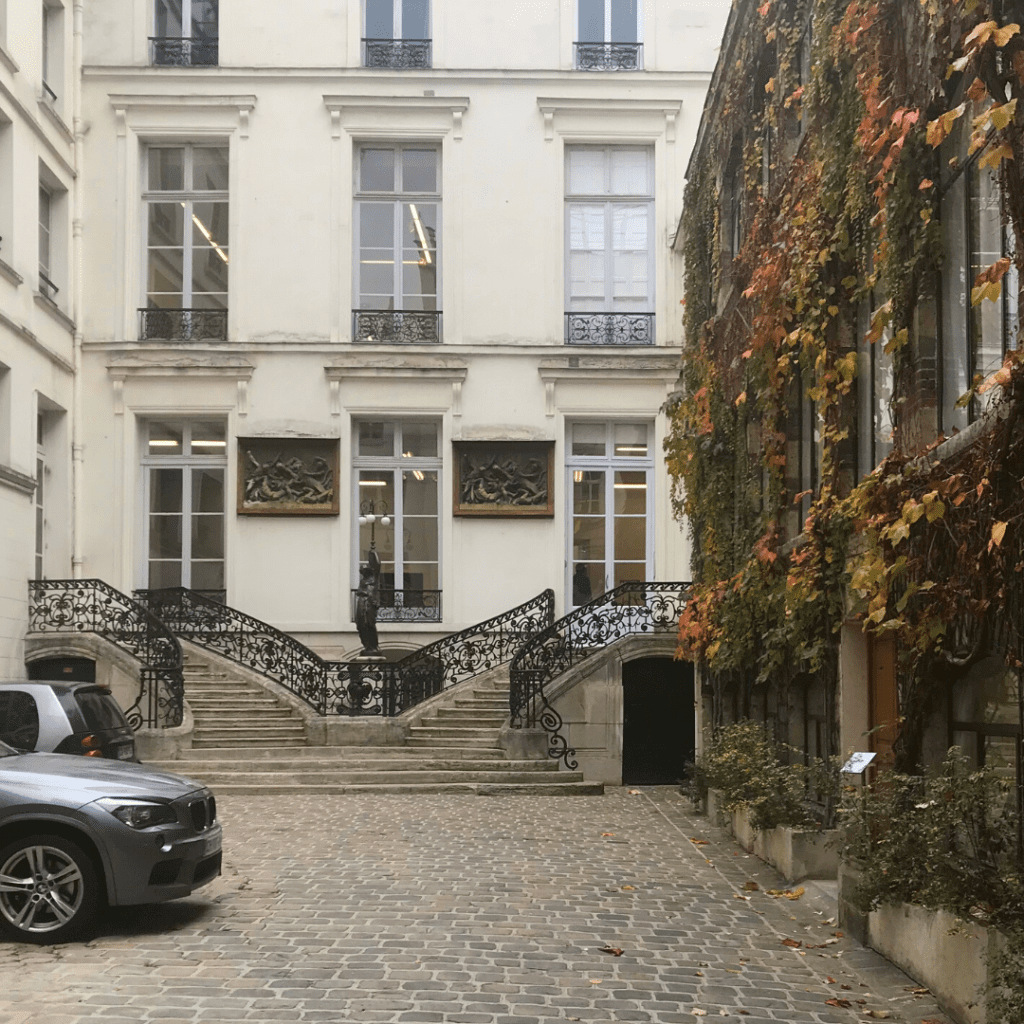 'I love to go around the galleries to see what's new in art, but in Paris the galleries are just as beautiful as the artwork inside. Perrotin (above) is a personal favorite.'
What are your favourite eateries and bars?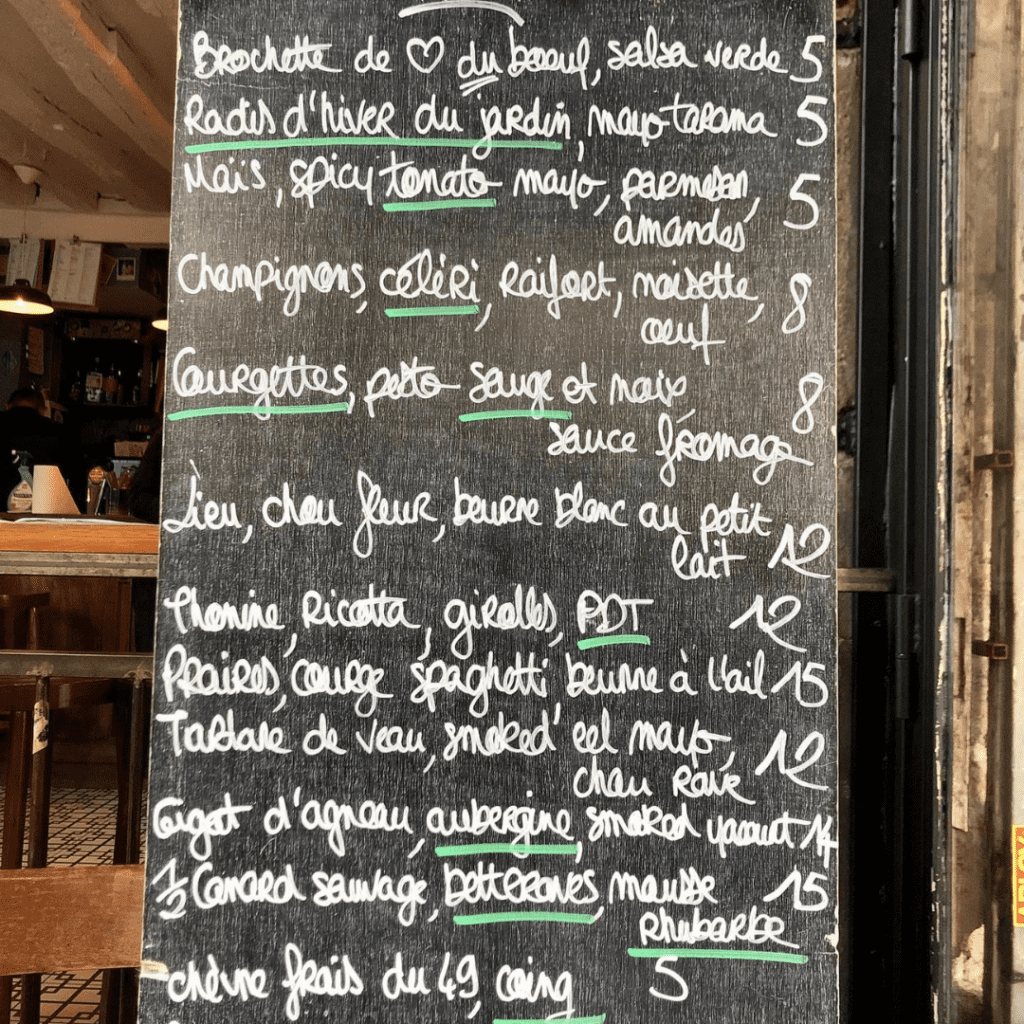 'Martin is one of my faves. The menu changes daily, it's lively and friendly, and always an amazing meal (above).
Cambridge House. I know it's not very French, but I often stay around the corner from this bar, and I've edited part of my book there, so I'm a bit attached. It's loosely British-themed (although the only proof I can think of is they have hand pies on the snacks menu.) I always get one of their mini cocktails (long story short, I donated a kidney a few years ago, so cocktails no longer sit well with me, but these little ones let me have a taste without feeling sick) and I have to get the olives and the fromage du moment — a generous slice of something delicious with some sort of delicious, unexpected pairing like bourbon-soaked pear slices or whipped chestnut cream.
Pili Pili. A very cool dive full of the friendliest people. It's a metal bar with a crush on Twin Peaks. David the owner has made such a cool and special place. They regularly have themed parties (the obvious is their Twin Peaks nights but they've also been known to do Conan the Barbarian parties as well), and their merch is all artist-designed images of David himself. I've made a few friends there who happen to live in New York who I'm still in touch with. It's just a good vibe.
I usually start out a trip with linguini and clams at Piccolo Caratello on Rue Audran in Montmartre. It has become a habit I look forward to, and they do garlic just right.
If you're going to the flea market at Saint Ouen, I love eating at La Recyclerie, a sort of urban farm that serves delicious, vegetable-based seasonal foods.
Le Pavillion des Canaux is such a cute spot, a café and bar inside an old canal master's home. Each room is set up like a house, you can even sit in the bathtub if you want. It's super-cute and the food is great.
And definitely Berthillon. I like the pistache and the plombières flavours.'
Which restaurants are worth the splurge for the interiors alone?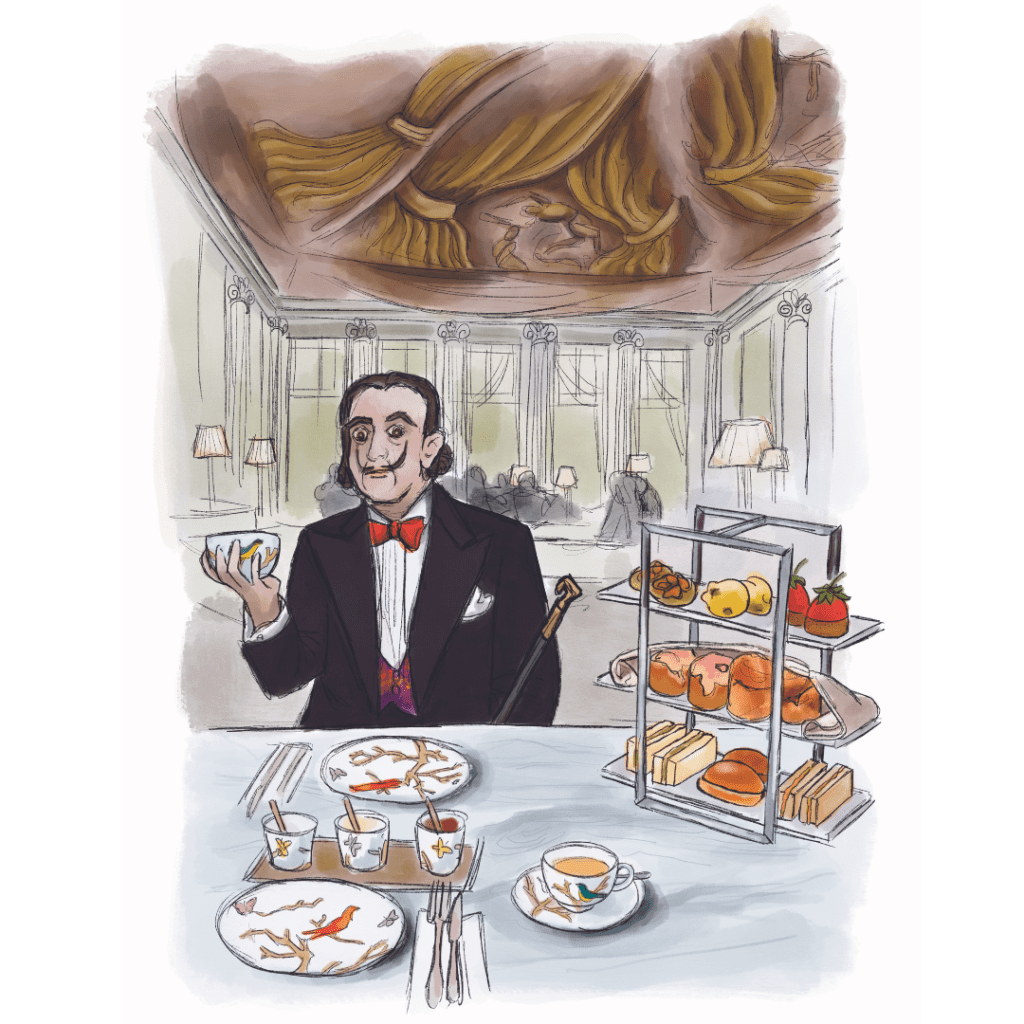 'Have tea at Le Dali at Le Meurice (above). The interior is Philippe Starck's surrealist version of Napoleon's Paris, a mesh of old and new, with an epic ceiling painting by his daughter Ara Starck. The afternoon tea service is worth the splurge, the snacks are four tiers of sweets and savories by pastry genius Cedric Grolet, including one of his famous fruits. You won't leave hungry.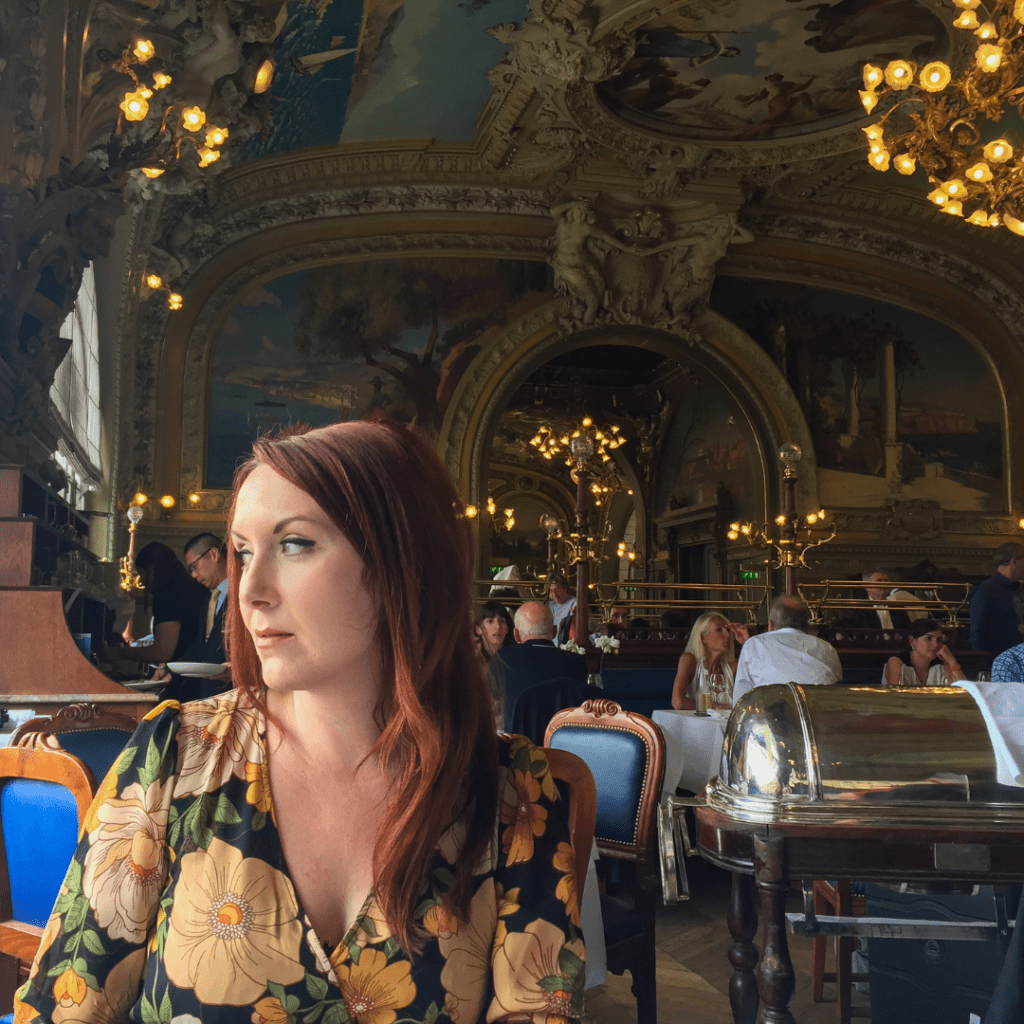 Le Train Bleu at Gare de Lyon (above) is a great place to have a drink or coffee and stare at the endless paintings that adorn the ceiling.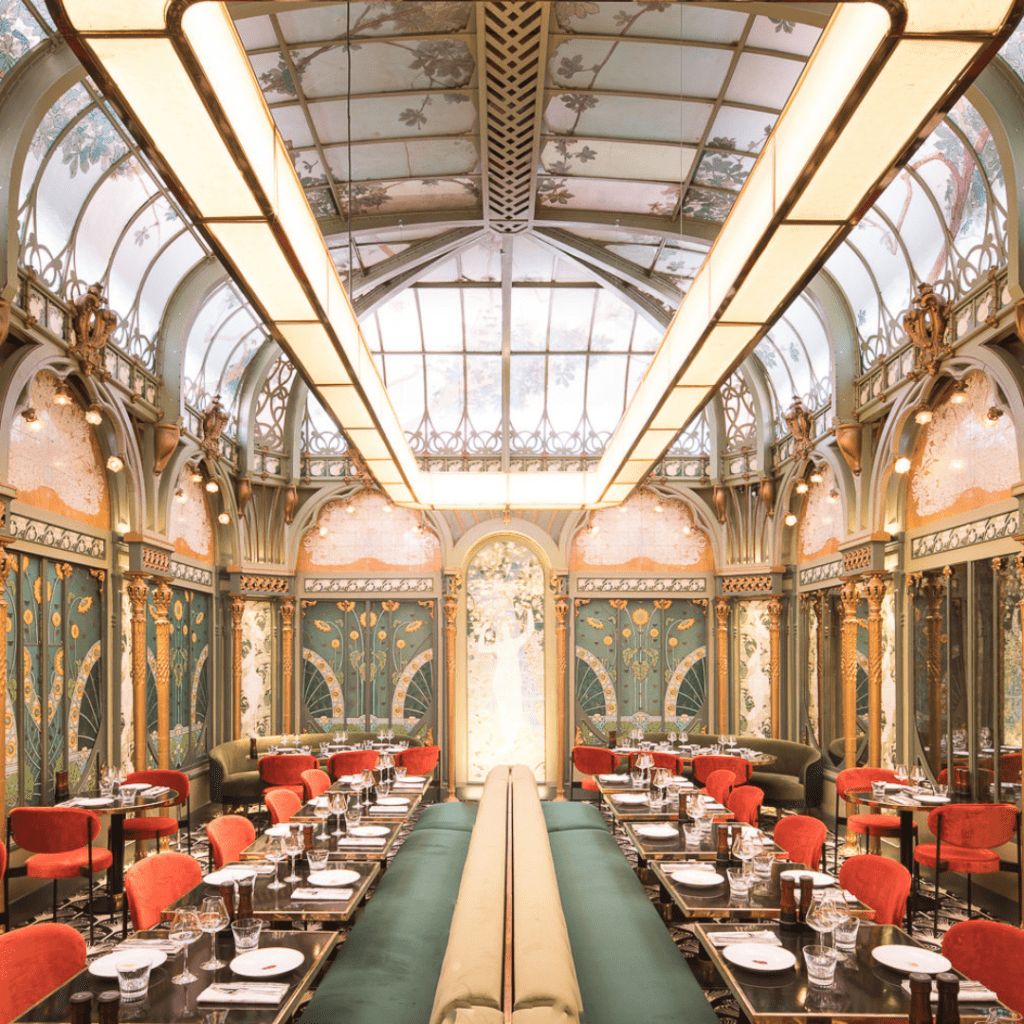 Another is La Fermette Marbeuf which is now Beef Bar. I haven't eaten there since Beef Bar took over, but the 1900 room (above) is incredible.'
What's your preferred time of the year to go to Paris?
'September, as I think most people will agree — the drama of the leaves changing is a magical time to experience Paris. It's also the perfect light-jacket weather, and I love the energy after everyone returns from the south.'
Do you have other favourite attractions?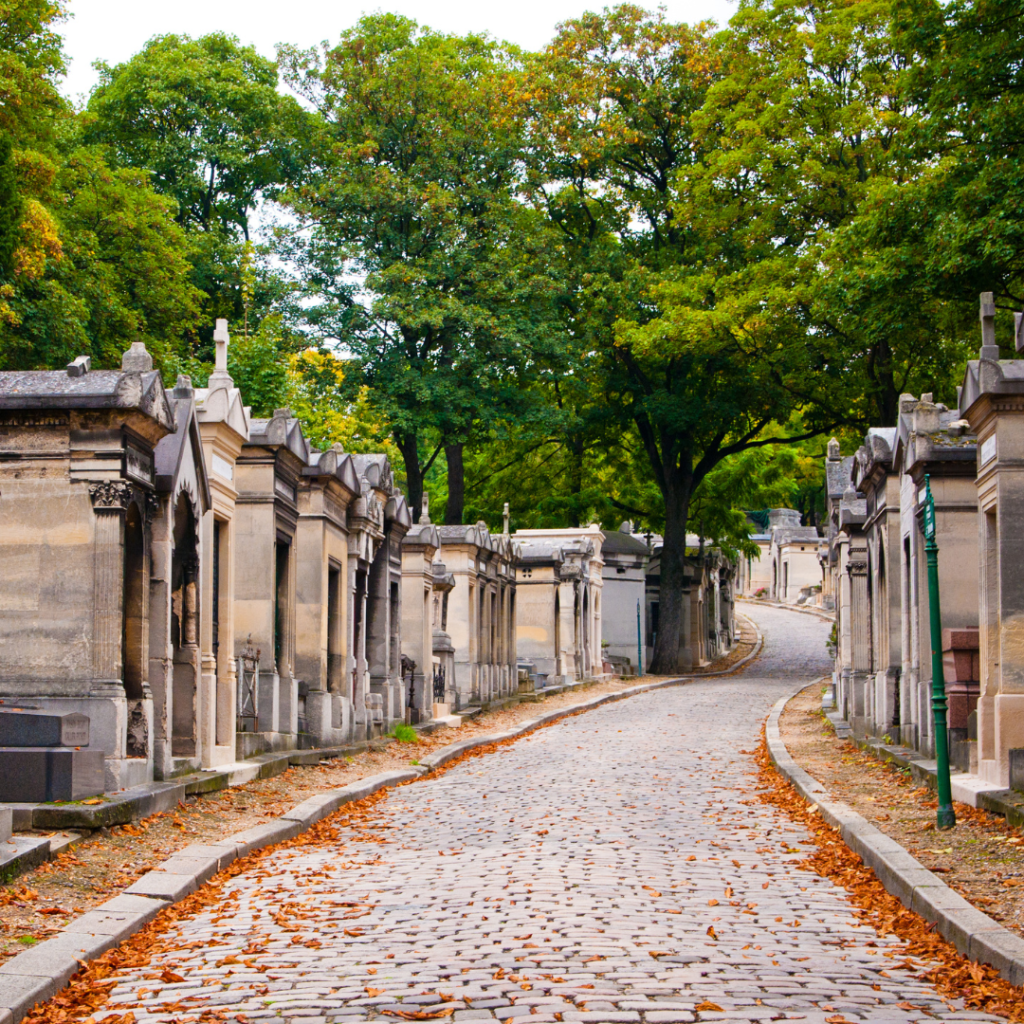 'Maybe a little morbid for some, but I love to spend an afternoon walking around Parisian cemeteries, they are so beautiful and full of cats!'
Where do you prefer to stay?
'I usually rent friends' apartments so I don't have a hotel to recommend, but I prefer to stay in Montmartre. It is like walking around inside a postcard, it feels unreal.'
What are your top shopping addresses?
'I wear mostly vintage, so I love to shop the flea markets, and also Kiliwatch. I do love the basics from the Galeries Lafayette house brand as well.'
What's the best souvenir you've ever bought there?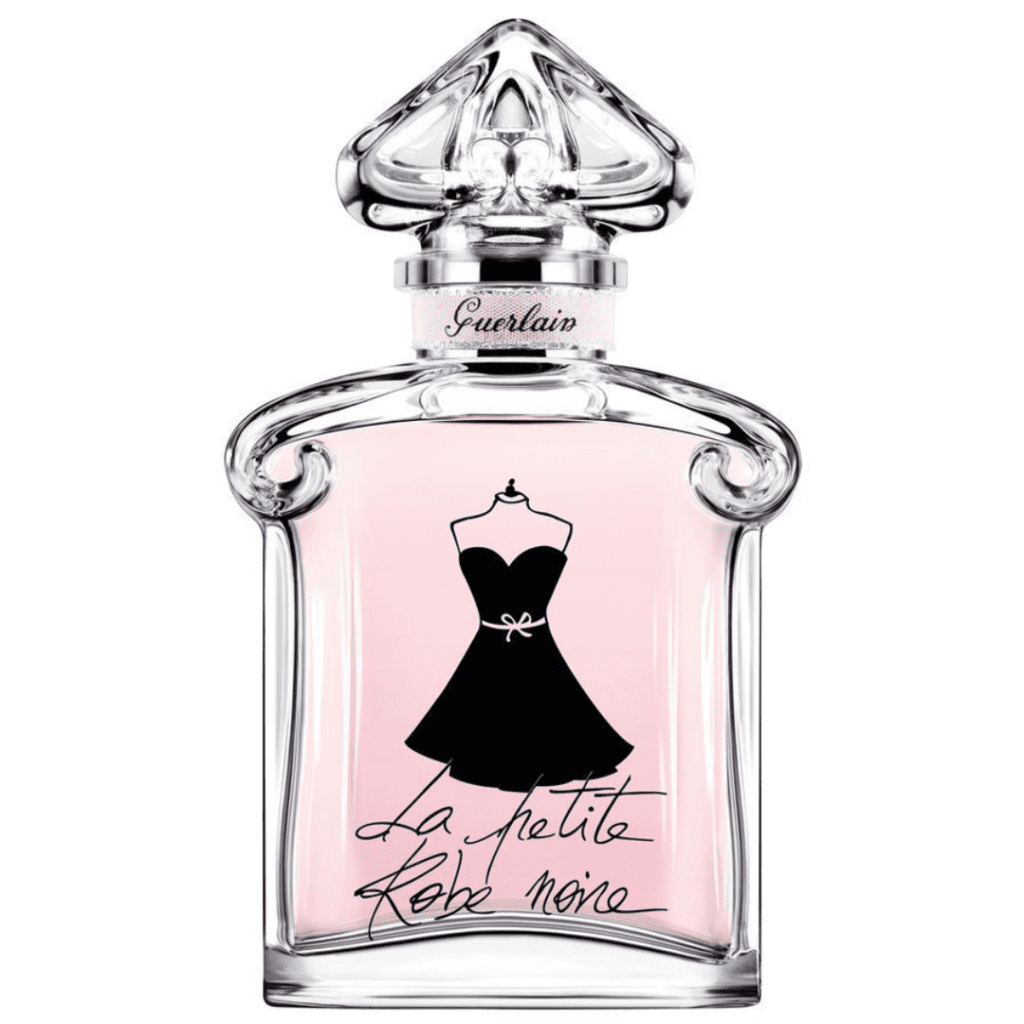 'Finding out that perfume in France IS actually different/made with better ingredients made for my best souvenirs. I buy a new perfume from Paris once a year. Currently on Guerlain La Petite Robe Noire.'
If you only had one day in Paris, you'd …
'Probably pick a museum and slowly walk there and back. My favourite days are the ones unplanned.'
The next time you'll be in Paris, you plan to …
'My boyfriend Logan Hicks will be doing a mural along the Seine in front of Fluctuart in early April, so I will be spending a lot of time there. I'm bringing his fifteen year old who we live with, so it will be cool to see what a New York teenager thinks of Paris. We will also be doing a book signing and a talk with the University of Chicago which I'm excited about.'
What else is on your Paris bucket list?
'I've reached peak old lady: I now want to visit all of the châteaux that are a day trip or less from Paris.'
What do you always pack for Paris?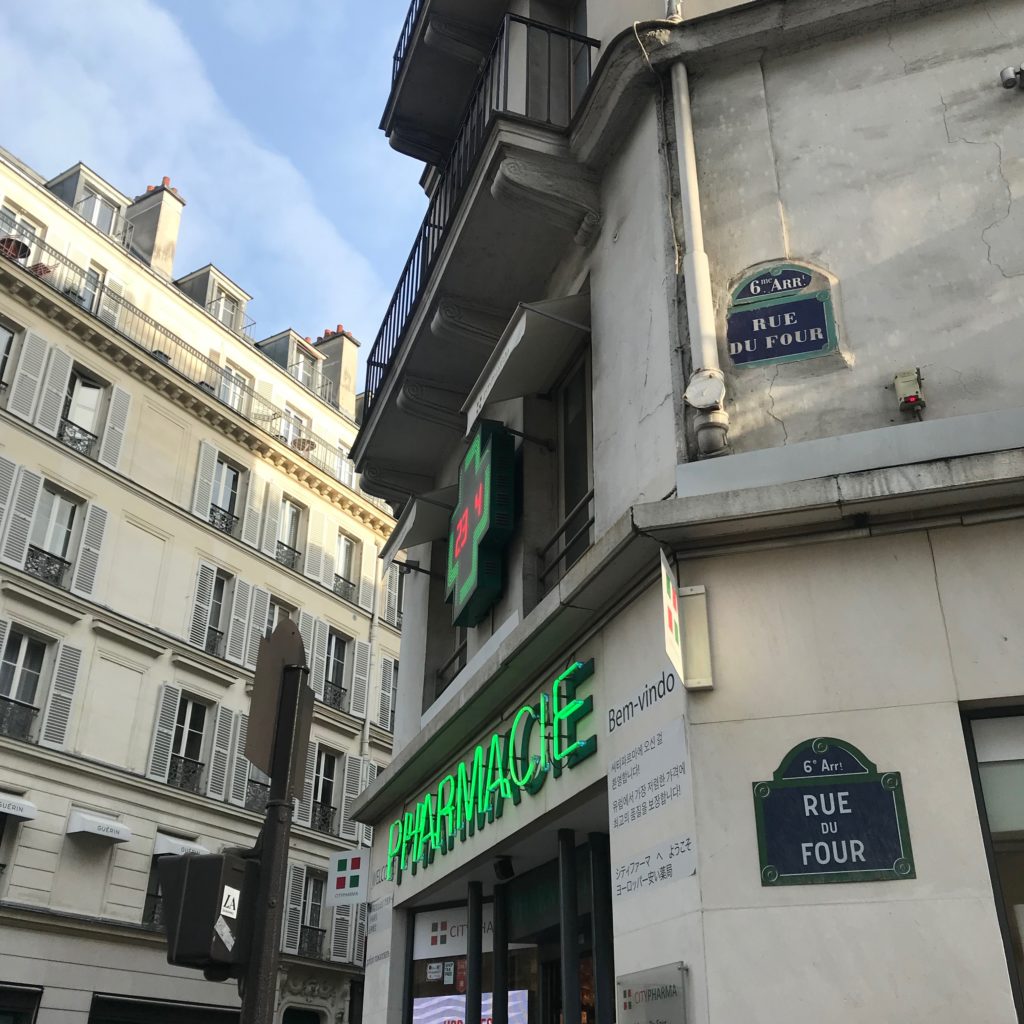 'I've somehow learned to pack everything I need in a carry-on rollerbag and backpack, usually a bunch of vintage dresses. I never bring facial products or toiletries — I buy them all at the pharmacie or Monoprix on the first day and treat myself to the French product goodness.'
What is your favourite Paris book?
'A Moveable Feast by Hemingway, I don't care if it is cliché to name it, it is the most absolutely beautiful book about Paris.'
You particularly love the genre of history — what are your top Paris history books?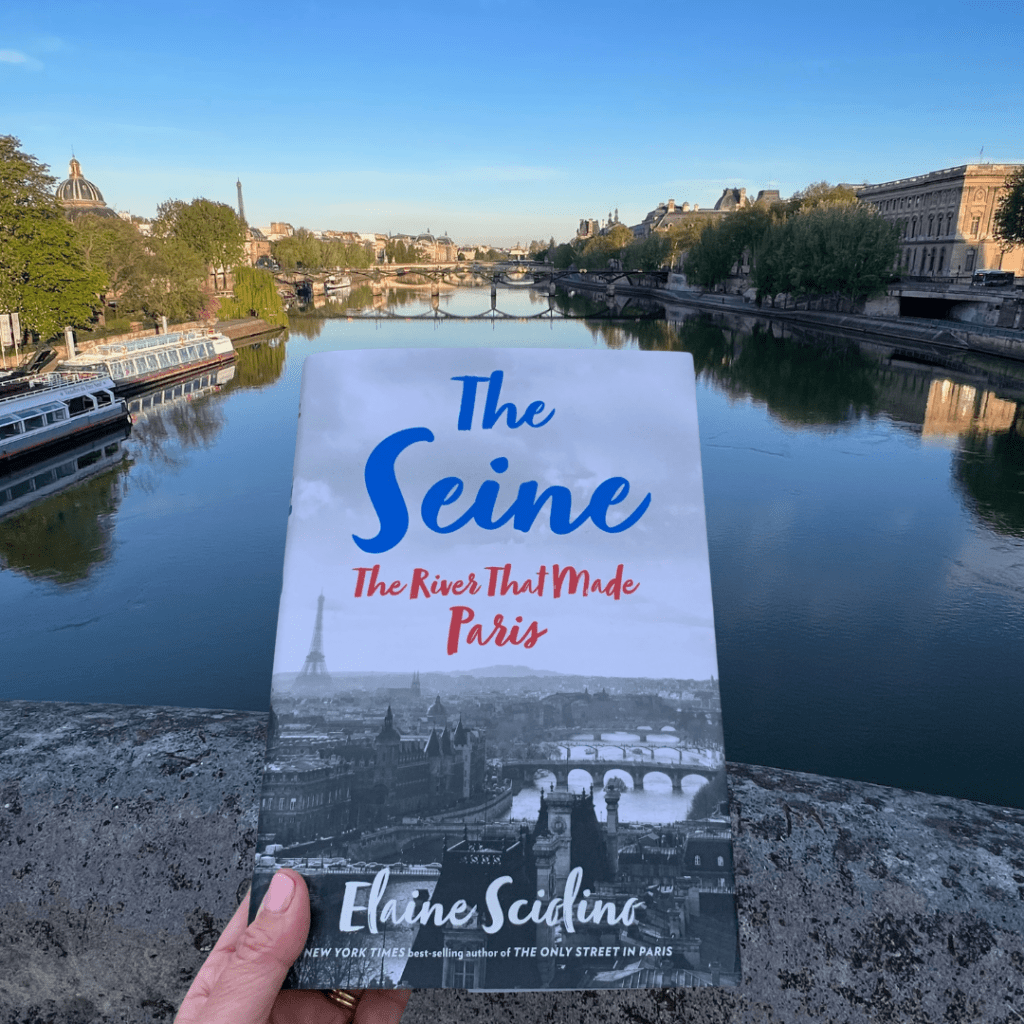 'Two great women with two great books each: Elaine Sciolino's The Only Street in Paris and The Seine (above), and Sue Roe's In Montmartre and In Montparnasse, and usually I'm probably reading a historical biography at any given time.'
And finally, is there else you'd like to add on the subject on Paris?
'I hope that my books inspire people to dig deeper in these cities, whether they are locals or are visiting for the first time. Tourist stuff in both New York and Paris is plentiful, and much of it is worth seeing, but I hope my books offer a deeper and more meaningful way to engage Paris or New York. I want people to feel connected to the history of the city, to feel like they are a part of it because they know these back stories, and not just end up with pictures of themselves in front of the Eiffel Tower.'